The Best Savings Accounts in Nebraska for 2023
Find out which banks in Nebraska offer the best savings accounts based on monthly fees and interest rates - compared to top high yield online savings accounts.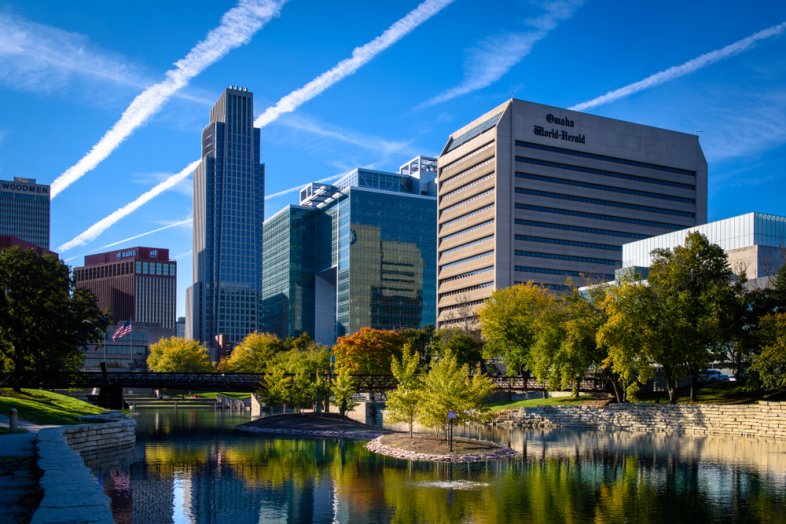 Nebraska may not have many of the biggest names in banking, but its residents still have plenty of great financial institutions within close reach.
If you live in Nebraska and you're on the hunt for a new savings account, it's prudent to compare the options available.
We reviewed the top 50 banks in Nebraska based on deposit market share to find the best local options.
Then, you can even compare them to popular online savings account (available nationwide) to see if they're a better fit.
The Best Savings Accounts in Nebraska
First National Bank of Omaha
The First National Bank of Omaha has one main savings account that its customers can use for a variety of reasons.
By and large, the account is a good deal.
There is no minimum deposit requirement, no minimum balance to maintain, and no monthly fee to worry about. You don't even have to worry about paper statement fees, as paper and electronic statements are both free.
The interest rate that you will earn on your savings account balance varies with the type of checking relationship that you have with the bank.
If you have no checking account with the First National Bank of Omaha, you'll earn the lowest available rate. If you qualify for a premier checking relationship, you'll earn the best rate.
The bank also offers a money market account with a $1,000 minimum deposit, and no fees. For large balances, this account offers notably better rates.
Cornerstone Bank
Cornerstone Bank offers a variety of savings accounts for its customer to choose from.
Its basic savings account, the Statement Savings Account, is a fine place to store some extra money, but you won't earn much interest from it.
There is a $10 minimum deposit requirement to open the account. Once the account is open, there are no monthly fees and no minimum balance to maintain.
One perk of the account is that excessive transactions (each withdrawal or transfer after the 6th in a statement, with in-person and ATM transactions excluded) only cost $1. Most banks charge far more than this.
However, you're unlikely to ever reach this point as the account comes with a complimentary ATM card that you can use to access your money from any ATM.
First State Bank Nebraska
First State Bank Nebraska offers a great interest rate for its First Rate Savings account, but you have to jump through a number of hoops to earn that rate.
First, you must open the account through the bank's website. There is a $100 minimum deposit requirement to do so. Once the account is open, there is no minimum balance requirement or monthly fee to worry about.
The other thing that you have to do to qualify for the bonus rate is to sign up for electronic statements. If you receive paper statements, you'll earn a much lower rate of interest.
Accessing the money you have in the account is easy. You'll get a free ATM card when you open the account so that you can manage the account from any ATM. You'll also have online and mobile access to your account.
How we picked
MyBankTracker applied a methodology when choosing the best saving accounts in Nebraska. Our top recommendations were selected based on a thorough analysis of savings accounts offered by the top 50 banks by deposit market share in Nebraska (based on FDIC June 2021 data)--serving major cities including Omaha, Lincoln, Bellevue, Grand Island, and Kearney.
We focused our choices on savings accounts with low monthly maintenance fees, easy-to-meet requirements to waive these fees, the bank's physical branch and ATM network, excess withdrawal fees, and any other convenience features.
Online Savings Accounts are Available Nationwide
Although local banks may be appealing for their great service, you should always take the time to consider all of your options.
One option, no matter where you live in the United States, is an online bank.
Online savings accounts are available nationwide, which means anyone can take advantage of their unique benefits.
Earn more interest
Possibly the biggest perk of working with an online bank is that they pay much higher interest rates and charge much lower fees than other banks.
Online banks are able to do this for a few reasons, but one of the primary reasons is that they cost much less to run than traditional banks.
They don't have to worry about paying to operate branches and ATMs, hiring staff to maintain those locations, covering security costs for their physical presence, and so on.
Instead:
They can save money by operating out of a single, central location. They then pass those savings on to customers.
Less temptation to spend
One of the most difficult things about saving money is resisting the feeling of your extra cash burning a hole in your pocket.
Even if you're saving toward some long term goal, you might be tempted to spend a bit of the money you've saved.
With an online savings account, you won't be driving past your local bank branch every day or stopping in to handle other financial chores.
This means that the extra money you're saving will be out of sight. Out of sight means out of mind, which means less temptation to spend your money.
Better mobile experience
Online banks, by their very nature, have to offer fantastic online and mobile functionality.
Almost every bank has an app or website, but online banks tend to have the best, making it easy to do your banking on the go.
FDIC insurance
For those who are worried about the safety of their money, rest easy.
Online banks, just like brick and mortar banks, are covered by FDIC insurance. This insurance coverage covers up to $250,000 per depositor, per account type at covered banks.
Even if the online bank that you've used to open an online savings account goes bankrupt, the FDIC will reimburse you for any amount lost, up to the insurance limit.
means that your money is as safe as it can be, whether it's in a traditional or online savings account.
The Best Savings Accounts in Nebraska
The advantage of a national bank is that they tend to offer the same experience to all of their customers, regardless of where their customers live.
That makes it easy for people who frequently move or travel to use their bank account.
Of course:
This strength can also be a weakness.
If you're a Nebraskan, you might have trouble finding a national bank that has savings accounts catered to specific, local needs. That's why a local bank is could be a better option.
Pros and Cons of Local Banks
One of the biggest advantages of local banks is that they can offer personalized service in a way that larger banks can't.
You can walk into your local branch and see a familiar face, ask questions about your account, or get help with other financial topics.
Larger banks just can't provide that level of service and familiarity.
The greatest drawback of local banks:
They don't have the widespread physical branch and ATM networks that do offer more convenience.
Advantages of Big Banks vs. Local Banks
| Big Banks | Local Banks |
| --- | --- |
| Widespread ATM and branch access | More intimate, personal service |
| Better and faster technology and adoption | Community-oriented products and services |
| Uniform service standard across branch network | More willing to negotiate and work with customers |
What Kind of Account is Right for You?
If you're still unsure whether you should open an online savings account or a traditional one, consider these questions.
Are you comfortable with technology?
If you're a technophile, handling online banking apps and websites will be no trouble for you.
If you're technophobic or just bad with computers, you might have more trouble managing your money or have to deal with a learning curve.
Do you visit your current bank regularly?
If you visit your bank regularly and everyone there knows your name, you might want to hang on to your traditional bank accounts.
If you do most of your transactions by ATM, you'll do fine with an online bank.
How important is face-to-face help?
Online banks charge fewer fees and pay more interest, in no large part because they need less staff.
Working with a brick and mortar bank means you can get help in-person when you need it, but you're paying for the privilege.
Most Important Features of a Savings Account
Choosing the right savings account is important, but there are so many options that it can get overwhelming.
These are the factors to use when comparing your options.
Interest
Savings accounts have two purposes:
keeping your money safe
helping you grow your savings by paying interest
Look for the account that offers the best interest rate.
Settling for an account that pays less is like giving up free money.
Fees
Savings account fees are becoming more common, but is your money really safe if it's in danger of being eaten up by fees?
Look for an account that charges no monthly fees.
If you must choose an account with fees, make sure that you can easily meet the requirements to waive them.
Access to Your Money
Finally, think about how easy it is to get to your money when you need it.
If your online bank has a very limited ATM network or limits your daily withdrawals, you might have trouble getting the money that you need, when you need it.