The Best Savings Accounts in Nevada for 2023
Find the best savings accounts that are available from local banks in Nevada based on fees, interest rates, and convenience - compared to online banks.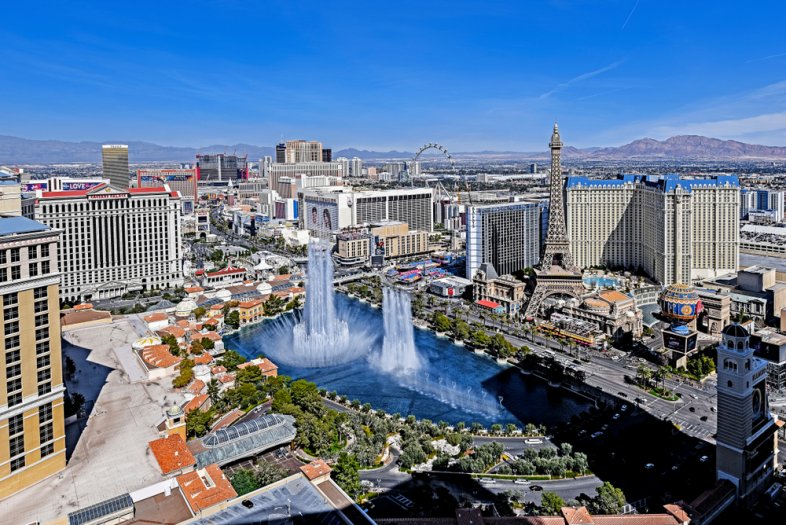 Your savings account is the key place for a financial buffer -- a reason to pick a good one.
If you're in Nevada, there are plenty of big banks with a strong presence in the state.
However, compared to many other states, there are fewer regional and community banks.
We've surveyed the top 50 banks in Nevada (based on deposit market share) to identify the best savings accounts available to residents.
And, it's important to take a look at online savings options because they may be a better fit for you.
The Best Savings Accounts in Nevada
City National Bank
The City National Bank Green Savings Account is a savings account that is only available to customers over the Internet.
And:
You can't open the account by visiting your local branch and you must have an active checking account before opening the account.
The account has a high minimum deposit -- you must have at least $500 to open the account. You'll need double that amount if you want to avoid the $4 monthly fee, though you can also avoid the fee with an automatic deposit of $50 each month.
The account is a fairly standard savings account with a big perk being $20 in ATM fee reimbursements each statement cycle. This makes it easy to get to your money when you need it.
Meadows Bank
Meadows Bank offers a standard savings account without any real bells and whistles.
With a $100 minimum deposit, you'll get a low interest rate and an ATM card that you can use to make withdrawals from any ATM on the bank's network.
That makes it easy to get to make withdrawals and deposits, but there aren't any other perks that set this account apart from the competition.
First National Bank of Ely
The First National Bank of Ely Savings Account is another run-of-the-mill savings account. It offers a low rate of interest but charges no monthly fees. There aren't any other standout features.
To open the account, you must make an initial deposit of at least $50.
How we picked
MyBankTracker applied a methodology when choosing the best savings accounts in Nevada. Our top recommendations were selected based on a thorough analysis of savings accounts offered by the top 50 banks by deposit market share in Nevada (based on FDIC June 2023 data)--serving major cities including Las Vegas, Henderson, Reno, North Las Vegas, Paradise, and Carson City.
We focused our choices on savings accounts with low monthly maintenance fees, easy-to-meet requirements to waive these fees, the bank's physical branch and ATM network, excess withdrawal fees, and any other convenience features.
Online Savings Accounts are Available Nationwide
Local banks are great for personalized, friendly service, but there is another alternative available beyond a national chain.
You should take the time to consider the third option: online banks.
Online banks are available to anyone in the United States, whether they live in Nevada, California, or Maine. That makes it easy for anyone to take advantage of their services. Our list of Best Savings Accounts and Rates can be found here.
Earn more interest
One of the most commonly known benefits of online savings accounts is that they pay great interest rates. Depending on the bank, you can get 10 to 100 times more interest with an online bank.
The reason for this huge difference in interest rates is simple. Costs.
Online banks cost far less to run than traditional banks. Online banks don't have branches or ATMs, so they save money on rent, security, staffing, and all the other costs associated with maintaining a physical presence.
Instead, they can operate out of one or two offices, which costs much less.
Less temptation to spend
Another perk of having an online savings account is that you'll be less tempted to spend the money that you do save.
If you put your money in an online savings account, that means it isn't at your local bank.
You won't be walking or driving past your bank every day, thinking about the money you have saved and how it could go towards a nice vacation or a fun toy.
The less you think about your money, the less tempted you will be to spend it, which makes it easier to build a balance.
Better technology experience
Online banks, by their very nature, have to offer a great technology experience.
That means an easy to navigate and appealing website and a well-designed phone app.
Every bank offers online and mobile account management these days, but online banks tend to excel at it.
FDIC insurance
Just like brick and mortar banks, online banks are insured by the FDIC. That means that your money is just as safe when you deposit it to your online savings account.
The FDIC offers coverage on up to $250,000 per depositor, per account type at covered banks. If your online bank shuts down, the FDIC will reimburse you for any amount lost, up to the $250,000 limit.
The Best Savings Accounts in Nevada
The benefit of working with a national bank is that national banks offer a very standardized experience.
Regardless of who you are or where you open your account, you'll get the same experience. If you travel frequently or wind up moving across the country, that's a big plus.
This benefit can be a drawback for people who don't travel often. If you live in Nevada and don't plan to leave anytime soon, you want to work with a bank that is equipped to meet your needs.
You'll have trouble finding a national bank that has accounts and services tailored to local needs. In this case, working with a local bank is a good idea.
Pros and Cons of Using a Local Bank
There are a number of benefits to working with a local bank rather than a larger national bank chain.
One of the greatest benefits is that local banks are better able to offer personalized service.
When you work with a small, local bank, you have a much better chance of being able to visit your local branch and work with someone that you know.
Getting in-person help from someone you know and who knows you and your personal situation is a great perk. If you open an account at a larger bank, you'll have trouble finding the same level of service and familiarity.
Of course:
Local banks do have their own set of downsides.
Most notably, local banks struggle to compete with the vast networks of bigger banks, which can offer the convenience of more branches and ATMs.
Advantages of Big Banks vs. Local Banks
| Big Banks | Local Banks |
| --- | --- |
| Widespread ATM and branch access | More intimate, personal service |
| Better and faster technology and adoption | Community-oriented products and services |
| Uniform service standard across branch network | More willing to negotiate and work with customers |
What Kind of Account is Right for You?
If you're still struggling to decide between a savings account at an online bank and a savings account at a traditional bank, you should ask yourself the following questions.
How are you with online and mobile banking?
If you like technology, know how to use it, and tend not to struggle with adopting new things, working with an online bank shouldn't be a problem for you.
If you describe yourself as a technophobe or aren't as comfortable with your smartphone as you'd like to be, an online bank account might not be the right choice.
Do you visit a branch frequently?
If you're on a first name basis with everyone at your current bank, you might want to stick with a bank that has a physical presence.
Using an online bank and losing that option might be a shock for you. If you already do all your banking at an ATM, and online savings account won't be a problem.
How important is in-person customer service?
If you like being able to see someone in-person when you have trouble or otherwise need help, you'll want to stick with a brick and mortar bank.
If you don't mind phone calls or e-mails to get help, you're safe to apply for an online savings account.
Most Important Features of a Savings Account
When you're looking for a new savings account, these are the most important things to look for.
Interest
Earning interest is one of the primary reasons to open a savings account.
You always want to choose the account with the highest rate, assuming the accounts you're comparing are otherwise similar. Settling for a lower rate is giving up free money.
Fees
Why should you pay the bank for the privilege of holding your money?
Look for savings accounts that don't charge a monthly fee. If you have to go with an account that charges a fee, make sure you can meet the requirements to get the fee waived without much effort.
Access to your money
Savings accounts are commonly used for storing an emergency fund. In the event of an emergency, you might need quick and easy access to your cash.
Look for savings accounts that offer an ATM card for easy cash withdrawal or that have other features that make it easy to get your money when you need it.