The Best Savings Accounts in New Mexico for 2023
See the best savings accounts available from local banks in New Mexico based on account fees, interest rates, and features to help you grow your savings.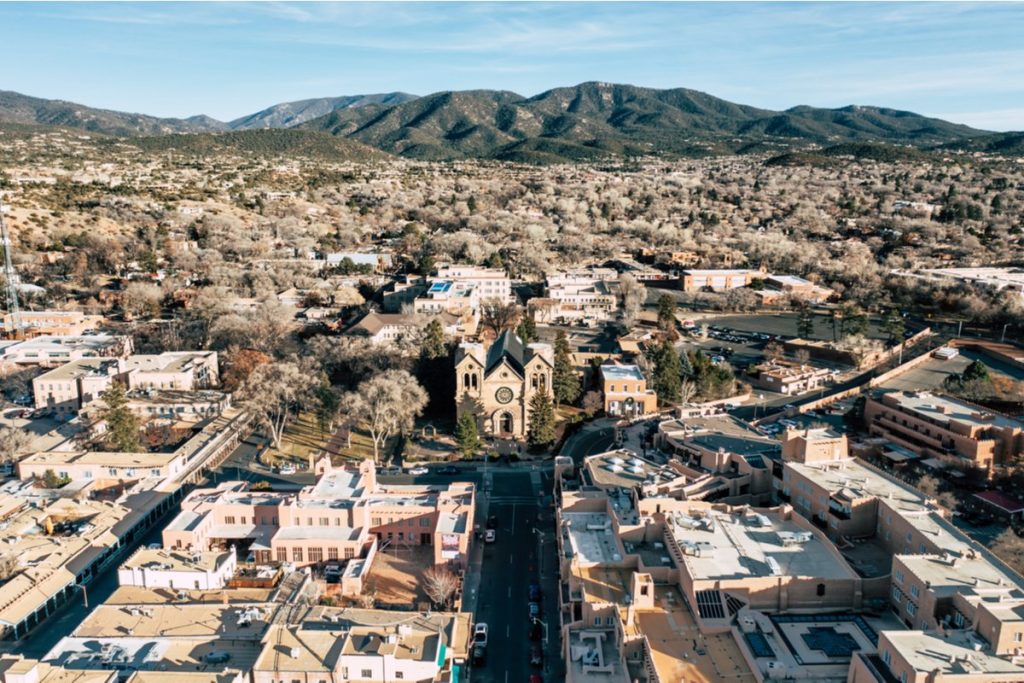 Most people have something they're saving money for. You could be saving for a down payment on your first home or putting aside money to pay for tires for your car. One way to avoid spending that money on other things is to put the money in a savings account.
Savings accounts aren't all equal, though. Some charge monthly service fees. Others pay interest rates that feel like next to nothing. Thankfully, good savings accounts pay decent interest rates and don't charge fees.
The process of finding a good savings account can be time-consuming. To help, we looked into savings accounts in New Mexico and picked our favorites.
Compare Savings Options
Be sure to check out more savings accounts worth considering:
The Best Savings Accounts in New Mexico
Enterprise Bank & Trust - Personal Savings Account
Enterprise Bank & Trust's Personal Savings Account earns and pays interest each month. The account has no minimum balance requirements or monthly fees. You get unlimited withdrawals in bank lobbies and other transactions are limited to six per month. Statements are issued quarterly.
As an added bonus, you can get transactions from a linked debit card at the bank rounded up to the nearest dollar. Then, Enterprise Bank & Trust will move that change from your checking account to your savings account.
Washington Federal Bank - Savings
Washington Federal Bank, which goes by WaFd Bank for short, has a savings account worth considering. It has a $25 initial deposit and requires a minimum balance of $100 to earn interest and avoid a $3 per month fee. 
You get access to online and mobile banking with the account. WaFd Bank has over 200 branches in eight states if you travel often.
Century Bank - High Performance Savings
Century Bank's High Performance Savings account requires $25 to open an account. You need a $100 minimum daily balance to avoid the monthly service fee of $2 this account charges.
The account limits you to six withdrawals per month. Excess withdrawals incur a $15 fee per transaction.
First Citizens Bank - Online Savings Account
First Citizens Bank's Online Savings Account has no minimum balance and no monthly service charge. The minimum opening deposit is $50.
Unfortunately, you only get two withdrawals or transfers per month. After that, each transaction results in a $3 fee. This could help you keep your savings for your goals, though.
First American Bank - First Savings Account
First American Bank's First Savings account requires a $100 opening deposit. If you meet the $100 minimum daily balance requirement during each statement cycle, you can avoid the $4 per month service charge.
The account pays interest. As an account holder, you get access to online banking, mobile banking with remote deposit, telephone banking, and a personal finance money management tool.
How we picked these accounts
Our research started by identifying the top 50 banks in New Mexico based on deposit market share according to the FDIC's June 2022 data--serving major cities including Albuquerque, Las Cruces, Rio Rancho, Santa Fe, and Roswell.
Next, we took a close look at the savings accounts at each bank for consumer-friendly features. Features we examined included interest rates, minimum balance requirements, monthly maintenance fees, ways to waive fees that exist, and tools each bank offered to make saving easier.
Big Banks vs. Online Banks
You have other types of banks you should consider for savings accounts in addition to the banks listed above. Online banks and big banks both have a different set of pros and cons that may make them a better fit for your needs.
Positives of Big Banks
Branch locations
The biggest banks often have several branch locations in your area. At least a couple of locations are likely convenient to your home, workplace, or where you run your errands.
In-person help
Don't get frustrated with call center customer support. These banks allow you to visit in person to attempt to get issues resolved, if possible.
Online and mobile banking
Big banks almost always have mobile and online banking to help you manage your savings digitally. It may not have the most advanced features, but it's an option.
Negatives of Big Banks
Fees charged
To pay for their large branch network, big banks often charge many fees. These can include fees on savings accounts.
Hefty fee waiver requirements
It may be possible to get a fee waived on a savings account, but expect to meet a substantial requirement to get it done. For instance, you may need to keep thousands of dollars in your savings account.
Interest rates
Big banks don't tend to offer great interest rates on savings accounts. This can leave your money at risk of losing buying power to inflation.
Benefits of Online Banks
Better fee schedule
Online banks spend less money because they don't have to pay for branches. They take some of these savings to offer a fee schedule with fewer fees and lower cost fees in most cases.
FDIC insured
As long as your online bank is an FDIC member, it offers the same insurance as brick-and-mortar FDIC member banks.
Higher interest rates
Another benefit of the lower cost structure of online banks is better interest rates. Expect savings account interest rates to be several times the national average.
Possible ATM access
Online banks usually allow you to withdraw money directly from your savings account with your debit card at ATMs. If not, you can quickly transfer money from savings to checking and withdraw it from your checking account at an ATM.
Top-notch technology options
Technology is key to a successful online bank. These banks know customers can't go to a branch, so they make sure their technology is the best in class.
Drawbacks of Online Banks
Depositing cash
With no branches, you can't go deposit cash at a local branch. Other options may exist but may be more cumbersome.
Internet outages
Without access to the internet, you can't use online or mobile banking. This can be a problem during natural disasters or in areas with no data service. Telephone banking may be an alternative.
No branches
Online banks do not have any branches you can visit. This can be a dealbreaker if you need in-person customer service.
How to Examine a Potential Savings Account Option
Each person has unique needs. You should focus on those needs when looking for a savings account rather than what everyone else deems to be necessary. You may find yourself looking for the same things, but it's essential to evaluate your priorities. Here are a few ideas to help you decide what's most important to you.
Interest
For most savers, safety and interest are the two most important factors. Putting money in an FDIC-insured bank is a must-have feature, leaving the interest rate as the other important feature.
Interest rates aren't always great for savings accounts, though. In fact, several brick-and-mortar banks pay interest rates of 0.10% or less. You either need to look for a rewards savings account or an online high-yield savings account to get the best interest rates.
If possible, look at the historical rates banks have charged to make sure you bank with an account that adjusts rates with the market. The last thing you want is to get a savings account with an initial high rate that doesn't change as interest rates increase elsewhere.
Fees
Savings accounts shouldn't charge you fees to save money. Sadly, several do if you don't meet minimum balance requirements. Ideally, the savings account you choose doesn't charge any monthly maintenance fees.
You should also watch out for transaction limits and fees for excess transactions. If your savings account has a low transaction limit, this can add up fast.
Accessibility
Accessing money in your savings account is vital when you need it. After all, that's what it's there for. Make sure you have ways to get the money quickly if you need it. Local and big banks should allow you to withdraw cash or get a cashier's check at a branch. You can also set up an ACH or wire transfer.
Online banks are a little more difficult, but are still very accessible. You can withdraw cash at an ATM or set up a wire or ACH transfer online. Cashier's or bank checks may still be an option, but require you to wait for them to be mailed to you or the recipient.
Online and mobile banking tools
Digital banking tools can make saving much easier. In particular, look for an account that allows you to set up automatic transfers to your savings account. If you receive checks often, it helps to have a mobile app with mobile check deposit so you can put the money directly into savings.
Other savings features
Some banks have less common features that help you save more money.
One example is the ability to link a debit card from a checking account at the same bank to your savings account. When you make a purchase, they round the amount up to the nearest dollar and deposit the change in your savings account.
Another handy feature is the ability to have multiple savings accounts or sub-accounts within your savings account. This allows you to have different accounts for each goal, helping you visualize your progress. It can help you feel motivated to save extra toward a goal because you can see yourself getting closer faster than having one general savings account.
Open a New and Improved Savings Account Today
Don't get stuck saving in a bad savings account. If you're paying monthly fees or earning next to no interest, chances are there is a better savings account out there for you.
Start looking for a new savings account by looking at our top picks in New Mexico. Then, compare those to big and online banks to see what options are available to you.
Finally, don't forget to take action and open a new account. Every month you wait and pay monthly fees or earn low interest rates, you're leaving more money on the table.