The Best Savings Accounts in Wyoming for 2023
Find out which local Wyoming banks provide the best savings accounts to consumers based on account fees, interest rates, and money management features.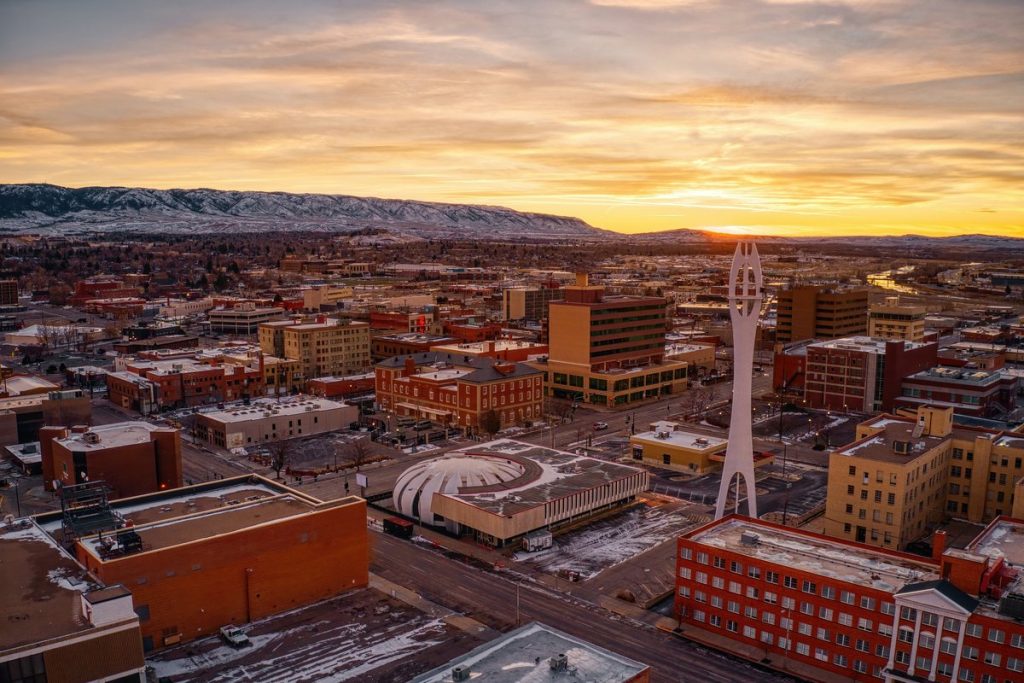 You might use a savings account to keep the money you're saving for specific goals separate from your spending money. This can help you reach your goals, but only if you have a good savings account.
Some savings accounts may hurt you more than they help you, though. If you're paying monthly maintenance fees or earning next to no interest, superior savings accounts exist that can better serve your needs.
To help you find the best banks in Wyoming, we created a list of our top picks. Here's what you need to know.
Best Savings Accounts in Wyoming
First Republic Bank - Passbook Savings
The Passbook Savings account at First Republic Bank pays interest using a tiered rate system based on your account balance. The account has no monthly service fees but has a relatively high $500 minimum opening balance requirement.
You get access to online banking with this account. Unfortunately, withdrawals can only be completed in person with a Passbook at Preferred Banking Offices. ATM card withdrawals are not an option.
Uinta Bank - Uinta Consumer Savings Account
Uinta Bank's Consumer Savings Account pays interest regardless of your balance in the account. Current rates are available by calling the bank or speaking with a customer service representative in person.
You only need $10 to open an account and there is no possible monthly service fee. You will receive quarterly statements with the account.
First Northern Bank of Wyoming - Regular Savings
First North Bank of Wyoming's Regular Savings account has a very low minimum opening and ongoing monthly balance requirement of just $5.
You're charged a $2 per month service fee if you drop below this balance. The account earns interest and monthly transactions are limited as they are with most savings accounts.
Bank of Star Valley - Passbook Savings
The Passbook Savings account at Bank of Star Valley has no monthly maintenance fees. They have a $10 minimum opening deposit and ongoing monthly minimum balance requirement. Statements are issued once per year and are available as eStatements.
The account earns interest using a tiered interest rate structure based on your balance. Withdrawals are limited to six per month, except for over-the-counter withdrawals. You get access to online and mobile banking. If your account falls dormant for a 12-month period, you're charged a monthly dormancy fee of $2.50.
How we picked these accounts
We used the FDIC's June 2022 data to identify the top 50 banks in Wyoming based on deposit market share--with coverage of major cities including Cheyenne, Casper, Laramie, Gillette, and Rock Springs.
Then, we evaluated each bank's savings accounts for consumer-friendly features, such as:
The interest rates they pay
Low or no minimum balance requirements
No monthly service charges
Ways to waive any monthly service charges that do exist
Other savings tools
Big Banks vs. Online Banks
In addition to the above banks in Wyoming, other banks offer savings accounts. In particular, big banks and online banks may provide savings account options worth considering. Here are the pros and cons.
Benefits of Big Banks
Branch footprint
Big banks have a considerable number of branch locations. As long as they have several in your area, they're likely one of the most convenient types of banks to find a local branch for.
In-person help
If you can't stand calling call centers or using online chat, big banks can provide assistance in-person at their branches.
Online and mobile banking
These banks almost always offer online and mobile banking. The features may not be as advanced as those provided by online banks.
Drawbacks of Big Banks
Fee schedules
One way big banks make money is through a long list of fees. Many of these fees have high costs.
Fee waivers may be difficult
You may have a chance to get fees waived. The requirements to do so may be cumbersome, though. For example, you could need thousands of dollars to waive a minimum balance fee.
Paltry interest rates
The interest rates at these banks are often close to zero. Sadly, this usually includes their savings accounts.
Pros of Online Banks
FDIC insured
Online banks that are FDIC members offer the same deposit insurance coverage as brick-and-mortar FDIC member banks.
Higher interest rates
Expect these banks to pay interest rates at least several times the national average for savings accounts.
More consumer-friendly fee schedule
Online banks don't have to pay for branches. Many of these banks pass on some of the cost savings by charging fewer and lower-cost fees.
Possible ATM access
Your online bank likely allows you to use an ATM or debit card to withdraw cash directly from your savings account. If it doesn't, you can quickly transfer money from savings to checking by utilizing the bank's mobile app.
Superior technology
These banks know you mainly access your money through technology. They focus on their online and mobile banking access to add valuable features and make the technology work very efficiently.
Cons of Online Banks
Cash deposits
With no branches, depositing cash is a bit trickier. You may have options, but they aren't as easy as walking into a bank branch.
Internet is required
Internet is necessary to bank online or through a mobile app. Natural disasters and outages can cause problems with this, but telephone banking may be a viable alternative.
No physical branch locations
Online banks don't have branches you can visit. Online banking isn't a good fit if this is important to you.
Figuring Out Your Top Savings Account Priorities
Each person saves and banks in different ways. That means each person may find a different savings account that best fits their needs.
To identify which account is best for you, start by finding your priorities. Here are a few ideas to help you decide what's most important to you.
Interest rates paid
The top priority for any saver should be security. That's why choosing an FDIC-insured bank is an absolute requirement. After that, most people look to the interest rate a savings account pays as the big differentiator.
Two types of savings accounts offer the best chances at a high interest rate. The first is an online high-yield savings account. These accounts often have high rates and increase rates before other types of banks in a rising rate environment.
The other type to consider is a savings account linked to a rewards checking account. These can offer higher than average savings interest rates with qualifying activities in a related checking account.
Fees you have to pay
Paying fees to save money makes zero sense, but several banks charge fees for savings accounts.
Ideally, you can find a bank that never charges maintenance or low balance fees.
Plenty of them exist and it removes the risk of accidentally paying a fee if you slip up on one of the requirements.
Access to your funds
Savings accounts give you a separate place to put your funds, but you still eventually need to access that money. Banks with physical branches make this easier because you can walk inside to get cash or a cashier's check. You can also request an ACH transfer or wire transfer quickly.
Online banks don't have branches you can use, but you could likely withdraw some cash from an ATM. If you need a check, you'll have to wait for it to get mailed to you or transfer the funds to your checking account. That said, ACH and wire transfers are likely easy to request with online or mobile banking.
Digital banking tools
Most people use technology to interact with their banks. Digital banking tools for savings accounts are essential to make putting money away easier.
Ideally, your bank's technology allows you to set up automatic transfers from checking to savings. People who receive checks often may want to look for a bank that supports mobile check deposit, too.
Other savings tools
Savings tools can accelerate your rate of savings, too. Some banks provide tools that aren't as widespread but are very helpful for adding money to your savings account.
The first is the ability to have multiple savings accounts or sub-accounts within a savings account. This lets you create goal-based accounts where you can visualize how much you've saved for each of your goals. This may motivate you to put extra money toward your goals to reach them faster.
Another powerful tool some banks offer is the ability to round up purchases. Banks that offer this allow you to link a debit card from a checking account at the same bank to your savings account. When you make a purchase on your debit card, the bank rounds up that purchase and transfers the change from your checking account to your savings account.
Move to a Better Savings Account
If you're using a savings account that charges maintenance fees or pays a paltry interest rate, it's time to upgrade. You can start by reviewing our list of Wyoming's top five savings accounts.
Then, compare your top pick to big banks and online banks you're considering.
Remember, taking action is key to helping you put more money in your savings account. Every month you don't pay a monthly maintenance fee or you earn a higher interest rate is more money toward your savings goals.