The Power of Online Home Listing Services: Zillow, Trulia and Redfin
We compare 3 of the top real estate websites (Zillow, Trulia, Redfin) and explain how online real estate works.
As with most industries, the real-estate vertical has experienced a digital shift as consumers turn to the Web to find, sell and buy homes. Thanks in part to real-estate search engines like Zillow, Trulia and Redfin, consumers can use the tools created by these sites to be in control and fundamentally change the role of the traditional real-estate agent.
If you're not familiar with any of these sites and are in search of a new home, it's definitely time to take a minute and get up to speed. The real estate online listing space was founded in 2005 and has grown into a multi-million dollar business that sees on average more than 20 million unique users visiting (per site) and searching for homes each month.
How Listings are Collected? Do they have every Home / Rental - NO
The key value of these properties is their ability to make it easier for homebuyers to search real-estate listings. Before these types of user-friendly interfaces were created, homebuyers were mostly dependent on realtors to show them relevant listings. That's because only realtors have access to MLS (Multiple Service Listings) information, which, in simple terms, is pretty much the Yellow Pages of home listings in America. Every realtor or anyone looking to sell their home would be wise to list it on MLS.
That said, it is important to know that not all listings can be found on these sites and in most cases there will be discrepancies in the listings you find. While they all carry the same basic data, which consists of listings from counties where home information is publicly available (i.e. Texas considers property sale information private), this is where similarities end and discrepancies begin, partly due to how these sites work.
More specifically, Redfin is a real estate brokerage, whereas Trulia and Zillow are third party data aggregators. Therefore, because Redfin is a brokerage, it actually has memberships in the MLS, where Trulia and Zillow need to negotiate data sharing/syndication agreements. In a recent interview on TechCrunch, the CEO of Zillow mentioned that they have negotiated more agreements than Trulia, but who really knows -- as both sites allow sellers to input, update, or correct information about their own property for free.
Ways Homebuyers Should use these Online Real Estate Search Engines
Even though discrepancies exist, this shouldn't scare you away from using these properties as the pros definitely outweigh this single con. With features ranging from Search to Advice, all of these properties offer something that should be utilized when conducting your home search.
Trulia's Local Search / Map Technology: The ability to search, compare and review properties is what made these sites so popular. All offer great interfaces but it's Trulia with its local map technology that stands out in the Search category. Going beyond the square footage and trends, Trulia offers ways for users to get a better sense of the neighborhood with local data that highlights schools, crime activity and available transit routes. Because as we know, some times a great home in a terrible neighborhood just isn't worth it.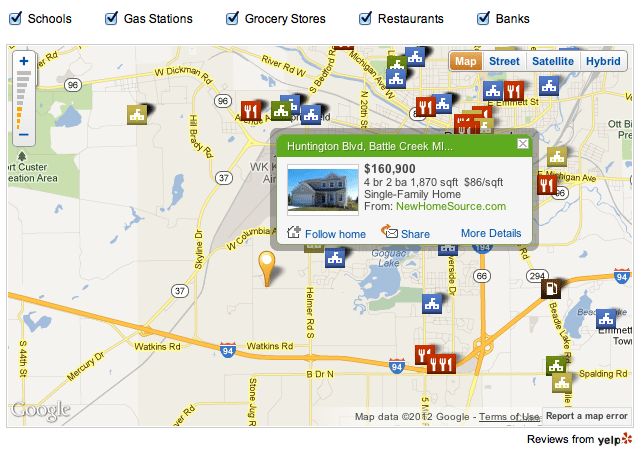 Unlimited data points, Zillow has Zestimates: When it comes to data, Zillow really is the leader in our opinion. From photos to sales history and tax information it is their Zestimate that makes Zillow a must when searching for homes (or apartments). Zestimates are a free house value approximation based on Zillow's proprietary algorithm that is built off of AVM or "Automated Valuation Model." Zillow also offers housing payment estimates and their calculators include local taxes, home insurance and mortgage insurance, which is very helpful.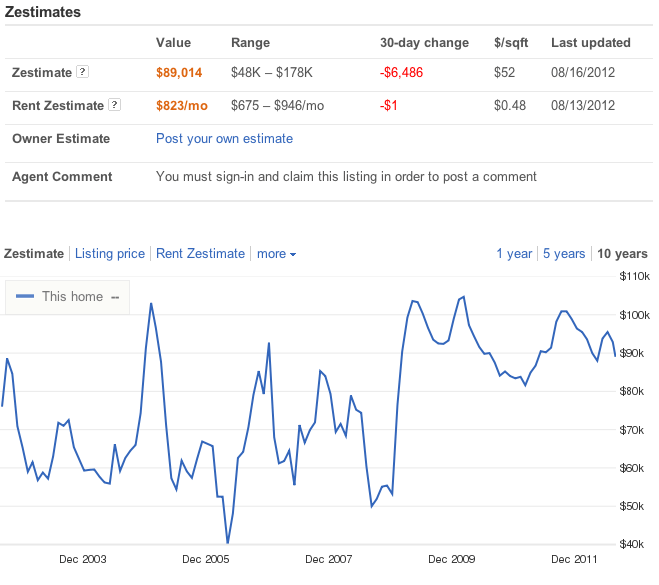 Up to date listing data with Redfin: As we mentioned above, unlike Trulia and Zillow, Redfin is actually a brokerage and therefore has direct access to the MLS listing data and therefore can guarantee it always has the most accurate, up-to-date information. Also because Redfin employs live agents, they can offer discounts over traditional brokerages. Redfin also encourages their team to share notes after visiting the listing, which can come in handy.
We should point out that even with MLS access, Redfin is only active is a select few areas. As of today Redfin offers listings in Atlanta, Austin, Boston, Chicago, Dallas, Denver, Las Vegas, Long Island Westchester, Oregon, Philadelphia, Phoenix, Sacramento, San Francisco, Seattle, Southern California and Washington, DC.
Be sure to Go Mobile: If your searching for a new home, chances are you're on the road for half of that search. Being able to quickly access listings via a mobile device is a definite must. Zillow's recent quarterly results highlights that mobile access is important -- with 63 homes per second being view on a mobile device or three times the rate on the Web.
So while Redfin is probably your best bet to ensure the listing is available, be sure to use Truila to help you get an idea of how the neighborhood is, and Zillow for all the data associated with that listing including the true estimated market value.
In the end, not one is perfect, but used in combination you are sure to be ready when it's time to make an offer.
Updated 9/14/2012: Included actual areas Redfin is currently posting listings.