Earthquake Insurance: Do You Need Coverage in Your Area?
Learn what is covered by earthquake insurance, what policy coverage would cost, and whether you actually need it to pay for expensive earthquake damage.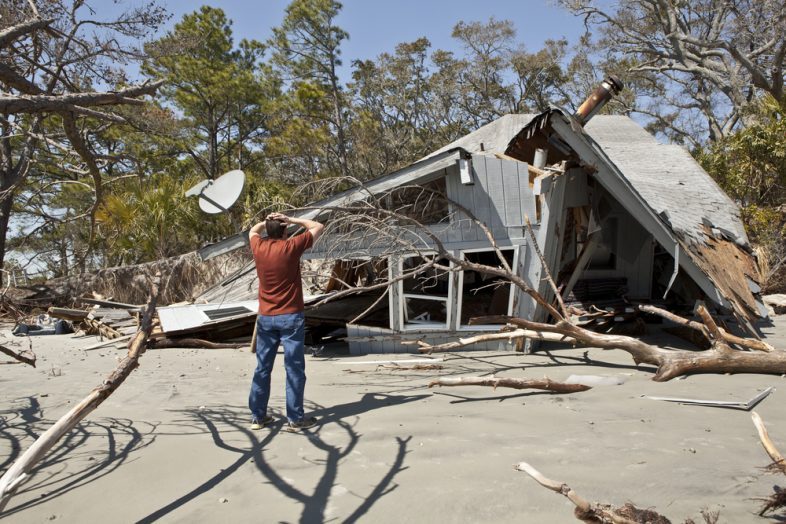 Are you financing a home through a mortgage lender?
If so, you're expected to buy a homeowner's insurance policy. These policies pay for damages or losses to the property, but they don't cover everything. 
A typical or standard homeowner's insurance policy doesn't cover earthquake damage. This isn't an issue when you live in an area that doesn't get earthquakes. 
But what if you live in California, Hawaii, or Oregon? What are your options if an earthquake destroys or damages your house?  
To protect your property, you'll need to get earthquake insurance. 
Here's what you need to know about earthquake insurance. Including what these policies protect and whether you need one.
What Is Earthquake Insurance?
Earthquake insurance is an insurance policy that covers property damage after an earthquake. Earthquakes occur when there's a sudden release of ground energy as the earth shifts. 
These events are more common in certain parts of the country, but can happen anywhere.
They can cause damage to a home's interior, roof, windows, plumbing, and other parts of the structure.
Look:
Your home is your biggest investment.
So it only makes sense to have insurance policies to protect this investment in the event of damage. But if you think that your homeowner's insurance policy will repair or rebuild your house after an earthquake, you are mistaken.
A standard homeowner's insurance policy covers damages caused by other natural events.
These include hurricanes, wind storms, hail storms, and tornadoes. Yet, these policies do not cover earthquake damage. 
Also, a standard homeowner's insurance policy doesn't cover flood damage.
To protect your property from earthquake damage, you need to buy earthquake insurance. But it isn't enough to buy a policy. You must also understand your coverage. 
The amount of coverage can vary depending on insurer and individual policy. Basic coverage includes:
repairing or rebuilding the property
land repairs
replacing major appliances
The policy also provides loss of use coverage. Let's say you're unable to live in the home while it's being rebuilt or repaired. The policy will pay for any extra living expenses. This includes renting another home or staying in a hotel.
An earthquake insurance policy can even cover the replacement cost of certain personal items with limits. These include electronics, jewelry, collectibles, and other valuable items.
Earthquake insurance also protects your property against water damage. But only when this damage relates to the earthquake. 
Depending on where you live, earthquake insurance is also useful if you're within close vicinity to a volcano. These policies also cover damages and losses due to volcanic eruptions.
How Much Is Earthquake Insurance?
There is no set rate for earthquake insurance.
Rather, insurers base monthly premiums on the property's insured value. This refers to the cost to rebuild your home if it's damaged or destroyed by an earthquake. 
Annual premiums for earthquake insurance vary. They can be as high as $1,000 per every $100,000 of coverage.
Another factor that determines the annual premium for earthquake insurance is the home's location. 
If you live in an area with low-seismic activity, your monthly premium will be less than someone who lives in an area with high-seismic activity. 
The property's age also determines your rate, as well as your deductible. Paying a higher deductible results in a lower rate. Just know that you'll pay this deductible out-of-pocket before your insurance company pays for any damage after an earthquake.
Be aware:
Insurers calculate deductibles for earthquake insurance differently than deductibles for a standard homeowner's insurance policy.
With your homeowner's insurance, you might have a set deductible, say $500 or $1,000 per claim. 
When you get earthquake insurance, the deductible is a percentage of your home's insured value. So if you have a $150,000 dwelling coverage limit, and a 25 percent deductible, you're responsible to pay $37,500.
If you don't have enough in savings to pay your deductible, you may qualify for financial help. But only if your property is within a declared "disaster area." Or, you might qualify for a low-interest loan to pay for damages through a local bank.
Do I Need Earthquake Insurance?
Although earthquake insurance is a protection, do you need a policy? 
In most cases, your mortgage company will only require earthquake insurance if you live in an earthquake-prone area.
These areas in the United States include: 
California
Oregon
Nevada
Alaska
Hawaii
Washington State
Of course:
Earthquakes can occur in other states as well.
So even if your mortgage company doesn't require this coverage, it doesn't hurt to speak with your insurance agent to get quotes. 
If you've paid off your mortgage and live in a high-risk area, you should consider keeping your earthquake insurance, too. This is also important in areas that only have "some" seismic activity. 
You should also consider earthquake insurance if you live within 20 to 30 miles of a volcano.
Many earthquakes only last a few seconds or minutes. Yet, they can cause thousands of dollars of damage. Getting a policy can provide peace of mind, just in case. Without insurance, you might be unable to afford the repair cost. This can leave your property uninhabitable.
And unfortunately, even if you can't live in a property after an earthquake, you're still responsible for paying off the mortgage.
How to Get Earthquake Insurance
Getting earthquake insurance can be as simple as calling your home insurance provider.
Ask if you can add this coverage to your existing policy. This is often more convenient than getting a policy from a separate company. It's sometimes cheaper to bundle insurances, too.
But not every insurance company offers earthquake insurance. So you might have to shop around and contact several agents.
Policies are easier to find in high-risk areas.
Many companies that sell insurance in these regions also offer earthquake insurance. They often partner with privately funded organizations. 
For example, insurance companies in California typically provide earthquake insurance through the California Earthquake Authority. 
Getting earthquake insurance might be harder in areas with a lower risk. If your current insurance company doesn't offer this coverage, you can buy a separate standalone policy from another insurance company. 
Tips
Here are a few tips and advice on buying earthquake insurance to ensure you receive the necessary coverage:
Ensure proper coverage
When shopping for an earthquake insurance policy, make sure the policy's coverage matches the coverage that comes with your homeowner's insurance policy.
This ensures enough coverage to repair or rebuild your property.
Valuables not covered
If you have valuables in the home such as jewelry, collectibles, furs, or electronics, you'll need a rider to protect these items.
Ask your insurance provider for a quote.
Have documentation ready
Take pictures or video of your belongings. Store these in a safe place.
This provides proof of ownership. This can speed up the claims approval process after an earthquake.
Other acceptable proofs of purchase include receipts, statements, and appraisal forms.
Shop multiple insurers
Get multiple insurer quotes before choosing an insurance company for earthquake insurance. At least three to four quotes.
Don't assume that you can't afford earthquake insurance. You'll pay a cheaper premium if you live in a low-risk area. People living in high-risk areas might pay hundreds per month. Premiums in low-risk areas could be as low as $20 to $30 a month.
After filing a claim, you might disagree with the insurance adjuster's assessment of your property damage.
Feel free to get a second opinion from a public adjuster.
Some structures may need additional coverage
Keep in mind:
Earthquake insurance doesn't usually cover damage to certain structures on a property. These structures include fences, pools, and a detached garage. To protect these items, you will need to add a separate rider to the policy.
Find out if your home is earthquake-resistant
When shopping for a home in an earthquake-prone area, inquire as to whether a home is earthquake-resistant.
This doesn't mean that an earthquake can't destroy or damage the home.
But these buildings can withstand movement and rarely collapse. This helps minimize the extent of damage.
Lost rental income
Let your insurance company know if you have rental property located in an earthquake-prone area.
If an earthquake destroys or damages this property, you can receive reimbursement for lost rental income.
Final Word
Earthquakes are frightening events that can cause extensive property damage.
During a severe earthquake, the cost to repair your home could exceed $100,000. So it's important to have adequate coverage to soften the financial blow. 
Mortgage lenders will likely require earthquake insurance if you're purchasing a property in a high-risk area.
But even if your area isn't prone to earthquakes, consider getting a policy anyway. The added coverage can provide peace of mind, protecting your property from the unexpected.