EIP Card: How to Get Your Money Without Fees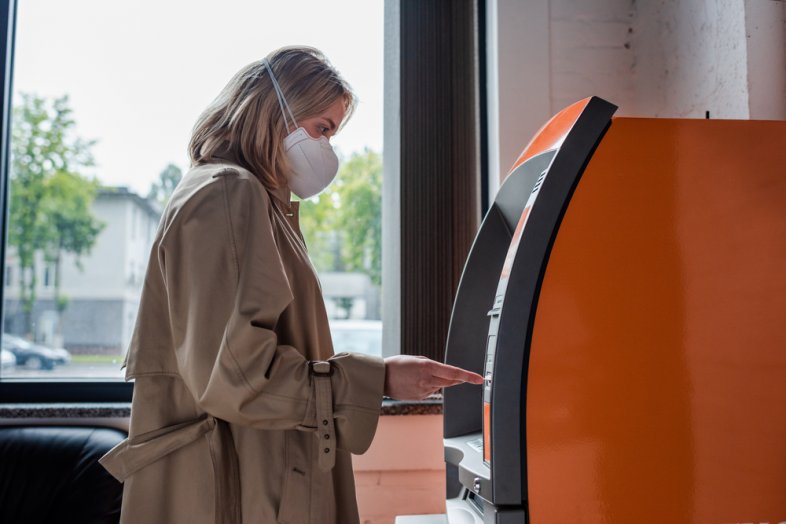 The IRS has sent out the Economic Impact Payment (EIP) in the form of a debit card to qualifying taxpayers who may not have a bank account to receive direct deposit or to deposit a mailed stimulus check.
As these taxpayers receive their EIP debit cards, they may be wondering how to access their money without getting hit by a bunch of fees.
Yes, the EIP card does have some fees involved for certain types of transactions.
That said:
It is entirely possible to use, transfer, and withdraw all of the funds without getting hit by a single fee.
Find out about the different ways to do so.
How to Access Your Money Without Fees
Depending on what you want to do with your stimulus payment, you might prefer a specific method of collecting your money.
Or, use a mixture of the following methods to get your money out as fast as possible.
Withdraw cash from an in-network ATM
The EIP card allows you to withdraw cash without a surcharge from more than 55,000 ATMs in the U.S., Mexico, Canada, Puerto Rico, Australia, and the United Kingdom with the AllPoint ATM network.
These in-network ATMs are commonly found at local drugstores, supermarkets, convenience stores, and major retailers such as Target, Walmart, and Costco.
Find and visit an AllPoint ATM near you. (The Money Network also has this locator tool.)
At the ATM, enter your 4-digit PIN (your PIN is in the mail sent along with the card).
Select "Withdrawal" from "Checking" and enter the amount of cash that you want to take out.
The card's daily ATM withdrawal limit is $1,000.
So, you will need to make multiple trips on separate days to withdraw the entire balance on the EIP card.
Transfer funds to your own bank account
It is free to transfer the funds in the EIP card to an existing bank account.
You will need to:
Activate your card, call 1-(800)-240-8100.
Register an account for online or mobile app access, visit EIPCard.com or download the free Money Network Mobile App (available on Apple iOS and Android platforms).
Having your bank account routing number and account number ready.
Once you're set up, you can log into your account online or through the mobile app to transfer funds to your bank account.
The ACH transfer limit is $2,500 per day or $5,000 per month.
For married couples with dependents, you may not be able to transfer all the money from the EIP card in one day.
Request a Money Network check
Cardholders can request checks with amounts deducted from your EIP card balance.
To request checks, you must call customer service at 1(800)-240-8100.
For each check to be written, you have to call the number on the back of your card and go through an automated phone call to receive an issuer number and transaction number to activate the check and have the check amount deducted immediately from your EIP card balance.
This method could be handy for bills and rent.
Spend it
Point-of-sale transactions are free, so you can use the EIP card for shopping in the same way that you normally would with any debit card (merchants must accept Visa debit).
Be mindful:
Any purchases that will exceed the balance of the card will be denied. Overdrafts on the EIP card are not possible.
The daily point-of-sale transaction limit is $2,500.
EIP Card Fees to Avoid
Compared to many prepaid debit cards and reloadable debit cards on the market (the EIP Card is not reloadable), the EIP Card has an extremely consumer-friendly fee schedule.
Here are the most common card fees to avoid:
Out-of-network ATM withdrawals
The EIP Card charges $2 per out-of-network ATM withdrawal (waived for the first time).
The catch:
The ATM operator may impose a surcharge on top of the EIP Card's fee. The surcharge is usually around $3.
So, with the EIP Card, expect the first out-of-network ATM withdrawal to cost about $3 in fees while all subsequent out-of-network ATM withdrawals to cost about $5 in fees.
To avoid this fee: Stick to in-network ATM withdrawals as much as possible.
ATM balance inquiry fee
The card has a $0.25 to check your card balance at any ATM. 
Even worse:
If you check the card balance in an out-of-network ATM, the ATM operator may impose a surcharge on top of the EIP Card's fee.
To avoid this fee: Check your card balance online at EIPCard.com or through the Money Network Mobile App.
Funds Are Insured
Many cardholders may be concerned about leaving their money in the EIP Card.
While it would be the wisest move to get the funds out of the card as soon as possible, rest assured that the funds are FDIC-insured because the deposits are held in MetaBank, an FDIC-insured institution.
If you lose your card, it is reissued for free for the first time. If you lose your card, subsequent reissued cards will be $7.50 each (an additional $17 for expedited card replacement).
Conclusion
The EIP Card is a financial lifeline for many Americans and it's important to keep as much of that money as possible.
Fortunately, it is rather easy to collect all the stimulus funds without losing any of it to fees.