Finding My Dream Foreclosure House
How I found and bought a nice fixer-upper DIY house on foreclosure and later sold it for a profit. How to buy a cheap foreclosure and make money.
Shirley Pulawski is a freelance writer for MyBankTracker who bought a house on foreclosure in Buffalo, NY back in 2000 and has written about buying foreclosure properties. This multi-part series chronicles her experience with buying, fixing, renting, and eventually selling the house for three times her costs in 2003.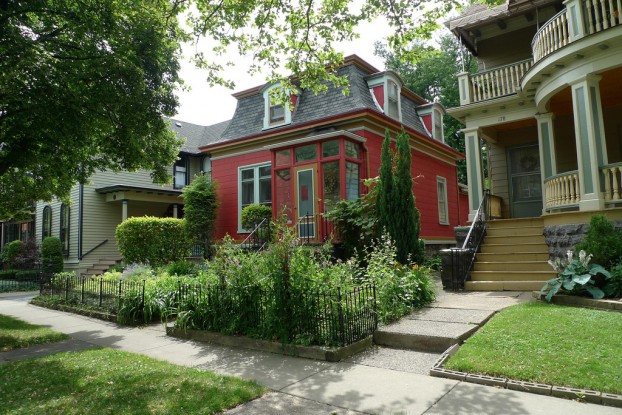 As I stated in my first post in this series, when I bought my house on foreclosure in 2000, I began by working with an agent. I told her what I was trying to find: a low-priced, late Victorian-era fixer-upper that was divided into two apartments so I could rent half of it out. In many cities, that wish list is a tall order, but it was a realistic goal for me since houses like that were plentiful in Buffalo, NY at the time.
Getting started
I was also working the local HUD foreclosure listings and had already missed out on a two-family house in a neighborhood that wasn't terrible. Mostly, anyway. The windows were all knocked out and the interior needed a lot of work, but it was only $15,000 and had great bones – hardwood floors, bay windows, nice wood trim, and three small bedrooms per floor. I hadn't figured out how I was going to pay for it by the time it was snapped up by investors, who flipped it quickly without making any repairs. My finances weren't fully in place yet so I lost out on it, because you have to pay cash on foreclosures. That loss turned out to be a blessing in disguise.
My agent, Carrie, provided me with a stack of listings she printed -- everything she could find for under $50,000. Many agents wouldn't be enthusiastic about spending much time with a low-commission client, but Carrie seemed to be excited about finding a real steal. I think she liked the challenge.
Carrie and I went out one Monday afternoon to look at three prospects. All of them fell short – the neighborhood was too run down or the necessary repairs were too expensive and far more than mere cosmetics. One immediately needed a new roof, which could cost as much as the first house I missed out on. One had its bathrooms completely remodeled, and I had my heart set on an old claw-foot tub and original floor tile.
Scoping off the books
As we were driving around, I noticed a sale sign on an old house with peeling gray paint and rickety-looking porch stairs, but it was big and in a pretty good neighborhood. Sure enough, it was a foreclosure property. We took down the address and looked it up once back in office. My heart was already racing because I liked the location and from what I could tell, it had some terrific features. Carrie found the listing -- it had only been on the market for 22 days, and it was listed at only $22,000. This was the stuff my dreams had been made of, and I hadn't even seen the inside.
A peek inside
As a bank foreclosure, the home was vacant, so Carrie got access to the lock box so we could check it out. The water, gas, and electricity were shut off, so we couldn't see a lot of the details, but the place had just about everything I wanted, claw-foot tubs in both apartments included.
The upstairs apartment, my preference for living, had woodwork that had never been painted and wainscoting that had been partially stripped of paint in the kitchen and bathroom. The hardwood floors needed to be sanded and finished, the plaster walls needed a lot of work, and some ceiling work needed to be done in one of the bathrooms.
We couldn't test the furnaces, but they looked newer, or at least not from the 1950s. The roof looked shabby but didn't seem to leak, and plenty of other minor repairs were required, but the rooms were big, the back yard was just the right size, tons of light came through the big bay windows, and it had the potential to be just gorgeous.
Making it happen
Carrie and I were both on a high as we raced back to her office. It was getting near the end of the work day, so she didn't know if she would be able to make contact to find out if there were any offers or put one in ourselves.
I hadn't quite worked out my money, which I'll address in another post in this series, aside from the $5,000 I had to put down as earnest money. I knew the rest of it was coming, but I didn't know exactly when. I was confident it would all come through by the time I would close in about 30 days, but didn't know with certainty. I was flying by the seat of my pants, nervous, excited, invigorated, and full of big dreams and plans for remodeling and decorating.
The offer
It's typical for buyers to low-ball the first offer for a house. Carrie asked if I wanted to offer $18,000. That was tempting, since I really wanted to spend as little as possible, but I also knew it was really cheap and I missed out on one already. Carrie called and found out there were two other offers on the house.
I knew exactly what to do.
"Offer the full amount," I said to my agent. "Are you sure?" Carrie asked. It wasn't something people usually do. "Yes. Absolutely," I replied, determined to make this house mine. Carrie made the offer.
The next step was to sit and wait nervously for the phone call.
Related Stories:
What to Know Before Buying a Foreclosure
What to Do if Your Credit Score is Not Good Enough for a Mortgage