Closing On My Foreclosure Dream Home
The closing process on a foreclosure home is different than closing on a traditional home sale where mortgages are involved.
Shirley Pulawski is a freelance writer for MyBankTracker who bought a house on foreclosure in Buffalo, NY back in 2000 and has written about buying foreclosure properties. This multi-part series chronicles her experience with buying, fixing, renting, and eventually selling the house for three times her costs in 2003.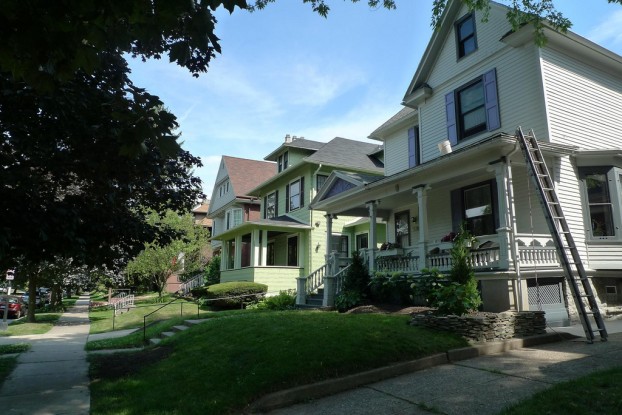 After I began the process of searching through foreclosure listings and visiting properties with my real estate agent, I put in an offer on what was the perfect property for me. What followed was an agonizing week waiting for the bank to respond to the offer.
I did a lot of second-guessing during that week. I didn't regret making an offer for the full asking price of $22,000, but I wondered if I should have added in just a little bit more on case anyone else offered full price. My agent learned that there were two other bids, and I has already missed out on one foreclosure. This house was much nicer, bigger, in a better neighborhood, and in need of fewer repairs.
The phone call came, and my agent seemed as excited as I was to learn that my offer had been accepted by the bank. It was unquestionably one of the happiest days of my life, although getting the keys and walking in trumped that moment.
The closing process
Buying a house on foreclosure means a shorter closing process, because the sale is simply between one person and a bank. In a typical purchase, there are four or more parties, including the buyer, the seller, the respective banks, and other requirements. The house is sold entirely as-is, the seller is the bank and has already completed some degree of paperwork, and the buyer has already arranged to make a cash payment.
In my case, I almost had all of the cash -- I was borrowing the money from my mother, who applied for an extension of her home equity loan. She was approved for the loan, but there wasn't immediate access to the money. So when I signed the paperwork to start the closing process, I didn't have cash in hand just yet, and was really riding by the seat of my pants, trusting that everything would continue to fall into place. It is definitely not a strategy I would recommend to anyone else, but it worked for me.
Closing day
Fortunately, the money came just in time and I was able to show up for the closing with a check. I had already put $5,000 down as earnest money, so all I needed was the remaining money plus any other fees that may have been involved. I don't remember if there were any additional fees, but without activities like a title search or appraisal, the additional costs weren't much.
The closing itself was very unceremonious. I simply met with my agent and signed some papers an handed her a check. She handed me the deed and a key. Closing on a more typical transaction involves piles of paperwork for the mortgages, insurance and proof of it has to be in place, so there is just a lot more involved.
Busy future
Once I had the keys in my hand, I had plenty going on in my mind as I drove to the city office to have the water turned on. I had a lot of work ahead of me, but I'm pretty handy and like to learn, so I wasn't too worried about that. The hard part was figuring how to prioritize the enormous list of tasks. While I really wanted to get my upstairs apartment into the showplace I knew it was destined to become, I wanted to start making income from the apartment below. I already had two friends who wanted to share the apartment, so I had to make that place livable first.
I had to figure out how I would budget for paying property taxes while also coming up with money for bigger projects like new exterior paint, refinishing the floors and bigger items like brand new appliances for my apartment's kitchen. There were already some old and ugly appliances in the downstairs apartment, but I didn't know if they worked.
Clearly I had a lot of expenses, including some I hadn't considered. I had a lot of windows, but no curtains or rods. I had a lot of rooms to paint and a lot of plaster to repair.
In addition to appliances, I needed furniture and a new bed, and I was determined to pay cash or only use limited credit to get what I needed and not go into debt. I was about to live in my own home, mortgage-free, but I certainly had a lot of financial decisions ahead of me.
Related Stories:
How I Bought My First House on Foreclosure: Part One
Part Two: Finding My Dream Foreclosure House
What to Know Before Buying a Foreclosure