Ally Bank Interest Checking Account 2023 Review
Learn about Ally's Checking account's features to help you decide if an Ally Interest Checking account is in your best interest.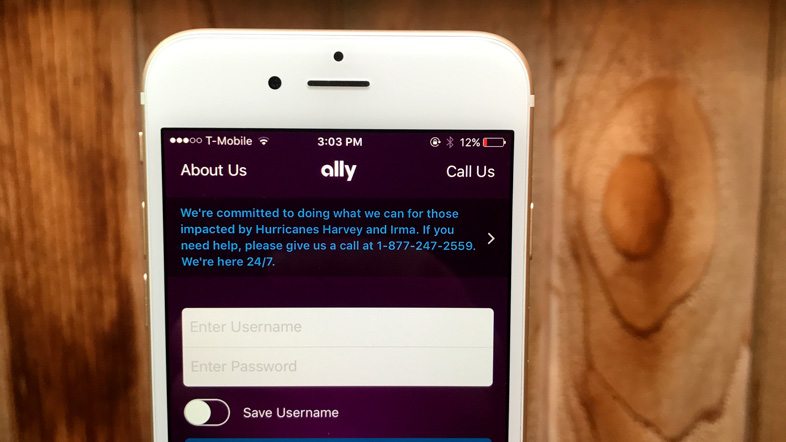 Ally Bank Interest Checking Account Pros & Cons
Pros
Cons

No monthly fees or overdraft fees
Up to $10 in monthly ATM fee refunds
Free early direct deposit and standard checks
Great mobile banking apps

No branch or ATM access
Interest rate not a difference-maker
Interest Checking With No Monthly Maintenance Fee
If you're considering an interest checking account, the main thing you may be concerned with is how much interest you'll earn and how much the account costs.
Ally offers two different interest rates on interest checking, based on your balance.
Checking customers who keep less than a $15,000 daily balance in their account earn one annual percentage yield.
If you maintain a minimum daily balance of $15,000 or higher, you get a much better APY.
Now, compared to traditional brick-and-mortar banks, Ally's rates are better.
That's to be expected since online banks are generally able to offer more in the way of interest, owing to their lower overhead costs.
When you look at other online banks, however, you'll see that Ally has some competition.
You'll want to keep reading to get the scoop on how other online banks compare.
Now, if you're earning interest on your checking account, you might assume that you'll pay a monthly fee.
Ally Bank, however, charges no monthly maintenance fee for Interest Checking Accounts.
That means you don't have to worry about fees chipping away at any interest you're earning.
Can You Also Earn Debit Card Rewards?
A checking account that pays you interest and offers rewards on debit card purchases means double the perks.
While you do get a debit card with your Ally Interest Checking account, there's no rewards program.
That doesn't mean you're completely counted out from earning rewards, however.
You can apply for an Ally CashBack Credit Card to earn cash back rewards on qualifying purchases.
This card offers tiered cash back rewards, plus a bonus when you deposit your cash rewards into an Ally bank account.
If Ally's rewards card doesn't suit your spending style, there are plenty of other cards to choose from. Check out the best rewards credit cards recommendations from MyBankTracker.
Accessing Your Ally Interest Checking Account at the ATM
Aside from using your debit card to make purchases, you can also use it to withdraw cash, make transfers or check your balance at the ATM.
As an Ally Bank customer, you can access over 43,000 Allpoint ATMs nationwide fee-free. That's handy if you travel on the regular.
You can also use your card at any other ATM but there's a catch. The bank that owns the machine may charge you a fee.
Ally will reimburse foreign ATM fees, but only up to a limit of $10 per statement cycle. You can plug in your location to Ally's ATM locator to find out where fee-free ATMs are nearby.
Manage Your Account Hassle-Free With Mobile and Online Banking
Ally is an online bank, so there are no branches to visit. Luckily, you can handle account management from your mobile device or laptop. For example, with mobile banking you can:
Check your balance
Transfer money between Ally accounts
Schedule bill payments with no fee
Deposit checks remotely with eCheck Deposit
Send someone money with Popmoney
Set up direct deposits
Schedule a wire or ACH transfer to another bank
There are limits on how much money you can deposit through mobile banking. You can deposit up to $50,000 in a single day.
The total monthly limit for eCheck Deposit is $250,000 every 30 days. Depending on which bank issues the check and the amount, your funds may be available the next business day, or up to five business days after your initial deposit.
Mobile and online banking make it easy to do just about anything you might need to do with your account.
If you need to talk to a person, however, live customer service is available by phone 24 hours a day, 7 days a week. If you prefer, you can also get help via live chat or email.
How Do the Fees Add Up?
As far as online interest checking accounts go, Ally is very fee-friendly. There's no monthly maintenance fee and no fee for things like incoming wire transfers, ACH transfers or overdraft protection transfers from an Ally savings account.
Standard checks come free with your account. If you need a certified or cashier's check, those are also free.
At some banks, you may pay $5 or $10 for these kinds of checks by comparison.
Ally does not charge for overdrafts or items returned because of insufficient fees.
Some less common fees to consider are charges for overnight or same-day bill pay, returned deposit fees, outgoing wire transfer fees and account research fees.
Ally Bank Interest Checking Account Fees
| Type | Fee |
| --- | --- |
| Monthly Maintenance Fee | $0 |
| ATM Transactions | $0 (ATM operator fees refunded up to $10 per statement cycle) |
| Overdraft Fee | $0 |
| Overdraft Protection Transfer Fee | $0 |
| Returned Item | $25 |
| Stop Payment | $15 |
| Deposited Item Returned | $7.50 |
| Domestic Wire Transfer (incoming) | $0 |
| International Wire Transfer (incoming) | $0 |
| Cashiers Check | $0 |
Can You Deposit Cash to Your Account?
Unfortunately, Ally Bank doesn't accept cash deposits. If you want to make a deposit, your options are limited to eCheck Deposit, online transfers, direct deposit, wire transfers and spending checks in the mail.
If you need to add cash to your account, there are two ways around it. The first is to deposit it into another account at a different bank, then transfer it to your Interest Checking account.
The other option would be exchange cash for a money order, then mail that it to Ally. It may take a little longer for the deposit to post to your account, depending on where you're mailing it from.
Ally Bank Interest Checking vs. Other Online Banks
Ally Bank isn't the only online bank getting in on the interest checking action.
Before you lock in on an interest checking account, it's a good idea to shop around. Here are three other options for earning interest on checking deposits.
Capital One 360 Checking
Capital One 360 offers an interest checking account with tiered rates. The higher your balance, the more interest you can earn.
Compared to Ally, the rates are higher but there's a catch. You have to maintain a six-figure balance to get the very best rates.
That may not be realistic for the average checking account user.
Capital One 360s fee-free ATM network is a little smaller than Ally's. There's no monthly maintenance fee and the mobile and online banking features are more or less identical.
Like Ally, there's no minimum amount required to open an account.
Axos Bank Rewards Checking
Axos Bank Rewards Checking offers the best of both worlds, combining interest with rewards for debit card purchases.
Rates for this account are tiered, based on your account activity.
You can earn one APY for receiving monthly direct deposits into your account, one APY for using your debit card for purchases at least 10 times a month and another APY for using your card 15 times or more each month.
There's no monthly maintenance fee and foreign ATM fee reimbursements are unlimited.
There are no overdraft or insufficient funds fees, and no minimum balance requirements.
You can take advantage of exclusive cash back offers when you use your debit card.
Cash back earned is automatically deposited into your Rewards Checking account at the end of the month.
TIAA Bank Checking
The TIAA Bank Checking account lets you earn a competitive rate on your balance.
There's one promotional rate for the first year. After that, you'll earn a different APY on your account.
Foreign ATM fees are always reimbursed and there's no monthly maintenance fee.
One thing to keep in mind with this account is the minimum opening deposit.
Unlike the other banks in this review, which don't require anything to get started, you'll need $5,000 to set up an TIAA Bank Checking account.
Does Ally Bank Interest Checking Make Sense for You?
Compared to a traditional bank, Ally Bank is worth considering as an interest checking choice.
The rates aren't stellar compared to some online banks, but they're still competitive. One potential hitch is the fact that ATM fee reimbursements are limited to $10 a month.
That, and the lack of debit card rewards might make something like the Bank of Internet USA Rewards Checking account more attractive if you want to get the most value possible.