Axos Bank Rewards Checking Account 2023 Review
Learn what you need to do to earn a high APY with the Axos Bank Rewards Checking Account. Find out what fees and features comes with the account.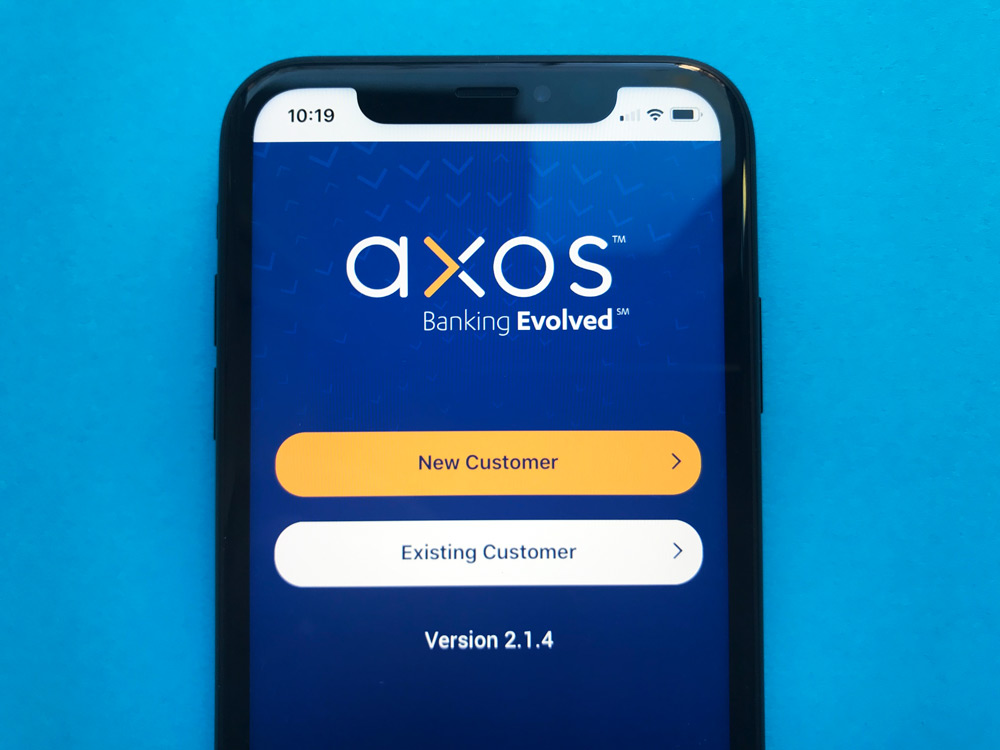 Axos Bank iPhone App
Axos Bank is a well-known online bank that offers all the banking services you could need.
The Axos Bank USA Rewards Checking account is one of the top online checking accounts available thanks to its great interest rate, ATM access, and other benefits.
In this review, learn more about the account to see if it is worth opening.
Great Interest Rates with Few Requirements
The account offers a great interest rate.
To make things better, unlike most rewards checking accounts that offer good interest, but only on small balances, you can earn the great rate on balances up to $150,000.
To qualify for the interest rate, you'll need to meet a few requirements:
Receive $1,000 in direct deposits each month
Use your Visa Debit Card 10 times per month
Use your Visa Debit Card 15 times per month
The advertised rate is divided by three. With each fulfilled requirement, your interest rate increases by a third of the advertised rate.
You have the potential to earn more than most high-yield savings accounts if you are able to qualify for the maximum APY by completing all requirements on a monthly basis.
Note: Each debit card transaction must be a minimum of $3 in order for it to count toward the requirement.
Unlimited ATM Fee Refunds
The big, standout feature of this account is that it offers unlimited ATM fee refunds anywhere in the USA.
One of the biggest concerns people tend to have about online banks is actually being able to access their money. Axos Bank makes it easy to withdraw your money anytime.
Whether you use an in-network or out of network ATM, you won't pay a fee. You'll even be reimbursed for fees charged by the ATM's owner.
The fees are refunded automatically and they're truly unlimited. Your account will be credited at the end of each month, no matter how many withdrawals you made.
Money Management Features
Axos Bank account holders get free access to FinanceWorks.
FinanceWorks helps you manage all your financial accounts in one place.
Once you've logged into FinanceWorks, you can link your accounts at other financial institutions.
FinanceWorks will automatically import your balances and transaction information. You can see your net worth, all of your account balances, and the sum of any debts that you have, all in one place.
Track expenses and control spending
You can also use FinanceWorks to track your expenses. Any purchase you make using a linked credit or debit card will be tracked and categorized. Because transactions are categorized automatically, that makes it easy to track your monthly budget.
Once you've used FinanceWorks for a while, you can go back and check your transaction history to see where you spend your money.
You might find that you spend more than you thought on certain things, like a daily coffee, or going out to eat. You can use the information to help control spending or recalibrate your budget to make your money work for you.
To help you with tracking your spending, you can set alerts in FinanceWorks that will notify you when you reach specific spending thresholds.
Maybe you only want to spend $50 a month on snacks at work. You can set up an alert so you know when you've reached that limit.
You can also create and track savings goals, giving you a more concrete way to track your progress.
Use Any ATM, Anywhere
As mentioned before, Axos Bank offers unlimited ATM fee refunds. That makes it easy for you to use any ATM, anywhere in the United States. You won't have to worry about being charged to access your own money.
Because of the unlimited ATM fee refunds, Axos Bank isn't part of any national ATM network. You can just use the ATM closest to you.
There are some limits on how much you can withdraw each day. You can withdraw up to $510 in cash from ATMs using your ATM card each day. If you use your debit card, you can withdraw up to $1,010 in a day.
You can use your ATM card to make purchases of up to $500 per day.
If you use your debit card, which comes with your Rewards Checking account, your limit for purchases is $2,500 a day. With those high limits, you should have no trouble accessing the money that you need.
No Monthly Fees
This checking account helps you save by not charging any monthly fees. There are no maintenance or service fees.
You don't need to meet any requirements to waive the fees. There truly are no fees, no matter what balance you maintain.
No Overdraft Fees
Another benefit of the account is that there are no overdraft fees or insufficient funds fees.
There's no worse feeling than being charged a fee when you don't have any money in your account to pay it.
That's why Axos Bank doesn't charge overdraft fees.
Bank of Internet USA Rewards Checking Account Fees
| Type | Fee |
| --- | --- |
| Monthly Maintenance Fee | $0 |
| ATM Withdrawals | $0 |
| Overdraft Fee | $0 |
| Returned Item | $0 |
| Stop Payment | $35 |
| Deposited Item Returned | $10 |
| Domestic Wire Transfer (incoming) | $0 |
| International Wire Transfer (incoming) | $0 |
| Cashiers Check | $10 |
Make Deposits and Manage Your Account Anywhere
On top of the convenience of being able to use any ATM in the country, you can enjoy all the other benefits of using an online bank.
You can make a deposit to your account 24/7 by using the Axos Bank mobile banking apps.
It's also easy to make transfers, pay your bills, and schedule recurring transactions from your online account. Anything you need to do, you can do from the comfort of your own home.
How it Compares to Accounts from Other Banks
Axos Bank isn't the only online bank.
If you're considering opening an online checking account, these other accounts might interest you.
TIAA Bank Checking
The TIAA Bank Checking account offers a great interest rate with a promise
The EverBank pledge is to always offer an interest rate that places it in the top 5% of all checking accounts.
As a way to prove its commitment to offering great rates, EverBank offers a promotional interest rate for the first year, letting you get a jumpstart on building your savings.
The main downside of the TIAA Yield Pledge checking account is that it requires a $5,000 minimum deposit to open.
The good news is that there are no monthly fees. If you keep your balance above $5,000, you'll also be reimbursed ATM fees.
Capital One 360 Checking
Though Capital One is best known for its credit cards, it also operates an online bank.
The Capital One 360 checking account offers no-fee checking services with competitive interest rates.
Unlike other online banks, you won't get ATM fees reimbursed. Instead Capital One has a nationwide network of 39,000 ATMs that you can use for free.
One thing to watch out for is that there are three tiers of interest rates available to account holders. Balances under $50,000 earn the lowest rate while balances greater than $100,000 earn the best rate.
The main reason to use Capital One 360 is if you already bank with Capital One or have a credit card from the company. The convenience of having all your accounts at one institution can be worth the slightly lower rates.
Final Verdict
Overall, the Axos Bank Rewards Checking account is great for people who want to earn the most interest possible.
If you regularly use your debit card rather than a credit card, meeting the requirements to earn the maximum rate shouldn't be a problem.
As an additional benefit, Axos Bank offers full banking services, including home and auto lending.
If you're looking for a one-stop shop for your financial needs, starting by opening a rewards checking account can help you see if Axos Bank is the right bank for you.