Aspiration Account 2023 Review
Learn how the Aspiration Summit Checking Account works and compare its interest rates and fees to interest checking accounts from other online banks.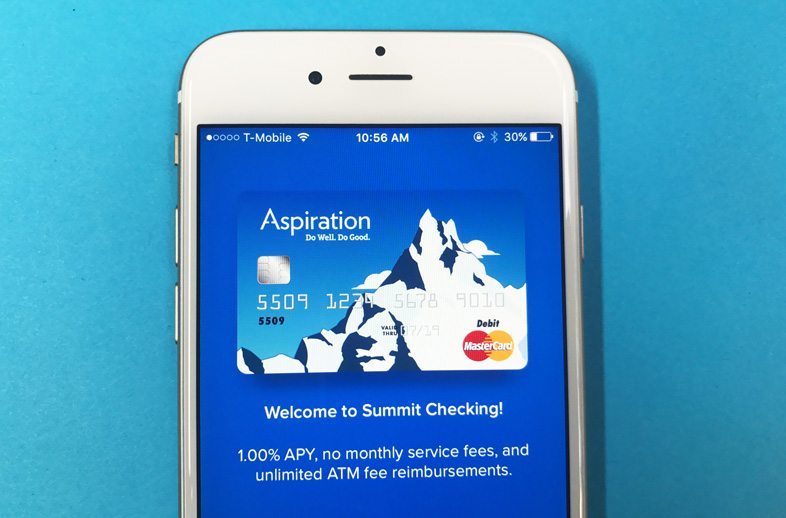 Aspiration Summit Checking Account Pros & Cons
The Aspiration Account has two interest rate tiers. The first applies to accounts with balances under $2,500.
This interest rate beats the rates offered by most physical banks, but some online banks do offer better checking account rates.
Balances of $2,500 or more earn a higher rate of interest, which among the best you can get on any checking account, anywhere.
Manage Your Account with the Aspiration App
On top of allowing you to view your AIM score, the Aspiration app provides full access to your account, 24/7.
You can use the app to deposit checks, view previous activity, or schedule one-time or recurring transfers.
The account also comes with free bill pay services, which you can set up through the app.
When you use bill pay service, Aspiration will transfer funds to the recipient electronically, or write out a check in your name. You don't have to spend time mailing out checks every month to pay your bills.
Minimum Deposit and Other Fees
To open the Aspiration Summit Checking Account you need to make an initial deposit of at least $10.
Once you've opened the account, there's no minimum balance to maintain to keep the account open.
Also, Aspiration makes it easy to get to your money by letting you use any ATM on the planet.
Because Aspiration thinks that its accountholders should pay what is fair when it comes to fees, it has aimed to minimize all of the fee customers pay.
You'll never pay a fee to use an ATM, no matter where it is or who owns it.
If the ATM's owner charges a fee of any kind, Aspiration will reimburse you, without limit.
This applies to ATMs in the United States and abroad, making it a great account for travelers.
The only fee that won't be reimbursed is currency exchange fees.
Even the services that do have a fee attached tend to cost much less than they would at other banks.
Aspiration Summit Checking Account Fees
| Type | Fee amount |
| --- | --- |
| Monthly Maintenance Fee | Pay what you want |
| Out-of-Network ATM Fee | $0 |
| Overdraft Fee | $25 |
| Returned Item | $25 |
| Stop Payment | $20 |
| Deposited Item Returned or Cashed Check Returned | $5 |
| Incoming Domestic Wire Transfer | $10 |
| Incoming International Wire Transfer | $10 |
| Money Order | $3 |
Convenience
The Aspiration Summit Checking Account is one of the most convenient checking accounts out there.
You can deposit checks from anywhere using the Aspiration app and then use the app to manage your account.
On top of that, you can use Aspiration's bill pay service to pay your monthly bills.
That saves you from the trouble of having to send checks in the mail every month. The bill pay service is completely free and can be accessed easily through the bank's smartphone app.
Again, you can get cash out of any ATM on the planet and get all the ATM fees reimbursed, with no limit.
You'll never have to search high and low for the right ATM like you do with other banks.
Track How Your Spending Affects the World with Aspiration Impact Measurement Scores
Aspiration's motto is "Do well. Do good" and the company encourages all its customers to live up to that saying.
One way that it encourages customers to affect the world around them is by shopping at businesses that do good in their community.
Companies that report their sustainability metrics, such as how they treat employees and how they treat the environment, receive a score.
Companies that pay their employees well, encourage diversity in the workplace, and source their goods from green suppliers will score well.
Companies that don't treat employees or the environment well will score poorly.
Thousands of major companies, like Starbucks, Amazon, Netflix, and Apple have scores that you can view.
Smaller, local businesses can get involved too so you can see the impact of companies in your community.
If you really want to make an impact on your community, the Aspiration app offers a comparison tool.
When you use your debit card to make a purchase at a business, you'll also see the scores of similar businesses.
If the business you bought from has a lower score than its competitors, you'll know and can bring your business elsewhere.
Each time you use your Aspiration debit card to shop at a store that has a score, you'll get to see that store's score.
You can then track the average rating of the stores that you shop at.
This is called your Aspiration Impact Measurement Score That helps you make sure your money is going to companies that treat their employees and the environment well.
Do Good by Referring Your Friends
When you refer your friends to Aspiration and they open an account, both you and your friend will get the opportunity to do good.
Aspiration will donate $25 to the charity of your choice and donate another $25 to the charity chosen by the person you referred.
There's no limit on the number of people that you can refer.
The only requirement is that your account must have been open for ten business days.
The credit will be applied to your "Do Good Dollars" three weeks after the referred account is opened.
Give to Charity Through Your Fees
One of the most unique features of the Aspiration Summit Checking Account is that you get to choose what amount you pay in fees.
You can set your fee to be any percentage of your account's balance, even if that fee is 0%.
You can change the amount you're paying any time you'd like and changes will be retroactive to the start of the quarter.
At the end of each quarter, Aspiration will deduct the fees from your account.
For every dollar in fees that Aspiration takes from your account, it will pay ten cents to charity.
You can choose which charities receive the donations that are funded by your fees.
Aspiration lets you track how much you've given to charity and will show you stories of people impacted by those donations.
You can directly see the impact that your giving has made.
In a world where banks nickel and dime customers fees can have a big effect on your spending power.
Aspiration gives you the chance to pay what you think is fair for the service it provides.
If you receive poorer than expected service, you can reduce the fee.
If you have extra cash and think Aspiration deserves a bit more than you're paying, you can increase it.
How Does It Compare?
The Aspiration Summit Checking Account is an incredibly unique take on the checking account, but it's not the only one out there.
When you're looking to open a checking account, you should consider all of your options.
Besides considering the local branch of national banks or credit unions, other online banks are worth considering.
Once you've got a few different accounts to compare, look at these key metrics:
Minimum deposit
Monthly fee
Fee waiver requirements
Interest rates
ATM access
The Final Verdict
The Aspiration Summit Checking Account is a great choice for people who want an online checking account with low fees.
The easy access to ATMs also makes it a great choice for regular travelers, as access to ATMs while abroad can be invaluable.
Even if you don't travel regularly, the account's great interest rates make it a strong choice.
The main downside is that Aspiration does not offer other banking services, such as lending or savings accounts.
If you're looking to find a one-stop-shop online bank, Aspiration is not the right bank for you.