Compare Bank of America Checking Account vs. Online Banks
Compare the Bank of America Advantage Plus Banking Account to the top online checking accounts based on fees, interest rates, features, convenience, and more.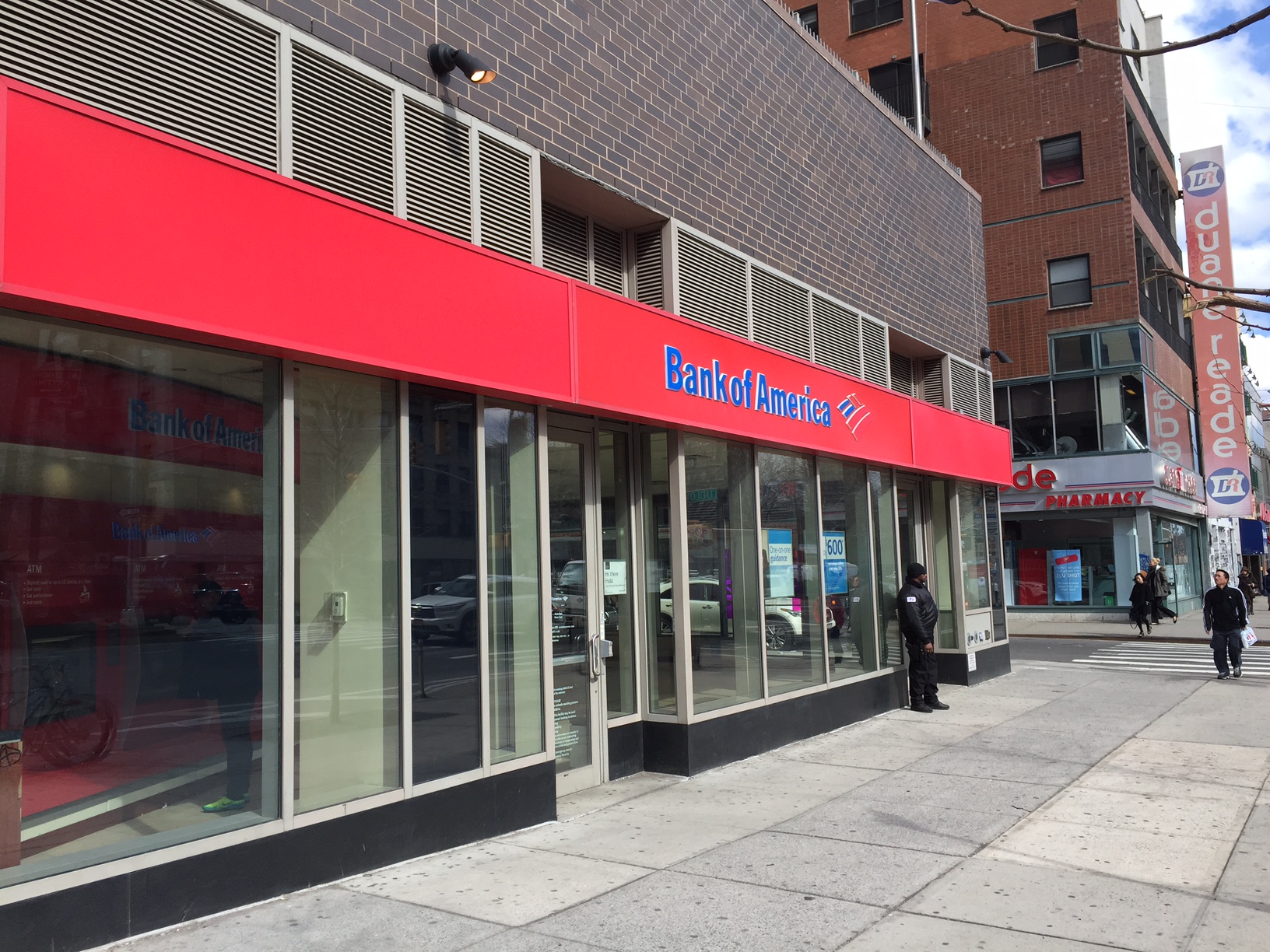 Bank of America is one of the largest banks in the United States.
It offers regular deposit accounts, loans, and investing services. These services have seen it amass the second most assets of any bank in the United States.
Given the sheer size of Bank of America, it's no surprise that its Advantage Plus Banking Account is a commonly considered option for people who need to open a checking account. It's one of the basic checking accounts that many people would find readily available.
While Bank of America might seem convenient given how wide its network of branches and ATMs is, online checking accounts are viable alternatives.
Find out how the Bank of America Advantage Plus Banking Account matches up to two of the most popular online checking accounts to see if there is a better one for you.
Overview: Bank of America Checking vs. Online Banks
| Account | Bank of America Advantage Plus Banking | Ally Interest Checking | Capital One 360 Checking |
| --- | --- | --- | --- |
| Monthly fee | Yes | No | No |
| Earns interest | No | Yes | Yes |
| Mininmum initial deposit | $25 | $0 | $0 |
| Branch & ATM network | 4,500 branches and 16,000 ATMs | 43,000 Allpoint ATMs | 2,000 Capital One ATMs and 37,000 Allpoint ATMs |
| Mobile apps | iOS and Android | iOS and Android | iOS and Android |
Bank of America Advantage Plus Banking
The Bank of America Advantage Plus Banking Checking account aims to be the basic account for Bank of America's customers. It offers a no-frills way to store your cash while still having access to it when you need it.
Despite the basic nature of the account, it does come with some benefits. There are many Bank of America branches spread across the United States, meaning you'll never be far from a bank.
You can use any branch in the country to make deposits or withdrawals. You'll also have someplace to go if you have questions or issues you want to be resolved face to face.
The two biggest draws of the account are Bank of America's Keep the Change program and the bonus cash back you can earn if you also have a Bank of America credit card.
The Keep the Change program rounds up every purchase you make to the next dollar. It deposits the amount into your savings account automatically.
By saving small amounts at a time, you won't notice the money missing from your checking account, but it can add up to a significant savings balance over time.
If you have a Bank of America Cash Rewards card, you can deposit the cash back directly into the account to get a bonus of 10% to 75%, making your credit card even more valuable.
Beyond these perks, the account doesn't offer many significant draws beyond its functionality.
Ally Bank Interest Checking
Ally Bank is a well-known online bank that offers deposit accounts, lending, and investing services.
Online banks tend to cost less to run than banks, like Bank of America, that rely on physical branches. Ally passes those savings on to its customers by charging fewer fees and offering interest on checking balances.
Most physical banks do not offer any interest, or offer very low rates, on checking account balances.
The Ally Bank Interest Checking Account offers most of the convenience of a physical bank's checking account.
You can check your balance or make transfers from your phone or any computer. You can even deposit checks from your phone, making it easy to add money to your account.
The two things that this account does not offer that Bank of America's account does are the ability to deposit cash into the account and physical locations to visit if you run into issues with your account.
If you find yourself with extra cash, you'll need to spend it since you cannot deposit it to your account, even if you visit an ATM. You also can't drop by a branch to talk to someone face to face. You'll have to contact customer support by phone or online chat.
Capital One 360 Checking
The Capital One 360 Checking Account is offered by the online banking division of banking giant Capital One. Like Ally, it offers a fee-free online checking account experience.
In addition to the usual features offered by checking accounts, Capital One places great emphasis on avoiding overdrafts.
You can choose one of four levels of overdraft coverage for the account.
Auto-decline: Automatically decline any transaction that would overdraft your account.
Overdraft protection transfer: Automatically move money from your Capital One savings or money market account to cover the overdraft.
Overdraft line of credit: Capital One will loan you the funds to cover the overdraft automatically. You'll be charged interest on the loan.
Next day grace: Overdrafts will be permitted, but you must get your account balance back to $0 by the end of the next business day.
Online Checking Has Lower Fees
One of the most important things to compare when choosing a checking account is the fees each account charges.
Bank of America's Advantage Plus Banking Account charges the heftiest fees by far. In fact, it's the only account of the three to charge a monthly fee. You'll pay $12 per month to keep the account open unless you meet one of the following requirements:
Be a student under the age of 24
Receive a direct deposit of at least $250 once per statement
Maintain a minimum daily balance of $1,500
Be a Preferred Rewards client
ATM fees are also a big part of a checking account's value. The lower the fees, the better.
Bank of America won't charge you a fee for using one of its ATMs. It will charge you a fee to use another banks ATMs, on top of any fees the ATM owner charges. This can make getting to your own money expensive.
Ally and Capital One are both partnered with the AllPoint ATM network. You won't be charged a fee for using ATMs on the network.
As a bonus, Ally will reimburse up to $10 in ATM fees per statement. That gives you the freedom to use non-Allpoint ATMs on occasion without worrying about fees.
Capital One does not offer ATM fee reimbursements.
If you need a checkbook to use to pay your bills, you'll need to order one from your bank. Ally does not charge a fee for checks. Capital One 360 charges $5 per checkbook. Bank of America charges a variable fee based on the style of check that you order.
When it comes to overdraft fees, Capital One offers the best policy -- with multiple ways to avoid expensive overdraft fees.
Bank of America vs. Online Banks: Checking Fees
| Fee | Bank of America Core Checking | Ally Interest Checking | Capital One 360 Checking |
| --- | --- | --- | --- |
| Monthly Maintenance Fee | $12 | $12 | $0 |
| Out-of-Network ATM Fee | $2.50 | $0 (ATM operator fees refunded up to $10 per statement cycle) | $0 (ATM operator fees may apply) |
| Overdraft Fee | $35 | $25 | $0 |
| Overdraft Protection Transfer Fee | $12 | $0 | $0 |
| Returned Item | $35 | $25 | $9 |
| Deposit Item Returned | $12 | $7.50 | $0 |
| Stop Payment | $30 | $15 | $25 |
| Incoming Domestic Wire Transfer | $15 | $0 | $0 |
| Incoming International Wire Transfer | $16 | $0 | $0 |
| Cashiers Check | $10 | $0 | $10 |
Big Bank Checking Rarely Pays Interest
You don't have to keep money in a savings account to earn interest on your money. A checking account could allow your money to grow as well.
However, Bank of America's basic checking doesn't pay any interest at all. Meanwhile, online banks are much more likely to pay interest on their checking accounts.
Ally's Interest Checking account offers tiered APYs based on your balance:
$0 - $14,999.99
$15,000 and higher
Capital One's 360 Checking account also offers tiered rates based on the account balance:
$0 - $49,999.99
$50,000 - $99,999.99
$100,000 and higher
If you plan on keeping a significant amount of cash in a checking account, it would be smarter to go with an online bank instead of Bank of America.
Branch and ATM Access
One of the biggest draws of Bank of America is its large network of branches. You have the ability to speak with bankers and get in-person service to help manage your accounts and perform banking transactions.
It also operates a wide network of more than 16,000 ATMs across the country.
But, that number is dwarfed by the ATM networks available through Ally and Capital One.
Both Ally and Capital One are part of the massive Allpoint ATM network, which provides nearly triple the number of ATMs that Bank of America operates.
Either online account would offer a larger ATM network, but Ally is the best choice for frequent ATM users.
While you'll generally be able to find a fee-free ATM, the $10 fee reimbursement offered by the bank lets you use any ATM you want if you can't find one that won't charge a fee.
In Branch, Online, and Mobile Banking
Bank of America is the only bank of the three that operates physical branches, but all three bank offer very impressive online and mobile banking experiences.
Bank of America operates more than 5,000 branches in the United States.
That means you can easily find a branch to visit when you need to manage your account. Whether you need to make a deposit, withdrawal or do something a bit more complicated, you can do it in the branch.
All three bank's mobile apps also offer full control over your account. As online banks, Ally and Capital One 360 put together slick and easy to use apps.
Bank of America's app is also easy to use and offers the important account management features you'd expect. You can view your balance, pay your bills, schedule transfers among your accounts, and use mobile deposit through any of the apps.
For mobile deposit, Ally Bank offers the highest limits:
Mobile Deposit Limits: Bank of America vs. Online Banks
Bank of America
Ally Bank
Capital One 360

Customers with accounts opened for fewer than 3 months: $2,500 per month
Customers with accounts opened for 3 months or longer: $10,000 per month
Customers in the Preferred Rewards program for the first 3 months: $25,000 per month
Customers in the Preferred Rewards program for more than 3 months: $50,000 per month

All customers: Up to $50,000 in a single day; however, up to $250,000 every 30 days

Limits vary for each customer account: Typically $5,000 per day (according to Capital One banker)
Interestingly, the three banks use the same mobile payment feature -- Zelle. It allows people with different banks to pay each other with just a phone number or email address. It's convenience and it's free.
The big difference-maker in this category is Bank of America's physical branches. The three banks' apps are similar enough not to make them worth worrying about during a comparison.
The Verdict
In the end, the Bank of America Advantage Plus Banking Account's main draw is the option to visit a branch to talk to someone in person.
If you're comfortable with technology and using an online bank, both and Ally Bank and Capital Oneoffer cheaper options with more convenient ATM options.
You might also like