Bank of America Student Checking Accounts 2023 Review
Find out whether Bank of America checking account options for students have the fee policies and features to compete with other student checking options.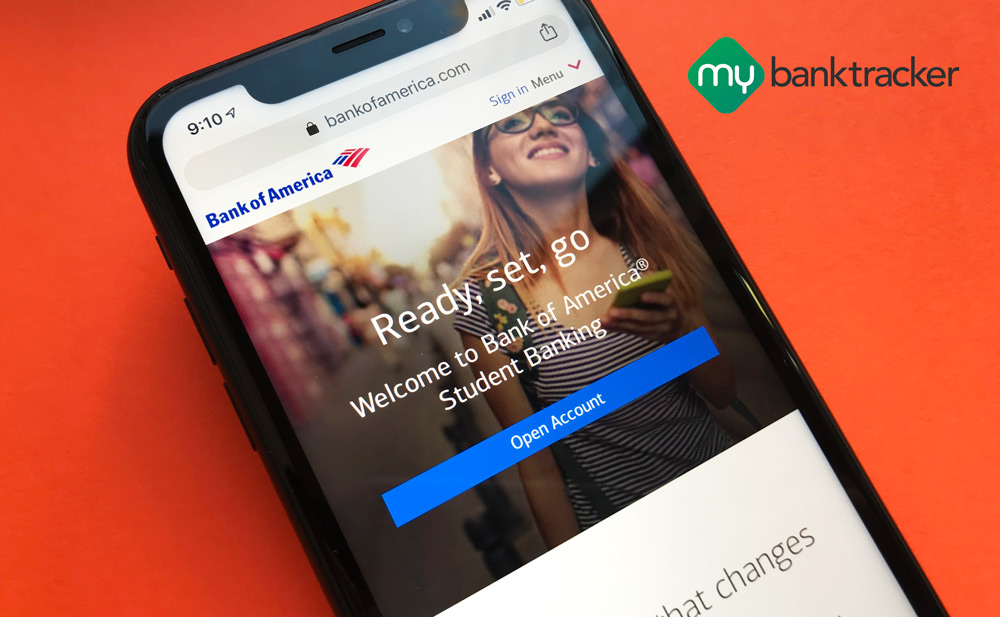 College students are likely to turn to a big bank for their first checking account.
Bank of America is one of them --and it has a presence near many college campuses.
Since picking a checking account can be a difficult decision, we break down the student checking options from Bank of America.
Now:
Bank of America does not provide a specific checking account labeled for students.
Rather, the student checking options from Bank of America are:
Advantage SafeBalance
Advantage Plus
Both of these checking accounts will waive the monthly fee for students under 24 who are enrolled in high school, college or vocational programs.
We're going to take a look at the different features available to help decide on a
checking account
that will be crucial to your finances during the school year.
Bank of America Pros & Cons for Students
Pros
Cons

No monthly fee for qualifying high school and college students
Automatic savings program
Mobile banking apps available

Bank of America may not have presence at all college campuses
Service fees are on the higher end
Advantage SafeBalance vs. Advantage Plus
For students, the most notable difference between these two accounts is the availability of check-writing and overdrafts.
SafeBalance does not offer checks and you cannot overdraw your account (i.e., spend more money than your account balance). So, overdraft fees won't be charged. Additionally, to prevent overdrafts, transactions will be rejected if you don't have enough funds.
Advantage Plus does offer checks and overdrafts can happen (overdraft fees apply). This account is the traditional checking option.
How do you choose?
As a college student, you may or may not encounter regular expenses that require you to write a check.
For example, you may need to write a check to pay for off-campus housing. You may need to write a check for certain school supplies or expenses.
That said:
You have online bill pay capabilities to have Bank of America send a payment on your behalf. But, will the biller accept it?
No Monthly Fees Until the Age of 24
The best part of both of these accounts:
Accountholders under the age of 24 don't have to pay a monthly fee — if they're also enrolled in school.
This includes enrollment in either high school, a college or university, or a vocational program.
They must provide proof of school enrollment at the time of opening the account to avoid the fee.
Monthly fees are common with many checking accounts. This fee covers the cost of maintaining the account.
Be mindful of the fact that while it is possible to avoid the monthly maintenance fee, there's an opening deposit required to get the account.
You'll need a minimum deposit of $25 for Bank of America Advantage SafeBalance or $100 for Advantage Plus.
ATM Access
Your debit check card also functions as an ATM card.
Since Bank of America is a nationwide financial institution, you shouldn't have a problem locating an ATM or branch when away from home.
Being able to access a Bank of America ATM no matter your location can save you hundreds in out-of-network ATM fees over the years.
That means:
As a student, you should consider this account only if you have a Bank of America ATM on campus.
Why?
There's a $2.50 fee for using a non-Bank of America ATM in the U.S, and a $5 fee for using a non-Bank of America ATM outside the country.
Your debit card will have either a Visa or MasterCard logo. So you can use the card wherever Visa and MasterCard are accepted.
This includes international retailers, although a 3 percent international transaction fee will apply.
Fraud liability
As added protection, your debit card also comes with a zero liability guarantee. If your debit card becomes lost or stolen, you're not responsible for unauthorized purchases or fraudulent activity.
Even so, make sure you report theft or loss as soon as possible. There's also an option to temporarily lock and unlock your debit card via online or mobile banking.
This is an excellent feature if you misplaced your debit card, but want to search for it before reporting it lost or stolen.
Round Up Purchases and Build Your Savings
Checking accounts are useful for paying bills and managing personal finances.
Yet, it's also wise to have a savings account for emergencies.
You should have between three and six month's of income in reserves for an emergency.
Ideal Size of an Emergency Fund
| To start... | Ideal goal... | Super safe... |
| --- | --- | --- |
| $1,000 | 3-6 months of essential expenses | 12 months of expenses |
Of course, saving money is easier said than done for many students due to a lack of disposable income.
Fortunately, opting into Bank of America's Keep the Change program can help grow your account.
This is how it works:
Link your debit card to a Bank of America savings account that you use for the Keep the Change program.
Each time you make a buy with the debit card, Bank of America rounds up purchases to the nearest dollar.
The bank deposits the difference into your savings account.
Transfer Money and Deposit Checks Remotely
Nowadays, managing a bank account is all about convenience. In all likelihood, you don't have time to visit a bank between class and work.
Fortunately, online and mobile banking lets you manage your finances without ever stepping foot inside a branch.
Sign up for online banking and track your account from any location. Check your account balance 24 hours a day, seven days a week, transfer funds between accounts, set up bill pay, or send secure messages.
If you have a smartphone or a tablet, download the Bank of America mobile banking app.
You'll enjoy the same features as online banking, but there's also the option of mobile check deposit with the app.
The best part for college students:
Use your Bank of America mobile app to quickly and securely send money to anyone.
If you split the dinner bill with a friend and need to send them cash for your part, you only need their email address or mobile number to send what you owe.
And the best part is that they don't have to be a Bank of America customer to receive the money.
This is quick and convenient, and you don't have to worry about going to an ATM or writing a check.
Be Mindful of Other Bank Fees
Although Bank of America may waive the monthly maintenance fee, you're still responsible for other fees.
For example, if you have insufficient funds in your account to cover a purchase, the bank may charge a $35 overdraft fee.
The bank charges this fee up to four times per day.
To protect yourself from overdraft fees, opt into overdraft protection service and link a Bank of America savings account with your checking account.
If you don't have enough in checking to cover a transaction, money from your savings will transfer into your checking to avoid an overdraft.
Unfortunately, there's a $12 fee per day that a transfer is made.
Be aware that while there's no fee for a debit card, there is a $5 fee to replace an ATM or debit card. You'll pay $15 for a rush delivery.
Tips to Compare Checking Accounts
When you're young and don't know much about checking accounts, you might assume that every checking account is the same.
This couldn't be further from the truth.
Some checking accounts nickel and dime accountholders, whereas others offer a multitude of freebies. These might include no monthly maintenance fees, free out-of-network ATM usage, and free checks.
As you look for a checking account, the main features to compare are the minimum deposit to open an account, the monthly maintenance fee, and bonus features that make the account unique (rewards program, savings programs, etc.).
If you prefer an interest-bearing account, compare APRs to get the highest return on your money.
At the end of the day, you want to build a relationship with a bank that offers more than it takes.
You shouldn't feel as if you're giving away your hard-earned money and not getting much in return.
Final Verdict
This account is an excellent choice for all students, but particularly those who attend an out-of-state college, given how Bank of America is a nationwide bank.
The account is also built for students who have limited cash. They're able to get started with a low opening deposit and no monthly maintenance fee.
This lets them keep more of their money.
As a bonus, the Keep the Change program can put savings on autopilot, and help students develop good savings habits at an earlier age.
If you're thinking about this account, keep in mind that it doesn't earn interest.
As you become older and explore other checking options, look into getting an account that earns interest. These accounts are a bonus if you'll maintain a large balance in your checking account.
Bank of America also has an interest checking account option. Before opening an account here, compare this checking account with interest checking accounts offered by online banks.
The latter will likely offer better rates and friendlier ATM fee policies.