BankDirect Interest Checking Account 2023 Review
Learn more about the interest rates, features, and fees of the BankDirect Interest Checking Account and compare it to the top online checking accounts.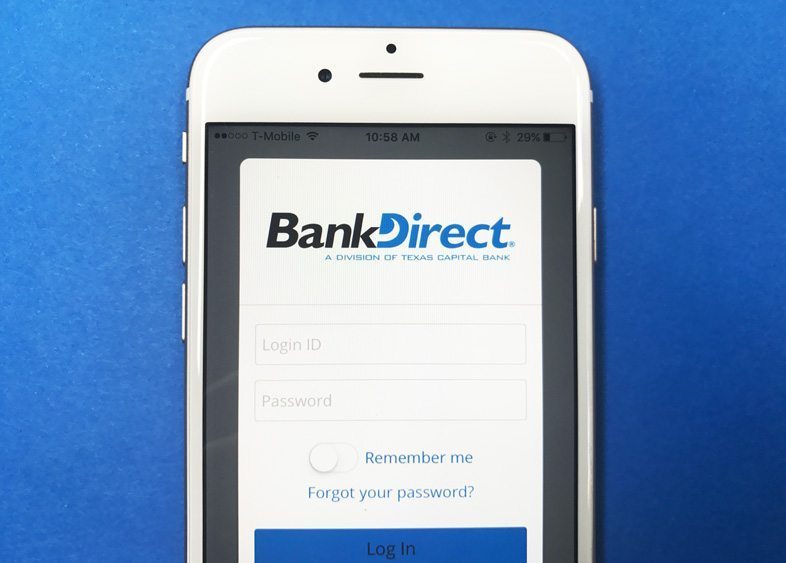 BankDirect Interest Checking Account Pros & Cons
Note: Travelers should be aware that you will not receive fee refunds on transactions at ATMs overseas.
Free Bill Pay Service with Bonus Features
In the old days, people had to go through their mail to find their bills, sit down, write out checks, and then mail them in to make sure their utilities stayed on and their other bills were up to date.
That can take a lot of time, especially if you have lots of bills to pay.
BankDirect offers free bill pay service, which means you can let the bank deal with the hassle for you.
Just tell BankDirect who you need to pay and how much you need to pay them.
If the recipient is equipped for it, BankDirect will transfer the money to them electronically.
Otherwise, the bank will write a check and mail it for you. That frees up your time to deal with more important things.
BankDirect's bill pay offers a few unique features not found at other banks.
One is the option to send a gift check to a friend or relative.
BankDirect will write and mail a check for you so you can show someone that you care.
Whether you're sending it as a birthday gift, thank you, or just because this feature makes it easy to send a gift.
You can also use the bill pay service to send money to a wide variety of charitable organizations.
If you have a cause you feel passionate about, BankDirect makes it easy to give back.
Powerful Online Account Management
Because BankDirect is an online bank, it is essential that it provides a strong online account management experience.
BankDirect makes it easy to customize your online banking experience and to manage your account from any computer in the world.
When you log into your account, you'll see your account dashboard. This dashboard will list all of your accounts at BankDirect, as well as their balance.
You can customize this dashboard, to control the order that your accounts appear in.
If you have multiple accounts and want to separate them into groups, you can do that too. This makes it easy to use your dashboard to see your finances at a glance.
From your account management page, you can set up automatic alerts based on transactions or balances.
Want to know when your mortgage payment clears or your paycheck shows up? Set up an alert and BankDirect will e-mail you when the transactions appear on your account.
Want to know if your balance drops below a specific threshold? Set up an alert. This feature can help you keep tabs on your finances without having to check your account every day.
Another useful feature of the account is the ability to set up one-time or recurring transfers.
Have some extra cash this month? Move it to a savings account to earn more interest.
Have a long-term goal and want to create a savings plan? Make a recurring transfer to send money to another account each month or each paycheck.
You can also use the BankDirect app to manage your account, which will let you do things like check your balance and previous transactions while on the go.
Earn Interest Based on your Balance
The BankDirect Checking with Interest Account offers two interest rate tiers that are based on your balance.
To earn interest at all, you must maintain a balance of at least $2,500. If you have a balance of less than $2,500, you will earn no interest for the month.
Balances of $2,500 to $9,999.99 will earn the lower rate of interest while balances of $10,000 or more will earn the higher rate of interest.
If you want to earn a return on the money in the account, try to keep your balance above $10,000.
The rates offered, including the highest tier rate, are low, even among online banks. If your primary concern for your checking account is the interest rate, you might want to choose another account.
Minimum Deposits and Monthly Fee
The BankDirect Checking with Interest Account requires a large minimum deposit and charges a hefty monthly fee.
To open the account, you'll need to have at least $500 to deposit to the account. Once the account is open, you'll be assessed a $15 monthly fee.
There are two ways to waive the fee. The first is to maintain a balance of at least $2,500. This is the same balance that is required to earn interest.
If you have a combined balance of $25,000 or more for all of your BankDirect accounts, all of the accounts' monthly fees will be waived.
Other Fees
BankDirect charges a variety of fees for its over services, but none are unusual when compared to other bank's checking accounts.
BankDirect Interest Checking Account Fees
| Type | Fee amount |
| --- | --- |
| Monthly Maintenance Fee | $15 |
| Out-of-Network ATM Fee | $0 |
| Overdraft Fee | $38 |
| Overdraft Transfer Fee | $0 |
| Returned Item | $38 |
| Stop Payment | $25 |
| Deposited Item Returned or Cashed Check Returned | $5 |
| Incoming Domestic Wire Transfer | $0 |
| Incoming International Wire Transfer | $10 |
| Cashiers Check | $7 |
Convenience
The BankDirect Checking account makes is convenient to manage thanks to its smartphone app that gives you full access to the account.
You can make transfers, check your balance, or make a deposit from anywhere using the app.
If you want to spend the money in the account, BankDirect makes it easy by offering free checks. You can even get your first order of checks personalized for free.
Again, if you'd rather use cash, you can use any AllPoint ATM for free, or use another ATM and get $2.50 in fees reimbursed.
That means you can use many ATMs in the US without any fees, even if they're out of BankDirect's network.
How Does It Compare?
The checking account is the most popular type of banking account in the United States.
That means that there are a lot of banks competing for your business and you'll have a lot of accounts to choose from. Because your checking account will be central to your financial life, take the time to choose the right account.
The local branch of a national bank might be convenient, but these accounts often charge stiff fees and pay little in interest.
Online banks, like BankDirect, tend to have lower fees and higher interest rates, letting you keep more money in your pocket.
With a checking account, the most important things to consider are fees and convenience. Beyond that, take the time to compare the following factors:
Minimum deposit
Fee waiver requirements
Interest rates
ATM access
The Final Verdict
The BankDirect Checking with Interest Account charges a high monthly fee and requires a large minimum balance.
Despite these inconveniences, it does not pay a stellar interest rate and offers only a small ATM fee reimbursement plan.
There are other online checking accounts that offer a much better deal that you should consider.
Consider accounts from banks like Ally Bank or Capital One 360 as alternatives.