The Best Checking Accounts in Ohio of 2023
Find out about the best checking accounts available from local Ohio banks -- big or small -- based on fees, convenience, and other features.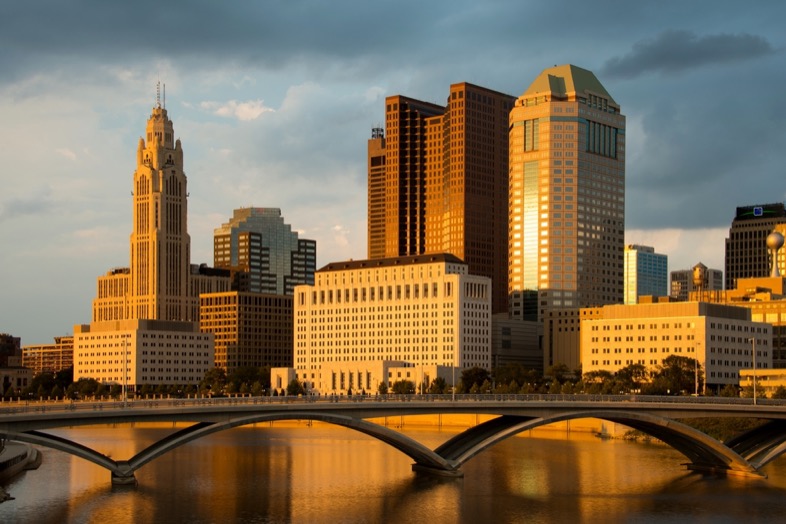 If you're a resident of Ohio and looking for a new checking account, you've got a diverse pool of options from big banks to smaller, local banks.
As the essential bank account, your checking account should be one that fits your needs without exorbitant fees.
Because of the variety offered by banks in Ohio, you might have difficulty sorting through the many accounts available.
Learn about the different checking accounts available from Ohio banks to find the one that's the best fit for you based on fees, conveniences, and other features that matter to you.
Best Checking Accounts in Ohio
Huntington Bank
The Huntington Bank Asterisk-Free Checking is a free checking account that doesn't come with any surprises or fine print.
There is no minimum balance or deposit requirement, there is no monthly maintenance fee, and as another benefit, you can get a fee-free Premier Savings Account as long as you have your checking account.
One nice perk of the Asterisk-Free Checking account is that you get 24-hour grace to avoid overdraft fees. If you would overdraft your account, you have until midnight the next day to make a deposit that brings your balance back into the black. If you do, you won't owe a fee.
Fifth Third Bank
The Fifth Third Momentum Checking Account is a basic checking account that charges no monthly fees.
There is no minimum deposit to open the account and no minimum balance or other requirements to avoid the monthly fee.
Customers also have surcharge-free access to more than 40,000 partner ATMs in the country--making it extremely convenient for cash withdrawals.
WesBanco Bank
WesBanco Bank's Basic Checking is a simple checking account that is easy to use and charges no monthly fee when you sign up for electronic statements.
The only requirement to open the account is that you make a $50 opening deposit.
How we picked
MyBankTracker applied a methodology when choosing our best checking accounts in Ohio. Our top accounts were picked based on a thorough analysis of the top 50 banks by deposit market share in Ohio (based on FDIC June 2022 data)--covering major cities including Columbus, Cleveland, Cincinnati, Toledo, and Akron.
We focused our selections on checking accounts with low monthly maintenance fees, the least demanding requirements to waive these fees, the bank's ATM network, and other features included to make a person's banking life more convenient.
Checking Accounts Are Available Nationwide
If you've taken the time to look at accounts by both national and local banks, but haven't been impressed by the offerings, you should consider a third option.
Online banks have become increasingly popular in recent years, and for good reason.
Low fees & lots of features
One of the worst feelings when looking at your bank statements is realizing that you've paid your bank for giving it the privilege of holding your money.
Luckily:
Most online checking accounts don't charge any monthly fees at all.
Why?
Online banks are able to avoid fees because they cost less to run than traditional banks.
Brick and mortar banks have to operate extensive networks of branches and ATMs. That means paying for real estate, utilities, security, and employees to staff their locations.
Online banks simply build one or a few central offices and run all of their operations from these locations. The rest of their business takes place online. That helps them save a lot of money.
Online banks pass these savings on to their customers in more ways than simply charging fewer fees. Online checking accounts usually offer additional perks, like interest, ATM fee rebates, and more.
FDIC insurance
It might feel strange to trust your money to an online bank that you can even see, but you should feel comfortable doing so.
The Federal Deposit Insurance Corporation (FDIC) which protects deposits at American banks covers online banks just as it covers brick and mortar institutions.
When you make a deposit to an FDIC insured bank, your money is automatically protected. If the bank is later unable to return your deposits or goes bankrupt, the FDIC will reimburse you for the amount that you've lost.
FDIC insurance covers up to $250,000 per depositor, per account type, per bank.
Most people will never get close to exceeding that limit, making it nearly impossible to lose money by depositing it to a checking account, online or otherwise.
How to Make the Most of a Checking Account From a Local Ohio Bank
There are a lot of checking accounts that are difficult to use or charge annoying fees.
If you're looking for a good deal, one of the best ways to get one is to work with a local Ohio bank.
National banks have their benefits, but they may be more rigid when it comes to dealing with customers.
Regional and local banks only have to focus on serving customers in one geographical area. That means that they're more in-tune with their customers and can adapt their accounts to meet local needs.
Advantages and Disadvantages of Local Banks
Before you open a checking account, or any type of bank account, you should take some time to consider the benefits and drawbacks of each bank and bank account.
For example, local banks tend to be better at providing personalized service than national bank chains, but they have their own set of drawbacks.
One of the largest drawbacks of working with a smaller local bank is that you might run into some annoyances when you travel.
Local and regional banks understandably concentrate their ATM networks in the areas that they serve.
If you travel outside of the areas served by your bank, you'll have trouble finding an ATM run by the bank.
Unless the bank is part of a larger ATM network, you'll have to use other banks' ATMs, which can cost money.
On the other hand, despite national banks' lack of personalization, they tend to offer better coverage across the country. There's a better chance that you'll be able to find an ATM or branch throughout the country.
What Kind of Account is Right for You?
Online banks can be a great choice for a lot of people
, but they too aren't without their faults and issues. Some of the largest drawbacks are inherent in the model of running an online business.
You should ask these questions before you open an online checking account:
Do you have trouble communicating electronically?
If you have an account at a brick and mortar bank, it's easy enough to visit your local branch and talk to someone face to face when you need to get help.
If you have an online bank account, you'll have to get help by e-mail, phone, or online chat, which can be more difficult for some people.
Do you visit your local bank branch regularly?
If you like going to the bank, or find yourself needing to visit regularly, an online bank won't give you that option, which might be a good reason to avoid an online checking account.
Are you generally good with technology?
Online banks put a lot of effort into designing their user interfaces and making them easy to use.
However, there is still a learning curve.
You don't want to make a mistake with your hard-earned money because of a mistake and wind up incurring overdraft or other fees.
Most Important Features of a Checking Account
These are the four most important things to look for when you're comparing checking accounts.
Fees
Fees can have a huge impact on your account's balance over time, leaving you with less cash to spend on the things that you want and need.
When comparing checking accounts, always look for the account with the lowest fees.
ATM/branch access
If you regularly use cash, you probably visit ATMs or your bank branch on a regular basis.
When you're thinking about opening a new checking account, make sure that any bank you're considering has ATMs or branches near the places you frequently visit.
Interest rates
While interest is more commonly paid on savings account balances, there are some banks that pay interest on checking account balances.
Interest is like free money, so chose an interest-bearing account when you can.
Mobile banking
In today's age of mobile technology, almost every bank has some form of a mobile app.
Make sure that any bank you work with has a good app with the features that you need.
Conclusion
Ohio has plenty of great options when it comes to checking accounts, especially the free options available from the regional and local banks.
Still, consider whether you can get by just fine with an online checking account because it can come with better interest rates and lower service fees.