The Best Checking Accounts in Washington State for 2023
Find out which banks offer the best checking accounts in Washington state, based on fees, features, and locations -- from national, local, and online banks.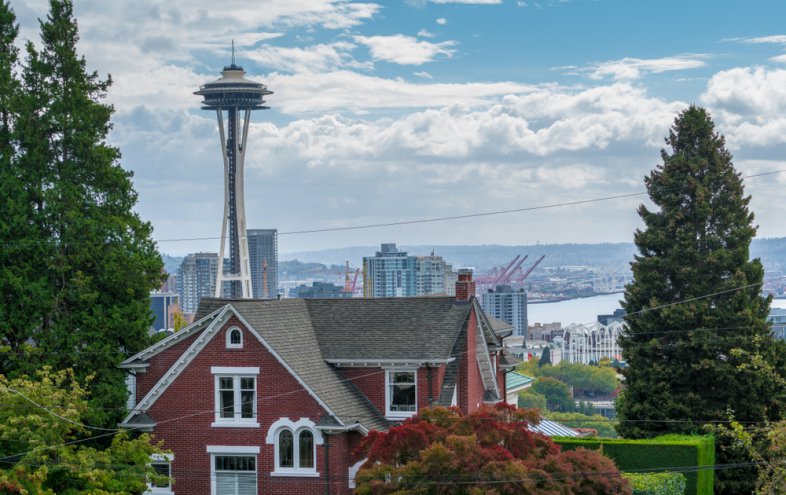 Your checking account is the hub of your financial life. Most Americans have checking accounts and they are the most common type of bank account in the United States.
It's easy to see why.
Paychecks can easily be deposited to your checking account and paying bills from your checking account is similarly convenient.
Because of their popularity, banks compete to draw new checking account customers.
People who open a checking account with a bank are more likely to use that bank for other services, so getting new checking account customers is particularly important for banks.
If you live in Washington State and want to open a new checking account, this article will cover some of the best options that are available to you.
5
The Best Checking Accounts in Washington State
Umpqua Bank
Umpqua Bank's Embark Checking account is a no-frills checking account that is a great choice for almost everyone.
The account has a $25 minimum deposit, which makes it relatively easy to open. It also charges no monthly fees when you sign up for electronic statements. Otherwise, there is a $3 monthly paper statement fee.
Some other perks of the account include the option to sign up for one fee-free Grow Savings Account and $10 in ATM fee rebates each month when your average balance exceeds $2,500.
Washington Federal
The Washington Federal Free Checking Account is exactly what it says on the tin.
It's a checking account with all the basic features, with no monthly fees after you sign up for electronic statements and direct deposit.
Another nice feature of the account is that there is no minimum balance requirement which means that you can open the account, even if you don't have money to commit to it upfront.
Other benefits include 32,000 fee-free ATMs, online bill pay and easy peer-to-peer payments.
Banner Bank
Banner Bank's Connected Checking Account is a checking account that's great for people who use ATMs on a regular basis.
The account requires a $50 minimum deposit, which is higher than the requirements of the other banks on this list. In exchange, this account is truly fee-free. There are no monthly fees, even if you want to receive paper statements each month.
What makes the account shine is its ATM fee reimbursement policy. The bank will reimburse you for up to 4 ATM charges each month, regardless of where in the US you are and with no minimum balance required to unlock the service.
Other perks of the account include overdraft protection, peer-to-peer payments, and online bill payment service.
How we picked
MyBankTracker applied a methodology when choosing our best checking accounts in Washington. Our top recommendations were selected based on a thorough analysis of checking accounts offered by the top 50 banks by deposit market share in Washington (based on FDIC June 2023 data)--with coverage of major cities including Seattle, Spokane, Tacoma, Vancouver, and Bellevue.
We focused our selections on checking accounts with low monthly maintenance fees, the least demanding requirements to waive these fees, the bank's ATM network, and other features included to make a person's banking life more convenient.
Checking Accounts Are Available Nationwide
If you've taken the time to consider both local and national banks and haven't found any checking account that is particularly appealing, you're not completely out of luck.
Low Fees, Great Features
The greatest benefit of opening an online checking account is that they tend to have all of the features that you need, and more, without costing too much.
Online banks, when compared to traditional brick and mortar banks, are very inexpensive to run.
Traditional banks need to pay for physical locations, security, utilities, tellers and other staff at their branches, and all sorts of other costs related to maintaining a physical presence.
Online banks can centralize their operations in one area and don't rely on running dozens or hundreds of branches around the country. That means that they save a lot of money.
Online banks then turn around and pass their savings on to their customers.
Most online checking accounts have no monthly fees and many have no minimum balance requirement. Those that do don't tend to have requirements higher than $25.
To make matters even better, many online checking accounts pay interest, which is unusual for traditional banks' checking accounts.
FDIC Insurance
If you're wary about trusting an online bank with your money, you don't have to be.
Online banks are just as safe as traditional brick and mortar banks, even if it is understandably hard to trust a bank that you can actually see in person.
The reason that online banks are safe is that they, like nearly all banks in the U.S., are insured by the Federal Deposit Insurance Corporation. The FDIC protects deposits at all banks, physical and online.
If the bank is ever unable to return your money to you, the FDIC will reimburse you for up to $250,000 per depositor per account type.
Why You'd Want a Local Washington Bank
Working with a bank local to Washington State is a great way to get a good deal on your checking account.
One of the greatest downsides of working with a national bank is that they tend to offer the same accounts to people across the country. They don't have a way to tailor their accounts to local needs.
Meanwhile:
Local and regional banks are more in-tune with their clients because they only have to serve people in a single region.
That means that they can adapt their accounts to meet the unique needs of people who live in the area.
Advantages and Disadvantages of Local Banks
Before you make the decision to open a bank account, you should carefully consider the pros and cons of working with each local bank.
Advantages and Disadvantages of Savings Accounts from Local Banks
Benefits
Drawbacks

Lower fees than national banks (but not always)
Personal service for account management

Smaller branch and ATM networks
Interest rates are not the highest available
One of the perks of local banks is that they excel at providing personalized service and providing services designed specifically for local needs, but that doesn't mean that they're without drawbacks.
One drawback of working with a local bank is that you might have to deal with some annoyances if you travel to other parts of the country.
You'll probably have to rely on other banks' ATMs when you're away from home, which means you can face ATM surcharges.
The benefit of working with a national bank chain is that you'll never be far from an ATM or branch that you can visit without paying fees.
What Kind of Account is Right for You?
Online banks are a great choice for many people, but that doesn't mean that they're perfect. If you're not sure whether an online checking account is right for you, ask yourself these questions.
Do you prefer to communicate electronically, or in person?
The biggest downside of online banks:
The only way to get help is by phone, e-mail, or online chat. It's not like a traditional bank where it is easy to walk into a branch and speak to someone face to face.
In the event that you run into account issues, you'll be forced to work with someone over the phone or electronically, which can be stressful for some people.
Do you visit your local bank branch regularly?
If you do, you might want to think twice before opting for an online checking account. With an online bank, there's no branch to visit, just a website.
How good are you at keeping up with new technology?
Online banks aim to make their systems as user-friendly as possible, but they can't completely eliminate the learning curve.
Making a mistake with your money because you're not sure how to work your bank's app or website is the last thing that you want to do.
Digital natives are unlikely to have trouble with using an online bank, but if you know that you sometimes struggle with newer technology, you might want to consider working with a brick and mortar bank instead.
Most Important Features of a Checking Account
When you're comparing checking accounts, these are the most important features to consider.
Fees
Nobody likes paying bank fees, especially maintenance fees.
Why pay the bank for the privilege of holding on to your money?
Always look for the account that has the lowest monthly fees.
ATM/Branch Access
If you use cash regularly, you'll want to know that it's easy to get cash when you need it and deposit cash when you have extra.
Think about the places that you visit frequently and whether your bank will have ATMs or branches in those areas.
Interest Rates
Most traditional banks don't pay interest on checking accounts, but some do, and online banks tend to pay interest on all of their accounts.
Earning interest is like getting free money, so look for accounts that do pay interest.
Mobile Banking
Almost every bank offers a mobile banking app, but their quality can vary by a lot.
Make sure that your bank's app is easy to use and offers essential features like bill pay and mobile deposit.