Umpqua Embark Checking Account 2023 Review
Compare the Umpqua Bank Embark Checking account and its fees and features to other checking options, especially those from online banks.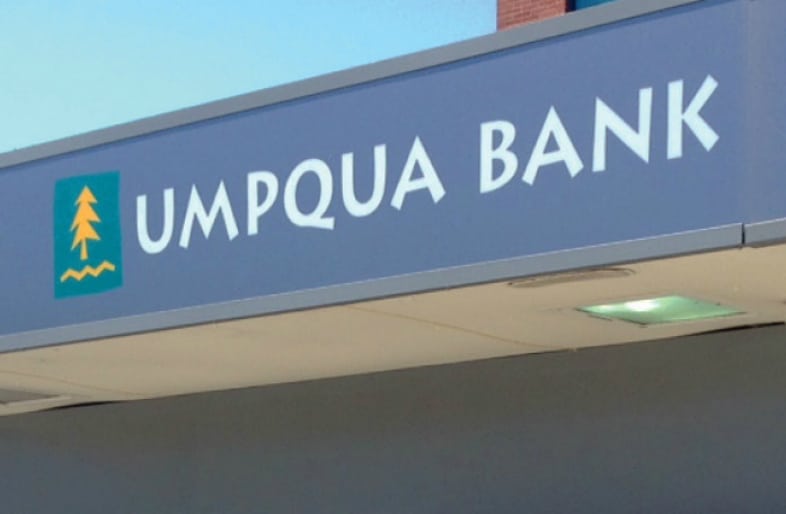 Umpqua Bank
Considering Umpqua Bank's checking accounts? If you live on the West Coast, it's probably worth a look.
The Embark Checking account doesn't have a monthly fee, which is attractive to most people looking for a new checking account.
And, it does offer other great benefits -- other traits to think about when you're comparing it to your other checking options.
For instance, the account refunds ATM fees... when certain requirements are met.
You can open one of these accounts if you're at least 18 and live in California, Washington, Oregon, Idaho or Nevada.
In this Umpqua Checking Account review, we'll compare rates, fees, and services to other national and online banks.
Simple Checking With No Monthly Fee
Umpqua Bank Embark Checking Account Pros & Cons
The truth is:
Fee-free checking accounts are becoming harder to find.
And a monthly maintenance fee can cost you versus helping you grow it.
Umpqua Bank charges no monthly maintenance fee for the Embark Checking Account.
There's no minimum balance requirement either.
You do need at least $25 to open an account, but after that you can keep as much or as little in your checking as you'd like.
Get ATM Fee Refunds
It gets even better...
As mentioned earlier, Umpqua Bank's branches and ATMs can be found in Oregon, Washington, California, Nevada, and Idaho.
But, an Umpqua Bank ATM may not always be nearby, especially if you're traveling. In that case, you may have to use another bank's machine instead.
The good news is that Umpqua Bank refunds up to $10 per month in foreign ATM fees for Embark Checking Account customers.
The catch is:
You'll need a $2,500 minimum balance to qualify for ATM rebates.
If you think you'll frequent non-Umpqua Bank ATMs more often, you could consider the bank's Attain Checking instead. This account offers up to $25 in ATM fee rebates monthly.
Again, there's a catch. This account is designed for checking customers who keep $15,000 or more in their account.
If you want a combination of a low or no minimum balance requirement and unlimited ATM fee rebates or fee-free ATM access, you may want to try a checking account from an online bank instead.
One other thing to note: Umpqua Bank charges a $2.50 fee when you use another bank's ATM. This fee isn't refundable.
There's also a $1 that applies if you print out your statement at the ATM. And it'll cost you $60 if you need a rush replacement of a lost or stolen ATM or debit card.
Can You Earn Interest With Embark Checking?
Earning interest on your checking account is a nice perk.
But it's one the Embark Checking Account doesn't offer.
This is not surprising for a basic checking account.
If you want to earn interest on checking with Umpqua Bank you'll need an Attain Checking Account.
Remember, though, that you'll need to maintain a higher minimum balance with this account.
And, the rates you could earn on your checking balance may not be as high as what you could get with an online interest checking account.
Grow Your Savings With No Monthly Fee
Linking your checking account to a savings account is a good way to build an emergency fund or save for another financial goal.
When you open an Embark Checking Account, you also get an Umpqua Bank Grow Savings Account. Ordinarily, this account has a $3 monthly maintenance fee.
But:
Because you have the Embark Checking Account, you can avoid the fee by making at least one transfer to savings each month.
You can make unlimited ATM withdrawals from a Grow Savings Account at Umpqua Bank ATMs. But you're limited to six ACH payments, telephone transfers or bill payments from savings each month.
After that, Umpqua Bank charges an excess withdrawal fee.
What Other Fees Will You Pay?
No monthly maintenance fee is great but it doesn't mean Embark Checking is completely free.
There are several additional fees you could pay with this account, including:
Umpqua Bank Embark Checking Account Fees
| Type | Fee |
| --- | --- |
| Monthly Maintenance Fee | $0 |
| Non-Umpqua ATM | $2.50 |
| Overdraft Fee | $35 |
| Returned Item | $35 |
| Stop Payment | $35 |
| Deposited Item Returned | $12 |
| Domestic Wire Transfer (incoming) | $15 |
| International Wire Transfer (incoming) | $15 |
| Cashiers Check | $10 |
The overdraft fee is especially important, as it could cost you serious money to run your account into the red.
The standard overdraft fee is $35 and Umpqua Bank can charge you up to five of these per day. That's $175 a day you could rack up in overdraft fees.
Since you have a Grow Savings Account, you can link that to your checking account and use it as overdraft protection.
Umpqua Bank automatically transfers money from savings to checking in $100 increments if you're at risk of overdrawing.
But, they don't do that for free.
You'll pay a $10 fee for each overdraft transfer.
That's not as much as the regular overdraft fee or the non-sufficient funds fee for items that are returned to your account.
Still, paying a fee means less of your money you get to keep.
The best way to avoid overdraft is to keep an eye on how much you have in checking. The simplest way to do that is by setting up an alert to let you know when your balance is getting low.
How Convenient Is Embark Checking?
Aside from ATM and branch locations, you can also access your Embark Checking Account online or through the Umpqua Bank mobile app.
You can do things like:
Pay bills
Schedule transfers between accounts
Check your balances
Sign up for customized banking alerts
Reorder checks
Make deposits via your mobile phone
The Embark Checking Account doesn't include free checks; you'll have to order those from Umpqua Bank.
The pricing varies based on the design and style of checks you choose.
And, a very important feature to note:
There's no fee to use mobile deposit to deposit checks, but you're limited as to how much you can deposit and how often.
Umpqua Bank sets daily and weekly caps on the dollar amount and number of checks you can deposit. The bank doesn't disclose what these limits are unless you have an account.
If you have a check that exceeds the dollar amount limit, you'll have to go to a branch or ATM to deposit it.
Opening an Embark Checking Account
You can open an Embark Checking Account online or at a branch.
It's rather quick:
It takes about 5 to 10 minutes to set up your account online.
You need your Social Security number, driver's license number and home address to get started.
You'll need to make an initial deposit at the time you open your account. You can do that using a checking or savings account at another bank.
You can open an individual account or joint checking. If you're opening a joint account, you'll need the other applicant's Social Security number, driver's license, and address.
Other Checking Account Options
Any time you open a checking account it's a good idea to compare what different banks offer.
Opening the first account you come across could mean missing out on an account that could be a better fit. But what should you look for in a checking account?
We've included some alternatives to consider here. And as you check out different checking accounts, remember to think about:
The monthly maintenance fee, if any
The minimum balance requirement, if any
Debit and ATM card availability
ATM locations and fees
Mobile and online banking access
Other fees, such as overdraft or returned item fees
How much you'll pay for standard checks
Whether the account earns interest
Customer service
Extra perks, like ATM fee rebates, debit card rewards or relationship discounts
It's also important to look beyond checking to the other accounts the bank offers.
If you prefer to keep all your money in one place, then you might want a bank that also offers savings accounts, CDs or money market accounts.
And remember to look at the rates you can earn, as well as the fees, for those accounts.
Should You Open an Embark Checking Account?
The Embark Checking Account may be a good fit if you're looking for no-frills checking. No monthly maintenance fee is a nice benefit you don't always find at brick-and-mortar banks.
ATM fee rebates and a linked savings account are also nice incentives. But, you could get unlimited fee rebates or a better rate on savings at an online bank.
And of course, you can't open an Umpqua Bank account if you don't live in a state where the bank operates. That makes it a no-go if you live somewhere other than the West Coast.
Our verdict is that if you want basic checking without a lot of extra bells and whistles, the Embark Checking Account could offer everything you need. On the other hand, if you want more from checking -- such as earning interest on your balance, relationship rewards or better ATM benefits -- we'd suggest checking out an online bank instead.