BMO Harris Student Checking Account 2023 Review
Find out whether the BMO Harris Smart Money checking account is a good student checking option based on the review of its fees, ATM access, and other features.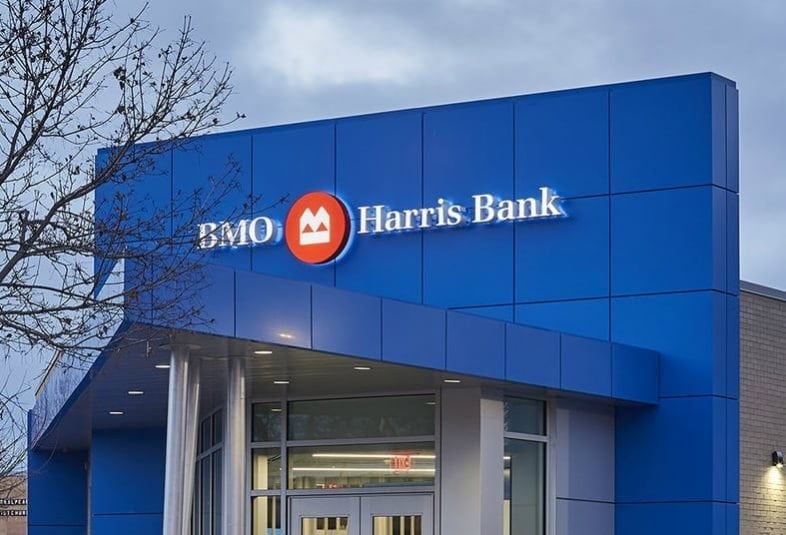 As you get ready for the new school year, one major task on your mind may be to find a student checking account.
After all, it is the center of a student's financial life.
During your research, you might come across BMO Harris Bank as an option.
It offers the BMO Harris Smart Money Account, which makes for a great student checking account.
Why?
The monthly fee is waived for anyone under age 25.
This review will allow you to familiarize yourself with this account's features and learn how you can benefit from a relationship with BMO Harris Bank.
No Monthly Fee for Ages 25 and Under
Many bank accounts charge a monthly maintenance fee in order to keep the accounts open and operating.
For checking accounts, there could be ways to waive the monthly fee -- and these requirements vary from account to account.
Usually, you need to maintain a certain balance or post direct deposits.
Now:
It's difficult for students to meet these common requirements.
BMO Harris Bank Smart Money Checking Account Pros & Cons
Luckily, the BMO Harris Smart Money checking account makes it very easy to waive the $5 monthly fee. You just have to be under age 25.
If you're a college student or graduate student, you most likely fulfill this requirement.
While it isn't called a student checking account, it surely fits the bill.
You don't have to be enrolled in school to benefit. And, you may keep this account even after the standard graduation date as long as you're still under the age requirement.
No Overdraft Fees
An overdraft fee is charged when a transaction causes the balance in the checking account to fall below $0. 
This can happen if you use your debit card for a purchase, write a check, or make an ATM withdrawal.
At most banks, an overdraft fee is roughly $35. 
The best part about BMO Harris Bank's Smart Money checking account:
You're never charged an overdraft or non-sufficient funds fees.
If you use your debit card or ATM without enough cash in your checking account, BMO Harris Bank will decline the transaction.
The bank may—at its discretion—pay an overdraft when a check or automatic bill overdraws your account.
In this case:
You're responsible for paying back the bank. This perk is available on a case-by-case basis, usually to accountholders who don't have a history of repeatedly overdrawing their accounts.
Overdraft coverage
There is also the option of enrolling in the bank's overdraft program.
This provides protection if an ATM or debit card transaction overdraws your account.
Simply link your Smart Money checking account to your savings account or line of credit with the bank.
After opting-in, funds from your linked account automatically transfers to checking when you don't have enough in the account to cover a transaction.
Extended ATM Access Nationwide
As a student, ATM access should be a big factor in your consideration of a new checking account.
Using an out-of-network ATM can be costly.
If you use an out-of-network ATM, BMO Harris Bank charges a $3 fee for each transaction. The owner of the ATM will also charge a fee.
Fortunately:
BMO Harris Bank accountholders can access more than 40,000 ATMs across the nation because it is partnered with the Allpoint ATM network.
So, you can use a BMO Harris Bank ATM or Allpoint ATM anywhere in the country without having to pay ATM fees. 
Tip: Check your campus or the areas around your school to see if you have access to one of these ATMs.
Low Opening Deposits
Some banks allow new checking accounts with no minimum deposit.
There is, however, a minimum opening deposit requirement with BMO Harris Bank.
The good news is that this deposit is relatively affordable.
You just have to deposit a minimum of $25 to get started.
Does the Smart Money Checking Account Earn Interest?
Everyone expects to earn interest when opening a savings account—not so much when opening a checking account.
Some checking accounts, however, do earn interest.
But unfortunately, the Smart Money checking account isn't one.
What Fees Can You Expect to Pay?
Before you open an account, make sure that you're aware of fees associated with this checking account.
Checking account fees vary by financial institution.
They can also add up quickly.
Some banks charge a lot of fees, whereas others charge few fees. If you don't know what you're paying, you could end up getting more than you bargained for.
BMO Harris Bank Smart Money Checking Account Fees
| Type | Fee |
| --- | --- |
| Monthly Maintenance Fee | $5 (waived |
| Monthly Paper Statements | $2 |
| Non-BMO Harris ATM | $3 |
| Overdraft Fee | $0 |
| Returned Item | $0 |
| Overdraft Protection Transfer Fee | $120 |
| Stop Payment | $35 |
| Deposited Item Returned | $12 |
| Domestic Wire Transfer (incoming) | $0 |
| International Wire Transfer (incoming) | $0 |
| Cashiers Check | $10 |
Along with a monthly maintenance fee of $5, other fees associated with this account include a $2 fee for paper statements. This is waived if you're under 25 years of age.
There's also a $5 fee to request a debit or ATM card replacement. If you use your debit or ATM card in a foreign country, you'll pay a foreign transaction fee of 2.8 percent of each transaction.
And if you opt for overdraft protection, there's a $10 per day transfer fee.
While the bank does charge certain fees, the account also comes with a few freebies. These include free incoming wire transfers, free ATM mini statements, and free banking by phone.
The Convenience of Banking Your Way
BMO Harris Bank also offers many convenient features to make account management easier.
Nowadays, many people pay their bills and manage their finances online. If this sounds like you, BMO Harris Bank's free digital banking tools might be right up your alley.
Sign up for online or mobile banking at your convenience. You're able to pay bills online, set up automated payments, transfer money, view your statements, and even deposit checks from your mobile devices.
You can also set up security email alerts. This way, you'll receive notifications of suspicious activity.
If you need to send money to anyone with a U.S. bank account, you can do so safely and quickly with Zelle. This is a U.S. digital payment network that partners with many banks and credit unions.
What to Look for When Comparing Checking Accounts?
Some people don't know the first thing about comparing checking accounts. What's more, some people assume that all checking accounts are the same.
As you shop around, you'll quickly see that checking accounts aren't created equal.
For this reason, you need to ask yourself a few important questions before opening an account.
For example, does the checking account charge a monthly maintenance or service fee? If so, how much is it? And, is there a way to avoid this fee?
Also, consider how easy (or hard) it is to withdraw your money. Some people prefer the ease of using a brick-and-mortar bank. They can withdraw money quickly anytime from a local branch.
Others prefer an online banks because it isn't as easy to access their cash. With an online bank, you have to first transfer money to an offline bank. The transfer can take one to two business days.
It's also important to compare fees and interest rates, whether you're opening a checking account or a savings account. The higher your interest rate, the greater the return on your money. And with less fees, you're able to keep more of your cash in the bank.
Final Verdict
BMO Harris Bank's Smart Money checking is a great choice if you're under the age of 25 and looking for a checking account that doesn't charge a monthly service fee.
It's also a top contender if you're over the age of 25 due to the low $5 monthly fee.
This account is also an excellent choice if you're concerned about overdraft fees. BMO Harris Bank makes it easy to avoid these fees. The bank won't allow certain transactions if you don't have enough money in your account. And there's the option to opt into overdraft protection services.
Unfortunately, this checking account doesn't earn interest. So it doesn't offer a secondary way to grow your money. This isn't an issue if your checking account is used strictly as a spending account. In this case, you might not keep a large balance in the account.
If you do keep a large balance in your checking account, this might not be the best account for you. You're better off opening a BMO Harris Bank Premier checking account.
This account has a $30 monthly maintenance fee. But you can avoid this fee by maintaining a $25,000 minimum daily balance, or having $50,000 in combine balances. You'll earn a tiered interest rate with this account, which is on par with other standard checking accounts.
Interest checking is a win-win. You can use your account as both a spending account and a savings account.