Citibank Basic Banking Checking Account 2023 Review
Learn all about the features and fees of the Citibank Basic Banking Account Package, which has a basic checking account, and compare it to other options.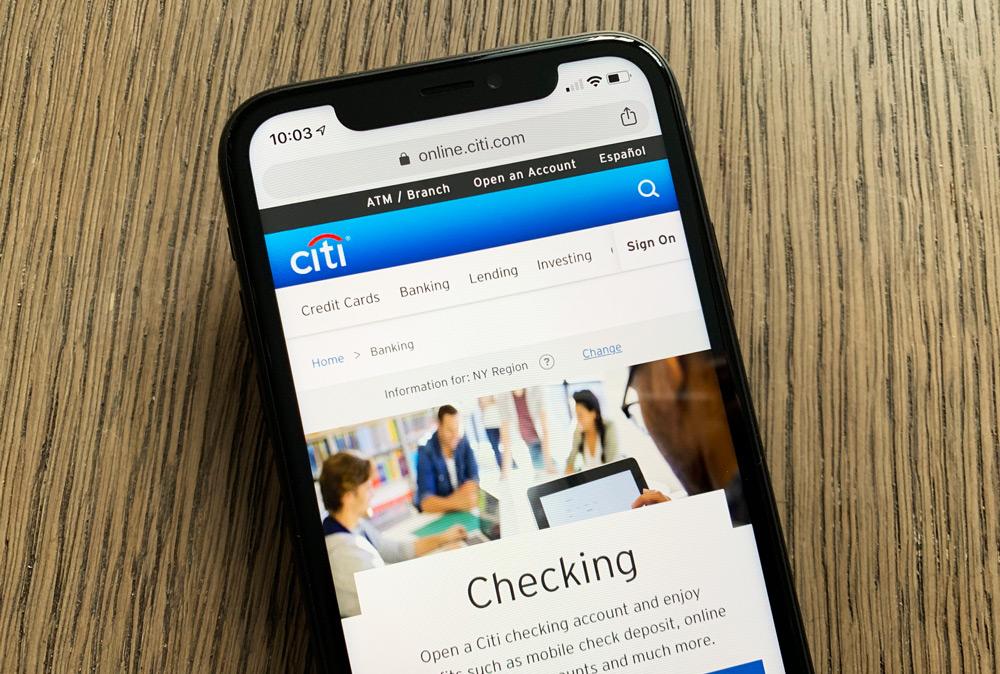 Citibank Checking Account
Looking for your next checking account, you're probably going to consider Citibank. After all, it's one of the biggest banks and you see it everywhere.
Citibank is one of the largest financial institutions in the world. It's consumer-facing arm, Citibank, operates 723 branches in six major cities in the US: New York City, Chicago, Los Angeles, San Francisco, Washington D.C., and Miami.
The Citibank Basic Banking Account Package is the everyday checking account available from the bank.
Learn everything you need to know about the account before signing up:
Free Access to Citi Identity Theft Solutions
Let's be frank:
Identity theft is a nightmare if it happens to you.
As people's lives grow more digital, it only becomes easier for hackers and other cybercriminals to access more and more personal information. Many companies have succumbed to attacks designed to steal customer information.
If someone gets a hold of your personal information through one of these attacks, they may be able to steal your identity. They can open utility accounts, get a cell phone, or apply for a credit card, all using your name.
When the criminal fails to pay the bill for accounts they opened in your name, you'll be the one affected. Your credit score will drop and you might find yourself unable to open a new bank account or loan.
Citi offers a free Identity Theft Solutions that can help you in the event that your identity is ever stolen. The service comes free with your Citibank Basic Banking Checking Account.
If you need to use the service, you'll be put in touch with a team of Identity Theft Solution Specialists.
These specialists will help you contact TransUnion, a credit bureau, and apply a fraud alert to your credit file. They'll also continue to monitor your credit report until your case is closed, keeping track of any additional unauthorized use of your identity.
The specialists can also advise you on how to file a police report and other paperwork that will be required. They'll also contact the companies that provided the unauthorized accounts to the criminal so that you can close them.
Dealing with identity theft can be a massive pain, but Citi's expert team can make it a little bit easier.
Hopefully, you'll never need to use this service but knowing it's available can help you rest a little easier.
Pay Your Friends Easily Using Zelle
Despite the fact that people's financial lives have grown more digital, cash is still one of the most common ways for friends to pay each other.
Whether you're covering your half of the bill at a restaurant or paying rent to a roommate, cash can be inconvenient.
To make things easier, Citibank gives account holders access to Zelle. You can even send money to people who haven't set up Zelle yet.
When you open Zelle on your phone or computer, you'll have to enter the recipient's phone number or email address. You don't need to know anything about the person's bank or their accounts. Just a way to contact them.
You'll then be prompted to enter the amount you'd like to send. Sending and receiving limits can vary from bank to bank. Usually, you'll be able to send enough to cover all but the largest payments.
Hit send, and the recipient will be instantly notified that they have a transfer pending. If the recipient has already set up Zelle, the money will be removed from your account and arrive in their bank account within three business days.
If the recipient hasn't yet set up Zelle, they'll be prompted to set up their profile. As soon as they do, the payment will be released and the transfer will complete within a few days.
Benefits for Older Account Holders
Older account holders can get a few special benefits if they open a Citibank Basic Banking Checking Account. All account holders 62 and older are eligible.
One benefit that these account holders get is an automatic monthly fee waiver.
You'll never have to pay a monthly fee, even if you can't meet the standard fee waiver requirements.
These account holders can also get fee-free transactions at non-Citibank ATMs.
Usually, Citibank will charge you if you use another bank's ATMs. If you're 62 or older, you won't be charged. You'll still have to pay any fees charged by the ATM's owner.
ATM Access
Citibank is located mostly in a few major cities in the United States. If you stay in those major metro areas, you'll have good access to Citibank ATMs where you can make withdrawals for free.
If you ever travel outside those areas, you might have trouble finding a Citibank ATM. If that happens, you'll have to rely on using other bank's ATMs. This can get costly, as you'll pay a fee for each transaction.
If you use another bank's ATM to make a withdrawal, Citibank will charge you a $2.50 fee for each withdrawal. This fee is on top of the fee charged by the ATM's owner.
You could pay between $5 and $10 for each withdrawal you make. Given the significant cost of making withdrawals from other banks' ATMs, you shouldn't rely on doing so.
Two Ways to Avoid the Monthly Fee
Monthly maintenance fees have become more common in recent years as banks look for ways to influence their customer's behavior.
These fees give banks a way to encourage customers to make more transactions or maintain higher balances.
The Citibank Basic Banking Checking Account charges a $12 monthly fee. You can avoid the fee by meeting either of the following requirements:
Receive a direct deposit AND make a bill payment through Citibank's website
Maintain a balance of at least $1,500 in the account
Other Fees
Monthly maintenance fees are the most common type of fee you'll have to pay on a checking account.
However, there are other fees that the bank might charge.
Some of the fees that may apply to the Citibank Basic Banking Checking Account are listed below.
Citibank Basic Banking Checking Account Fees
| Type | Fees |
| --- | --- |
| Monthly Maintenance Fee | $12 |
| Overdraft Fee | $34 |
| Insufficient Funds Fee | $34 |
| Stop Payment Fee | $30 |
| Deposited Check Returned Unpaid Fee | $12 |
| Non Citibank ATM Fee | $2.50 |
| Domestic and International Incoming Wire Transfer Fee | $15 |
| Domestic Outgoing Wire Transfer Fee | $35 |
| International Outgoing Wire Transfer Fee | $45 |
| Online Domestic Outgoing Wire Transfer Fee | $25 |
| Online International Outgoing Wire Transfer Fee | $35 |
| Official Check Fee | $10 |
| Money Order | $5 |
Other Citibank Checking Options
If you're interested in becoming a Citi banking customer, but aren't sold on this checking account, check out additional checking account options also offered by this bank:
Citibank Access Account Package
The Citibank Access Account Checking account is a level up from Citi's Basic account package.
This account features all of the great perks offered by Citi, plus a few added benefits. With the Access account, you receive:
Access to a full range of Citi digital products and services
No overdraft fees, since you can never spend more than what you actually have
No paper checks, because all transactions happen virtually
This account bears a $10 monthly maintenance fee, unless you meet one of these requirements:
Maintain $1,500 or more in combined average monthly balances in a checkless Regular Checking account and linked savings or money market accounts in an Access Account Package
Have one (1) qualifying direct deposit credited to your checkless Regular Checking account, savings or money market account in an Access Account Package, or
Have a qualifying Bill Payment posted to your checkless Regular Checking account during your statement period
---
Citibank Account Package
The Citibank Account Package is one of Citi's most premier checking accounts, that offers exclusive benefits and high-end savings.
In addition to all of the perks Citi offers their banking customers, Citibank Account Package customers receive:
No Citi fee for using non-Citi ATMs when monthly balance requirements are met
Option to earn interest on your checking account balance
Potential to earn higher interest rates on savings and money market accounts
Free checks
These added benefits do not come for free, however. This account has a $25 monthly maintenance fee, unless you meet this requirement:
Maintain $10,000 in combined average monthly balances in eligible linked deposit, retirement and investment balances
---
Convenience
The Citibank Basic Banking Checking Account offers many valuable convenience features.
One of the most important things to look for in a checking account is how easy it is to use.
Your checking account is the center of your financial life, so you want to make sure that dealing with it isn't a headache.
Being able to access your account while on the go will go a long way towards making an account convenient to use.
To that end, Citi offers both a powerful website and smartphone app.
You can log in to your account from anywhere to manage it. You can see your account balance, transaction history, and future transactions. You can also use the app or website to schedule transfers.
Another feature of the website is its free bill pay service. Rather than mailing out checks to pay your monthly bills, Citibank can handle it for you. Just enter who you need to pay and how much you have to send. Citibank will handle the rest for you.
The wide network of ATMs, as long as you stay in cities served by Citibank, also make the account convenient. You'll rarely be far from an ATM you can use without paying a fee.
How It Compares
The checking account is the most popular type of bank account in the United States.
For that reason, nearly every bank in the country offers at least one type of checking account, hoping to draw in customers.
This means you'll have an overwhelming number of accounts to choose from. However, that can work in your favor because it gives you a better chance of finding a good deal.
Take the time to find the right account for your needs. Choosing the wrong account can make dealing with simple financial tasks a burden.
When you're comparing checking accounts, fees are the first thing to look at. You want to make sure that you won't pay any maintenance fees.
If the account does charge a monthly fee, make sure that you can meet the fee-waiver requirements each month.
Other things to consider when comparing accounts are:
Minimum deposit requirements
Fee waiver requirements
Interest rates
ATM access
Convenience features
Final Verdict
Citibank Basic Banking Checking Account Pros & Cons
Pros
Cons

Widespread branch and ATM access
Mobile banking apps available

Monthly fee (can be waived)
Service fees on the higher end
Doesn't earn interest
The Citibank Basic Banking Checking Account offers basic service, with a hefty monthly fee.
Even if you can meet the fee waiver requirements easily, there are better options out there.
Look for an online checking account that will never charge a fee.
You're likely to earn interest and get access to more valuable features like ATM fee reimbursement.