Dave Checking Account 2023 Review: Focused on Easy Money Access
Our review of the Dave checking account looks at the mobile-centric bank account designed for easy access to your money without overdrafts.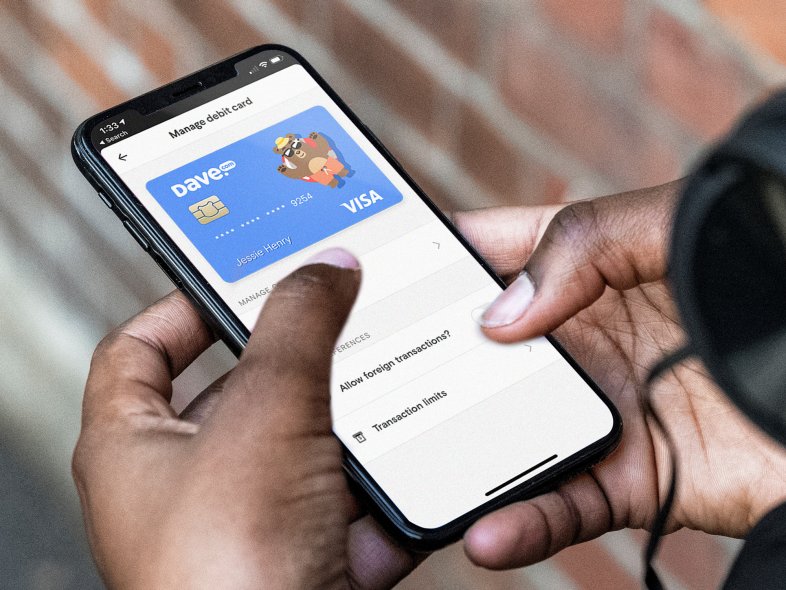 Checking accounts are an essential part of everyday life. Everyone needs one.
The problem is that many checking accounts come with high minimum balances and expensive fees that can make it difficult to use the account.
Dave is a mobile-centric checking account that some may consider as an alternative to a traditional bank account.
Interestingly:
The account doesn't charge overdrafts while still allowing digital bill payments (sends checks on your behalf).
The company also has no minimum balance requirement and it offers interest-free cash advances when you need a bit of extra cash.
If you're interested in opening an account with Dave, this review will tell you everything you need to know.
Dave Checking Account Pros & Cons
Compare Checking Account Options
Make sure that you look at other checking accounts that could be better for you:
No Overdrafts
If you try to spend more money than you have in your checking account, many banks will let the transaction go through anyway.
That puts your account balance into the negatives.
However, most banks charge a fee for this service, making your purchase even more expensive.
A $5 cup of coffee that put your account balance below $0 could turn into a $40 cup of coffee after you've added the overdraft fee.
People who already have so little in their bank accounts have trouble affording overdraft fees, so Dave helps people avoid them.
Dave learns about your spending habits and regular bills. If your balance is too low to cover an upcoming bill, Dave will send you an alert.
If you can't increase your balance to avoid overdrafts, Dave gives you some options.
First, Dave won't let you overdraft your account, so you won't have to pay an overdraft fee.
If you need to make sure that the payment goes through, Dave can give you a cash advance to cover the charge.
0% Interest Cash Advance
Dave offers customers a cash advance of up to $75 from their next paycheck, fee, and interest-free.
Sometimes, you need to borrow a bit of money to cover an unexpected cost or to make it to your next paycheck.
In that situation, a lot of people turn to expensive credit card debt or even payday loans.
The problem with credit cards and especially payday lending is that it's easy to get caught in a cycle of debt, with a balance that's constantly increasing.
Requires direct deposit and predictable pay cycles
If you set up direct deposit with your employer and get paid on a regular schedule, Dave can help you cover small shortfalls in your budget.
If you need some extra money, you can request a cash advance through the Dave app. Its software automatically checks your previous two months' activity.
It looks for payments from your employer and your expenses.
Dave won't give you a cash advance if your pay schedule is erratic or if you won't be able to cover your expenses with the money left over in your paycheck.
Once you get the cash advance, you can spend it to cover your necessary expenses. Dave automatically takes its payment from your next paycheck.
No impact on credit
Another good thing to note is that getting a cash advance through Dave does not impact your credit.
When you repay the cash advance, Dave gives you the option to offer a tip.
Now:
Tips are not obligatory, but they're a way to thank the company for helping you out.
The company says that it uses tips to offer cash advances and other services to the other customers who need them.
Extra Features
Dave offers a variety of useful tools to help people improve various aspects of their personal finances.
Budgeting tool
As you use your Dave checking account it will automatically learn about your income and spending habits.
It uses that information to create a sample budget for you, outlining how much money you can spend on different things like rent, groceries, gas, and entertainment.
As you spend money each month it tracks your expenses and lets you know if you're getting close to hitting your budgeted limit. As your habits change, Dave updates your budget for you.
Built credit by paying rent
Another way that Dave helps customers is by letting them build their credit by paying rent. Usually, you can only build credit by making payments on a loan or credit card. If you don't have a credit card or only have one loan payment per month, it can take a while to build a good history of timely payments. If you sign up for the free service, Dave automatically reports your monthly rent payments to the major credit bureaus, boosting your credit score.
You don't have to change the way you pay your rent.
You can also set up your utility payments to report to the credit bureaus, helping you build credit even more quickly.
Find side gigs
Finally, Dave has partnered with a number of businesses around the United States to help its customers find side gigs.
If you need a bit of extra cash, Dave can help you find a flexible, part-time job that you can use to make extra money.
You can put those earnings toward paying off a debt or building a nest egg.
ATM Access
When you use a checking account, one of the most important things to consider is how easy it is to get to your money.
Most merchants accept debit and credit cards these days, but as the saying goes, cash is king.
Dave doesn't have any physical branches that you can visit to make withdrawals, so you'll have to use ATMs when you need to take cash out of your account.
Dave is part of the MoneyPass network, which gives customers access to more than 32,000 ATMs across the country.
Dave doesn't charge any fees to use ATMs outside of the MoneyPass network, but you might have to pay a fee charged by the ATM owner.
Flat Monthly Fee
Some checking accounts charge a monthly fee. Dave is one of them, charging customers a flat $1 fee for each month they have an account.
There's no minimum balance to open the account and you cannot avoid the fee by reaching a specific balance.
Instead, Dave offers customers the chance to earn credits toward free months. If you log into your account, you'll see a tab for Dave Rewards.
Dave has partnered with a variety of companies to reward you with free months of Dave when you use your debit card to make purchases.
Other Fees
Dave keeps its fees low. Outside of the $1 monthly fee, it doesn't charge anything else for its services. You cannot overdraft the account, so you won't pay overdraft fees and the cash advances it offers are free of charge. Even using another bank's ATMs won't incur fees from Dave, though you may have to pay fees to the ATM's owner.
Convenience
The Dave checking account is relatively convenient. It's easy to do all of your banking from your phone and you have a debit card that you can use to make purchases or withdrawals at ATMs.
The MoneyPass network includes more than 32,000 ATMs, so you'll never be far from an ATM you can use.
The big downside of using Dave is that the company only offers checking accounts.
If you want to open a savings account or a CD, you'll need to go to another bank.
Splitting your money between multiple institutions can be cumbersome.
How It Compares
All in all, Dave compares relatively well to the competition.
The $1 monthly fee is annoying compared to the many free checking account options, but the additional services give it a leg up on much of the competition.
When you're comparing checking accounts, there are a few things that you want to consider.
First and foremost is the monthly fee. Some checking accounts have high minimum balance requirements to avoid monthly fees. Others are easy to open a free. The free accounts are usually the ones that you want to use.
Another thing to look at is ATM access. Many banks offer reimbursement for fees charged by other bank's ATMs. If you use cash a lot, this is a great feature to look for.
Finally, some premium checking accounts pay interest on the money you deposit. If you have a large balance in your checking account, it's worth looking for an account that pays interest.
The Final Verdict
Dave is a good checking account for people who need some help getting their money under control.
You don't have to worry about overdraft fees and have access to a small cash advance as a security blanket.
For people who are more established in their financial lives, Dave probably isn't the best choice.
A bank that offers more services may be a better fit.
Building that banking relationship will pay dividends in the long run and you'll get access to more useful features like ATM fee reimbursements or other more comprehensive financial services.