E*TRADE Checking Account 2023 Review: Should You Open One?
Find out whether a checking account from a brokerage such as E*TRADE is better than a regular bank checking account, based on fees and account benefits.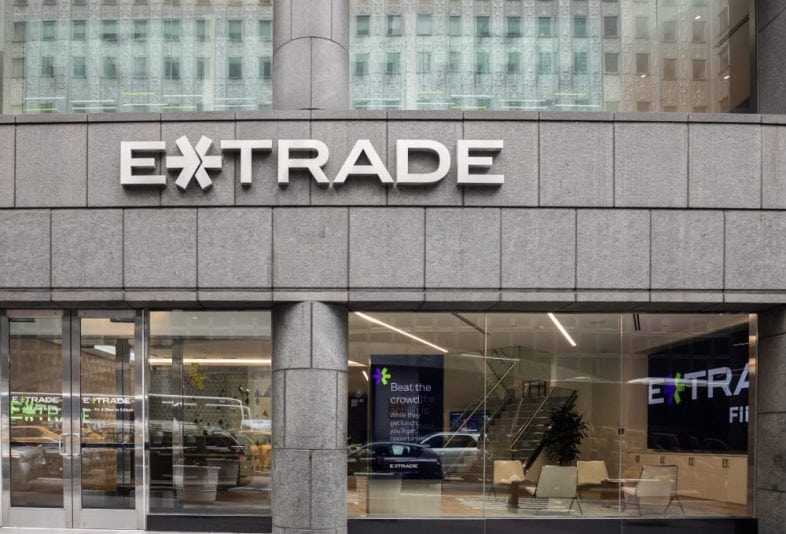 Your search for a new checking account may lead you away from a typical bank.
Instead:
You might consider one from a brokerage, such as E*TRADE.
E*TRADE can do more than manage your investment and retirement accounts.
The company also offers banking solutions, including checking accounts. One of the popular options is the E*TRADE Max-Rate Checking account.
So if your current account isn't up to snuff and you're looking for something better, E*TRADE's Max-Rate Checking might offer everything you need in an account.
E*TRADE Max-Rate Checking Account Pros & Cons
Earn More and Grow Your Account Faster
E*TRADE's Max-Rate Checking account comes with many attractive features. It's most notable feature is the ability to earn interest on your deposits.
Some people only associate interest with opening a savings account. But this isn't the only way to earn cash.
Interest checking is another option, particularly if you maintain a large balance in checking. In this situation, it only makes sense to get some type of return on your money.
Of course, interest checking isn't uncommon, and you'll find that many banks offer these types of accounts.
But as you compare E*TRADE's Max-Rate Checking with other accounts, you'll also find that E*TRADE's rate is higher than what you'll find elsewhere.
A higher rate maximizes your return. So the more cash you deposit into your checking, the more you'll earn in interest.
Keep in mind that to earn interest with E*TRADE's Max-Rate Checking, you'll need to maintain a balance of more than $5,000 in your account.
You'll still earn interest with a smaller balance.
But it'll be less and more comparable with interest checking rates offered by brick-and-mortar financial institutions.
Enjoy Unlimited ATM Fee Refunds
One benefit of opening a checking account is being able to visit an ATM anytime and withdraw cash from your account.
But unfortunately, ATM withdrawals are often accompanied by fees. More so if you use an ATM outside of your bank's network.
Depending on how often you go to the ATM, fees can add up considerably over the years.
For this reason, E*TRADE's Max-Rate Checking account is worth considering if you're looking to get away from these fees.
Open this account and E*TRADE will never charge a fee for ATM withdrawals, meaning you can go to any ATM nationwide.
In such a scenario, however, the owner of the ATM may charge a fee.
No worries, though.
Any ATM fees you're charged by another bank are automatically credited to your checking account. This takes the stress and hassles out of accessing your money.
Rather than drive around town and waste gas finding an in-network ATM, you can stop at the closest ATM, get your cash, and move on with your day.
How to Avoid the Monthly Fee
Monthly checking account fees are typical. In fact, many people anticipate paying a service or maintenance fee when opening a checking account.
Financial institutions charge these fees to cover the cost of maintaining accounts.
But while services fees are commonplace, these fees are annoying nonetheless.
The good news:
E*TRADE's Max-Rate Checking offers a number of ways to avoid its $15 monthly fee.
One option is to maintain an average balance of $5,000 in your account.
Likewise, you'll avoid this fee if you sign up for direct deposit and have at least one direct deposit of $200 into your checking account per month.
If your employer offers this pay alternative, contact your HR or payroll manager for enrollment information.
Direct deposit is a win-win for you. Now only will you avoid the monthly service fee once you are set up, you might be able to access your earnings sooner.
Plus, you avoid weekly or bi-weekly trips to the bank — a major timesaver.
You'll also avoid the monthly maintenance fee if you maintain a combined balance of $50,000 or more across all your E*TRADE accounts, or if you execute at least 30 stock or options trades per calendar month.
Get Started With a $100 Deposit
Be mindful that there's a minimum opening deposit requirement for the E*TRADE Max-Rate Checking account.
You'll need a minimum opening deposit of $100.
This is slightly higher than what some checking accounts require.
But considering how this account rewards you with interest, the minimum opening deposit is on par with the requirement for other interest-bearing accounts.
Some money market accounts and certificate of deposits have similar requirements.
Other Account Fees to Watch For
The monthly service fee isn't the only fee to watch for.
Fees can eat away at interest earnings, so it's important to know what you're paying.
For the most part, this account keeps fees low. Even so, keep in mind that you'll pay a $10 fee each time you make a loan payment by check.
You'll also pay a $25 return check fee for insufficient funds in your account.
And if you link your E*TRADE Max-Rate Checking account with a savings account and enroll in overdraft protection, there's a $5 fee per transfer.
E*TRADE Max-Rate Checking Account Fees
| Type | Fee |
| --- | --- |
| Monthly Maintenance Fee | $15 |
| Minimum Opening Deposit | $100 |
| Overdraft Fee | $25 |
| Returned Item | $25 |
| Overdraft Transfer Fee | $5 |
| Stop Payment | $25 |
| Domestic Wire Transfer (incoming) | $0 |
| International Wire Transfer (incoming) | $0 |
| Cashiers Check | $10 |
Manage Your Account Effortlessly
Finding a checking account that can accommodate your lifestyle is also a priority.
You're undoubtedly busy.
So you need an account that'll make your life easier and provide a positive banking experience. This is what you get with the E*TRADE Max-Rate checking account.
Open this account and you'll be able to manage your account online or through your mobile device.
Check your account balance, transfer money, set up alerts, and deposit checks from anywhere.
You can also utilize free online bill pay.
This makes it simple and quick to pay creditors. Whether you're paying your mortgage, car payment, credit card bills, utilities, or other expenses, determine how much you want to pay, and then choose a date to send the payment.
Putting your expenses on autopilot saves time, and you don't have to worry about accidentally forgetting to send off a bill.
This results in no late payments and no late fees.
Along with these convenient features, E*TRADE's Max-Rate checking account also allows you to see images of deposited and cleared checks.
It's yet another way to manage your personal finances effortlessly.
What to Consider When Comparing Checking Accounts?
Some people fail to compare options before opening a checking account. They assume all accounts are created equal. But this couldn't be farther from the truth.
They might visit the bank closest to their home and open an account without asking questions. This, however, can be a costly move.
Comparison shopping is the only way to make an informed decision.
Plus, when you shop around, you're more likely to get an account that's tailored to your needs.
Rather than an account that offers services and features that you don't need.
With any checking account, it's vital that you compare interest rates, monthly service fees, and opening deposit requirements. If you can earn more and save in certain areas, you'll be off to a good start and it'll be easier to grow your account.
But comparison shopping shouldn't stop here. What else can the bank offer you?
Does the bank give ATM fee refunds? Does it provide new customers with a free box of checks? Is there a fee for using online bill pay?
The good thing about E*TRADE's Max-Rate checking account is that it gives accountholders plenty of freebies. But of course, this checking account isn't right for everyone.
Maybe you're not interested in earning interest on your deposits. Or perhaps you prefer a basic checking account instead.
Fortunately, you don't have to look outside the bank. E*Trade has something for just about everyone.
E*Trade's No Frills Basic Checking
If you feel that the Max Rate checking isn't right for you, E*TRADE Basic checking account might be a better match.
This checking account provides many of the same features of the Max Rate account.
These include free online bill pay, a $100 minimum opening deposit requirement, and you'll receive an ATM/debit card so you can access your money from anywhere.
But this account doesn't earn interest, nor does it offer ATM fee refunds. On the upside, there's no monthly service fee.
This is a savings of about $180 per year.
As a bonus, you'll also receive a free initial checkbook order upon opening your account.
Final Verdict: Is This Account for You?
E*TRADE's Max-Rate checking is a strong contender if you already have a regular checking and savings, but you're looking to add an interest checking account to the mix.
The bottom line is that this checking account will mostly benefit individuals who maintain a
larger balance in their checking account, at least $5,000.
It's also a great fit for those who are in a position to get started with a larger opening deposit.
Likewise, this account might be ideal if you frequent ATMs.
The ability to get back ATM fees can save you a considerable amount of money.
But while this account earns more than some brick-and-mortar interest checking accounts, it never hurts to see what a high-yield online checking account can offer.
With a little digging, you might find a higher return elsewhere.