The Best Checking Accounts in Arizona of 2023
Find out which checking accounts are the best from local banks in Arizona, based on fees and convenience -- compared to national and online banks.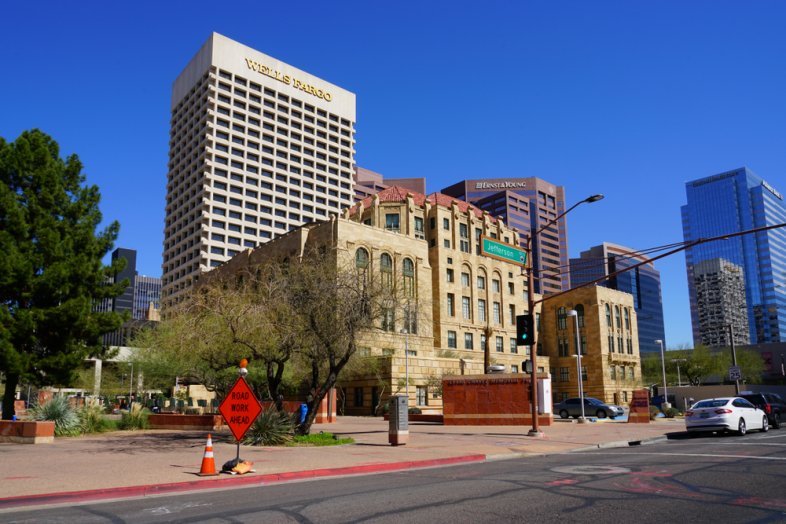 If you live the Grand Canyon State, you've got easy access to some of the biggest banks in the country, which happen to be obvious options when you're on the hunt for a new checking account.
Now:
As the hub of your entire financial life, your choice of a checking account is vital to avoid any headaches -- often in the form of fees and convenience.
Because checking accounts are so essential to modern financial life, banks compete heavily for customers who are looking to open one.
You don't have to go with the big banks. There are plenty of local Arizona banks as well.
If you live in Arizona and want to open a new checking account, we'll cover the best options available to you.
The Best Checking Accounts in Arizona
Zions Bank
The Zions Bank Anytime Checking Account combines a reasonable minimum deposit with no monthly fees to make for a solid choice of checking account.
By signing up for electronic statements, you can make this a truly fee-free account.
Once you've made your $50 minimum deposit, you can open the account and take full advantage of the services offered by Zions Bank. The Anytime Checking Account is a relatively no-frills account, but Zions Bank does offer Zelle, which makes for easy peer-to-peer transfers. You can also get help from US-based customer service, Monday through Saturday from 7 AM to 8 PM, making it easy to contact the bank when you need to.
BBVA
The BBVA ClearChoice Free Checking Account brings a bevy of perks, with no monthly fee.
The account has a $25 minimum deposit, which is very reasonable for a brick and mortar bank. Once the account is open, you can enjoy features such as fee-free ATM withdrawals and deposits and powerful online and mobile banking features.
One benefit that sets the ClearChoice Free Checking apart from the competition is its Simple Cash Back program.
BBVA has partnered with a number of retailers to offer special promotions and cash back opportunities. Activate an offer and add it to your debit card. Then, when you shop with your card you'll automatically earn cash back.
BMO Harris
The BMO Harris Smart Advantage Checking Account is another great choice for Arizona residents. Its $25 minimum deposit and $0 monthly fee when you sign up for electronic statements make it easy to open.
BMO Harris is also a great choice for people who frequently use ATMs. BMO Harris is a member of the Allpoint ATM network, giving you access to more than 40,000 fee-free ATMs.
The account also offers standard features, such as online bill payments and mobile banking.
How we picked
MyBankTracker took a measured approach to picking our top accounts for Arizona. These accounts were chosen based on our analysis of the top 50 banks by deposit market share in Arizona (according to FDIC June 2021 data), which includes coverage of major cities such as Phoenix, Tucson, Mesa, Chandler, and Scottsdale.
In particular, our selection trended toward checking accounts with the lowest monthly service charges, the least strict requirements to waive these fees, ATM network access, and other convenience features consumers may find helpful.
Online Checking Accounts Serve Nationwide
If you're thought about the accounts offered by both local and national banks, but still aren't sold on one, don't forget that there is a third option -- online banks.
Great Features, Great Price
Online checking accounts have one major strength when compared to the checking accounts offered by brick and mortar institutions.
They can offer premium features without charging a premium.
Online banks cost far less to run than traditional banks do.
Traditional banks need to build a headquarters to manage their business and then has to pay for the expenses for operating an extensive network of branches and ATMs. That means renting buildings, hiring tellers, paying for utilities and security, and more.
Online banks can build one central office and have most of its workers work from one location. The rest of their business is done entirely online. There's no need to pay for the expenses of operating physical locations.
Online banks are able to pass the savings on their customers.
Many online banks charge no monthly fees and have no minimum deposit requirement. Many also offer great perks like interest on checking account balances, ATM fee rebates, and more.
FDIC Insurance
It might be difficult for you to trust an online bank with your money. After all, how can you trust a bank that you can't actually see?
The good news:
The Federal Deposit Insurance Corporation covers online banks just the same as brick and mortar banks.
That means that online banks are just as safe as any other.
When you make a deposit to an FDIC insured bank, you are automatically covered. If the bank later goes bankrupt or is otherwise unable to return your money to you, the FDIC will reimburse you for the amount that you've lost.
FDIC insurance covers up to $250,000 per depositor, per account type, per bank.
The vast majority of people will never get close to exceeding that limit, making it nearly impossible to lose money by depositing it to a checking account, online or otherwise.
Think of Your Local Arizona Bank
If you're looking to get a good deal on your checking account, one of the best ways to do it is to work with a local Arizona bank.
National banks bring their own benefits, but one of their largest downsides is that they tend to offer the same accounts to people across the country.
National banks have trouble tailoring their accounts and services to meet local needs.
Because local and regional banks focus on just one area, they are able to be more in-tune with their clients. That means that the accounts offered by local and regional banks are better adapted to meet unique local needs.
Advantages and Disadvantages of Local Banks
When you're shopping around for a new checking account you should take the time to think of each bank's benefits and drawbacks.
Advantages of Big Banks vs. Local Banks
| Big Banks | Local Banks |
| --- | --- |
| Widespread ATM and branch access | More intimate, personal service |
| Better and faster technology and adoption | Community-oriented products and services |
| Uniform service standard across branch network | More willing to negotiate and work with customers |
One benefit that is shared by the majority of local banks is that they tend to be better at providing personalized service than national chains.
However, that doesn't mean that they are without downsides.
One of the greatest downsides of working with a local bank is that you may run into some inconveniences when you travel.
Local and regional banks usually have their ATM networks concentrated in their local area. If you travel outside that area, you might have to rely on other banks' ATMs. That can mean paying hefty fees.
Conversely, national banks are easy to work with, regardless of how often or where in the country you travel. Their national networks of branches and ATM mean that you'll never be far from an ATM or branch you can visit.
What Kind of Account is Right for You?
While online banks can be a great choice for many people, they're not perfect.
You should ask yourself these questions if you're considering an online checking account.
Do you like human customer service?
When you work with a physical bank, you can always drop by a branch and speak to a person when you need help.
Online banks don't give you that luxury, which means that you'll have to resort to a phone call, e-mail, or online chat in the event that you need help with your account.
How often do you use visit a branch?
If you're a regular at your local branch and like going to the bank, going with an online bank might not be a good choice for you.
Can you bank on your own?
Online banks make their user interfaces user-friendly, but they can still get complicated and there may be a learning curve.
You don't want to make a mistake with your money because you had trouble figuring out how to use your bank's app or website.
4 Key Features of a Checking Account
These are the four most important things to look for when you're comparing checking accounts.
Fees
Bank fees can eat into your account balance and leave you with less money to spend on the things you want and need.
Always look for the checking account with the lowest fees.
ATM/Branch Access
If you're a cash user, you probably make withdrawals and deposits at ATMs and branches on a regular basis.
Make sure that any bank you work with has ATMs or branches near the places you frequent.
Interest Rates
Many checking accounts don't pay interest, but some, including most online checking accounts, do.
Interest is like free money, so go for the accounts that do pay interest if you can.
Mobile Banking
Most banks offer mobile banking apps, but their quality can vary.
If mobile and online banking are important to you, make sure that the bank's app is easy to use and has the basic features that you need.