Greenlight Teen Debit Card 2023 Review
Our review of the Greenlight teen debit card looks at the fees and features that are available for parents to teach sound money management skills.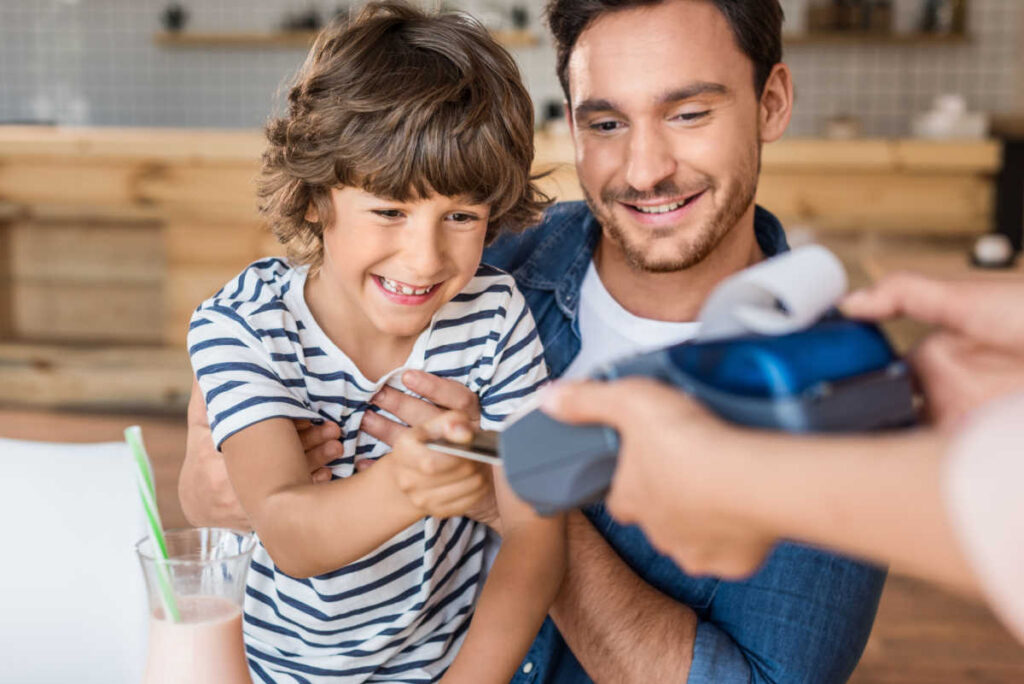 It's never too early to start teaching kids about money. And giving them a debit card of their own can be a good way to do it.
Greenlight is a debit card and banking app that's designed for teens and families. 
With Greenlight, kids can learn how to save, spend and even invest. And parents can set flexible controls, pay allowances and transfer money instantly. 
Greenlight isn't a bank account for teens, per se. But it can still be a helpful tool for introducing kids to the basics of money management.
Over 4 million parents and kids have joined Greenlight. If you're wondering what it's all about, learn more about how it works in this detailed Greenlight Teen Debit Card review. 
Greenlight Teen Debit Card Pros & Cons
Banking Plans Designed to Fit Every Family
Greenlight is a debit card and app that's designed for parents and kids of all ages.
There's no minimum or maximum age limit to use Greenlight. Parents can download the Greenlight app, link their bank account, then add a debit card for each child. 
As a parent, you can choose which account level fits your family best. There are three options:
Greenlight Core
Greenlight Max
Greenlight Infinity
Greenlight is the basic account tier. Greenlight Invest includes all the features you get with the basic account, plus investing for kids. Greenlight Infinity is the most comprehensive account option.
Here's an overview of how the three plans compare:
Compare Greenlight Plans
| Plan | Greenlight Core | Greenlight Max | Greenlight Infinity |
| --- | --- | --- | --- |
| Monthly fee | $4.99 | $9.98 | $14.98 |
| Number of debit cards | Up to 5 | Up to 5 | Up to 5 |
| App, tools, parental controls | Yes | Yes | Yes |
| Greenlight Savings Reward | 1% | 2% | 5% |
| 1% cash back on purchases/deposits | No | Yes | Yes |
| Investing for kids | No | Yes | Yes |
| Priority customer support | No | Yes | Yes |
| ID theft, purchase, and phone protection | No | Yes | Yes |
Greenlight offers some features you won't find with other teen bank accounts.
For example, all families earn a 1% savings reward when kids set savings goals inside the app. The savings reward is paid monthly and it bumps up to 2% for Greenlight Infinity accounts.
With Greenlight Max, kids can learn the basics of stock trading. They can also invest with real money, giving them a head start on growing wealth.
Greenlight Infinitymembers get all of those benefits, plus they earn 1% cash back on purchases. And since this isn't a credit card, you don't have to worry about paying interest to earn rewards. 
Is Greenlight FDIC-Insured?
FDIC insurance covers your deposits in the rare event that a bank fails. 
Your deposits are covered up to a set limit. The standard limit is $250,000 per depositor, per account ownership type, per financial institution. 
Even though Greenlight isn't a bank, they do partner with a member FDIC bank. That means your accounts are FDIC-insured up to $250,000. 
Greenlight debit cards also include Mastercard zero liability protection, which can offer additional peace of mind.  
Access Funds at Any ATM
Greenlight doesn't have branches, since it's a mobile banking app. But you can use your Greenlight debit card at any ATM. 
There are a few rules, however.
Your child has to use their debit card to make a purchase online or in a store before they can use it at an ATM for the first time.
The maximum amount that can be withdrawn per day is $105.
The monthly maximum for ATM withdrawals is $525. 
You'll need to make sure your child has enough money in the "Any ATM" spend control setting of their account to make withdrawals at an ATM.
Greenlight doesn't charge any fees to make withdrawals or check balances at an ATM. But the bank may charge you a fee.
Greenlight doesn't reimburse any foreign ATM fees. And for now, you can't deposit cash or checks using a Greenlight debit card at an ATM. 
Can You Earn Interest With a Greenlight Account?
Earning on deposits is a simple way to make money grow. Banks can pay interest for teen and child savings accounts. 
Since Greenlight is a debit card and mobile banking app, it doesn't pay interest. But kids can earn a savings reward.
This savings reward is worth 1% or 2%, depending on the account tier. To earn the reward, parents can set up a "General Savings" or "Savings Goals" spending control inside the Greenlight app. 
At the beginning of each month, Greenlight will deposit interest earned based on the average daily savings balance for the previous month.
Parents can also pay interest themselves. 
The parent-paid interest feature lets you assign an interest rate ranging from 1% to 1,000% to the savings portion of your child's account. This can be a fun way to reward kids for saving while teaching them about how compounding interest works. 
Learn Smart Money Management for Kids and Teens
Greenlight's mission is helping kids, teens and families learn about money together.  
When parents download the Greenlight mobile app, they can create an account of their own. They can link their bank account, then add a Greenlight card for each child. 
Parents can add money to the cards and set up controls for spending, saving and ATM access. 
When you first get started, kids have five categories they can spend in:
ATMs
Gas stations
Grocery stores
Restaurants
Online gaming
Greenlight uses those categories since they reflect what kids and teens typically spend money on. But you can set up a "Spend Anywhere" category so kids can use their card anywhere Mastercard is accepted. 
There are, however, some limits. Greenlight blocks risky transactions, including:
Wires or money orders
Security brokers or deals
Purchases for dating/escort services
Massage parlors
Lotteries
Online casinos or online gambling
Horse racing and dog racing
Non-sport internet gaming
Cashback at the point of sale transactions
This is designed to keep kids safe while spending and provide some reassurance for parents. 
With Greenlight Max and Greenlight Infinity, parents can guide kids through the basics of learning how to invest.
Kids can purchase real stocks and funds using real money. Trades must be parent-approved, which can help prevent unwise investment decisions. 
What Fees Will You Pay? 
Greenlight does charge a fee to use its debit card and banking app. 
There's a monthly, which breaks down as follows:
Greenlight Core - $4.99/month
Greenlight Max - $7.98/month
Greenlight Infinity - $9.98/month
Plans are free for the first 30 days. You won't pay any other account fees unless your child loses their Greenlight debit card. 
One free replacement card is offered. Additional replacement cards are $3.50 each.And express shipping is $24.99. 
There are no trading fees to invest with Greenlight, which is a plus. But if your child is investing in exchange-traded funds through the platform, those funds can charge their own fees. 
How Convenient Is the Greenlight Account?
The Greenlight debit card offers convenience for parents and teens.
Parents can transfer money to debit cards instantly, making it easy to pay allowances or reward kids with cash for good grades. Meanwhile, kids can use their cards to spend, save or even invest. 
Greenlight works with both Google Pay and Apple Pay. And as mentioned, the Greenlight debit card can be used anywhere Mastercard is accepted. 
The Greenlight website and mobile app are both easy to navigate. If you have questions, Greenlight has an extensive FAQ section that covers the most important things to know about the app and how it works.  
Opening a Greenlight Account
There's no minimum age requirement to open a Greenlight account. 
Parents will need to download the Greenlight app first and set up their accounts. There's some verification required but that doesn't involve a credit check. 
Once approved, parents can set up a wallet inside the app. The money you add to this wallet can be transferred to your teen's debit card. The initial funding minimum is $10. 
Remember, you can add up to 5 debit cards per account. Cards take 7 to 10 business days to arrive typically. 
Once kids have their cards, parents can set up controls for spending, saving and ATM access. 
Greenlight Account vs. Other Teen Checking Account Options
Plenty of banks and credit unions offer kids' savings accounts and/or teen checking accounts. So how do the Greenlight debit card and banking app compare? 
Overall, Greenlight is great for parents who want to give kids the freedom to spend while still being hands-on. 
There are monthly fees involved. But they're relatively low and being able to earn a savings reward and/or cash back is a nice incentive you won't find with traditional bank accounts for kids. 
If you're looking for the right banking option for your teen, it helps to shop around. 
To make that easier, we've included some Greenlight debit card alternatives to consider. When comparing teen and student bank accounts, here are a few things to consider: 
Monthly maintenance fees, if any
Minimum balance requirements, if any
How much you need to open an account
Any restrictions on who can open an account
Debit and ATM card availability
ATM locations and fees
Mobile and online banking access
Overdraft and returned item fees
Check fees and check-writing limits
Daily or monthly limits on deposits
Daily or monthly spending limits
Whether overdraft protection is available
Whether the account earns interest
Customer service
Extra perks, like ATM fee rebates, debit card rewards or relationship discounts
You may also factor in other banking features and benefits. 
Say you want to set up a college savings account for your child or open a credit card that you can add them to as an authorized user. A brick-and-mortar bank might have more to offer on those fronts versus an online bank or a banking app. 
Should You Open a Greenlight Account? 
Greenlight could work well for your family if you want a convenient way to teach kids about personal finance. 
Kids can learn how to spend and save money (or invest it). Meanwhile, parents can still have some control in helping kids to manage their money.
There is the monthly fee to consider, of course. But the benefits and features included with Greenlight could easily outweigh the cost.