SoFi Checking and Savings Account 2023 Review
Our review of the SoFi Checking and Savings Account looks at the account's features and fees, including attractive interest rates and cash back opportunities.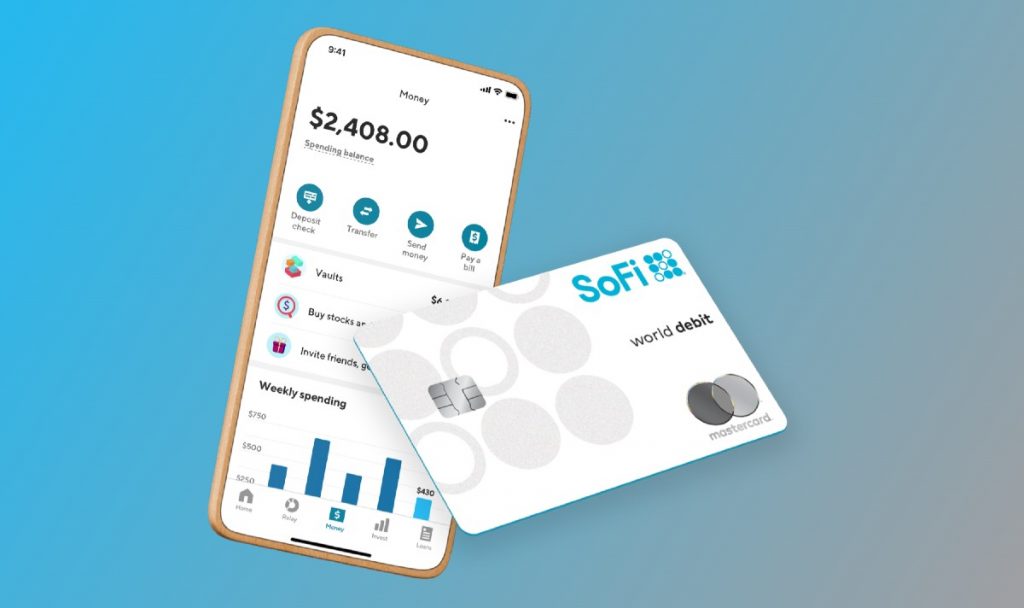 The SoFi Checking and Savings Account is probably unlike any bank account you've ever opened.
It's common to have separate checking and savings accounts. Checking accounts are typically used as spending accounts, whereas savings accounts provide a safe place to keep cash for goals or emergencies.
The SoFi Checking and Savings Account is available currently packaged together and it offers low fees along with an amazing interest rate -- high enough to beat even some of the most popular online savings accounts.
So:
You get all you need for the foundation of your financial setup.
This review of the SoFi Checking and Savings Account will analyze the top features that you may consider before opening.
Higher FDIC Insurance Than the Competition
The notable feature is the amount of FDIC deposit insurance you'll get with SoFi deposit accounts.
If you compare checking and savings accounts, you'll find that most banks only offer FDIC insurance up to $250,000 per account ownership type, per bank.
Combined deposits in the SoFi Checking and Savings Accounts are FDIC-insured up to $1.5 million.
That is six (6) times the standard deposit insurance limit.
How is that possible?
Currently, SoFi partners with six other banks. Funds kept in your account are swept to one or more partner banks. All of these banks offer FDIC insurance.
Because of this partnership, you'll receive up to $250,000 of protection per bank. Or, up to $1.5 million in total FDIC insurance.
Granted, many people don't need this much protection.
If you do, the money in SoFi deposit accounts provides peace of mind. You're not likely to find this level of insurance elsewhere.
Earn a Competitive Yield on Your Cash
Another special feature of the SoFi deposit accounts is the ability to earn a much higher yield on your balance.
This is a major plus if you maintain a large balance in your checking or savings account.
As a result, you're able to hit financial goals sooner rather than later.
This account is a great option if you're looking to build a down payment fund for a house, save up for a memorable vacation, or increase your emergency fund.
Requirements to earn the highest rate
However, the highest-tier rate applies to the part of your account balances up to $50,000 and you must have direct deposit to earn this top rate.
Otherwise, the APY will be significantly lower.
Widespread ATM access
SoFi doesn't have many branch locations.
So, you'll also be happy to know that SoFi doesn't charge ATM fees. You will, however, pay ATM fees charged by other financial institutions.
To avoid any ATM fees, SoFi also partnered with the Allpoint Network, which operates more than 55,000 surcharge-free ATMs.
Bank With No Account Minimums
Wouldn't it be nice to open a bank account and not worry about account minimums? This is what you get with a SoFi deposit accounts.
Banks impose different types of rules. And you'll find that some require a minimum opening deposit. This minimum deposit might be $25, $50, or more depending on the account.
Plus, some banks require customers to maintain an average monthly or daily minimum to avoid service fees. With SoFi, you never pay account fees.
You'll not only avoid monthly account fees but other fees as well.
There's no inactive account fee, no overdraft fees, and you'll never pay a fee to send money to someone with a SoFi Checking or Savings Account.
What Fees Can You Expect?
But while SoFi does waive "some" fees, other fees are unavoidable. This is to be expected no matter where you bank.
The upside:
You're not going to encounter many fees.
So, you're able to keep more of your hard-earned money.
When you open an account, there's no fee to receive your Visa debit card. If you lose this card, you'll get your first replacement at no charge. There is a $20 fee for additional replacement cards.
If you need a rush on a replacement card, you'll pay a $25 delivery fee. Also, there's a $20 fee to issue a stop payment.
If you use the card internationally, Visa does charge a 1 percent foreign exchange fee per transaction.
Convenient Features for a Superior Banking Experience
This account might be different from other accounts, but it doesn't skimp on convenient features for a better banking experience.
1. 2-day-early paycheck
When you set up direct deposit, your paycheck will show up two days earlier as SoFi makes those funds available sooner.
2. Mobile banking options
SoFi's mobile apps (for iOS and Android) make it super convenient and easy to manage your finances from anywhere.
You can monitor your account through the digital app or online.
Once you've signed up or downloaded the app to your mobile device, take advantage of free bill pay, mobile check deposit, and transfer money between accounts.
This digital experience is designed to simplify money management.
3. Get free checks
Even with free bill pay, you may need to order checks. Checks are convenient when a creditor or vendor doesn't accept online payments.
Checks can be expensive.
But with SoFi, you can request unlimited checks at any time for free.
What to Look for When Shopping for a Checking Account
When shopping for a bank account, consider how you like to bank.
Do you prefer face-to-face interactions? Or, do you consider it easier to manage your money digitally? For some, walking into a branch location is a better experience.
On the other hand, if you can't recall the last time you stepped inside a bank branch, you can probably bank with any institution that offers mobile and online features.
It's also important to compare accessibility
.
In other words, how easy is it to withdraw your cash?
Ideally, you want to be able to withdraw cash as needed with minimum fees. A bank that offers free ATM withdrawals, or at the very least, ATM reimbursements can help you save money.
You should also factor in account minimum requirements. How much cash do you need to open the account? Does the bank require a minimum average balance to avoid the monthly fee?
While on the subject of fees, how much does the bank charge for the privilege of having an account with the institution?
Obviously, you want a bank account is as low-cost as possible.
The good news is that some banks will waive the monthly fee if you maintain a certain amount in your account. Banks might also waive the fee if you have at least one direct deposit into your account each month.
Also, don't forget to compare interest rates. This is especially important if you have a savings account or maintain a large balance in your checking account.
For the most part, you want a bank with minimum fees across-the-board. This includes minimum fees for overdraft protection, personal checks, return items, etc.
Final Verdict: Is a SoFi Checking and Savings Account for You?
If you manage your money with digital tools and you like the idea of a single hub for your finances, the SoFi Checking and Savings Accounts are a great place to achieve that goal.
You'll enjoy attractive features of a checking account like no fees and no minimum account balances. Yet, you can earn an impressive interest rate. This gives you the maximum return on your money.
On the other hand, if you prefer face-to-face interactions or don't feel that you'll take full advantage of digital tools, a traditional or online checking or savings account might be a more suitable alternative.
Maybe you don't keep a large balance in your checking account, and won't benefit from the higher APR. Or, maybe you're the type of person who wants to keep your checking and savings account separate.
Some people might also skip this account if they frequently travel internationally. The 1 percent exchange fee added to each debit card transaction can get expensive.
Of course, you could always use a credit card that doesn't charge a foreign transaction or exchange fee. And then pay off this card with funds from your SoFi account once you return home.