T-Mobile MONEY Checking Account Review 2023: Should You Open?
Learn about the T-Mobile MONEY Checking Account in this review of the account fees, interest rates, and features compared to other online checking accounts.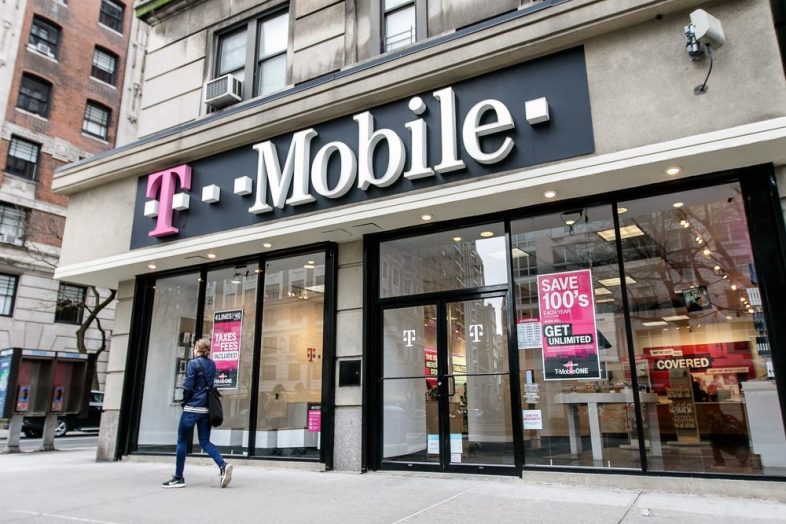 Most people don't think of a bank when they hear the name T-Mobile — at least not until now.
The mobile carrier offers a mobile checking account that is designed to provide a fee-free digital banking experience.
This checking account, known as T-Mobile MONEY, is available nationwide.
And the best part:
You don't have to be a T-Mobile customer to open an account.
To be abundantly clear, T-Mobile doesn't operate its own bank. Instead, the company has partnered with BankMobile to offer an interest checking account that exceeds the competition.
Thinking about making a switch to a digital platform? This review of the T-Mobile MONEY Checking account takes a closer look at the features offered.
T-Mobile MONEY Checking Account Pros & Cons
Compare Checking Account Options
Make sure that you look at other checking accounts that could be better for you:
Earn a High Rate (When Conditions Are Met)
Interest checking isn't anything new. But if you shop around, you'll find that many banks offer pitiful rates on these types of accounts.
One standout feature of the T-Mobile MONEY checking account is the ability to earn a market-leading interest rate -- that beats many other online checking accounts available nationwide.
Now:
It's possible to earn an even higher interest rate.
The catch:
There are three conditions that must be met.
You have to be a T-Mobile customer with a qualifying wireless plan in the United States.
You have to be depositing at least $200 into your account each month
You have to be registered for the T-Mobile perks program
And, this higher rate only applies to the portion of your balance up to $3,000. The lower interest rate applies to the remaining balance.
While the higher interest rate can help you reach savings goals sooner, these can be limiting conditions.
Ideally, you're already a T-Mobile customer that receives direct deposits of $200 or more per month -- because you're getting the maximum interest earnings from this account.
No Expensive Monthly Fees
Like so many bank customers, you might despise monthly fees.
These fees are common with checking and savings accounts, and banks usually charge fees to help cover overhead costs.
If you want to avoid monthly fees, an online or digital bank is the way to go.
Financial institutions that don't have brick and mortar locations can usually afford to pay higher interest rates. This is because a digital platform minimizes their overhead costs.
Typically, you can expect to pay a monthly fee anywhere between $10 and $25 with many banks.
A T-Mobile MONEY checking account doesn't charge a monthly fee. So not only will you benefit from a higher APY, you're able to keep more of your cash.
Also, there's no minimum balance requirement. You can open an account with as little as zero dollars.
What to Know About Other Fees?
Of course, monthly service fees aren't the only costs to worry about.
Banks are known for charging their numerous account fees to make money.
This is how T-Mobile differs.
With this checking account, there are no other service fees.
Overdraft grace period
One fee that's also common with checking accounts is overdraft fees.
Basically, if you write a check or use your debit card without enough money in your account, the bank may allow the charge to go through, and then charge an overdraft fee.
Overdraft fees can range from $25 to $35 per transaction.
What's interesting about T-Mobile Money is that you don't have to worry about overdraft fees.
Why?
The company has a "Got Your Back" program. This gives eligible customers a 30-day grace period on overdrafts.
To qualify:
You must deposit at least $200 into your account each month
You must register for this protection
Once registered, you're allowed up to $50 in overdrafts. You must pay back T-Mobile within 30 days, or else you'll lose this overdraft protection.
Currently, this overdraft program is only available to customers who also have a qualifying wireless plan.
No worries, though.
Even if you don't have a wireless plan, you'll never have to worry about an overdraft fee.
If you don't have enough money in your checking account to cover a purchase, T-Mobile declines the transaction.
Ways to Access to Your Money
Because this is a digital banking experience, you might wonder how easy it'll be to access money in your account. No worries.
Debit card
When you sign up for a T-Mobile Money checking account, you'll also receive a debit MasterCard.
It's also worth mentioning that your debit MasterCard comes with zero liability protection. So if your card is lost or stolen, you're not responsible for unauthorized transactions.
Download the mobile app and you'll find an option to temporarily disable the debit card if you can't locate it.
ATM access
Since T-Mobile isn't an actual bank, you might also question how much it'll cost to withdraw cash from your account.
With that said:
You'll be happy to know that you're able to access more than 55,000 no-fee ATMs worldwide within the Allpoint network.
Need to find an ATM near your home? Simply use the "find an ATM" search tool. Whether you're in the U.S. or traveling abroad, chances are that you're never too far from a machine.
Unfortunately, T-Mobile doesn't reimburse ATM fees charged by an out-of-network ATM. Even though the account doesn't charge an out-of-network ATM fee, the operator of that ATM may still impose a surcharge.
So make sure you only use Allpoint ATMs to avoid the extra cost.
Get Peace of Mind With FDIC Insurance
Keep in mind that money in your checking account is always safe and secure.
Since T-Mobile partners with BankMobile—which is also a division of Customer Bank—funds in your account are FDIC-insured up to $250,000.
This insurance is comparable to what you'll find at other financial institutions.
Note:
If you already have deposits held with BankMobile (or Customers Bank), you count these deposits toward the total FDIC coverage limit.
Modern, Convenient Digital Features
If you're looking for a digital checking account, you're likely interested in modern, convenient banking tools, too.
Mobile apps
After signing up for this checking account, you're able to access your account information using the T-Mobile Money app. This app has several features to make money management a bit easier.
You can access your money directly from your phone, and use your debit card with Apple Pay, Samsung Pay, or Google Pay at checkout.
Bill payments
Don't want to risk a late payment? Set up automatic bill pay and use your checking account to automatically pay your bills.
This includes your rent, mortgage, car payment, student loans, credit cards, and utilities.
Mobile check deposit
Depositing checks is also a breeze. Simply snap a photo and deposit checks with your smartphone any time of the day.
It's that fast and free. This account will change the way you bank.
The truth is, with a T-Mobile Money checking account, you might never step foot inside a bank again—at least not for everyday banking.
How to Compare Checking Accounts?
Before signing up, make sure you know how this particular checking account compares to others. Despite its features, it might not be the right fit for you.
Because this is a digital platform, keep in mind that there's no brick and mortar location to visit. If you have a problem with your account, you'll need to handle it with an online or phone customer representative.
The good news is that this account makes it super easy to deposit and access your funds, as well as manage your spending.
When comparing any checking account, don't forget to research interest rates, monthly fees, overdraft fees, and other fees.
No two accounts are created alike. Some checking accounts charge little, whereas others nickel and dime accountholders.
The reality is that too many bank fees can eat into your balance.
You also need to compare bank features.
Does the checking account come with a debit card?
What type of digital tools does the bank offer?
If the bank charges a monthly service fee, is there a way to avoid this fee?
Bank features differ from financial institution to financial institution. Make sure you understand what you're getting before opening an account.
Final Verdict: Is T-Mobile MONEY Checking for You?
The bottom line is that the T-Mobile MONEY checking account is the great option if you're a T-Mobile customer looking to earn a much higher interest rate on your checking.
This account is also ideal if you're comfortable with a digital-only platform.
Or if you don't need a physical branch to be a satisfied customer. It also helps to live in an area where you're able to access an Allpoint ATM. This way, you don't have to pay ATM fees when withdrawing cash.
Even if you're comfortable with a bank's mobile app and you're okay with mobile check deposit, you might prefer the ability to visit a bank branch and speak with an actual person when problems arise with your account.