TD Bank Simple Checking Account 2023 Review
If you're shopping around for a checking account at a big bank or considering what online banks have to offer, learn what TD Bank brings to the table.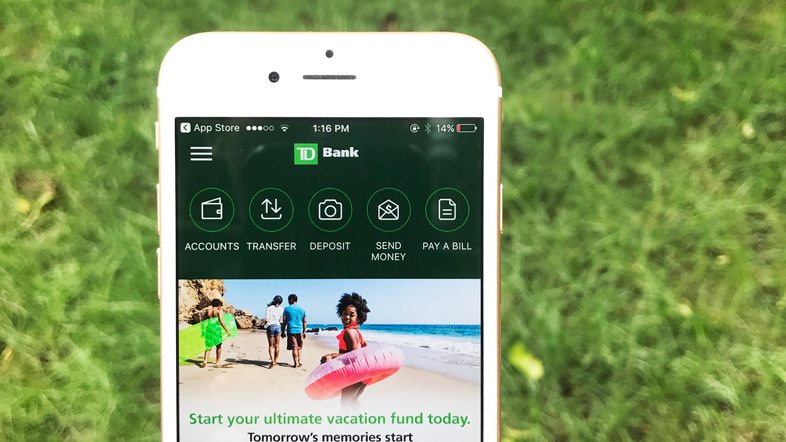 Some come with lots of extra perks, like debit card rewards or relationship bonuses. Other checking accounts are a bit more basic, with fewer bells and whistles.
The TD Bank Simple Checking Account is good for people who want to manage their money with minimal fuss.
TD Bank ranks as one of the 10 largest banks in the nation. It has nearly 1,300 branches and ATMs stretching from Maine to Florida.
That doesn't mean, however, that it's the best choice for everyone.
If you're shopping around for a checking account at a big bank or considering what online banks have to offer, in this review learn what TD Bank brings to the table.
No-Pressure Checking With No Minimum Balance
One thing that's common with checking accounts at traditional banks these days is the minimum balance requirement.
In other words, you have to keep a set amount of money in your account at all times.
The TD Bank Simple Checking Account doesn't have a minimum balance requirement.
You can keep $5.00 or $5,000 in your checking account, which is good if you don't normally keep an eye on every nickel and dime.
While there's no minimum balance requirement, there is still a monthly maintenance fee of $5.99.
The bank charges this fee to maintain your account each month.
Compared to monthly maintenance fees at other brick-and-mortar banks, the fee for the Simple Checking Account is low.
Unlike other banks, however, TD Bank doesn't give you a way around this fee. For example, some banks will waive the monthly maintenance fee when you set up a direct deposit into your checking account.
Others will waive it when you link your checking to your savings account and maintain a certain combined monthly balance.
The maintenance fee may not be a major concern if you normally keep a high balance in your checking.
If you tend to keep less money in your account, however, you may be more inclined to hang on to every penny.
After all, the fee adds up to nearly $72 a year.
If you want to avoid monthly maintenance fees, an online checking account may be the better choice.
You can learn more about what some of the top online banks offer in the way of checking accounts a little further down.
Does the TD Simple Checking Account Earn Interest?
Interest-bearing checking accounts are becoming as rare as unicorns these days but there are still some banks that offer them.
In fact, TD Bank features three checking accounts that offer interest. Unfortunately, the Simple Checking Account isn't one of them.
If interest is what you're after, you could always upgrade to one of TD Bank's other checking products.
The catch is that all three of these accounts have a higher monthly maintenance fee.
You can avoid the fee by maintaining a higher minimum monthly balance but that may not be realistic for everyone.
An easier way to earn interest is to put money you don't need right away into a high yield savings account instead.
This is where online banks really tend to shine. Online banks are able to offer their customers fewer fees and better rates on savings because of their lower overhead costs.
What About Debit Card Rewards?
The TD Bank Simple Checking Account does come with a debit card so you can easily make purchases from your account.
You can use your card to pay in-store or online, or link it to your digital wallet. You won't, however, earn any rewards for those purchases.
For that, you could check out what TD Bank offers in the way of rewards credit cards.
If you don't see anything that fits your spending style, you could also take a look at MyBankTracker's rewards credit card recommendations.
Accessing Your TD Bank Simple Checking Account at ATMs
You can use your debit card to make fee-free withdrawals at TD Bank ATMs in the U.S. and Canada.
If you use another bank's ATM to withdraw cash, transfer funds or check your balance, TD Bank charges you a $3 fee.
Besides that, you may also pay a fee to the bank that owns the ATM.
TD Bank reimburses foreign ATM fees but only for customers with a Premier or Relationship checking account. So you'll need to be careful about where you access your account if a TD Bank ATM isn't close by.
What Other Fees Will You Pay?
In addition to the monthly maintenance fee, there are some other fees to be aware of.
The overdraft fee is pretty standard, at $35 for each returned item. There's also a $35 insufficient funds fee for returned items.
TD Bank can charge you up to five overdraft fees per day.
One way to get around this fee is to link your TD Bank savings account for overdraft protection.
Once you do that, TD Bank will transfer money between your accounts to cover overdrafts. Instead of $35 per transaction, you'll pay $10 per day for overdraft protection.
You can also be charged a fee if you deposit or cash a check from someone else that's returned unpaid. The cashed or deposited item return fee is $15.
Checks aren't free but you do get a discount on selected styles with your first order.
If you need a cashier's check, there's an $8 fee for that.
Money orders cost $5 each. If you need to stop a check payment or ACH payment, you'll pay $30 for that service.
It'll cost you $1 each month to get a paper statement, or $2 if you want printed check images with your statement.
For an in-depth statement reconstruction, the fee climbs to $25.
Is Mobile Banking Available?
If you prefer to do your banking from your phone or tablet, TD Bank makes it easy.
Simple Checking customers have access to free mobile banking so you can check your balance, transfer funds or pay bills on the go.
Mobile deposit allows you to deposit checks without having to stop by a branch. Funds are available the next business day after you make your deposit.
Bill pay services are free, as are online statements.
If you have an issue with the mobile banking app or you have questions about your account, live customer service is available 24 hours a day, 7 days a week.
TD Bank Simple Checking Account Fees
| Type | Fee |
| --- | --- |
| Monthly Maintenance Fee | $5.99 |
| Non-TD ATM | $3 |
| Overdraft Fee | $35 |
| Overdraft Protection Transfer Fee | $10 |
| Returned Item | $35 |
| Stop Payment | $30 |
| Deposited Item Returned | $15 |
| Domestic Wire Transfer (incoming) | $15 |
| International Wire Transfer (incoming) | $15 |
| Cashiers Check | $8 |
TD Bank Simple Checking vs. Online Checking Accounts
If you don't mind sacrificing access to branches and you're looking for low-fee checking, an online bank may be more to your liking.
Looking at traditional and online checking accounts side by side can help you decide where to take your business.
Here are three online alternatives to the TD Bank Simple Checking Account.
Capital One 360 Checking
The Capital One 360 Checking account
has no minimum balance requirement and no monthly fees.
You can access your money via over 37,000 fee-free Allpoint ATMs and 2,000 Capital One ATMs. Checks can be deposited via ATM, mobile check deposit or at a Capital One Cafe.
You can send cash quickly to someone else with no fee and your first order of checks is free.
If you have a Capital One savings account or credit card, you can link them to your checking account for all-in-one account management.
Axos Bank Rewards Checking
The Axos Bank Rewards Checking account offers a competitive annual percentage yield on balances.
You also get cash back rewards on debit card purchases. There are no monthly or service fees and no minimum balance requirements.
Online banking is free and Axos Bank offers unlimited reimbursement of foreign ATM fees.
Axos Bank has a laundry list of other banking products, including savings accounts, mortgages and personal loans.
TIAA Bank Checking
TIAA Bank also pays interest to its Yield Pledge Checking customers.
New customers get an introductory rate for the first year. The amount of interest you earn adjusts after that.
There's no monthly maintenance fee but you'll need $5,000 to open an account.
Any foreign ATM fees you pay at other banks are reimbursed, as long as you keep your balance above the $5,000 mark.
Mobile bill payment and mobile deposit are standard features of this account.
Should You Bank on a TD Bank Simple Checking Account?
The best way to answer this question is to ask yourself what you need a checking account to do for you.
If you want to keep things as simple as possible and you don't mind paying the monthly fee, TD Bank might be an attractive option.
The tradeoff is that you're not enjoying some of the extras you could get at an online bank.
If earning interest on your checking account balance, getting rewards on debit card purchases or avoiding maintenance and ATM fees matter more, we'd suggest taking another look at one of the online checking options included here instead.
Compare Best Accounts Now