TIAA Bank Checking Account 2023 Review
Learn about the features, interest rates, and fees of the TIAA Bank Yield Pledge checking account. See how it compares to other online banks.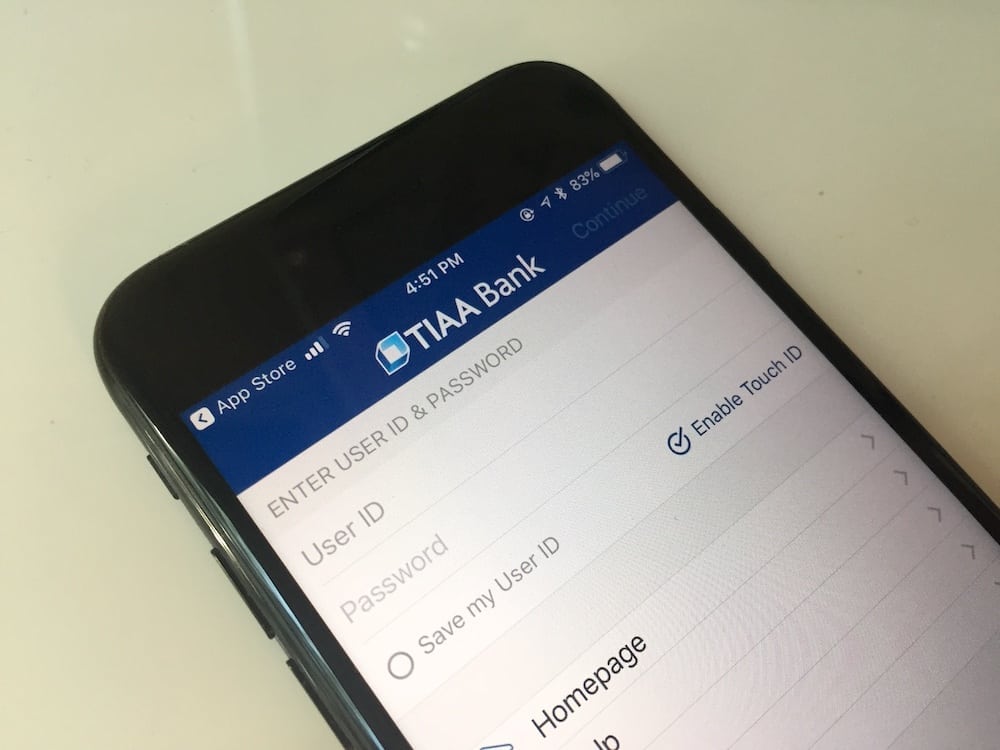 TIAA Bank App
TIAA Bank is an online bank that offers a full suite of banking services, including savings accounts, checking accounts, and mortgages.
The TIAA Bank Checking Account combines one of the best introductory interest rates available from an online bank with the convenience of a checking account.
In this TIAA Bank Checking Account review, we'll compare rates, fees, and services to other national and online banks.
The Yield Pledge
The yield pledge is TIAA Bank's promise to its customers. Banks change the interest rates that pay all the time, without warning.
There's nothing worse than opening an account only to have the bank reduce the interest significantly -- to the point where you want to switch banks again.
TIAA Bank has promises to always offer an interest rate in the top 5% of similar accounts from the nation's largest banks.
Because of that pledge, you can be confident that you'll always be earning a great rate.
When you combine the yield pledge with TIAA Bank's introductory rates, you're off to a great start in getting your money to work for you.
Great Introductory Rates and Competitive Ongoing APYs
TIAA Bank offers a great introductory interest rate that lasts for the first year that you have the account.
The rate is higher than the rate on checking accounts from most online banks. The rate is especially good when you consider the fact that you don't have to jump through hoops to qualify for it.
Once the introductory period has ended, you'll earn a competitive interest rate on funds in the account.
Thanks to TIAA Bank's rate pledge, you'll know that you're earning one of the best rates available.
The one thing to watch out for is the fact that there are five rate tiers. The larger your balance, the higher your interest rate will be.
The rate tiers are:
$100,000 - $10,000,000
$50,000 - $99,999.99
$25,000 - $49,999.99
$10,000 - $24,999.99
$0 - $9,999.99
No Charge for ATM Access
TIAA Bank is part of the ATM Plus Alliance, a nationwide network that consists of thousands of ATMs. You're never far from one when you need cash.
TIAA Bank does not charge a fee when you use an out-of-network ATM. However, the owner of the ATM may impose a surcharge.
Compare: Many big banks charge an out-of-network ATM fee that usually ranges from $3 to $5. ATM operator fees are also added on top of this fee.
Unlimited ATM fee refunds are available
You can make it so that all ATM access is entirely free. When you maintain a balance of $5,000,TIAA Bank will give you unlimited ATM fee refunds. So, you may still have to pay ATM operator surcharges, but you'll receive reimbursements for those fees
The fee refunds are automatic and truly unlimited. You don't need to fill out any forms or request the refund.TIAA Bank will automatically credit your account at the end of each statement period.
This means that you can use any ATM without any worry of fees (when you have a $5,000 balance).
Save Money with No Monthly Fees
A bank should be a place where you can keep your money safe and not have to worry about fees. TIAA Bank does not charge any monthly maintenance fees. You don't have to jump through hoops or maintain a minimum balance.
You also get access to free bill pay services, so you don't have to pay a fee to make sure your bills get paid on time.
TIAA Bank also avoids charging account holders other fees. If you've set up overdraft transfers from your TIAA Bank savings account, you won't be charged for automatic transfers made to avoid an overdraft.
Other common fees, for things such as cashier's check, stop payment, and replacement check fees are low. That lets you keep your money earning interest and working for you.
TIAA Bank Yield Pledge Checking Account Fees
| Type | Fee |
| --- | --- |
| Monthly Maintenance Fee | $0 |
| Non-TIAA Bank ATM | $0 |
| Overdraft Fee | $30 |
| Overdraft Protection Transfer Fee | $0 |
| Returned Item | $30 |
| Stop Payment | $30 |
| Deposited Item Returned | $10 |
| Domestic Wire Transfer (incoming) | $0 |
| International Wire Transfer (incoming) | $0 |
| Cashiers Check | $10 |
Easy Access to Your Account with Mobile Banking
With a nationwide ATM network and the chance to get all ATM fees waived, banking with TIAA Bank is already convenient.
TIAA Bank makes it more convenient to access your account by providing a free mobile app. You can download the app on both iPhone and Android smartphones.
You can use the app to deposit checks, make transfers, or check your balance. You can also set up recurring events to help automate your savings. TIAA Bank's goal is to make banking simple, so it offers as many tools as possible to make your life easier.
Note: The TIAA Bank mobile check deposit limit is $50,000 per day.
Free Online Banking Security Software
TIAA Bank understands that Internet security is important to its customers, so it offers a web safety guarantee.
Customers can get a free copy of Trusteer Rapport, an antivirus software that will protect their computer from attack.
It removes malicious software from your computer and protects online transactions. TIAA Bank also provides information on how to avoid identity theft scams.
In the event that someone does gain access to your account, TIAA Bank's web safety guarantee means that your money is safe. Any funds that are withdrawn or spent without your authorization will be refunded.
As a bonus, TIAA Bank will refund any late payment fees caused by a bill payment that is delayed due to an issue under its control.
How It Compares to Other Online Checking Accounts
There are plenty of online banks out there. If you're thinking about opening an online checking account, you should also consider these competitors' accounts.
Capital One 360 Checking
The Capital One 360 checking account offers its customers no-fee checking services and competitive interest rates.
Some online banks offer ATM fee reimbursements, but Capital One does not. Instead, Capital One has a network of 39,000 ATMs across the country. You can use any ATM in the network for free.
There are three interest rate tiers that you'll need to be aware of. The higher your account's balance, the more interest you'll earn.
No matter what interest rate tier you qualify for, you won't earn as much interest as you would at another bank.
The main draw of Capital One 360 is its ATM network and the convenience of having all of your financial accounts with one bank. If you already have a credit card through Capital One, opening a checking account might be a good idea.
The Final Verdict
TIAA Bank offers a great introductory interest rate, but its normal rates are not the highest available from online bank accounts.
TIAA Bank also doesn't offer services such as savings accounts or auto loans.
If you're looking for a one-stop shop for all of your financial needs, you might want to find another bank.
If you're just looking for a checking account that gives you a solid interest rate and easy access to your cash, the TIAA Bank Checking account might be the right account for you.
If you're just looking for a checking account that gives you a solid interest rate and easy access to your cash, the TIAA Bank Checking account might be the right account for you.