USAA Classic Checking Account 2023 Review
Find out if the military benefits and ATM fee policy of the USAA Classic Checking Account is comparable to some of the top online interest checking accounts.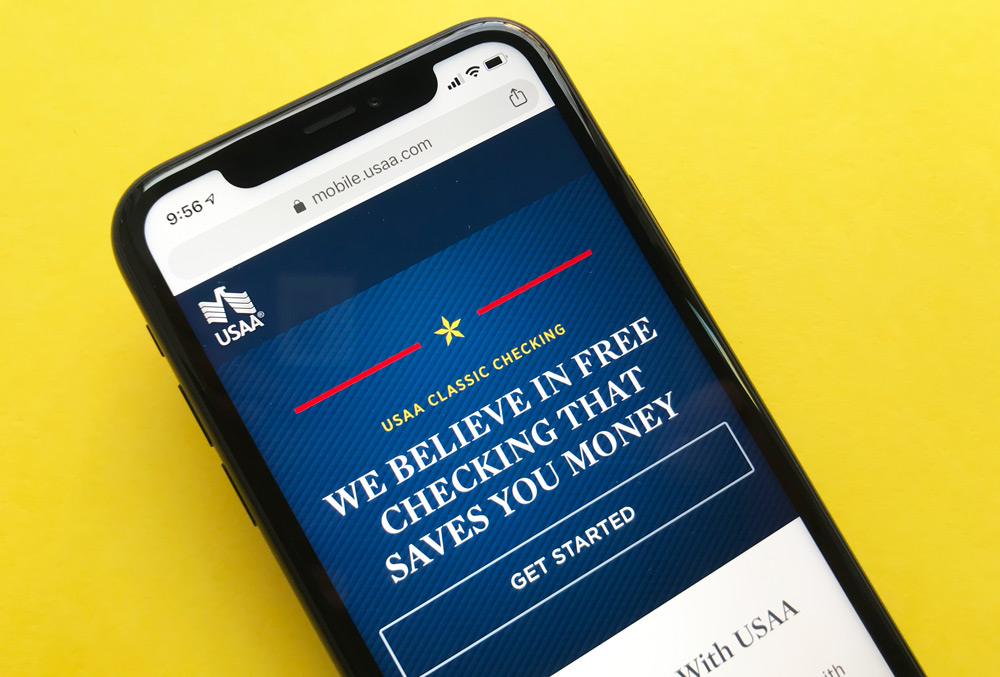 USAA Classic Checking Account
USAA is a financial services company that was founded to serve members of the armed services and their families.
By limiting the customers that it accepts, USAA is able to focus on providing the best customer experience possible.
USAA offers a variety of services, including insurance, banking, investing and lending.
One of the accounts that USAA members can open is the USAA Classic Checking Account. This is a basic checking account that charges no monthly fees and comes with a few extra features.
If you're shopping around for a checking account, this review will tell you everything you need to know about the USAA Classic Checking Account.
No Monthly Fees and Free ATMs Across the Country
The whole point of a checking account is to give you a place to store your money, while still having a convenient way to access it.
The recent rise in account fees makes it hard to justify keeping money in a checking account when banks will charge you for the privilege.
USAA does not charge any monthly maintenance fees on its Classic Checking Account, so you won't have to worry about your balance decreasing over time.
USAA Classic Checking Account Pros & Cons
To keep more of your money working for you, USAA takes the no-fee concept further. USAA has a network of 60,000 ATMs across the United States that you can use with no fees.
If you can't find a fee-free ATM, USAA will reimburse up to $15 in ATM fees each statement, so long as those fees are charged by ATMs in the United States. USAA will not reimburse fees for ATMs outside the country.
These two benefits mean that you'll never pay for the privilege of accessing your own money. That lets you keep the money in the account and working for you.
The USAA Classic Checking Account is easy to open also -- requiring an initial deposit of just $25.
If you're a new recruit to the military, even that requirement will be waived, letting you open the account with no deposit at all.
Once the account is open, there is no minimum balance required to keep it open. There's also no monthly fee on the account, so you don't have to worry about fees causing your balance to shrink over time.
Benefits for Military Recruits
USAA is dedicated to providing financial services to members of the armed forces. So it's no surprise that members of the military get a few extra benefits.
One benefit is that new recruits do not need to meet a minimum deposit to open the account.
If you're just joining the military and do not have enough money to open a bank account, USAA understands and will help you get your financial life going.
Another benefit for new recruits is that USAA can give you your paycheck ahead of schedule.
If Defense Finance and Account Services sends USAA your pay information early, USAA will deposit the funds to your account early.
When it comes to your money, there's no reason to let it sit in someone else's account rather than yours. This benefit can put the money in your pocket just a bit faster.
Interest Rates Are Not Impressive
Most checking accounts do not pay much in interest, instead focusing on convenience features that make the account easier to use.
The USAA Classic Checking Account is no different. You'll earn a small amount of interest, but it is not significant enough to be a draw for the account.
Also, to earn interest, your account's balance must be $1,000 or greater.
If you're concerned about the return you can earn on your money, you'd be better off opening a savings account.
Overdraft Protection
Overdrafting on your checking account is one of the worse things that you can do with a checking account.
On top of seeing your balance go negative, your bank will charge you a fee for spending money you don't have. That causes your balance to go even farther in the red, making it difficult to dig out of the financial hole.
If you open a USAA Savings Account, you can set up overdraft protection using the account.
If you would overdraft your checking account, money will automatically be transferred from your savings account to cover the expense.
The best part is that there is no fee for an overdraft transfer, so it's a huge savings over paying the overdraft fee.
This can save you the embarrassment of having your debit card declined, or from the pain of overdraft fees causing your account balance to go far into the negative.
ATM Access
USAA has a vast network of more than 60,000 ATMs across the United States, so you'll never be far from a place to get your cash.
Still, there are always times when another ATM may be more convenient to use.
Oftentimes, these ATMs will charge a fee for the privilege of using them. USAA wants to make sure that you can get cash when you need it, so you can get up to $15 in ATM fee reimbursed each statement.
Other Fees
The USAA Classic Checking Account does charge some other fees, though you're unlikely to encounter most to them in your day to day life. Some of the fees that you might encounter are:
USAA Classic Checking Account Fees
| Type | Fee amount |
| --- | --- |
| Monthly Maintenance Fee | $0 |
| Out-of-Network ATM Fee | $0 for the first 10 withdrawals per month |
| Overdraft Fee | $25 |
| Overdraft Transfer Fee | $0 |
| Returned Item | $29 |
| Stop Payment | $29 |
| Deposited Item Returned or Cashed Check Returned | $5 |
| Incoming Domestic Wire Transfer | $0 |
| Incoming International Wire Transfer | $0 |
| Cashiers Check | $0 |
---
Other USAA Checking Options
If you're interested in becoming a USAA banking consumer but aren't sold on this checking out, consider one of these other checking accounts also offered by this bank:
USAA Cashback Rewards Checking
If you're interested in a checking account that features cash back for purchases, then the USAA Cashback Rewards Checking is the account for you.
In addition to all of the great features USAA offers their standard banking consumers, customers of this account can earn 10¢ on every debit card purchase.
That may seem small, but if this account is your main checking account that's used for bills, recurring purchases, an everyday spending, that 10 cents per purchase will add up, and can be redeemed for some money back.
In addition to the cash-back rewards, this account includes:
No monthly maintenance fee
No minimum balance requirement
No out-of-network ATM fee for the first 10 transactions
One important thing to note about this account, is that it's only available in the following states: AL, AR, AZ, CO, CT, FL, GA, HI, ID, IL, IN, KS, LA, MD, MI, MN, MT, ND, NM, NV, NY, OR, PA, RI, SC, TN, TX and WA.
We've highlighted the main fees and features of the account below:
USAA Rewards Checking Account Fees
| Type | Fee |
| --- | --- |
| Monthly Maintenance Fee | $0 |
| Minimum Opening Deposit | $25 |
| Non-USAA ATM | $2 (waived 10x/month) |
| Overdraft Fee | $25 |
| Returned Item | $29 |
| Account Closing Fee | $0 |
| Overdraft Transfer Fee | $0 |
| Stop Payment | $29 |
| Deposited Item Returned | $5 |
| Domestic Wire Transfer (incoming) | $0 |
| International Wire Transfer (incoming) | $0 |
| Cashiers Check | $5 |
---
Convenience
The USAA Classic Checking Account offers a number of features that make it very convenient to use.
One of the main convenience features is its great ATM access. With a huge ATM network and a generous ATM fee reimbursement plan, you'll almost never have to pay to withdraw cash from your account.
If you prefer to pay for things online instead of using cash, USAA offers free bill pay services. Just tell USAA who you have to pay and how much to pay them, and they'll take care of the rest.
That saves you the effort of writing out checks and mailing them in every month.
You can manage your Classic Checking Account in your local USAA branch or online.
USAA offers a smartphone app and web portal that lets you check your balance and see your transaction history. You can also set up transfers, and access other features of the account online.
Eligibility Requirements
USAA was founded with members of the armed services in mind. To ensure that it can provide the best customer service it can, USAA restricts who is allowed to become a member of the institution.
Members of the following groups are eligible to open accounts at USAA:
Active duty members of the Air Force, Army, Navy, Marines, or Coast Guard
Persons who retired or were honorably discharged from one of the above branches of the military
Spouses and children of a USAA member
Attendees of a US service academy
Students in advanced ROTC or attending college on a ROTC scholarship
Office candidates within 24 months of commissioning
People who are not in one of these groups cannot open accounts at USAA. These restrictions help USAA focus on providing services tailored to the unique needs of members of the armed forces.
How Does It Compare?
The checking account is the most common type of bank account in the United States.
It's easy to see why, given that they let you store your money safely, but still have easy access to it.
Because the checking account is so popular, there are lots of options to choose from. You should take the time to make sure you find the right checking account for your needs.
When you are comparison shopping for a checking account, it's important to look at options beyond the local branch of a national bank.
Online banks are cheaper to run and they tend to pass those savings on to their customers with low fees and good interest rates.
When comparing accounts, make sure to look at the fees you'll be charged and how hard it is to get to your cash. Also look into the following factors:
Minimum deposit
Monthly fee
Fee waiver requirements
Interest rates
ATM access
The Final Verdict
USAA is a great bank for people who are eligible to open an account. It provides top-notch customer service and understands the unique needs that members of the armed forces have.
The Classic Checking Account is a no-frills checking account, so if you have basic checking needs, it is a good choice.
It's ATM fee reimbursements and special features for military members give it a leg up on similar accounts.
Where it falls short is in providing premium features like debit card rewards or high interest rates. Another bank may be able to provide a more premium experience if that is what you're looking for.