Which Credit Cards Offer Free Priority Pass Membership to Airport Lounges?
Learn all about the airport lounge access that is available through the Priority Pass Select membership that you receive through your credit card.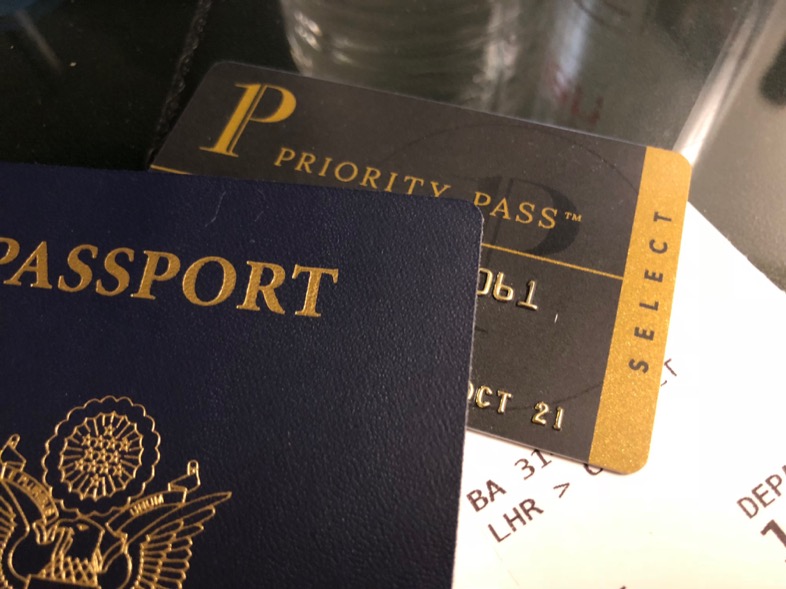 If you're a frequent flyer, airport lounge access can increase the comfort of your travels.
Many of the top travel rewards credit cards offer some form of complimentary lounge access.
Free membership to the Priority Pass Select program is a common perk found with such cards.
Basically, you get free access to many airport lounges across the world.
Now, you're going to start traveling in style.
But, there are many details that you must know about this travel benefit before you get taken by surprise.
Learn everything you need to know, including tips from past Priority Pass lounge experiences, about the program so that you can take advantage of this perk most effectively.
What is Priority Pass Select?
Priority Pass is an airport lounge network that has locations around the globe. Priority Pass Select is a program within the network that offers complimentary lounge access to people who own certain credit cards.
Which Credit Cards Comes With a Priority Pass?
A few credit cards that offer this benefit include:
While these cards charge steep annual fees, they offer several benefits, including Priority Pass Select membership, that can make it worth the cost.
Keep in mind that Priority Pass Select is a little different from a regular Priority Pass membership.
To join without an eligible credit card, you'll have to pay an annual fee, which depends on the level of membership you want.
Priority Pass Membership Tiers
| Membership level | Annual fee | Access |
| --- | --- | --- |
| Standard | $99 | $32 per visit for you and each guest |
| Standard Plus | $299 | 10 free visits for you, then $32 per visit after that; $32 per visit for guests |
| Prestige | $429 | Unlimited free visits for you; $32 per visit for guests |
What Can You Do With Your Membership?
If you're flying out of an airport with a Priority Pass lounge, you can stay in the lounge while you wait for your flight. If you have an early or late flight, though, note that some lounges aren't open 24/7.
Every lounge is different, but common amenities include:
Snacks and beverages
Alcohol
Wi-Fi
Television
Restrooms
Showers
Charging stations
Business areas
Depending on the lounge, it may cost you to get certain food items, drinks, and services.
So it's important to look up the lounge in advance to understand what's available for free.
In some airports, you can choose to eat at a participating restaurant instead of staying in the lounge.
Priority Pass Lounges
Priority Pass has over a thousand lounges in more than 140 countries. Some airports even have multiple lounges from which you can choose.
While most of them are in international airports, there are quite a few lounges and restaurants in U.S. airports, including:
Baltimore Washington International
Blue Grass Airport
Charlotte Douglas International
Chicago O'Hare International
Cincinnati Northern Kentucky International
Cleveland Hopkins International
Colorado Springs Airport
Dallas/Fort Worth International
Denver International
Detroit Metropolitan Airport
George Bush Intercontinental
Greenville-Spartanburg International
Hartsfield Jackson Atlanta International
Honolulu International
Indianapolis International
John F Kennedy International
Logan International
Los Angeles International
McAllen Miller International
McCarran International
Miami International
Minneapolis St. Paul International
Newark Liberty International
Norman Y Mineta International
Orlando International
Orlando Sanford International
Philadelphia International
Phoenix Sky Harbor International
Pittsburgh International
Portland International
San Francisco International Airport
Seattle Tacoma International
St. Louis Lambert International
Syracuse Hancock International
Tampa Florida International
Ted Stevens Anchorage International
Tucson International
Washington Dulles International
Washington National
Some notable international airports with a Priority Pass lounge include:
Amsterdam Airport Schiphol
Athens International
Auckland Airport
Beijing Capital International
Berlin Tegel
Buenos Aires Ministro Pistarini International
Cairo International
Dubai International
Dublin Airport
Ho Chi Minh TSN International
Johannesburg Lanseria International
Kigali International
London Heathrow Airport
Mexico City Benito Juarez International
Montego Bay Sangster International
San Juan Luis Muñoz Marín International
Sydney Kingsford Smith Airport
Tel Aviv Ben Gurion International Airport
Tokyo Narita Airport
Václav Havel Airport Prague
Vienna International
Zurich Airport
How to Use Priority Pass Select for Lounge Access
If you have a credit card that offers Priority Pass Select, you have to enroll through your online card account.
The process is simple, but it may not be easy to find. If you need help, call the number on the back of your credit card to get step-by-step guidance.
After you enroll, you'll receive a membership card in the mail. You can also download the Priority Pass app and register a mobile membership card.
Depending on where you're going, though, some lounges require a physical membership card.
So either keep your physical card in your wallet whenever you travel or look up lounges in advance to understand their policy.
If you do download the app, be sure to update it every once in a while, as Priority Pass is always adding new lounges and restaurants to its network.
When you get to the airport, you'll show your physical or digital membership card, plus your boarding pass showing a departure or arrival on the same day.
One thing to note:
Many of the Priority Pass lounges are contract lounges, which means that they're owned by an airline or another company.
The lounge owners have the right to restrict access if the lounge is too busy, so you may be turned away.
Guest Access
You can usually bring at least one guest for free, and kids are also usually free.
But depending on the lounge and which credit card you have, the charge for guest access may vary.
That said, even if you can bring one guest for free, that's better than the regular Priority Pass membership, which doesn't offer complimentary guest access at all.
So again, it's important to check the fine print on your credit card, and with the lounge you want to visit to make sure both you and your guests are free.
Tips for Using Your Priority Pass Select Membership
If you already have a Priority Pass Select membership or you're considering it, there are a few tricks of the trade that can help you improve your experience.
Some credit cards offer more lounge access
The Platinum Card from American Express, for instance, offers complimentary lounge access in several lounge networks, including its own Centurion Lounge network.
If you have this card, do your research before you travel to find the lounge that best meets your needs.
Keep your membership card with your ID card
As previously mentioned, some lounges don't accept the digital card. And there may be situations where you don't have the wireless network to access the Priority Pass app.
So whether you're using a passport or your driver's license, keep your physical membership card with you just in case you need it.
Don't be afraid to wait
There may be situations where you're denied entry because of crowding. But if you stick around, other travelers are bound to leave the lounge to get to their flights. Once you see a few people leave, check with the front desk again to see if you can enter.
There's no guarantee you'll be able to get in quickly, but it may be better than waiting at the gate.
Know where the lounges are beforehand
Some airports are large and getting from one terminal to another can be complicated. Before you get to the airport, check your Priority Pass app or the website to find out exactly where the airport's lounges are located.
That way, you can go through security in the area of the lounge rather than having to get to it from your gate area.
This can also help you understand how much time you'll need to get from the lounge to your gate.
Enjoy a meal instead of the lounge
Many Priority Pass lounges don't offer much more than snacks and drinks. So if you're hungry and you have a long flight ahead, it may be better to visit a participating restaurant.
And if your meal doesn't cost enough to meet the full allowance, you can get some food or snacks to go to bring with you on the plane.
Get there early
Some Priority Pass lounges have a slew of amenities that can make your airport visit a luxurious one. The earlier you get to the airport, the more time you'll have to take advantage of what the lounge has to offer.
Keep in mind:
Some lounges have a time limit for your stay.
So check the lounge terms before you leave your home or hotel, so you're not asked to leave long before your flight leaves.
Conclusion
As a Priority Pass Select member, you have access to some of the best airport lounges in the world. Depending on how often you use that membership, it could be easy to make up for the annual fee on the associated credit card.
Before you leave for the airport, though, make sure that you know which lounges or restaurants you're going to visit and what their amenities and terms are.
If you do it right, you'll have a better experience every time you fly.