What to Do If You Spot Fraud on Your Bank of America Credit Card
Take these steps after you detect fraud on your Bank of America credit card. Find the phone number and email to contact the Bank of America fraud department.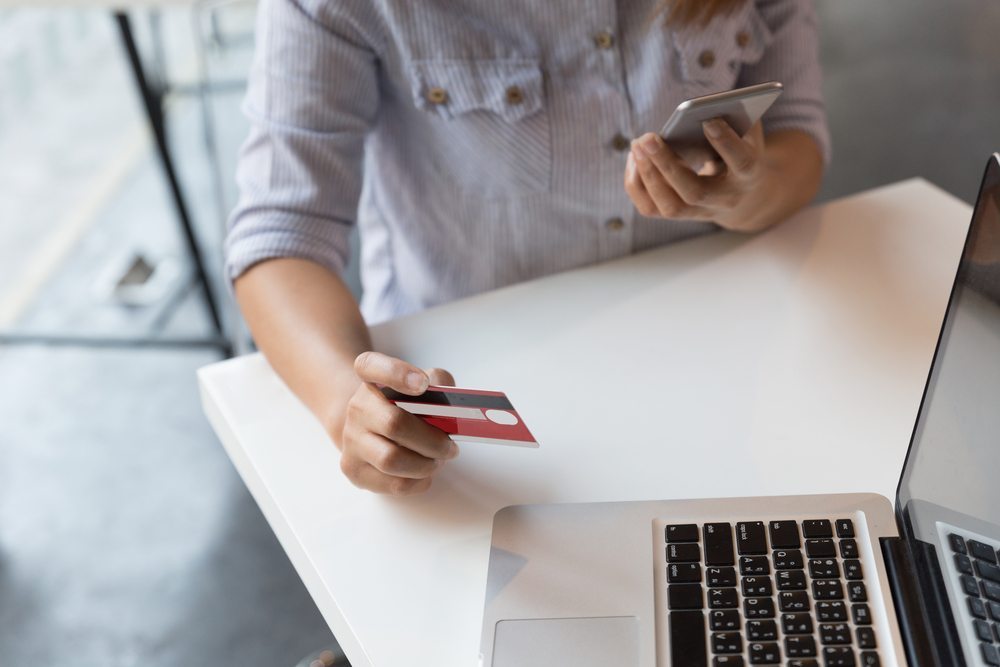 When I found fraud on my credit card, my first reaction was not the correct one: I panicked. I was stressed and worried, and those emotions stopped me from taking productive action.
I didn't know what to do and for some reason, I felt a little afraid to contact my credit card company. What if they thought I was lying? I thought.
Looking back, this is clearly irrational. But that's what happens when you panic! So if you find yourself in this situation, my best advice is to stay calm. Know it's okay and figuring out what to do doesn't have to be hard.
If you have a Bank of America credit card and you spot evidence of fraud on your statement, you can follow the steps and tips outlined here. The faster you act and contact the Bank of America fraud department, the faster this issue gets resolved.
Does Your Bank of America Credit Card Protect You Against Fraud?
Telling someone not to panic when they spot crazy charges they didn't make sounds like a case of easier said than done, right? But here's why you truly shouldn't spend your energy worrying.
Federal law limits all cardholders across banks and credit issues to $50. Individual issuers and companies can waive even that, and Bank of America is one bank that does. Their consumer credit cards are covered by the bank's Total Security Protection service.
That includes a $0 liability guarantee. The bank will reimburse you for any fraudulent credit card transactions. They can credit your account for fraudulent charges made on your card as soon as the next business day in some cases.
So instead of panicking first, contact Bank of America. Know you're protected, but you need to alert the bank and provide them with as much as you know about the fraudulent activity.
How to Report to the Bank of America Fraud Department
If you spot fraud on your Bank of America credit card, you need to call 1-800-432-1000. You can also log into your online account portal to report fraud if your card was lost or stolen -- but if you do so, follow up with a call.
If you suspect you received an email, phone call, or text that was part of a phishing scam, you can contact abuse@bankofamerica.com.
Make sure to forward the suspicious message to that email address when you contact the bank. For texts and phone calls, describe the incident in as much detail as possible so the Bank of America fraud department has all the information available to investigate further. Be prepared to scan, fax, or mail other supporting documentation like bills from services you didn't sign up for and your credit card statement itself.
You need to report any and all fraudulent activity that you find or even suspect. If you don't make the report, fraud protection won't cover you. You could be liable for the charges you didn't authorize.
This is one big reason it's better to be overly cautious rather than brush it off as no big deal. And it's also why you should always check your statements carefully each month! Go through the document and look at every single transaction. If Bank of America doesn't receive your report, they can't protect you or your credit card against fraud.
You need to take one additional step if the fraud was caused by identity theft: contact law enforcement and file a police report.
What Happens Next?
Once you contact Bank of America, they can start processing and investigating your report. During this process, they'll first verify whether or not you were a victim of fraud (and explain what happened if they determine you were not). Make sure to record any case numbers they provide you -- you'll need this when you call back to follow up on your report.
They'll then remove fraudulent charges and credit your account so you're not liable for making payments on those amounts. Bank of America may close your account or simply cancel the affected credit card in order to prevent continued unauthorized transactions.
After the old, affected account and card is either closed or canceled, the bank will provide you with a new account and card number. They'll also expedite a new card to you so you can get back to normal with your financial life as soon as possible.
Once you receive your new card, make sure to update your existing information across accounts, subscriptions, and services. You need to put in your new card number so payments will continue to process without issue.
Update anything you have set to auto-pay and look into subscription services like Netflix to make sure the payment information reflects your new credit card's info. You'll also want to update any site or app that stores payment information, too, like Amazon or Uber.
This is all about being safe rather than sorry, so keep an eye on your Bank of America account and statements. You want to ensure they credited your account for the fraudulent charges you aren't liable for. If you have questions or need information throughout the process, don't hesitate to call back and reference your unique case number.
Stopping Fraud in the Future
The bank's debit and credit cards come with built-in security features and also extend purchase protection to cardholders. That's good news for you if you experience fraud on your Bank of America credit card. Even better? It doesn't cost you anything to take advantage of it.
Security starts with chips embedded into credit cards. These chips make it really difficult for thieves to steal your information from chip-enabled card readers or by using skimmers.
Bank of America also provides fraud monitoring, which means they keep an eye on your account at all times. They look for patterns in your normal spending and alert you when something unusual occurs.
You can also set up your own account alerts to monitor activity (instead of just checking statements on a monthly basis). Log into your online banking portal and navigate to "Alerts" tab. From there, you can customize what alerts you receive and how you get them.
They also provide resources on their site that can help you better understand how to prevent fraud and what steps to take if it happens to you. This includes their lost or stolen wallet guide, tips on how to implement smart Internet security measures, and best practices for general credit card safety.
Talk to Credit Bureaus, Too
It's critical that you report fraud to Bank of America immediately to avoid being charged for transactions you didn't make. Once you do so, you can take the process a step further by reaching out to the 3 credit bureaus, as well.
First, request a copy of your credit report
. Once you receive it, check it for evidence of fraud on other accounts you own. Then, consider asking the bureau to place fraud alerts on your report.
This message requests that creditors get in touch with you via the contact information you provide before they open any accounts in your name. Here's where to call each of the 3 bureaus:
U.S. Credit Bureaus Contact Info
| Credit Bureau | Phone number | Mailing Address |
| --- | --- | --- |
| Equifax | 1-800-525-6285 | Equifax Fraud Assistance, P.O. Box 105069, Atlanta, GA 30348 |
| Experian | 1-888-397-3742 | Experian, P.O. Box 949, Allen, TX 75013 |
| TransUnion | 1-800-680-7289 | Fraud Victim Assistance Department, P.O. Box 6790, Fullerton, CA 92834 |
And if you have accounts or cards with other financial institutions, Bank of America suggests contacting those companies. They can help protect you by checking your accounts for fraud, updating passwords, and canceling anything that's affected.
What You Can Do on Your Own
You don't need to rely solely on any bank or card issuer to help prevent fraud. There's a lot that you can do yourself to stop this from happening to you again.
The most obvious steps are to keep both your physical card and your personal information safe. Don't let other people use your card or take it out of your sight when you make transactions. Avoid giving out your data (including your card number) on the phone if you don't verify the caller. And never provide that information via email.
Keeping personal info safe also means keeping paperwork, documents, and receipts safe. Even when you go to throw them away, make sure you shred these papers so thieves can't use information in your trash to commit fraud.
Protect your digital info with the same care — don't give out passwords or make them obvious. (If your password is "password," please change it now.) Update your passwords every six months and don't use the same one for all your accounts.
And as outlined above, report any activity you think is suspicious. It may feel like overkill, but it's better to be cautious than careless when it comes to fraud. No one will fault you for working to prevent fraudulent activity, but it's a headache for everyone to sort out once it happens.
Using your common sense and good judgment goes a long way in keeping your credit safe. Simply staying aware and choosing caution over shrugging and saying, "it'll be fine" can help prevent your Bank of America credit card from racking up fraudulent charges in the future.