How Your Credit Score Affects Your Car Insurance Premiums
Find out how your credit score affects the cost of your car insurance coverage. Learn about the different insurance-based credit scores that insurers use to calculate your insurance premiums. See the ways that you can improve your credit score and that you should go about getting cheaper car insurance.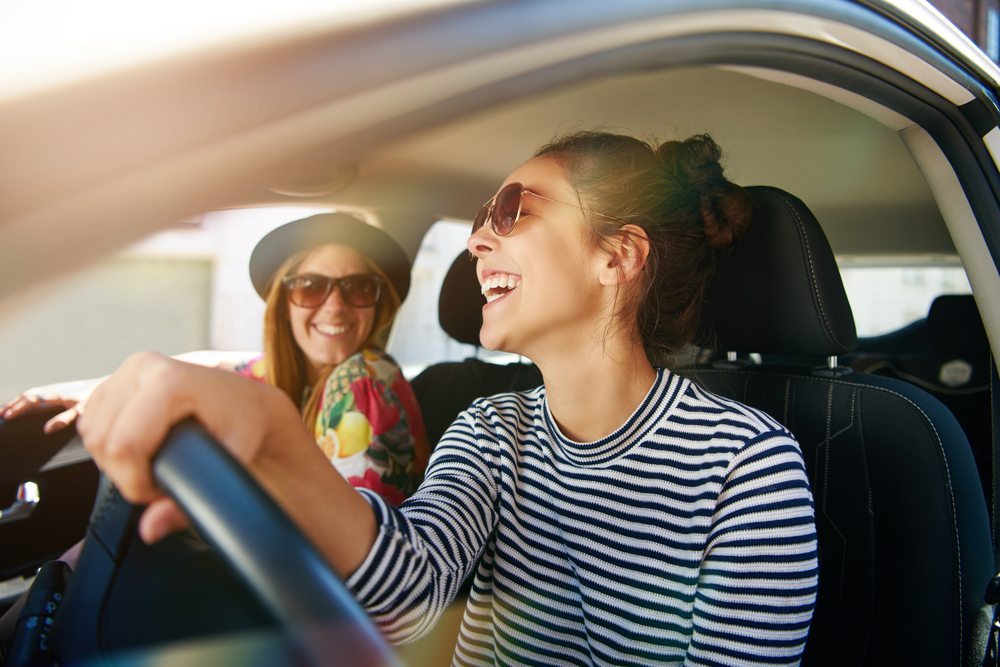 Having good credit isn't just important when it comes to applying for a loan or credit card; it can also save you money when you insure your car.
Most of the top auto insurance companies in the U.S. use what's called a credit-based insurance score to help determine your monthly premiums.
According to FICO, roughly 95% of auto insurers use credit-based insurance scores in states where it's legal.
The exceptions are California, Hawaii, or Massachusetts, where the practice is banned.
Why Auto Insurance Companies Care About Your Credit History
The credit-based insurance score was first introduced in 1993 by FICO, but it wasn't until 2003 that researchers at the University of Texas conducted the first major independent study on the matter.
They reviewed more than 175,000 policies and found that the average loss through claims for the lowest 10% of credit scores was $918, whereas the average loss for the highest 10% of credit scores was $558. They also found that losses increased steadily as credit scores decreased.
In 2007, the Federal Trade Commission (FTC) followed up with its own report, finding that credit-based insurance scores are effective predictors of risk for auto insurance policies. Specifically, they are predictive of the number of claims policyholders file and the total cost of those claims to insurance companies.
As a result, insurers find that it makes sense to use credit-based insurance scores where possible to be able to offer lower premiums to those with better credit.
The good news
States typically don't allow auto insurers to use your credit-based insurance score as the sole basis for increasing your premiums, denying you coverage, or canceling or renewing your policy.
Instead, many insurers use the score to offer lower rates.
In fact, insurers state that 75% of policyholders pay lower premiums because of their credit-based insurance scores.
Types of Credit-Based Insurance Scores
There are two main types of credit-based insurance scores that insurers use: the FICO Insurance Score and the LexisNexis Attract Score.
Note that this score is based on your credit report, not your C.L.U.E. report, which includes a seven-year history of losses you've claimed with past and current vehicles.
The C.L.U.E. report does not incorporate your credit history.
FICO Insurance Score
FICO is clear about what it considers when determining your credit-based insurance score, and it's different than its general credit score.
It looks at many of the same factors but assigns them different weights, such as:
Past payment history (40%)
Current level of indebtedness (30%)
Amount of time credit has been in use (15%)
Pursuit of new credit (10%)
Types of credit experience (5%)
The three major credit agencies, Experian, Equifax, and TransUnion, calculate the FICO Insurance Score for insurers based on their records. FICO doesn't list a range.
LexisNexis Attract Score
LexisNexis doesn't provide a lot of information about what goes into your LexisNexis Attract Score, but insurers note the following factors:
Length of credit history
Payment history
Amount of debt
Recent credit inquiries
Accounts in good standing
Your score may be based on information from any of the three credit bureaus. Here's how the score breaks down:
Good: 776 to 997
Average: 626 to 775
Below average: 501 to 625
Less desirable: Under 500
Ways to Improve Your Credit Score
While having a poor credit score may not result in higher rates on its own, it could if it's mixed with other adverse factors such as past claims and a rocky driving record.
But if you have great credit mixed with those things, it could offset the negative impact. Here are five things you can do now to get your credit score back on track.
1. Check your score
Unless you regularly check your credit score, it's possible that you don't even know what's hurting it. To gauge where you stand, check your credit score now and consistently as you work to improve it.
In addition to providing you with a credit score, many credit monitoring services also give you a breakdown of the factors influencing your score.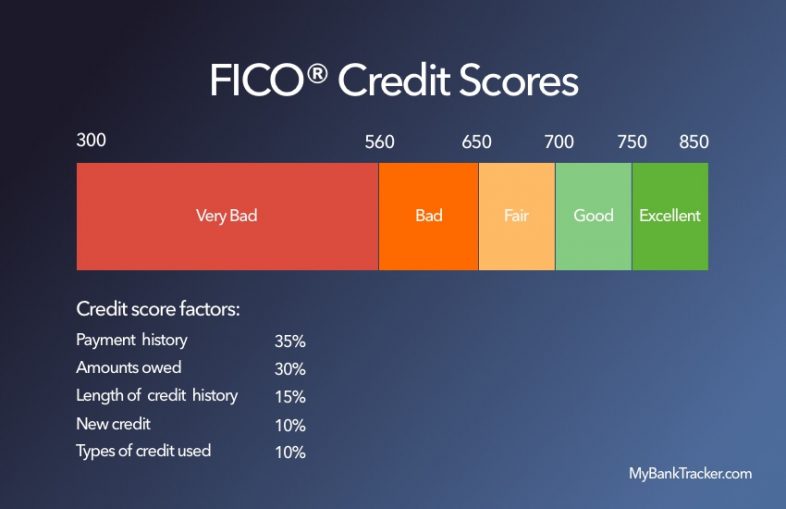 For example, Discover Credit Scorecard, which offers a free FICO credit score to customers and non-customers alike.
You can click on each one to get more information about the factor and how much it affects your score. With this kind of setup, it'll be easy to determine where to start.
2. Check your credit report
You can get a free copy of your credit report from each of the three credit bureaus once a year at AnnualCreditReport.com.
Read through your reports to confirm the information you found with the credit monitoring service you chose to check your score.
Specifically, look for errors or accounts you don't recognize and dispute them with the credit bureau and the creditor with which the account is listed.
The dispute process can take up to a few months to clear up, but your credit score could improve immediately once an error or fraudulent account is removed.
3. Get caught up with payments
If you have an account in collections or have fallen behind on payments, get caught up as quickly as possible.
The longer a bill goes unpaid, the more it hurts your credit score, so consider prioritizing this over other financial goals.
Getting up to speed on your monthly payments won't erase the original late payment, but it can prevent them from damaging your score further.
Plus, your score will improve as you continue to make on-time payments going forward.
4. Pay down your credit card debt
How much you owe makes up 30% of your FICO Insurance Score, and your credit utilization is a big part of that.
Your credit utilization is calculated by dividing your credit card balances by your credit limits. For a quick example, let's say you have three credit cards:
Card A: $5,000 balance, $10,000 limit
Card B: $2,000 balance, $2,500 limit
Card C: $1,000 balance, $5,000 limit
Your credit utilization for each card individually is 50%, 80%, and 20%, respectively, and the overall utilization is roughly 46%.
Experts generally recommend keeping your credit utilization — for all cards and each individual card — below 30%. So, if your credit utilization is high, start focusing on paying down your credit card debt.
Since your credit utilization is calculated once a month, you'll start seeing improvements sooner than later.
5. Avoid unnecessary borrowing
Every time you apply for a loan or credit card, the creditor will run a hard inquiry on your credit report, which can knock a few points off your score.
And if you apply multiple times in a short period, it can have a compounding effect.
Hard inquiries only stay on your credit report for 24 months, so hold off on borrowing money for the time being unless you absolutely have to.
Other Ways to Reduce Your Car Insurance Premiums
Having a great credit score can help you score a lower car insurance rate, but it can take time to improve your credit score if it's not already there. In the meantime, here are three other ways to save money on your auto insurance policy.
1. Shop around
Car insurance companies vary in how they determine insurance premiums, and most consider a long list of factors.
This means that there's no single cheapest auto insurer for everyone, and a company that offers low rates to a friend or family member may charge you more based on its underwriting.
As a result, it's wise to compare quotes from at least three to five insurance companies before you pick one.
Make sure that the coverage levels and features are the same for each quote, and consider re-checking at least once a year to make sure you're still getting the best rate.
2. Get all the discounts
Car insurance companies offer a plethora of discounts to entice new customers to buy a policy. Some of the more common discounts include:
Auto insurance discounts
| Type of discount | How to get it |
| --- | --- |
| Multi-vehicle discount | Insure two vehicles under a single policy. |
| Multi-policy discount | Bundle your auto policy with other policies, such as homeowners, renters, or motorcycle insurance. |
| Good driver discount | You may get lower premiums if you haven't been in an accident or received a ticket in the past three to five years. |
| Pay-in-full discount | You can knock a few percents off your premium if you pay it in full — typically semi-annually or annually — rather than monthly. |
| New customer discount | Many insurers offer this discount to new customers, especially if you sign up online. However, it goes away after the first six to 12 months. |
| Affinity discounts | If you're a member of certain organizations or work in an eligible occupation, you may get an extra discount. |
As you shop around for quotes, you'll typically see different discounts each insurer offers. Additionally, don't be afraid to call and ask for more discounts.
3. Raise Your Deductibles
If you get in an accident, you may need to pay some money out of pocket before your insurance coverage kicks in; that threshold is called a deductible.
The higher your deductible, the less risk you pass onto the insurance company. As a result, your premiums will be slightly lower.
Since some people go years without getting in a car accident, it may make sense to opt for a higher deductible to take advantage of the lower rate.
Just make sure you can afford the higher deductible if something does happen. Otherwise, the premium savings likely won't be worth it.
The Bottom Line
Your credit score is an important element in calculating your car insurance premium, so it's important to make sure your credit history is in good shape.
If it's not, start developing good credit habits to improve your score. But don't stop there.
Instead, consider other ways to cut your insurance premiums so that you improve your monthly cash flow.