What to Know About the Discover Free FICO Score Program
Find out whether you should use the free FICO score program from Discover. Learn how it works, who can use it, and what it costs.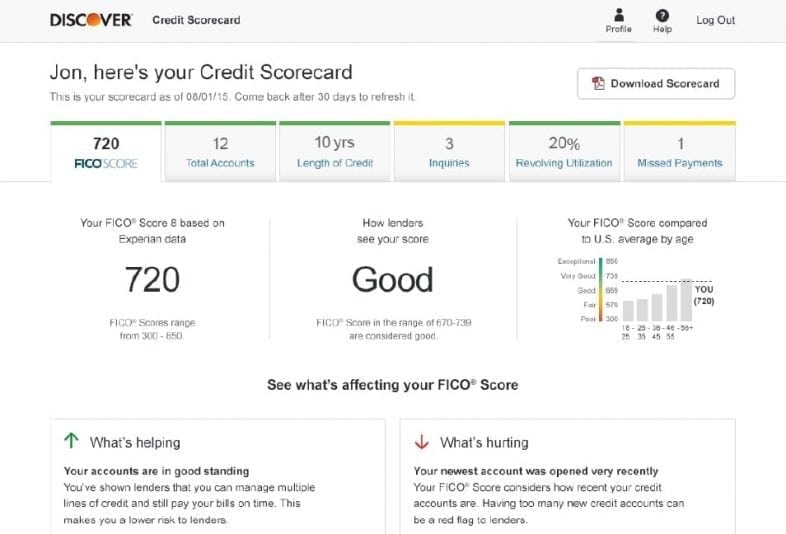 If you're planning to buy a home or apply for a credit card, it helps to know your credit score.
There are several different scoring models but the FICO score is the one most lenders use for borrowing decisions. FICO scores are based on your:
Payment history
Credit usage
Credit age
Credit mix
Inquiries for new credit
While you can get your credit report for free, you typically have to pay for your FICO credit score.
Fortunately...
Discover has a program that allows anyone to check their FICO score free of charge.
But what do you need to do to get your score?
And is it really free with no strings attached?
Find out all the details you need to know about the Discover free FICO score program.
How Discover's Free Credit Score Program Works
Before we dive into the finer points of the Discover program, there's one thing to note.
FICO credit scores are based on the information in your credit report. You have three credit reports: one each from Equifax, Experian, and TransUnion.
That means you also have three FICO scores based on each of those reports. And your scores can be different if your credit reports don't have the same information.
With Discover, you're getting a free FICO credit score based on data from your TransUnion credit file. You can't see your Experian or Equifax FICO scores.
You should also know that FICO scores aren't the same as VantageScores. This is another type of credit score lenders can check when you apply for credit.
FICO scores and VantageScores are based on some of the same factors. But how the scores are actually calculated is different.
Getting your free FICO score from Discover
Checking your FICO score from Discover is pretty easy to do. The first step is creating a free account.
To do that, you'll need to register and give Discover your:
Name
Email address
Date of birth
Street address
Social Security number
You'll also need to create a secure password that you'll use to log in to your account.
Now, the biggest question you might have is: will checking my free FICO score ding my credit?
The answer is no. You can check your own credit report and score as often as you like. It won't take anything away from your score.
Discover uses your Social Security number to verify your information when you set up your account. This won't go against your credit score either.
Unlike when you apply for a loan or a credit card, which is a hard hit, Discover's credit check is a soft pull.
Discover credit card not required
No. Anyone can sign up to get their free FICO credit score even if they don't have a Discover credit card.
That's different from other credit card companies. Typically, if you want to check your FICO score for free with a particular bank you need to have a credit card or another account.
Reading your free Credit Scorecard
Besides getting your free Experian FICO score each month, you also get a free Credit Scorecard.
This scorecard gives you a snapshot of your credit health. It tells you:
What your FICO score is
How many total credit accounts you have
Length of your credit history
Recent inquiries for credit
Revolving credit utilization
Number of missed payments
The scorecard isn't as detailed as your credit report, but it does tell you what's helping or hurting your credit score.
That can help you adjust your credit habits if you're working on raising your score.
Your FICO score and scorecard are updated every 30 days.
That can help you see how your score is trending over time.
What's In It for Discover?
There's no obvious benefit for Discover to offer free FICO credit scores. They don't collect any fees from consumers in exchange for the scores.
Your personal information could help Discover's marketing or product development, however.
Discover says:
They never sell personal information to third parties if that's something you're worried about.
If your information is used for marketing, you could be on the receiving end of targeted ads. Whether you choose to apply for a Discover credit card or not is entirely up to you.
To be fair, Discover does have some solid credit card offerings.
The Discover it card, for example, might be one you'd consider if you're looking for a card that offers a high quarterly cash back bonus.
Credit Scores Decoded
What goes into your FICO score was mentioned earlier but it's worth taking a closer look.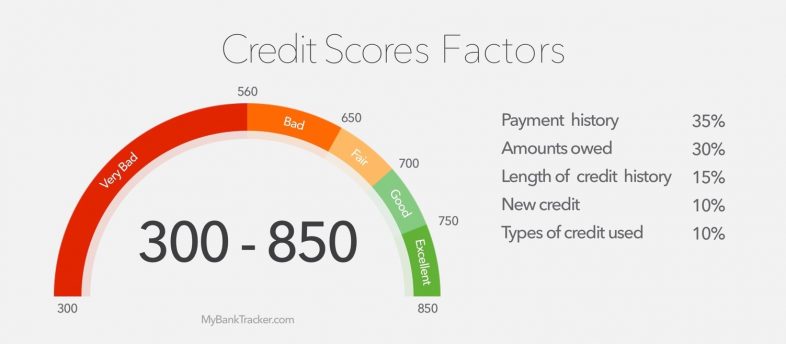 The five factors that shape your score don't all carry the same weight.
Some are more important than others for credit scoring purposes. Here's how they stack up:
Payment history - 35% of your score
Credit usage - 30%
Credit age - 15%
Credit mix - 10%
Inquiries for new credit - 10%
As you can see, payment history and credit usage have the biggest impact on your FICO score.
Paying on time every month and keeping your credit card balances low can work in your favor. Paying late and maxing out your cards can send your score spiraling down.
Having an older credit history is also beneficial for your score. Having a newer or zero credit history usually translates to a lower score.
Using different types of credit is important. Lenders want to see that you can use both loans and credit cards responsibly.
But, you don't want to apply for new credit too often. Each new inquiry can trim a few points off your score at a time.
How to Use Free FICO Scores to Your Advantage
Having access to your FICO score and credit scorecard through Discover is a good thing for a few reasons.
Watch for ID theft
First, it's easier to monitor your credit for identity theft or errors when you're checking in with your score each month.
Errors -- such as payments not being reported properly or an account that doesn't actually belong to you -- can drag your score down in a big way.
If you're checking your credit regularly and you spot an error, you can dispute it to have it corrected or removed.
Identity theft can also wreak havoc on your score if someone's opening multiple accounts in your name and charging up high balances.
The damage can be even worse when those accounts go unpaid because you're not aware of them.
Credit improvement
Discover's free credit scorecard also makes it easier to see what you're doing right or wrong when it comes to your score.
For example, having many accounts that are paid on time could be helping you. Having a delinquency on your credit, however, could hurt you.
If you're not well-versed in how credit scores work, you might not know what credit habits you should be developing or dropping.
Before applying for credit
Finally, it's always a good idea to check your credit report and score before you apply for a credit. This gives you an idea of what a lender is likely to see.
You can use your report and score to gauge how likely you are to be approved, based on what you know about the lender.
For example, you might be in the market for a premium travel rewards credit card.
You've researched different card options and found one that's got great perks, but it's geared towards people with excellent credit.
A check of your credit score tells you that you're closer to the "good" credit score range.
In that scenario, you could either work on improving your score and wait to apply for the card or pick a card you have a better shot at qualifying for.
Get Even More Protection With Social Security Alerts
If you're not already a Discover credit cardmember, there's a good reason to consider becoming one.
Members can now enroll in free Social Security protection alerts to stay on top of potential identity theft threats. When you sign up, Discover monitors your Social Security number and notifies you if:
Your number is found on a risky website, including sites on the dark web
Any new credit cards, mortgages, car loans or other credit accounts are opened on your Experian credit report
The benefits can go a long way towards helping you detect and prevent identity fraud. If Discover detects something suspicious, they'll help you take the next steps to protect yourself against fraud.
Get Your Free FICO Credit Scores from Discover
Keeping an eye on your credit is important for staying on track financially.
Discover makes it virtually hassle-free to monitor your credit and FICO score each month.
If you have another credit card that offers FICO scores from Equifax or Experian, you can get a more complete picture of your credit score.
If you're considering opening a Discover credit card account to take advantage of Social Security number alerts, do your research first.
Check the rewards, fees and annual percentage rate to make sure you're picking a card that best fits your needs and spending habits.