Blue Business® Plus Credit Card from American Express 2023 Review: Simple Rewards
Our review of the Blue Business Plus Card from American Express looks at the simple rewards program, fees, and flexible payment options available.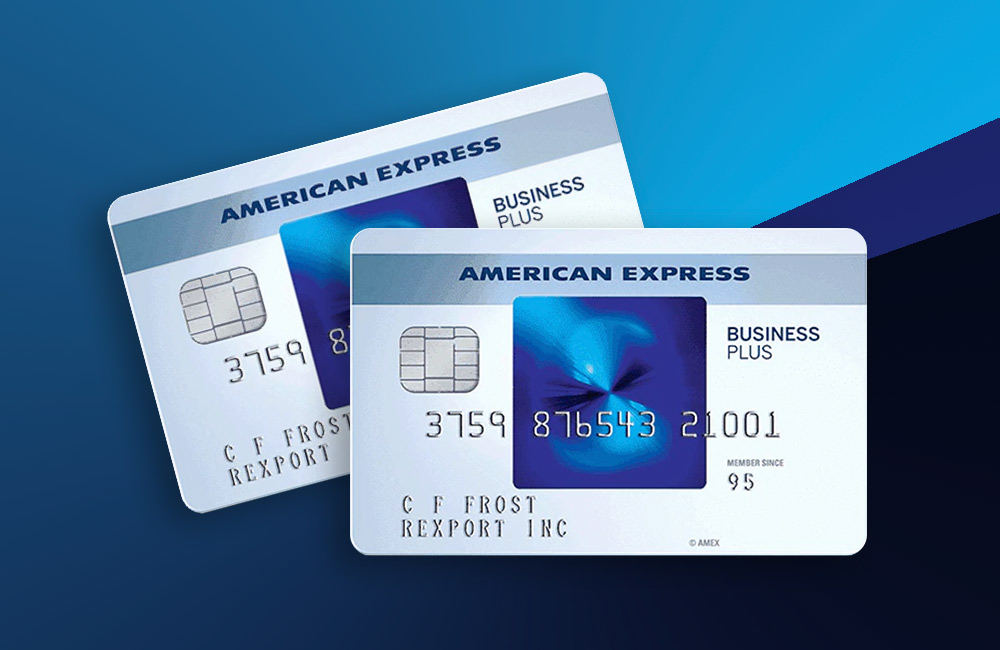 Blue Business Plus Credit Card from American Express
American Express offers several credit cards and charge cards to help you grow your business.
The offers a simplified way to earn Membership Rewards points on purchases, with a $0 annual fee (see Rates & Fees; terms apply). 
The Expanded Buying Power feature gives you some wiggle room if you need to spend over your limit occasionally. Travel and shopping benefits round out the card's highlights. 
The Blue Business Plus Card from American Express could be a great fit if you're interested in uncomplicated rewards.
*See Rates & Fees. Terms apply.
Blue Business Plus® Card from American Express Pros & Cons
Straightforward Rewards on Purchases
The Blue Business Plus Card from American Express makes earning rewards points easy. 
For every dollar you spend, up to the first $50,000 in purchases, you'll earn two Membership Rewards points.
Once you hit the $50,000 mark, you'll continue earning one point per dollar until the next calendar year begins. 
You can max out the two points per dollar in rewards if you spend at least $4,167 per month on average.
That would give you 100,000 Membership Rewards points to redeem for:
Gift cards
Travel
Statement credit
Merchandise
Purchases at partner merchants
The value of your points depends on how you redeem.
So for example, 100,000 points would be worth $700 when you shop Amazon or $1,000 when booking flights through American Express Travel.
You still earn one point per dollar on purchases if you pass $50,000 in spending during the calendar year. So the more you spend, the more points you can earn. 
One potential downside:
This card lacks an introductory welcome offer. This card doesn't give you the opportunity to earn any bonus points on initial purchases.
Flexible Spending Limits
The Blue Business Plus Card from American Express gives you access to the Expanded Buying Power benefit. 
This benefit allows you to spend over your card limit, without a fee or penalty. This is comparable to the no preset spending limit feature you'll find with some American Express charge cards. 
There are a few things to know about Expanded Buying Power:
Whether you can go over your limit depends on your creditworthiness, payment history and finances. 
Expanded Buying Power doesn't mean you have no spending cap at all. 
You'll need to make your minimum payment due each month to avoid a penalty APR on the amount you're over your limit. 
This could be a helpful feature to have if you occasionally need to spend more than your regular card limit allows.
Just keep in mind:
You'll pay interest on any balance you carry, which could make this convenience costly.
What Else Do You Get With the Card?
The Blue Business Plus Card from American Express includes several other features and benefits, such as:
Car rental loss and damage insurance
Global Assist Hotline access
Lowest hotel rates guarantee when you book through amextravel.com
Entertainment access in selected cities
Dispute resolution for fraudulent purchases
Vendor pay with Bill.com
Year-end summaries
This card doesn't have a lot of premium bells and whistles.
But overall, it offers the kinds of features you might rely on to run your business day to day.
Fees
This card doesn't weigh you down with a lot of fees. There's no annual fee and no additional fee for employee cards. 
You will pay a foreign transaction fee, which means it may not be the best choice for travel outside the U.S.
And remember, if you miss the minimum payment due when you have a balance over your limit, a penalty APR kicks in.
Compared to Other Business Credit Cards
The Blue Business Plus Card from American Express could work well if you want to earn points on purchases. But here are three other options to keep in mind. 
Business Green Rewards from American Express
The is a charge card, which means you don't have the option to carry a balance with this one. 
In terms of rewards, you can earn two points per dollar on purchases at amextravel.com and one point per dollar on everything else. There's no preset spending limit and a $0 annual fee the first year. Then, $95 thereafter. 
This card does offer an introductory welcome bonus if that's something you're interested in. 
American Express Business Gold Card
*See Rates & Fees. Terms apply.
The allows you to earn four Membership Rewards points per dollar on the two categories (from the list below) on which your business spends most. Categories include:
Airfare purchased directly from airlines (for transcations made on or between 10/3/2023-1/31/2024)
U.S. purchases for advertising in select media (online, TV, radio)
U.S. purchases made directly from select technology providers of computer hardware, software, and cloud solutions
U.S. purchases at gas stations
U.S. purchases at restaurants
U.S. purchases for shipping (for transactions made on or between 10/3/2023-1/31/2024)
The 4X points applies to the first $150,000 in combined purchases from these 2 categories each calendar year.
You can get 25% of your points back when you redeem them for flights booked through American Express Travel using Pay With Points (up to 250,000 points back per calendar year). There's no foreign transaction fee so it might be appealing for international travel if you don't mind the $295 annual fee ($375 if application is received on or after 2/1/24) (see Rates & Fees; terms apply). 
Capital One Spark Miles for Business
The  offers unlimited two miles per dollar on every purchase.
Miles can be redeemed for travel with no blackout dates or restrictions and you can transfer them to more than a dozen travel partners. 
This card offers a generous introductory miles bonus, along with up to a $100 fee credit toward Global Entry or TSA PreCheck.
You can also get five miles per dollar when you charge hotel and rental cars through Capital One Travel. 
The annual fee is $0 the first year, then $95 after. 
Read the Capital One Spark Miles for Business Credit Card editor's review.
Business Credit Cards vs. Personal Credit Cards
Business credit cards and personal credit cards work more or less the same, in terms of how you're able to spend and earn rewards.
But they differ when it comes to the kind of rewards they earn, the APR and fees and how they affect your credit scores. 
On the rewards side, business credit cards typically reward you for the kinds of purchases a business would make. 
So think things like office supplies, business trips or advertising. Personal credit cards cater to personal spending habits, like grocery shopping or dining out. 
You're also more likely to find an introductory APR on purchases and balance transfers with a personal card versus a business card. Personal cards include more consumer protections against fraudulent purchases as well. 
The credit score impact is a little different.
You might use your personal information, including your Social Security number, to apply for a business credit card. But your account history may only be reflected on your business credit reports.
Applying for a Business Credit Card
You can apply for a business credit card online. You just need to fill out the application completely, including your: 
Name 
Business name
Personal and business addresses
Social security number and/or tax identification number
Business type and industry
Number of employees
Annual revenue
Don't sweat it if your business isn't making money yet. That's not a firm condition to get a business credit card. If you don't have any revenue to report, the credit card company can use your personal credit score and income to approve you. 
And you don't necessarily need perfect credit either. 
While you'll need good to excellent credit to qualify for the best business credit cards, a secured business card could also be an option. Secured business credit cards require a cash deposit to open an account. 
Final Verdict
The could be a good fit if you spend at least $50,000 annually for your business and you want to earn points instead of cash back or miles.
You might also like this card if you want to earn points with no annual fee.
That said:
If you're on the hunt for an introductory rewards bonus, you'll probably want to check out a different card. And another card may also serve you better if you need or want travel perks. 
Overall, the Blue Business Plus Card from American Express is worth a look if you want a straightforward card for earning points on every purchase.