Capital One Spark Miles Business Credit Card 2023 Review: Simple Travel Rewards & Perks
Our review of the Capital One Spark Miles Business Credit Card looks at the simple travel rewards program and card benefits that are useful for business owners.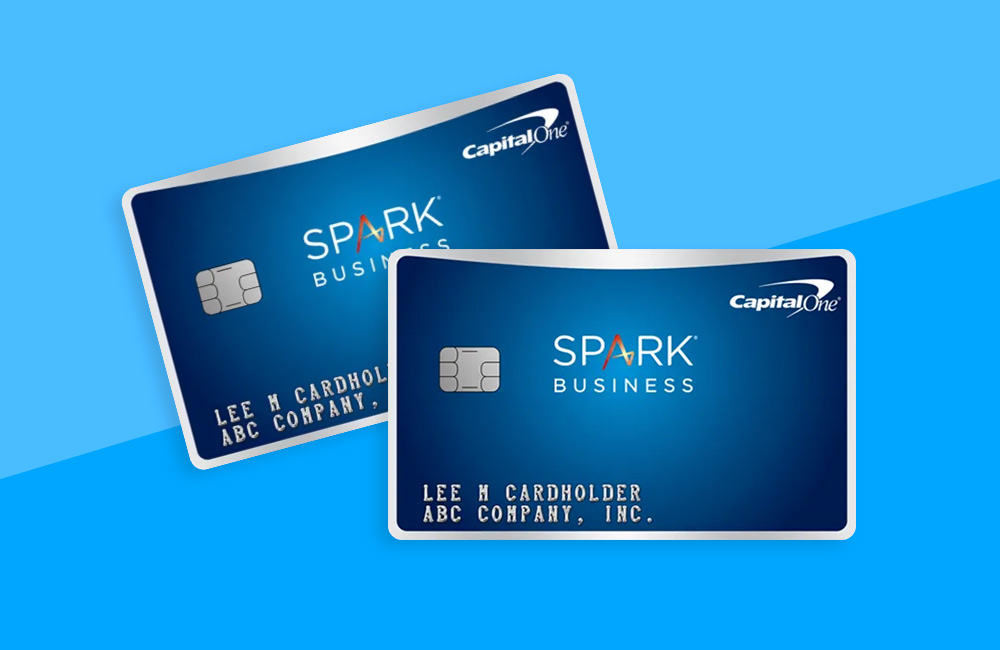 Capital One Spark Miles Business Credit Card
Business travel can take a toll on your budget but there is a way to save on those expenses. With a business travel rewards card, you can earn miles on purchases that you can redeem for travel costs. 
The  makes that easy, by offering unlimited two miles per dollar on every purchase. You can increase that to five miles per dollar for hotels and car rentals booked through Capital One Travel.
In addition to regular miles earned on purchases, this card offers a generous introductory miles bonus. And redeeming miles for travel is easy, with no blackout dates or restrictions. 
This card offers a $0 introductory annual fee for the first year, then $95 annually after.
Learn how the Capital One Spark Miles Business Credit Card measures up for business travelers.
Capital One Spark Miles Business Credit Card Pros & Cons
Earn Unlimited Miles on Travel
The Capital One Spark Miles Business Credit Card offers three ways to earn miles on business purchases. 
1. Regular spending
First, members earn unlimited two miles per dollar on every purchase.
So, if you spend $50,000 a year for your business, you'll earn 100,000 miles, regardless of what you purchased. 
That's good if you want to keep things simple. Some business travel cards pay a higher amount of miles or travel points on some purchases than others. Or, they cap the number of miles or points you can earn based on spending. 
You don't have to worry about that with this card. And, you have a chance to earn even more miles on certain travel purchases. 
Travel bookings
When you book hotels and rental cars through Capital One Travel, you can earn five miles per dollar instead of two.
Again, those miles are unlimited so the more you travel, the more miles you could earn. 
Welcome bonus
Finally, new cardmembers could rack up additional miles by qualifying for the introductory signup bonus.
The only caveat is that you'll need to hit the minimum spending requirement for the bonus. 
But, if you qualify, it's an easy way to snag plenty of miles right off the bat.
Redeem Miles for Business Travel on Your Terms
The Capital One Spark Miles Business Credit Card makes it just as easy to redeem miles as it is to earn them. 
There are no blackout dates to plan around and no restrictions about where you can apply your miles.
You can simply redeem them as a statement credit for travel. 
That means you can redeem miles for hotels, flights, car rentals, vacation packages--whatever you need. You also have the option of transferring miles to a Capital One travel partner. 
Current travel partners include:
Aeromexico
Air Canada
Asia Miles
Qantas
Singapore Airlines
Being able to transfer miles is a nice plus if you belong to one of Capital One's partner airline frequent flyer programs.
That gives you added flexibility when redeeming miles for travel.
What Else Do You Get With the Card?
Earning miles on business purchases is great but there are plenty of other things to like about this card.
Here's a closer look at some of the card's other benefits.
Global Entry or TSA PreCheck fee Statement credit
Global Entry and TSA PreCheck can help you get through the airport faster on business trips. But, the catch is that these programs aren't free. 
Global Entry has a $100 application fee, while TSA PreCheck has an $85 application fee.
As a Capital One Spark Miles cardmember, you can get up to a $100 statement credit for either one. 
This perk is available once every four years. You can use your card to apply for both programs, with the statement credit applied to whichever on you're approved for first. 
Account management tools
Keeping up with business expenses can be a headache, but Capital One offers several tools that can make it easier. 
For example, this card features:
Payment flexibility, allowing you to choose your due date
Purchase records that can be downloaded to Quicken, Quickbooks and Excel
Employee card purchase and spending controls
Card lock
$0 fraud liability
All of those extras can take the hassle out of staying on top of business spending.
Compared to Other Capital One Business Credit Cards
The Spark Miles Business card isn't your only option for earning business rewards with Capital One. Here are three other cards you might consider. 
Capital One Spark Miles Select
If you'd like to earn miles without an annual fee, you might like the . 
This card offers unlimited 1.5 miles per dollar on all purchases. And you can still earn five miles per dollar on hotels and car rentals booked through Capital One Travel. 
There's no foreign transaction fee or annual fee and you can redeem miles any way you like.
You don't, however, get the benefit of a TSA PreCheck or Global Entry statement credit with this card.
Capital One Spark Cash Select
The  offers unlimited 1.5% cash back on every purchase. Cash back might be preferable to miles if you don't travel as often for business. 
This card has no annual fee and no foreign transaction fee. You also get the benefit of an introductory APR period on purchases. That might be helpful if you plan to make a large purchase right away. 
Employee cards are free, which can make it easier to earn even more cash back.
You can redeem cash back for statement credit, a paper check or gift cards.
Read the Capital One Spark Cash Select Business Credit Card editor's review.
Capital One Spark Classic
The is an option to consider if you have less than perfect credit. 
This card is designed for business owners with average credit. It's a cash back card and purchases earn unlimited 1% back. There's no annual fee. 
If you're interested in working your way up to a business credit card with more generous rewards, the Spark Classic could be a good starter card option.
Applying for a Business Credit Card
Business credit cards aren't exactly the same as personal credit cards. 
For one thing, business cards are meant to be used to make business purchases. While you could charge personal expenses to a business card, it's not recommended. 
Business credit cards and personal credit cards don't affect your credit scores the same way. Applying for a business credit card usually means giving the card issuer your social security number. This is used to verify your identity and check your credit. 
After that, however, business credit card activity shows up on your business credit reports.
Your personal credit score would be unaffected by it, unless you default on the account. 
In that case, the credit card company could report late payments to the personal credit bureaus. That's because in most cases, you have to sign a personal guarantee to get a business credit card. 
This guarantee means you're personally responsible for the debt. 
If you're ready to apply for a business credit card, here's what you'll need to give the credit card company:
Your name and the name of your business
Personal and business address information
Social security number and/or tax identification number
Number of employees
Business industry or type
Annual revenues (if you're making money)
Number of years in business
It's possible to get a business credit card even if you have a brand-new business. The credit card company will look at your personal credit history and financial details for approval. 
Note:
The Capital One Spark Miles Business Card is designed for people with excellent credit.
Final Verdict
The could be a great fit if you want to earn unlimited miles on every purchase, with a chance to boost miles earnings on hotels and car rentals. 
You may want to opt for a different card if you're looking for something that's compatible with a specific frequent flyer or hotel loyalty program.
Another travel card may also suit you better if you'd prefer to avoid an annual fee.
Based on the regular purchase APR, this card could be best for business travelers who want to earn miles and plan to pay in full each month.