USAA Classic Visa Platinum Credit Card 2023 Review
With bad to fair credit, there's room to improve your credit score. You can do so with the USAA Classic Visa Platinum credit card, which is not a secured card.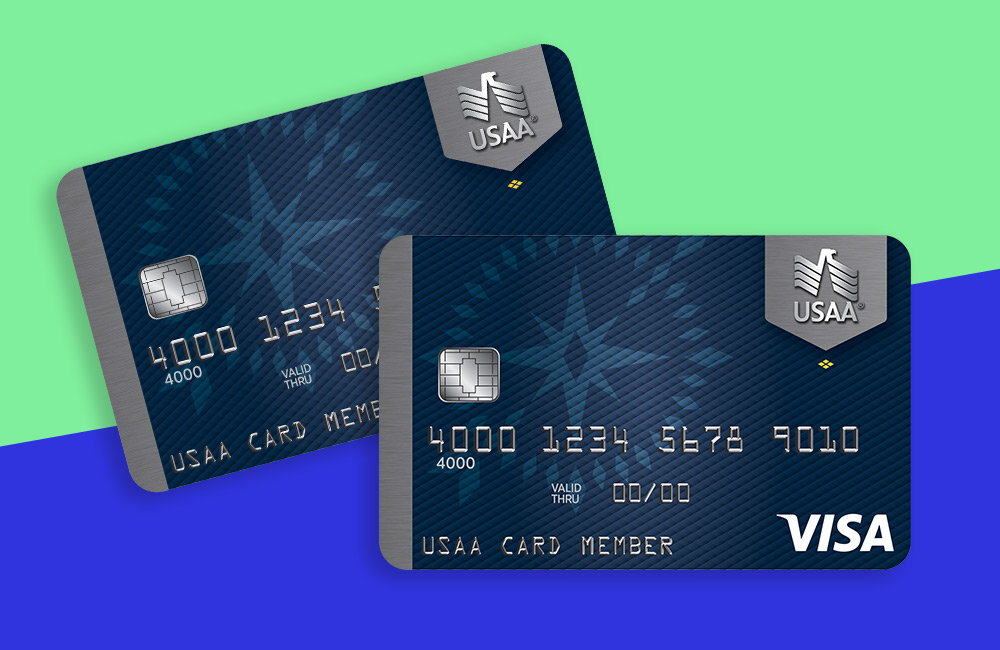 Good credit is a must if you're angling for a major loan, such as a mortgage or a car loan.
The USAA Classic Visa Platinum Card is designed to help people with average credit work their way towards a better credit score.
If you're a USAA member or you're eligible to join USAA, keep reading to learn more about how the Classic Visa Platinum Card could help you get the credit rating you're after.
Easy to Qualify So You Can Build Credit Right Away
Again, the card is geared towards people who have average credit. These people may have small blemishes on their credit profile.
As a result, it can be a little more difficult to qualify for the some of the better credit cards. The USAA Classic Visa Platinum Card is more likely to accept these people with average credit.
The card's ultimate purpose is to help return the credit profile to pristine condition.
The USAA Classic Visa Platinum Card is for purchases only. If you're looking for a card that will let you take a cash advance or transfer a balance, you're out of luck.
The card's program focuses on rebuilding credit and these transactions may slow your progress (due to their fees).
Using the card to increase credit scores
There are several factors that can have an effect on your FICO credit score, the most common credit scored used in the country. Here is a brief rundown of what makes up your score:
FICO Credit Score Factors and Their Percentages
Because most of your FICO credit score is based on how you pay your bills, the best way to do that with this card is to always pay on time.
You should also keep your credit utilization low.
This just means the gap between how much you owe and what your total credit limit is. Keeping that number at 30% or less can make a big difference in your score over time.
Tip: Our complete guide to hacking your perfect credit score offers more tips on how to go from so-so to stellar credit.
Rewards Are Not a Priority
While this card does have some nice features, a rewards program isn't one of them. You won't earn travel miles, points or cash back. There's also no one-time new account bonus either.
Besides, rewards should not be your biggest concern if you're struggling to raise your credit score.
Rewards credit cards tend to require better credit and have higher APRs. They'll be a distraction to your true goal.
Special Features for Military Members
USAA's goal is supporting members of the military and their families. One of the ways they do that is by offering special banking benefits to their customers.
These benefits are available to military members who are deployed, receive Permanent Change of Station (PCS) orders or are serving on active duty. Here are the special perks you can take advantage of:
Reduced APR for deployment or PCS
If you get deployed or receive PCS orders, USAA offers a discounted annual percentage rate (APR) of 4% on any balance you're carrying. The reduced APR is good for up to 12 months, which can help if you're working on paying down what you owe.
Reduced APR for active duty
USAA knocks your APR down to 4% for if you're serving on active duty.
Military campaign benefit
Finance charges can easily inflate the cost of what you're charging but USAA offers some relief. Eligible cardmembers may be able to get any finance charges that accrued while on campaign refunded to them.
Refunded interest charges
USAA may also refund your interest charges if you earned a medal while on campaign.
To qualify, you have to have received the Global War on Terrorism Expeditionary Medal, the Afghanistan Campaign Medal, or the Inherent Resolve Campaign Medal.
All that can be extremely helpful but it's not automatic. You still have to reach out to USAA to apply for these benefits.
Card Benefits Let You Travel Comfortably
Even though you don't get rewards with this card, you do still get a few extras built-in, including travel and shopping protections.
No foreign transaction fee
USAA doesn't tack on the typical 3% foreign transaction fee to this card. That can save you some money if you're worried about paying currency conversion fees if you're using the card outside the U.S.
15-day worldwide rental car insurance
Getting in an accident or having a rental car stolen can be disastrous but luckily, you're covered against those things when you book your reservation with your card.
Identity theft resolution services and identity fraud reimbursement
Identity theft is no laughing matter and USAA wants you to feel confident knowing that if your information is stolen, you've got somewhere to turn to for help.
Price protection
Seeing something you just bought on sale somewhere else for less is frustrating, to say the least. USAA will refund up to $250 for items charged to your card if you find it at a lower price within 60 days of purchase.
Extended warranty
USAA's extended warranty program doubles the manufacturer's or store brand's warranty for up to one year.
Satisfaction guarantee
If you buy something and decide that you're no longer happy with it, you may be able to get up to $250 of what you spent refunded.
Worldwide travel accident and baggage delay insurance
You're covered by up to $250,000 in travel accident insurance and up to $100 a day in baggage delay insurance if your trip goes off the rails for some reason.
Prepare for a Relatively High APR
The USAA Classic Visa Platinum Card does not have a 0% introductory APR. The regular variable APR kicks in right away.
Compared to cards for people that have excellent credit, it's on the steep side.
If you're going to carry a balance, that's something you need to think about. Again, the higher risk factor of having average credit does mean your APR will be higher.
There's also a $35 annual fee to factor in. If you're hoping to build credit over time but avoid an annual fee, this isn't the card for you.
Who's Eligible for a USAA Classic Visa Platinum Card?
You can apply for the USAA Classic Visa Platinum Card if you're a USAA member. Membership is open to:
Active, retired and honorably separated officers and enlisted personnel of the U.S. military
Officer candidates in commissioning programs (Academy, ROTC, OCS/OTS)
The spouses, widows, adult children and stepchildren of USAA members
A credit check is part of the application process. If you're clueless about where your credit stands, you may want to take a look at your credit report before you apply.
You can pull a credit report from each of the three credit bureaus per year for free. You can do so through AnnualCreditReport.com.
Classic Visa Platinum vs. USAA Other's Credit-Building Options
As we said earlier, USAA does have a few other cards that you can use as a springboard to better credit. Here are three choices you may prefer to the USAA Classic Visa Platinum Card:
USAA Classic American Express
At first glance, the USAA Classic American Express Card looks identical to the USAA Classic Visa Platinum Card but you have to dig a little deeper to find out where they're different.
Even though they have the same purpose (building good credit), the same annual fee and the same APR range for purchases, their features aren't the same.
The USAA Classic American Express Card gives you access to a complimentary concierge service, travel assistance, and roadside assistance, things you don't get with the Classic Visa Platinum Card.
USAA Secured Card American Express
The USAA Secured Card American Express is a secured card, which means you need a cash deposit to open an account. You can put up between $250 and $5,000 and that serves as your card's credit limit.
USAA parks the money in a 2-year certificate of deposit (CD), which earns interest. If you want to increase your credit limit, you just add more money to the CD.
This card is good for someone who's starting from scratch with credit or who's trying to rebound from a major credit mistake in the past. Like the USAA Classic Visa Platinum Card, you'll pay the same $35 annual fee.
USAA Secured Card Visa Platinum
The USAA Secured Card Visa Platinum is another secured card that lets you choose your credit line, based on the size of your security deposit.
If you're wondering why you'd want to pick this card over the USAA Classic Visa Platinum Card, it does have a couple of advantages.
For one thing, the purchase APR range is lower. You could pay less in interest if you carry a balance with this card.
You can also make balance transfers or cash advances, something you can't do with the USAA Classic Visa Platinum Card.
Final Verdict: For Those Focused Only on Rebuilding Credit
If you want a no-frills card that can potentially help you boost your credit, then we'd say the USAA Classic Visa Platinum Card is worth a look.
Because of how high the APR is, we wouldn't necessarily recommend it to someone who tends to carry a big balance from month to month.
Ultimately, it's a solid pick if you don't mind paying an annual fee and you're focused on building credit rather than earning rewards.
Featured credit card: