USAA Secured Card Platinum Visa Credit Card 2023 Review
To rebuild credit, USAA offers a Visa secured credit card that lets you raise your credit score and earn interest on your security deposit.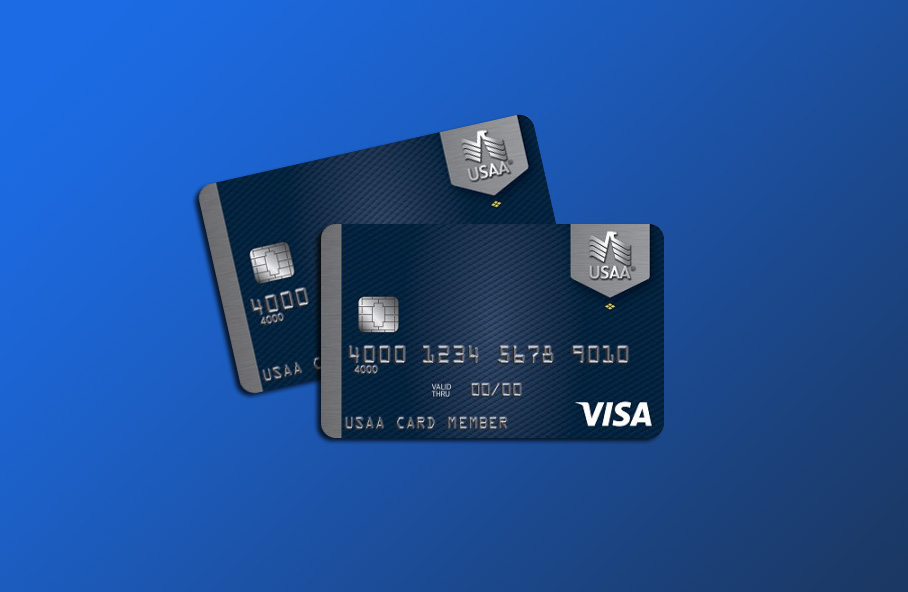 Update: This card offer is expired and no longer available. Please consider other secured credit cards that are currently available.
A good credit score can help you save a lot of money if you want to buy a home or get a decent rate on a car loan.
USAA understands that building credit takes time, especially if you're starting from scratch or trying to rebound from a past credit mistake.
The USAA Secured Card Platinum Visa account is designed for people with bad credit who are hoping to turn things around.
This card gives you the power to set your own credit limit and improve your credit over time.
USAA Secured Card Platinum Visa Card Pros & Cons
Earn Interest on Your Security Deposit
The most noteworthy trait of theUSAA Secured Card Platinum Visa is the ability earn interest on your security deposit.
Other secured credit cards require a deposit as well, but most of them do not pay interest on the deposit.
How secured credit cards work
The USAA Secured Card Platinum Visa is a secured credit card. That means you need a cash deposit to open your account. The minimum deposit is $250.
You can deposit up to $5,000 if you've got the funds. Whatever you deposit, that's what your credit limit will be.
The money you use as a deposit is put into a USAA certificate of deposit (CD). You're locked into the CD for a two-year term
Your deposit earns a variable annual percentage yield. If you haven't reached the deposit maximum already, you can increase your deposit in the future.
Tip: A higher credit limit can help improve your credit score. When you have a balance, you're using a percentage of your borrowing potential. With a large limit, the percentage will appear lower. Generally, it is best to use less than 30% of your total credit to maintain a good credit score.
How secured credit cards help build credit
Any time you apply for a credit card, the card issuer's going to check your credit score.
If you've got excellent credit, approval is usually not an issue. If you've got bad credit or no credit at all, on the other hand, you're going to have a tougher time getting new credit.
A secured card offers easier access to credit for people who don't have great scores. Your cash deposit is the card issuer's insurance policy in case you default.
With the USAA Secured Card Platinum Visa, you can get your deposit returned to you after the CD matures as long as you're using your card wisely.
It's a credit card, not a prepaid debit card, which means your account activity gets reported to the credit bureaus.
Things like your payment history, balance and credit limit are all used to calculate your credit score. Your FICO credit score, which is the one lenders use the most, breaks down like this:
FICO Credit Score Factors and Their Percentages
| FICO credit score factors | Percentage weight on credit score: | What it means: |
| --- | --- | --- |
| Payment history | 35% | Your track record when it comes to making (at least) the minimum payment by the due date. |
| Amounts owed | 30% | How much of your borrowing potential is actually being used. Determined by dividing total debt by total credit limits. |
| Length of credit history | 15% | The average age of your active credit lines. Longer histories tend to show responsibility with credit. |
| Credit mix | 10% | The different types of active credit lines that you handle (e.g., mortgage, credit cards, students loans, etc.) |
| New credit | 10% | The new lines of credit that you've requested. New credit applications tend to hurt you score temporarily. Learn more about FICO credit score |
As you can see, payments have the most impact. The very best thing you can do if you're set on growing your credit score is to pay on time, every time.
Rewards Not Included
Being able to earn points or cash back while you build credit would be nice but unfortunately, it's not a reality with this card. There's a silver lining, however.
If you're able to raise your score with the USAA Secured Card Platinum Visa, you'll have a better shot at qualifying for one of USAA's rewards cards in the future.
Extra Perks for Military Members
USAA is designed for military members and their families. One of the ways they help their members is by offering special banking benefits.
If you're serving on active duty, get deployed, or receive permanent change of station (PCS) orders, here's what you can take advantage of:
APR reduction for deployment/PCS
USAA can lower your APR to 4% if you're deployed or get PCS orders.
APR reduction for active duty
USAA will also lower your APR to 4% if you're carrying a balance while on active duty.
Finance charge rebates
Finance charge rebates are available to eligible members who carry a balance on a campaign.
Interest charge rebates
There's a separate rebate available for interest charges.
You may be eligible if you earned the Global War on Terrorism Expeditionary Medal, the Afghanistan Campaign Medal or the Inherent Resolve Campaign Medal on a campaign.
Going through a deployment can be stressful but USAA is there to help. They have a dedicated team to offer assistance before, during and after deployment.
If you want to apply for an APR reduction or see if you can get finance or interest charges refunded, you'll have to get in touch with a USAA rep.
Travel and Shopping Features & Benefits
Building credit isn't the only reason to consider signing up for the USAA Secured Card Platinum Visa. Besides that, you get some nice travel and shopping protections so it's always smooth sailing when you use the card.
No foreign transaction fees
USAA doesn't ding you with a foreign transaction fee if you use your card outside of the U.S.
15-day worldwide rental car insurance
When you use your card to book a rental car you're covered against theft or damage.
Worldwide travel accident and baggage delay insurance
You don't have to worry about your trip being ruined, thanks to built-in travel accident and baggage delay coverage.
Price protection
See something you bought on sale for less? USAA can refund up to $250 of the price difference within 60 days of purchase.
Extended warranty
Your card gives you double the store brand warranty or manufacturer's warranty for up to one year on the things you buy.
Satisfaction guarantee
If you're not happy with something you buy, you may be able to get up to $250 of the price refunded under USAA's satisfaction guarantee.
Fees Are Worth the Better Credit Score
One thing you have to watch out for when using credit cards is the APR. If you carry a balance from month to month, the APR can make the things you're buying a lot more expensive.
With the USAA Secured Card Platinum Visa, your individual rate is based on your creditworthiness. There's an upper and lower end of the scale and the better your score, the better your rate should be.
The same variable APR applies to purchases, balance transfers, and cash advances.
There aren't a ton of fees but you do need to be aware of the $35 annual fee.
An annual fee is not surprising as many secured credit cards charge it. It is a small price to pay when you're focused on boosting your credit.
The fee for late and returned payments goes up to $35 also. A 3% fee applies to balance transfers and cash advances, up to a max of $200.
Again, it is not a good idea to miss a payment because it can hurt your score dramatically.
Furthermore, transactions such as balance transfers and cash advances should be avoided because their fees can be quite expensive and disrupt your goal of building credit.
Strict Membership for Military Members
If you want to open a USAA Secured Card Platinum Visa, you have to be a USAA member. Eligibility extends to:
Active, retired or honorably separated officers or enlisted personnel of the U.S. military
Officer candidates in a commissioning program (Academy, ROTC, OCS/OTS)
Spouses, widows, adult children or stepchildren of USAA members
If you're not eligible to join USAA, all is not lost. Take a look at our list of best secured credit cards for other options to build credit.
How This Card Fares Against USAA Alternatives
USAA offers a handful of cards that are geared towards people who want better credit. We've included the ones that are worth comparing to the USAA Secured Card Platinum Visa.
USAA Classic Visa Platinum
The USAA Classic Visa Platinum is one to consider if you don't want to put up a cash deposit. This card is better suited for someone who has average credit.
So, if your score is low because of a bankruptcy or foreclosure, you may have a tougher time qualifying.
One interesting thing to note about this card is that the APR range is higher than the USAA Secured Card Platinum Visa.
Aside from that, the annual fee, military banking benefits, and travel and shopping benefits are all the same.
USAA Classic American Express Credit Card
The USAA Classic American Express Credit Card mirrors the USAA Classic Visa Platinum in terms of the APR range and the annual fee.
It's also intended for people who have average credit and don't want a card that requires a cash deposit.
Acceptance is a big difference between this card and the USAA Classic Visa Platinum. You might be better off with the latter if you're worried about shopping at stores that don't take American Express.
USAA Secured Card American Express
The USAA Secured Card American Express and the USAA Secured Card Platinum Visa are more or less identical.
They both have a $35 annual fee, the APR range is the same as is the $250 minimum deposit.
This card does, however, give you a little more bang for your buck in the travel department.
It comes with complimentary concierge service and travel assistance services built in, which can make planning or taking a trip less of a hassle.
Final Verdict: Best Secured Credit Card for Military Personnel
We give the USAA Secured Card Platinum Visa the thumbs up if achieving a better credit score is your goal.
We would caution you to keep the APR and annual fee in mind.
If you've got a higher rate, building good credit could come at a premium -- just remember to pay it off every month.
Overall, we'd recommend this card to military members who are hoping to work their way up the credit ladder and aren't bothered by the annual fee.