USAA Rewards American Express Credit Card 2023 Review
If most of your spending is on gas and groceries, the USAA Rewards™ American Express® card can help you rack up plenty of points for various kinds of rewards.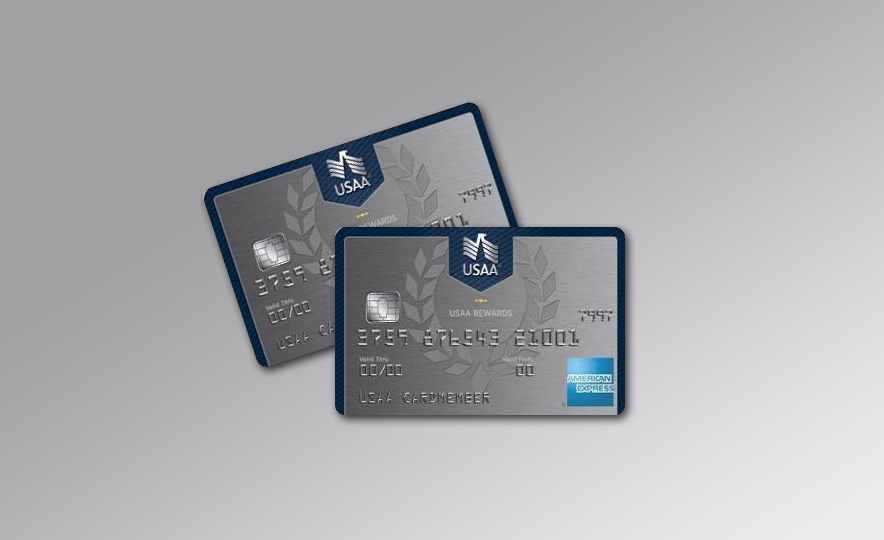 The USAA Rewards American Express credit card is suited towards people who spend a lot on gas and groceries each month and want to get double the rewards value on those purchases.
This card pays two points per dollar at gas stations and supermarkets, with no limit on the number of points you can earn.
Those points can be redeemed for cash, gift cards, merchandise, travel and more and they never expire as long as your account remains open and in good standing.
If you have an account with USAA or you're a military member, keep reading for the full report on the USAA Rewards American Express Card's merits.
USAA Rewards American Express Card Pros & Cons
Double Rewards On Gas and Groceries
Without a doubt, the best feature of the USAA Rewards American Express Card is the rewards program.
Besides earning two points for every dollar you spend on gas and groceries, you also earn one point per dollar on all other net purchases. Plus, there's no cap on the number of points you can earn each year.
Here's an example of how valuable this card can be if you spend a lot of time at the grocery store or regularly fill up on gas:
USAA Rewards Amex Spending Scenario
| Spending Category | Monthly Spending | Points Earned |
| --- | --- | --- |
| Gas | $500 | 1,000 |
| Groceries | $1,200 | 2,400 |
| Clothing | $300 | 300 |
| Entertainment | $250 | 250 |
| Dining out | $250 | 250 |
| Total | $2,500 | 4,200 (24,000 per year) |
If your spending is the same from month to month, that's 50,400 points you could earn over the course of a year. Not too shabby for someone who only uses their card to make everyday purchases.
Redeeming Rewards
As we already mentioned, you have lots of options when you're ready to use your rewards.
You can redeem them for cash back, which can be deposited right into your USAA checking or savings account, use them to get gift cards to selected retailers or even donate them to the military affiliate group of your choice.
There's a minimum number of points required to redeem and the amount you'll need depends on what you're using them for.
For example, you might only need 3,500 points to redeem for a gift card but an air travel redemption could require 15,000 points or more.
At the same time, the value of your points might be different from one redemption option to the next. This table illustrates what your points are worth, based on how you use them:
USAA Rewards Amex Rewards Examples
| Reward | Points Required |
| --- | --- |
| SONY "Noise Canceling Headphones" | 1,400 |
| $50 Cash Rebate | 5,000 |
| $150 Cruise Value Certificate | 15,150 |
| $300 Cruise Value Certificate | 25,300 |
| $300 Air Travel Rewards | 30,000 |
As you can see, if you redeem 5,000 points for a $50 cash rebate, they end up being worth 1 cent apiece.
If you redeem 25,300 points for a $300 cruise certificate, on the other hand, their value inches up to 1.2 cents each. Running the numbers can give you an idea of which redemption option yields the most value for the points you've earned.
Tip: The USAA Rewards American Express Card offers a one-time points bonus when you open a new account and make your first purchase.
Get Even More Perks For Being a Member of the Military
If you haven't already guessed, USAA caters to military members and their families.
Besides offering great rewards, the USAA Rewards American Express Card comes with some built-in benefits that are designed for the unique needs of active duty servicemen and women.
For example, you'll enjoy things like:
4% APR for Deployment or PCS
If you're deployed or receive Permanent Change of Station orders, USAA can discount your card's annual percentage rate (APR) to 4% for up to one year.
That's a nice break if you're trying to pay down what you owe but the interest is making it tough to gain traction.
Reduced APR for active duty members
The Servicemembers Civil Relief Act (SCRA) gives service members a reduced interest rate of 6% on credit card and loan debt that's incurred prior to active duty.
USAA drops that rate to as low as 4% for qualifying active duty card members who are carrying a balance.
Military campaign benefit
When you're away on campaign, having to finance charges on your balance can be a headache. Fortunately, you may be able to have those fees returned to you once your campaign ends.
Refunded interest charges
If you receive a campaign medal while serving, USAA may refund all the interest that accrued on your card while you were away.
Medals that are eligible for the interest rebate include the Global War on Terrorism Expeditionary Medal, the Afghanistan Campaign Medal and the Inherent Resolve Campaign Medal.
Tip: These benefits aren't automatic. You'll have to get in touch with USAA to find out if you're eligible and apply for the military benefits that you want to take advantage of.
The Fine Print: APR and Fees
The USAA Rewards American Express Card offers a competitive interest rate on purchases, balance transfers, and cash advances.
The rate you qualify for is based on your creditworthiness and a better credit score should translate to a lower APR.
This card doesn't have a 0% introductory APR on purchases or balance transfers. That may be a downer if you were hoping to charge an expensive purchase to the card or use it for a balance transfer.
The regular variable APR applies to everything you spend or transfer right away so this card is really best for someone who can afford to pay their balance in full each month.
Card Fees
As far as the fees go, there's no annual fee to worry about. The balance transfer fee and cash advance fee are both 3%, which is pretty standard. The late payment fee and returned payment fee both go up to $35.
One nice plus is the lack of a foreign transaction fee. If you're deployed somewhere outside the U.S. and you need to use the card, USAA won't tack a 3% currency exchange fee on to the total.
Other Card Extras
To sweeten the deal even further, USAA throws in some nice bonus features for USAA Rewards American Express cardmembers. They include:
Complimentary 24/7 concierge service if you need help with making travel arrangements, purchasing entertainment tickets, or making dinner reservations
Emergency travel assistance and roadside assistance services
Travel accident, baggage delay, and trip cancellation insurance
Car rental collision damage waiver coverage
Price protection
Extended warranty protection
Identity theft resolution services
All of these features are included as part of your membership at no extra charge. If you use a third-party service provider, however, you'll be responsible for paying their fees.
For instance, if you use the roadside assistance feature to call a tow truck, you'd have to cover the cost of the tow or any other services the company provides to you.
Who's Eligible For the USAA Rewards American Express Card?
Not just anyone can apply for the USAA Rewards American Express Card or any USAA credit card for that matter. Membership is exclusive to:
Active, retired, and honorably separated officers and enlisted personnel of the U.S. military
Officer candidates in commissioning programs (Academy, ROTC, OCS/OTS)
The spouses, widows, adult children, and stepchildren of USAA members
If you don't meet any of those criteria, then you'll have to seek out a different rewards card.
How Does It Compare to Other USAA Credit Cards?
USAA gives you lot of cards to choose from besides the USAA Rewards American Express Card. Here are three other cards that might just catch your eye.
USAA Preferred Cash Rewards Visa Signature
The USAA Preferred Cash Rewards Visa Signature Card is good for anyone who likes to earn cash back and keep their rewards simple. This card pays 1.5% cash back on everything you spend, with no earnings cap.
That's less than the two points per dollar the USAA Rewards American Express Card gives you on gas and groceries.
However, in the long run, if you have high spending on categories other than gas and groceries, you're likely to come out ahead with the USAA Preferred Cash Rewards Visa Signature Card.
Stick with the USAA Rewards American Express Card, if you know you can take advantage of those two bonus categories.
USAA Cash Rewards American Express
The USAA Cash Rewards American Express Card gives you a chance to earn up to 2.25% cash back on gas groceries, along with up to 1.25% cash back on all other purchases.
That's more than the USAA Rewards American Express Card - but there's a catch. You have to spend at least $17,000 annually to qualify for the maximum cash back rewards rate.
If you're not meeting that annual spend, this is not the better card.
USAA Cashback Rewards Plus American Express
The USAA Cashback Rewards Plus American Express is designed for people who do the bulk of their spending at gas stations, military commissaries and exchanges or supermarkets.
If you max out the 5% and 2% bonus categories each year, you'll earn $210 cash back. A rewards rate of 1% applies to all purchases that don't qualify for 5% or 2% cash back.
If cash is your preferred way to redeem, this card has the potential to be more rewarding than the USAA Rewards American Express Card.
Final Verdict: Should You Get This Card?
The USAA Rewards American Express Card has an easy-to-understand rewards program, with no rotating bonus categories or spending thresholds to worry about.
It's not a great choice for someone who prefers to earn rewards for travel, however.
If you're taking regular road trips or spending big at the grocery store each week, it's a solid card for earning flexible rewards that you can use just about any way you like.