USAA Rate Advantage Visa Platinum Credit Card 2023 Review
Find out how to save more with the USAA Rate Advantage Visa Platinum® credit card. With low APR and no annual fee it is defiantly one to consider.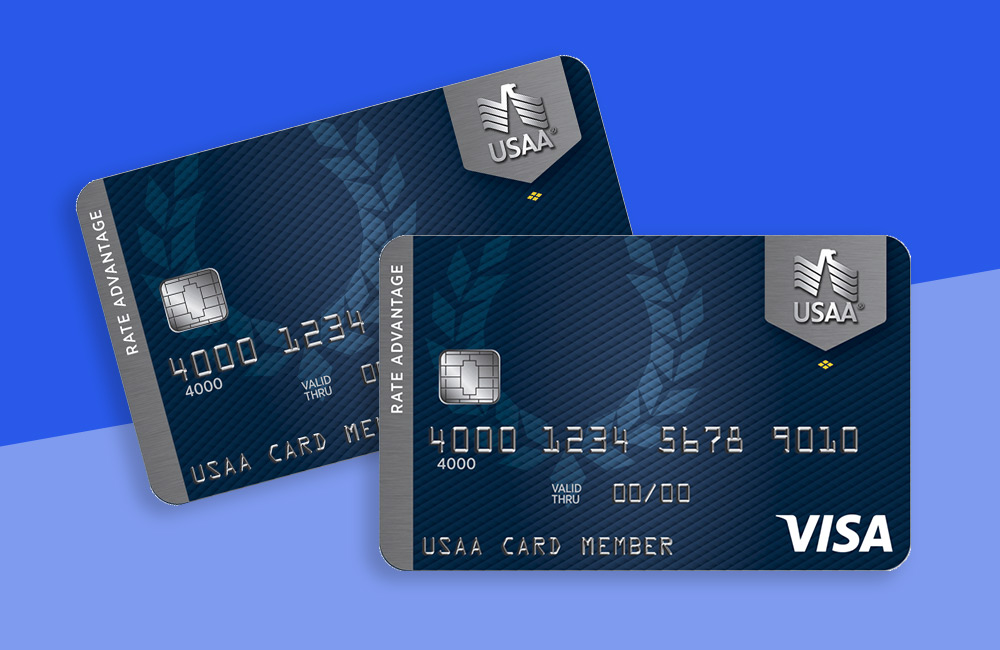 If you're carrying a balance on your credit card, it pays to make sure you've locked in a low interest rate.
The USAA Rate Advantage Visa Platinum Card is designed for people who want to avoid paying big bucks in interest.
This card has no annual fee and it comes with a lengthy list of benefits for military members.
It's a great choice if you're planning a big purchase or you've got a balance you want to transfer from another card. Take a look at our in-depth review for more on the USAA Rate Advantage Visa Platinum Card's benefits.
Save More With a Low APR
The USAA Rate Advantage Visa Platinum Card lives up to its name where the interest rate is concerned.
This card has a regular variable APR range for purchases, balance transfers and cash advances that's highly competitive.
It's possible to score an APR under 10%, which means less money you're handing over to the credit card company for interest.
If you're wondering why your APR matters all that much, here's an example of what a difference it can make.
Let's say you charge $5,000 to your card to book a much-needed vacation. Your minimum payment is set at $100 a month.
Just paying the minimum, it would take you 83 months to clear the debt. Not only that but you'd spend over $3,200 on interest alone.
If your APR was reduced to 7.99% instead, you'd pay the bill off 21 months faster and save yourself over $2,000 in interest.
That's a pretty good reason to pick a card with a lower APR.
The Best Rates are Available to Excellent Credit
Like other credit card companies, USAA sets your rate based on your creditworthiness. They'll pull your credit report when you apply and check your credit score.
The basic rule of thumb when it comes to credit is this: the better your score, the better your interest rates will be.
Generally, a credit score of 750 or above is generally considered to be excellent credit. With a higher score, you're more likely to get a lower rate.
If your credit's just in the "good" range, on the other hand, you may be looking at a slightly higher APR.
Credit Score Ranges and Quality
| Credit Score Ranges | Credit Quality | Effect on Ability to Obtain Loans |
| --- | --- | --- |
| 300-580 | Very Bad | Extremely difficult to obtain traditional loans and line of credit. Advised to use secured credit cards and loans to help rebuild credit. |
| 580-669 | Bad | May be able to qualify for some loans and lines of credit, but the interest rates are likely to be high. |
| 670-739 | Average/Fair | Eligible for many traditional loans, but the interest rates and terms may not be the best. |
| 740-799 | Good | Valuable benefits come in the form of loans and lines of credit with comprehensive perks and low interest rates. |
| 800-850 | Excellent | Qualify easily for most loans and lines of credit with low interest rates and favorable terms. |
So how do you achieve perfect or near-perfect credit score status? It's pretty simple actually. Here are the five most important things you can do to keep your credit in good shape:
Pay your bills on time.
Limit your credit usage to 30% or less of your total credit line.
Hold off on applying for new credit accounts unless you absolutely need to.
Keep older accounts open.
Mix it up with different types of credit, like installment loans, lines of credit and credit cards.
Tip: If your credit could be improved, take a look at these tips for raising your score by 100 points or more.
Is The USAA Rate Advantage Visa Platinum Card a Rewards Card?
Some credit cards let you earn cash back, miles, or points on your purchases but this isn't one of them. The low interest-rate potential is this card's biggest selling point.
If rewards are what you're after, you'll want to keep reading. A little further down you'll find profiles for two of USAA's rewards card options.
What Makes This Card a Keeper For Military Members
USAA is all about helping military members and their families.
That help takes the form of special banking benefits for servicemembers who are deployed, receive Permanent Change of Station orders, enter active duty or earn selected campaign medals.
If you're approved for the USAA Rate Advantage Visa Platinum Card, these benefits include:
Discount APR on balances for deployment/PCS
Cardmembers who are deployed or receive PCS orders are eligible to have their APR on any existing balances reduced to 4% for up to 12 months.
Discount APR on balances for active duty
The Servicemembers Civil Relief Act (SCRA) grants active duty servicemembers a reduced APR of 6% on any credit or loan balances they owe. USAA does that one better by lowering the rate to 4%.
Rebated interest and finance charges
If you carry a balance while on campaign or you earn one of three specific campaign medals, you may be eligible to have the interest and/or finance charges that accrued on your account refunded to you.
Tip: If you want to take advantage of one of these benefits, you'll need to get in touch with USAA to get the ball rolling. Otherwise, you'll miss out.
APR and Fees
As we've already pointed out, the USAA Rate Advantage Visa Platinum Card holds the possibility of scoring an exceptionally low APR on purchases, balance transfers, and cash advances.
Once again, your individual rate hinges on your credit profile.
In terms of the fees go, they're pretty minimal. There's no annual fee and no foreign transaction fee. That's helpful if you plan to use the card outside the U.S.
The late fee and returned payment fee both top out at $35. If you transfer a balance or take a cash advance, the fee for both is set at 3%, up to a maximum of $200.
Card Security
The USAA Rate Advantage Visa Platinum Card is equipped with EMV chip technology. As long as you're using your card at the chip reader when you pay in-store, you've got added protection against hackers.
You won't be held responsible for any unauthorized charges to your account if someone steals your information.
Additional Card Features
USAA throws in a few more perks when you sign up for the USAA Rate Advantage Visa Platinum Card. Some of the things you'll enjoy as a member include:
Worldwide travel accident and baggage delay insurance. This card offers up to $250,000 in travel accident coverage and $100 a day in baggage delay insurance for up to three days.
15-day worldwide rental car insurance. If you rent a car while you're on a trip, you're covered against damage or theft when you book your reservation with your card.
Price protection. With price protection, you can get up to $250 reimbursed if you see something you bought with your card on sale at a lower price within 60 days of the initial purchase.
Extended warranty program. USAA will double the manufacturer's or store brand's warranty for up to one year.
Satisfaction guarantee. If you're unhappy with something you bought with your card, you could get up to $250 of the cost refunded.
Identity theft resolution services. USAA provides personalized help if you become the target of identity thieves.
Identity fraud expense reimbursement. If identity fraud costs you money out of pocket, USAA will reimburse you for certain expenses, up to $1,000.
All of these extras are included in your card agreement at no extra cost to you.
Who Can Apply?
Before you can apply for this card, you first have to be a member of USAA. Membership is extended to:
Active, retired and honorably separated officers and enlisted personnel of the U.S. military
Officer candidates in commissioning programs (Academy, ROTC, OCS/OTS)
The spouses, widows, adult children and stepchildren of USAA members
If you don't fit the bill, check for other credit cards you may be eligible for.
Low Interest vs. Rewards
To round out our review, we wanted to give you an idea of what else USAA brings to the table. Below, we've got the details for two other USAA credit cards, both of which feature a rewards program.
USAA Rewards Visa Signature
The USAA Rewards Visa Signature Card is one to consider if you want simple rewards.
With this card, you earn one point per dollar on every purchase. There's no cap on the number of points you can earn and no expiration date so you can use them whenever you like.
You've got some variety in how you can redeem your points. For example, 5,000 points can be redeemed for a $50 cash rebate. If you're a frequent traveler, 30,000 points are good for a $300 air travel award.
The APR range isn't quite as low as the USAA Rate Advantage Visa Platinum Card but the rewards may be worth the trade-off for some spenders.
USAA Cash Rewards Visa Signature
Card features:
Earn up to 1.25% cash back on purchases
No annual fee
If cash is your preferred redemption option, you might like the USAA Cash Rewards Visa Signature Card. Members can earn up to 1.25% cash back on purchases.
That rate applies if you spend more than $17,000 per year. Members who spend less than that will earn a lower cash back rate.
You do get the same military banking benefits and security protections with this card. There's also no annual fee.
Compared to the USAA Rate Advantage Visa Platinum Card, this card has a higher APR range but it can pay you back if you're a heavy spender.
Final Verdict: For Those Focused on Interest Rates
If you're more focused on getting a better APR than earning rewards, the USAA Rate Advantage Visa Platinum Card doesn't disappoint.
Just remember that you'll need an outstanding credit score to get the best deal.
For someone whose score is in fair or poor credit territory, it may not be that valuable.