USAA Rewards Visa Signature Credit Card 2023 Review
For simple rewards, USAA offers a rewards Visa card with a straightforward program. Military members earn rewards on every purchase without an annual fee.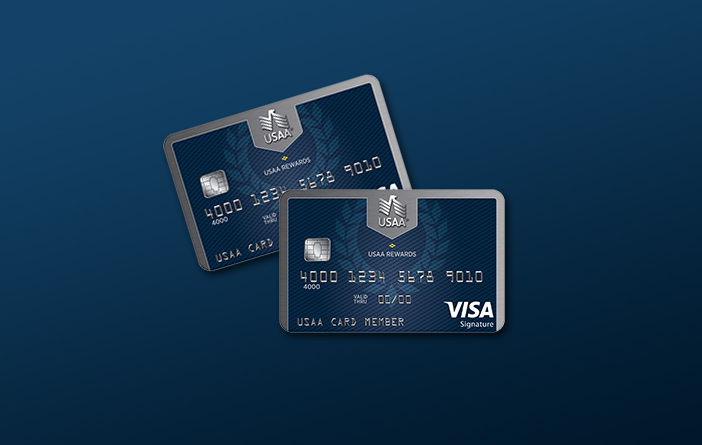 The USAA Rewards Visa Signature Card is right for anyone who likes to keep earning credit card rewards as simple as possible.
This card offers 2 points per dollar spent on dining and gas, and 1 point for all other purchases, with no cap on the number of points you can earn. Your points don't expire and they can be redeemed for cash, merchandise, and more.
This card has no annual fee and it comes with exclusive benefits just for military members.
If you bank with USAA or you have an insurance policy with them, this card may be just what you're looking for if you're after hassle-free rewards.
USAA Rewards Visa Signature Card Pros & Cons
Straightforward Rewards
The USAA Rewards Visa Signature Card delivers a simple way to earn rewards everywhere you go.
Every purchase earns one point per dollar spent so you get the same amount of rewards on gas purchases, groceries, travel, and more.
That makes this card appealing to someone who'd rather not have to worry about activating a quarterly bonus or keeping up with a tiered rewards program structure.
As we pointed out earlier, you can rack up as many points as you like and there's no expiration date for using them.
The table below illustrates how many points you could earn with the card over the course of a calendar year.
USAA Cash Rewards Visa Spending Scenario
| Spending Category | Monthly Spending | Monthly Points Earned |
| --- | --- | --- |
| Gas | $250 | 500 |
| Dining | $400 | 800 |
| Groceries | $500 | 500 |
| Entertainment | $250 | 250 |
| Travel | $500 | 500 |
| Utilities | $300 | 300 |
| Clothing | $200 | 200 |
| Total | $2,400 | 3,050 (36,600 per year) |
Redeeming Rewards
USAA gives you some flexibility when it comes to how you can put the points you've earned to work. Redemption options include:
Cash
Merchandise
Gift cards
Travel
Donations to participating military affiliate groups
The number of points you need to redeem for each of these options varies based on which one you choose. The value of your points can also fluctuate, depending on how you're using them.
We've included sample redemption options from USAA below so you can see how the value works out.
USAA Cash Rewards Visa Rewards Examples
| Reward | Points Required |
| --- | --- |
| SONY "Noise Canceling Headphones" | 1,400 |
| $50 Cash Rebate | 5,000 |
| $150 Cruise Value Certificate | $15,150 |
| $300 Cruise Value Certificate | $25,300 |
Based on that, you can see that your points are worth 0.01 cent apiece when you redeem for cash rebates.
But, if you opt for the $300 cruise certificate, the value increases slightly to approximately 0.012 cents each.
Going back to the previous table, you can see that it wouldn't take too long to earn your way towards a cruise certificate or pocket a decent amount of cash back each year.
Get More Perks for Being a Military Member
If you're looking for more than just rewards in a credit card, you'll appreciate what the USAA Rewards Visa Signature Card brings to the table. As part of its banking benefits package, USAA provides the following incentives to military members whose accounts are open and in good standing.
Military campaign benefits
If you're serving in a qualified military campaign, you may be eligible to have all of the finances charges that accrue on your account refunded to you.
USAA may also refund interest charges if you earn one of three specific campaign medals.
Special SCRA rate
The Servicemembers Civil Relief Act (SCRA) provides members of the military with a 6% reduced annual percentage rate on credit cards and other loan debt they have prior to active duty.
USAA cuts members an additional break by dropping the APR to 4% for up to one year after completing active duty.
Reduced rate for deployment/PCS
If you get deployed or receive Permanent Change of Station (PCS) orders, you can also qualify for a reduced rate of 4%. The discounted rate is good for 12 months and after that, the regular variable APR applies.
Note: The benefits aren't granted automatically. You'll have to reach out to USAA to apply if you think you're eligible for any of them.
APR and Fees
The USAA Rewards Visa Signature Card has no annual fee and no foreign transaction fee.
If you use the card outside the U.S., you don't have to be concerned with USAA tacking on a fee for those purchases. Normally, foreign transactions fees are equal to 3% of the purchase amount.
A 3% fee does apply to both balance transfers and cash advances. The fee maxes out at $200.
The same variable APR range applies to purchases, balance transfers, and cash advances. Your APR is tied to your creditworthiness so having a good credit score can help you snag a better rate.
Shopping, Travel, and Security Protections
The USAA Rewards Visa Signature Card is more than just a rewards card. It also comes with a full range of Visa Signature benefits. We've highlighted some of the best features you can take advantage of as a cardmember.
Travel
Complimentary concierge service
Visa Signature Concierge service is available 24 hours a day, 7 days a week, 365 days a year to help with things like planning your next vacation or finding tickets to exclusive entertainment events.
Emergency travel and roadside assistance services
This card protects you while you're away from home with emergency travel and roadside assistance. You're covered if you need help arranging medical transport back home or finding a garage if you run into car trouble.
Worldwide travel accident, baggage delay, and trip cancellation insurance
Visa Signature members are eligible for up to $500,000 in travel accident insurance, up to $100 per day reimbursement for baggage delays and up to $1,500 if your trip is cut short.
Worldwide rental car insurance
Cardmembers have access to rental car insurance, which protects you against theft or damage.
Shopping
Price protection and an extended warranty program are included with your card membership. The extended warranty offers coverage for an additional year beyond the manufacturer's warranty.
With price protection, you can get up to $250 of an item's purchase price refunded to you if you see it advertised for less within 120 days of charging it to your card.
Security
USAA credit cards include EMV chip technology so you have an extra layer of security protection when you're shopping at your favorite stores.
Identity theft resolution services and identity fraud expense reimbursement are also included at no charge.
Who Can Apply for the Card?
The USAA Rewards Visa Signature Card is open to USAA members and their spouses. To qualify for an account with USAA, you must be one of the following:
Active, retired, or honorably separated officers and enlisted personnel of the U.S. military.
Officer candidates in commissioning programs (Academy, ROTC, OCS/OTS)
Adult children of USAA members who have or had a USAA auto or property insurance policy
Widows and widowers of USAA members who have or had a USAA auto or property insurance policy
Tip: If you don't qualify for a card with USAA, we can guide you to credit cards that are available for non-military members.
How It Compares to Other USAA Rewards Card Options
USAA Cashback Rewards Plus American Express
This card also has a cash back rewards program and this one is designed for people who charge a lot at gas stations and military bases.
USAA Preferred Cash Rewards Visa Signature
The USAA Preferred Cash Rewards Visa Signature Card is the third contender on our list.
This card pays unlimited 1.5% cash back on every purchase and you don't have to spend a certain amount each year to qualify for that rate.
If you favorite redemption method is cash back, this card can give you a little more bang for your buck than the USAA Rewards Visa Signature Card.
Final Verdict: For Military Members Who Want Simple Rewards
Whether or not you should get the USAA Rewards Visa Signature Card ultimately comes down to how often you spend, what you spend the most on, and what you plan to do with your rewards.
If you want a card that doesn't make earning or redeeming rewards a headache and offers extras for military service, then this is it.
On the other hand, you may want to do some digging into USAA's other card options if cash back is your thing or you want a card that offers higher rewards when you spend in certain categories.