What is the Average Credit Limit for Business Credit Cards?
Find out what the average credit limit is for a small business credit as it could affect your everyday ability to pay for business expenses.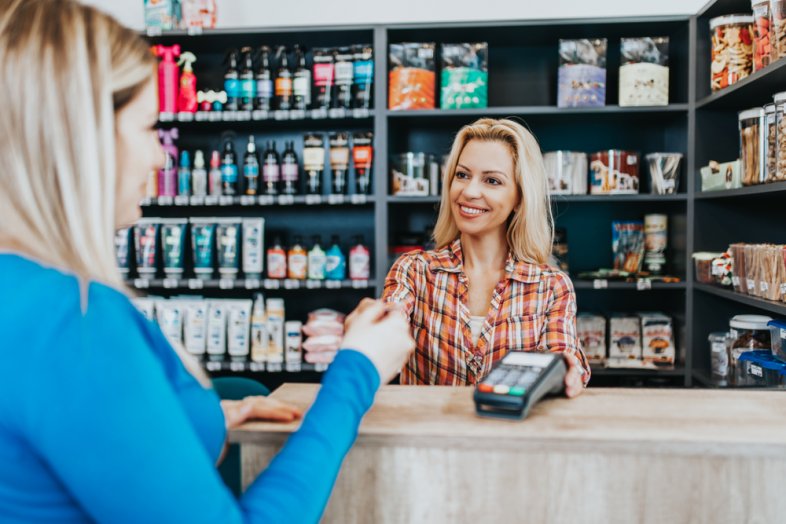 Just like people, businesses need easy ways to spend large sums and to finance purchases for a short period.
Business credit cards are a great way to do that.
Even better:
They tend to have higher credit limits than personal cards.
Based on 2020 data from Experian, the consumer's credit limit was $31,015, while the average small business credit card limit was $56,100.
Learn more about business credit card limits and how to manage them — including how to increase the credit limit on your business credit card for more borrowing potential.
What is a Credit Limit?
A credit limit is something that almost every credit card has.
It's the amount that a card issuer is willing to let you borrow using the card.
For example, if you have a credit card with a $1,000 credit limit, you can use it to buy up to $1,000 worth of goods. If you spend $900 with the card, your remaining limit is $100. If you want to put a charge larger than $100 on the card, you need to pay down some of your balance. 
Card issuers typically determine credit limits on your credit score, income, the total credit they've extended to you through other loans and cards, and a variety of other factors.
Why is a High Credit Limit Important to Small Businesses?
Having high credit limits is important for small businesses for a few reasons. 
More spending potential
The most obvious:
It increases your business' spending power. The higher your credit limit, the more expenses that can be charged to the card.
Most businesses have higher and more frequent expenses than regular consumers.
For example, a restaurant might need to finance the purchase of food on Sunday, use that food to make and sell meals throughout the week, and then use those proceeds to pay off their card the next week. 
The higher the credit limit, the more the business can finance without worrying about maxing out the card.
Larger purchases
Businesses also tend to make larger purchases than consumers.
Putting a capital expense, like new machinery, on a card is much easier than going out and getting a new loan every time the business needs to make a large purchase.
Build better business credit
The other reason that a high credit limit is important for small businesses is that it can help them build a good credit score. 
Just like consumers, businesses have credit scores.
The better a business' credit score, the easier it will be to get loans and credit cards, and the lower the interest rates it will have to pay.
Business credit scores are calculated based on your business:
Payment history
Credit available
Credit used
Length of credit history
Size of your business
Negative information, including
Charge offs
Missed payments
Delinquent invoices
Legal filings
Charge offs
The higher your business' credit limit, the more that you can spend with your card without reaching concerning levels of credit utilization (the ratio of your credit card balance to your credit limits).
Beyond keeping balances low, the best way to make sure your business has a good credit score is to always pay your bills before their due dates.
How to Increase Your Business Credit Limit
Business credit cards work similarly to consumer credit cards, so increasing your business credit card limit works in much the same way.
Show the need for a higher limit
Apply for a business credit card, and if you're approved, use it for your business' everyday purchases. Pay your bill every month, preferably in full. 
Once you've shown a regular history of using your card and paying it off over three to six months, contact your card issuer and ask for a credit limit increase.
The worst that can happen is that the card issuer will say no.
If you're using most of your credit limit every month, repeat the process, showing good credit habits, and asking for regular increases to your limit. 
Get a temporary credit limit increase
If you're making a one-time, large purchase, it's possible to get a temporary increase to your limit.
Call your issuer, explain what purchase you're making, and ask them to give you a temporary limit increase.
Most issuers will be willing to work with you, but some may ask for you to prepay a portion of the bill as collateral.
Business Credit Cards Without Preset Limits
Some businesses have highly variable spending, which can make it difficult to predict your credit limit needs. Some months, you might not use your card at all while others see you spending thousands of dollars.
If you don't want to worry about a preset credit limit, some business cards, American Express cards, in particular, are known for having no preset spending limit.
This doesn't mean that they have no limit at all, but you might be able to use them to make larger purchases than you could with a card that has a limit.
American Express Business Green Rewards
The is American Express' entry-level business card.
This card is part of Amex's Membership Rewards program, which lets you earn rewards with every dollar your business spends through the card.
The Business Green Rewards card focuses on travel, offering 2 points for every dollar spent on travel through amextravel.com. You'll also earn 1 point per dollar you spend on everything else.
The card has a $95 annual fee, though the fee is waived for your first year with the card.
American Express Business Gold
*See Rates & Fees. Terms apply.
The is Amex's mid-tier business rewards card. It charges a $295 annual fee (see Rates & Fees; terms apply) but offers more lucrative rewards than the Green Rewards card.
You'll earn 4 points for every dollar that you spend on your two biggest spending categories each month. The categories are:
Airfare purchased directly from airlines
U.S. purchases for advertising in select media (online, TV, radio)
U.S. purchases made directly from select technology providers of computer hardware, software, and cloud solutions
U.S. purchases at gas stations
U.S. purchases at restaurants
U.S. purchases for shipping
If your biggest expenses are advertising and gas in one month and restaurants and shipping the next, that's fine. The bonus categories change every month to match your spending.
When you redeem your points, you can get even more value by redeeming them for travel. You automatically get 25% of your points back when you redeem them for travel using Pay with Points.
The Business Platinum Card® from American Express
The is the company's premium business credit card and comes with a heavy focus on travel rewards.
You'll have to pay a $695 annual fee (see Rates & Fees; terms apply), but you can get a lot of value out of the card's perks.
First are the points that you can earn. You'll get 5 points for every dollar that you spend on flights and hotels through amextravel.com.
You'll also get 1.5 points for every dollar spent on purchases over $5,000, making it a good card for businesses that regularly make large purchases. All other purchases offer 1 point per dollar spent. You also receive a 35% point rebate on redemptions for airline tickets.
Beyond the rewards, you'll get:
A $200 statement credit that you can use to buy merchandise from Dell
Access to more than 1,200 airport lounges
A $200 annual airline fee credit
A $100 fee credit for TSA Pre✔ or Global Entry
Complimentary Marriot Bonvoy Gold Elite Status and Hilton Honors Gold Status
Free upgrades and a $100 resort credit at American Express' Fine Hotels & Resorts collections.
Conclusion
Credit limits determine how much you can spend through your credit card before you have to pay off a portion of your balance.
Having a high credit limit gives you more flexibility and can help you keep your business credit score high. Small businesses often need the flexibility that cards offer so they can effectively manage their inventory and cash flow.
The most important thing to remember with credit cards, whether business or personal, is that they are not a free source of money.
You have to pay back the money you borrow.
If you don't pay your bill in full, they'll charge interest, often at incredibly high rates.
Take advantage of having a high credit limit, but don't treat it as an invitation to go into debt and always pay your bill on time.
See the rates & fees for the mentioned American Express cards: The Business Platinum Card from American Express (Rates & Fees; terms apply) and American Express Business Gold Card (Rates & Fees; terms apply).