Business Credit Card vs. Corporate Credit Card: What are the Differences?
Learn the difference between a business credit card and a corporate credit card. Compare the pros and cons to help you decide the right card for your business.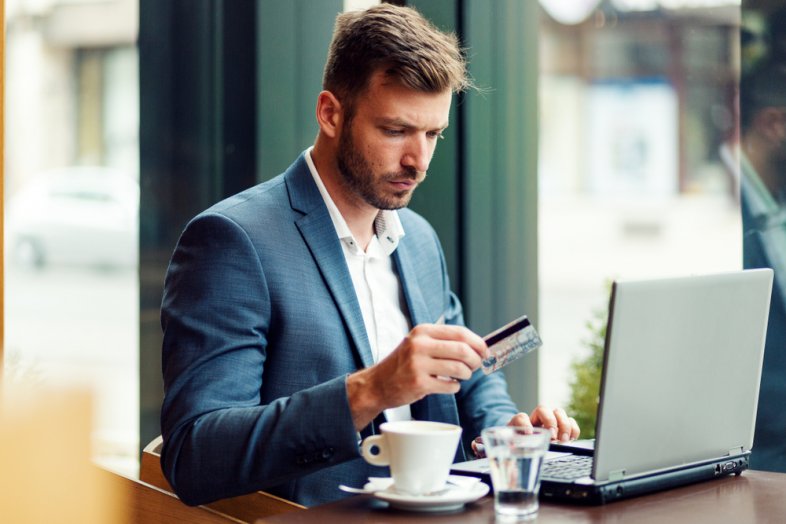 Business credit cards versus corporate credit cards – they sound much like the same thing, but are they really?
Both serve a very similar purpose, which is to act as a credit card for business purposes. But the main difference between the two may be the businesses that they serve.
Corporate Cards
Corporate cards are most typically issued to very large companies, those with millions or even billions of dollars in annual revenues.
And unlike personal credit cards and even many business cards, corporate cards are usually issued in the name of the corporation.
That means:
a corporation – and not the individuals in it or even those who own it – is directly liable for monthly payments.
And since corporate cards don't require a personal guarantee from the officers of the corporation, the business – and not any individuals connected with it – is fully liable for the account, even in the event of default.
When corporate credit cards make sense
Corporate cards work best for large businesses with employees who will either need to transact business on behalf of the corporation, or are engaged in extensive business-related travel.
The cards give employees the ability to pay expenses related to business purposes without having to use personal resources.
Corporate cards are also an excellent way for employers to control and monitor business-related expenses incurred by employees.
It's a much simpler accounting system, since all expenses are run through the same card system.
This is generally simpler and more cost effective than doing individual reimbursements for dozens or hundreds of employees.
Applying for a corporate card
Once again, one of the major advantages of a corporate card is that the company makes application, and not its officers or employees.
The company can set up a single card account with multiple users, avoiding the need to apply for cards for each officer or employee on an individual basis.
When a company applies for a corporate card, the process will be similar to an application by an individual, but the specific requirements will relate to a large business organization.
The company may obtain a corporate card from a bank they currently deal with, or with an entirely new one. The company will need to provide any financial records requested by the card issuer, which will vary based on the size and type of organization.
For example, a publicly-traded company will have its financial statements available online.
A closely-held corporation won't, and will be need to supply financial statements, which may need to be audited, and possibly corporate income tax returns as well.
Much as would be the case with an individual, the credit card issuer will pull a credit report on the company.
This is often done through a specialized business credit reporting agency, like Dun & Bradstreet..
The company will be evaluated for creditworthiness based on a combination of income and corporate credit history.
Where to Get a Corporate Card
Corporate cards are typically issued by commercial banks and other large credit card issuers.
Just like credit cards for individuals, corporate cards offer a wide variety of rewards and benefits.
Corporate credit cards are commonly available from the biggest banks and other financial instutions that focus on commercial lending.
Pros
Individuals within a corporation are not required to provide personal guarantees for the cards.
Corporate cards make for easy accounting of expenses charged on them, as well as interest and fees on the cards themselves.
Cards can be issued to employees, providing spending authority to those who are away from the office or shop.
Corporate cards often come with a higher level of customer service from the issuer. Since they are dedicated business-related cards, customer service is often specifically oriented toward the needs of a particular business.
Corporate cards usually come with important travel benefits as well as emergency assistance for users who are away from home.
Cons
Corporate cards are generally more expensive than business and personal cards, and may not make sense for businesses with only limited need.
An employee using a corporate card won't get the benefit of the rewards of using a personal card.
The possibility always exists for the use of a corporate card for non-business purposes.
Business Credit Cards
Business credit cards work similar to corporate cards in that they're business-specific.
You can use them to more easily manage business-related expenses, and they usually come with benefits, like rewards and 0% introductory APR offers.
Business credit cards make sense when you are a small business, like a sole proprietorship or a closely held partnership or limited liability company. But they can also work for a small corporation, including a subchapter S corporation.
They can help you better manage business expenses when you have employees who will be conducting business on behalf of your company.
The best part:
They typically come with valuable rewards and other benefits that will have the net effect of lowering the cost of whatever is purchased using the cards.
Where to Get a Business Credit Card
Like corporate cards, many large banks and other companies issue a wide variety of business credit cards.
Here are some popular options:
The Business Platinum Card® from American Express
The is a premium travel rewards credit cards for business that have large amounts of travel expenses. It offers a long list of attractive travel perks such as an annual $200 airline fee credit, complimentary airport lounge access, no foreign transaction fees, and more.
With frequent use, there's more value to be found to help negate the card's $695 annual fee.
Read the American Express Business Platinum Card editor's review.
Chase Ink Preferred
The has a strong rewards program for a variety of common business expenses, including travel.
Points can be redeemed for 25% more value through the Chase Ultimate rewards program or the points can be transferred to a list of airline and hotel loyalty programs.
The card has a $95 annual fee.
Read the Chase Ink Business Preferred Card editor's review.
Capital One Spark Cash for Business
The offers a very simple business rewards program. You earn a flat 2% cash back on all card purchases.
The card has a $95 annual fee (waived the first year).
Read the Capital One Spark Cash Business Credit Card editor's review.
Pros
A business credit card provides you with a card in the name of your business, which improves your business "brand".
They can make accounting for credit card expenses much easier than when you reimburse employees.
A business credit card can help you build a business credit profile that will enable you to have access to other types of business financing in the future.
Business credit cards make year-end record-keeping much easier.
They often come with higher credit limits than personal credit cards.
Cons
As a small business owner, it's likely you'll need to provide a personal guarantee on the card.
Business credit cards may come with higher fees than personal cards.
As is the case with corporate cards, business cards can potentially be used for personal reasons by employees.
Which Card is the Best Option for Your Business?
If you're a small business, a business credit card is your best choice.
You will need to be on the card personally, since it's unlikely your business has established an independent credit rating that would allow a lender to issue the card to the business alone.
But it's an excellent way to control costs, get valuable rewards, and make spending by your employees more manageable.
However:
If you're running a large business, typically a corporation with several million dollars in annual revenue, a corporate card will be the better choice.
This is especially true if your company has already established a viable credit rating. You can apply for the card in the name of the company, which will be solely responsible for the payments.
You can then issue cards to any employees in your organization who will be transacting business for the company.
That will enable you to control costs, better manage spending, and gain valuable rewards and other benefits that come with corporate cards.