Which Credit Cards Provide Card Numbers Instantly After Approval?
Find out which credit cards provide card numbers instantly after approval for the immediate ability to make purchases online or through a mobile wallet.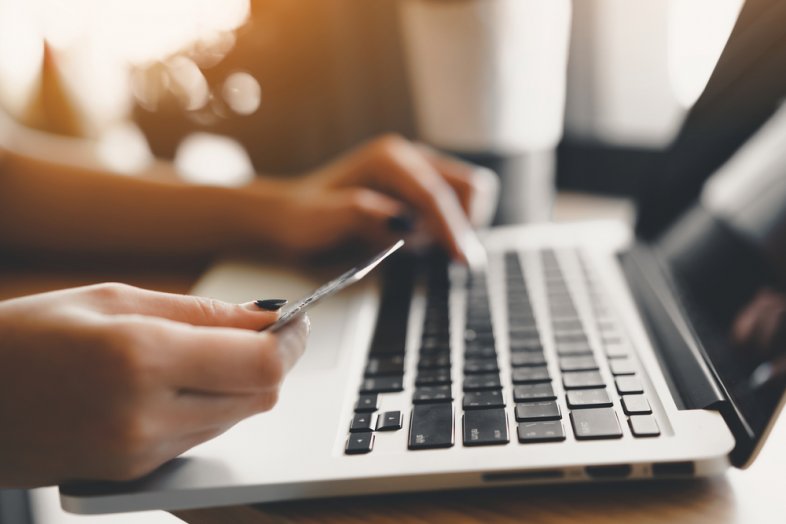 Depending on how you apply for a credit card and which card issuer you apply with, the time between application and getting your card can vary.
Typically, an approved application could mean that you'll receive your card within the next week. With some premium credit cards, you might get the card overnight or within the next day or two.
Still:
If you really need to use your new credit card immediately, some issuers even give you your card number instantly after your approval, letting you use your new card before you get it in the mail.
What Credit Cards Can You Use Instantly?
Here are some of the card issuers that let you use your credit card immediately after approval. 
American Express
American Express gives instant card numbers for all of its consumer credit cards (requires confirmation of identity).
If you're eligible, you'll get the option to get an instant card number.
You can use the card number to make purchases online or to add the card to a mobile wallet.
Bank of America
Bank of America lets existing customers add their new credit cards to a mobile wallet immediately upon approval.
To do this:
You must already have a Bank of America account and apply for the new card through the Bank of America app.
If the application is approved, add the card to your digital wallet.
You can use your digital wallet to pay with the card even while you wait for the physical card in the mail.
Chase
Chase also partners with many companies, mostly travel partners like Southwest or United Airlines.
When you apply for a card from one of Chase's partners, you'll usually have the option to make your initial purchase using the card.
After that, you'll have to wait for the card to arrive before making additional purchases. 
Standard Chase cards that aren't tied to a partnered brand don't offer instant card numbers.
Capital One
Card applicants who already have a Capital One account will be able to gain instant access to their card numbers, which will be available only through the Capital One mobile app immediately.
Citi
General consumer credit cards from Citi do not offer instant card numbers.
One exception is the Costco Anywhere Visa® Card by Citi and it can be used immediately for Costco purchases through a temporary barcode -- you don't receive a card number for general card purchases.
Synchrony Bank
Synchrony Bank is the issuer behind a large number of store-branded credit cards.
With many store credit cards, you can fill out an application while you checkout and get a lending decision instantly.
If you're approved, most of these cards give you the option to use the card to pay for purchases right away.
The exception:
Some versions of store-branded cards issued with MasterCard or Visa. These cards don't come with instant card numbers.
Card Issuers That Don't Offer Instant Card Numbers
Instant Credit is a Good Perk, But Consider Other Factors
Everyone likes instant gratification but getting instant access to your new credit card should be a minor consideration when you apply for a new credit card.
The truth is:
Most cards will make you wait a few days or a week before you get the card in the mail and can start using it.
When you're choosing a credit card to apply for, you should consider other factors. Think about whether you can qualify for the welcome bonus and how much the bonus will be worth.
Every credit card is different and things like the interest rates, fees, and rewards have longer-term impact than an instant card number.
Consider those factors before letting instant access to credit guide your decision.
Tips to Keep in Mind
If you're applying for a new credit card, keep these tips in mind.
Time your big purchases
If you know that you'll be making a large purchase on a card, such as a tax payment, consider applying for a new card a few weeks beforehand.
You'll have time to get your new card and then you can use it for the purchase.
This could be extremely useful if you're also looking to meet the minimum spend requirement on a welcome bonus.
Approval not guaranteed
With any loan you apply for, you don't want to be betting on an approval -- you can never be 100% sure that you'll be approved.
Lenders can always deny your application for almost any reason.
The reality is:
Sometimes application issues or trouble verifying your identity can slow down the process.
Always have a backup plan and give yourself a few weeks of buffer time to receive your new credit card before you have to use it for a purchase.
Conclusion
In a world of instant gratification getting to use your credit card immediately after approval is a nice perk.
Still:
It's a very minor part of the benefits that a card offers and should not be something that you're relying on when applying for a new credit card.