Does Home Insurance Cover Damage to a Neighbor's Property?
Find out if your typical homeowners insurance policy will cover damage done to your neighbor's property and whether you might need additional coverage.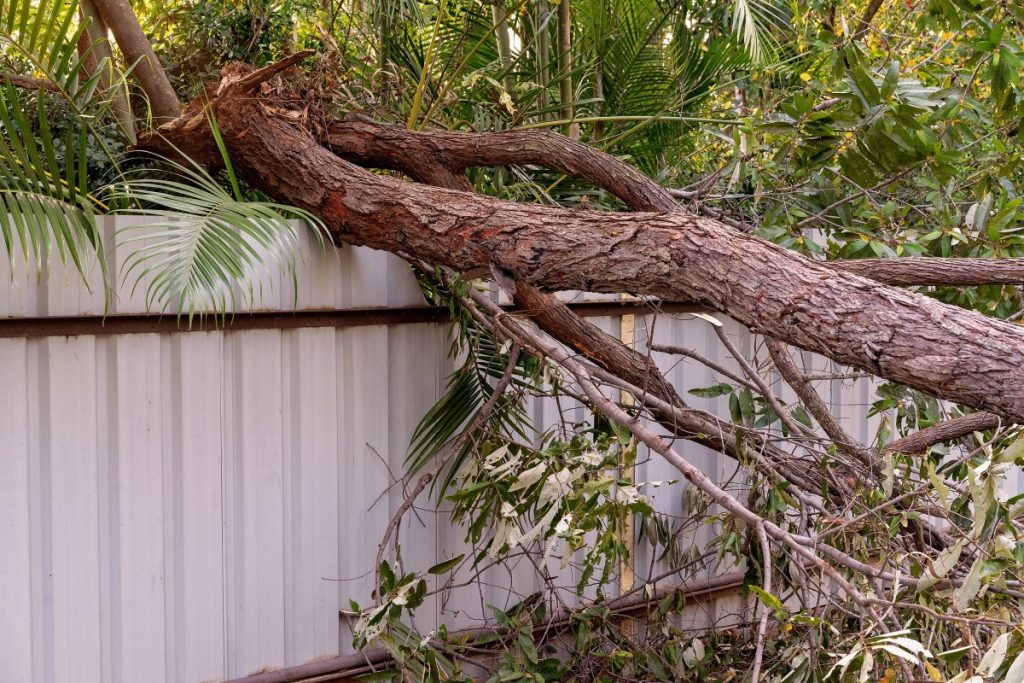 Homeowners insurance protects against losses and damages to your property. Damage can occur after perils like storms, vandalism, and explosions. Additionally, your policy protects against fire and theft.
But although a policy protects your home—the actual structure and your personal belongings—home insurance also covers your neighbor's property under certain circumstances.
If you're liable for damages, the personal liability component of your policy pays the other party.
When shopping for home insurance, it's important to know how these policies work, and to get enough coverage.
Personal Liability Coverage
Your homeowners insurance policy offers four basic levels of protection.
One level of protection is dwelling coverage. This protects the actual structure and other structures on your property. Other structures include a shed or detached garage.
You'll need enough dwelling coverage to completely rebuild your house.
Coverage for other structures is about 10 percent of your dwelling coverage.
Your policy also provides personal property coverage. This protects your personal belongings such as:
furniture
electronics
clothes
other values
Personal property coverage is 50 percent to 70 percent of your dwelling coverage.
There's also loss of use protection. This provides reimbursement for extra living expenses if your home becomes uninhabitable. This is 20 percent of dwelling coverage.
But although these areas provide a lot of coverage, you're also protected if you cause damage to another person's property. In which case, personal liability protection covers a wide range of possible events.
As a homeowner, you don't get a policy to only protect your home. You also get a policy to protect your assets if you're sued.
During a severe storm, a tree on your property might fall and damage your neighbor's property. It might fall on their house, their garage, their shed, or fence.
Even though the damage occurs on their property, you're liable because it was caused by your tree.
This type of damage might costs thousands depending on the extent.
Homeowners insurance, however, provides peace of mind. Your liability coverage pays the damages, so you don't have to spend your own money out-of-pocket.
No deductible
One benefit of liability coverage is that it doesn't have a deductible.
This is unlike other parts of your insurance, where you'll typically pay a deductible before your insurance provider pays a claim.
Deductibles vary, but often range from $500 to $2,500.
Liability protection doesn't only cover incidents like a tree damaging a neighbor's property. It also covers damage caused by your kids or animals.
What Doesn't Liability Coverage Provide?
Although liability protection offers a lot of coverage, it doesn't cover everything.
For this reason, it's important to understand how your policy works to avoid surprises.
Auto-related incidents
Your liability protection does not cover auto-related incidents. So if you accidentally damage your neighbor's property with your car, you can't file a claim with your homeowners insurance policy.
In this scenario, you'll need to contact your auto insurance company to cover the damage.
Home business
Keep in mind:
Homeowners insurance doesn't cover claims related to a home business.
So, if your business activity damages your neighbor's property, you'll need to file a claim with your home business insurance provider.
Non-family member responsibility
You're also not covered when a non-family member damages a neighbor's property.
Intentional acts or negligence
Your insurance provider might also deny claims for intentional acts or negligence.
An example of negligence is failure to remove a diseased tree from your property. If this tree falls on your neighbor's house, you might have to pay the damages out-of-pocket.
Does Personal Liability Cover Bodily Injury?
Personal liability doesn't only cover damages to your neighbor's property.
It also covers bodily injury, when you're liable.
For example, an employee of your residence or a guest on your property might become injured due to an accident or negligence. If so, you might be liable for their medical bills.
This person might also sue and receive a court-ordered award.
In either scenario, your personal liability insurance pays the expense.
Personal liability also provides protection if your dog bites another person, including your neighbor. There are limitations to this protection, though.
Your insurance company might not cover a claim if you have a high-risk dog breed.
How Much Personal Liability Do You Need?
Of course, it isn't enough to have liability insurance.
You also need enough coverage.
A standard homeowners insurance policy provides about $300,000 in liability protection.
Understand, though, you can always increase this amount. If you pay a higher premium, you can increase your coverage to $500,000.
Umbrella protection
Depending on your number of assets, you might need more liability protection. If so, ask your insurance agent about an umbrella policy
.
Umbrella policies are separate policies.
With these policies, you could get as much as $1 million in liability coverage. To qualify for a policy, you'll first need a certain amount of basic coverage, which will vary by insurance provider.
One company might only sell an umbrella policy if you have $300,000 of coverage, whereas another policy may require a minimum of $500,000 in basic liability.
Other Considerations Regarding Liability
Although personal liability covers damages to a neighbor's property, you might ask:
What happens if a leak or fire spreads to my neighbor's property?
Does liability offer protection in this scenario, too?
The answer isn't a simple yes or no.
The truth is:
Home insurance companies handle these situations differently.
And oftentimes, the answer depends on the cause of the damage, and whether it was due to negligence.
For example, let's say you fall asleep with a lit cigarette and your home catches on fire. If the fire spreads to your neighbor's home, their insurance company will likely pay for their damages.
However, their insurance provider will likely seek reimbursement from your insurance provider, since the fire was due to your negligence.
On the other hand, let's say lightning strikes your home causing a fire, and this fire spreads to a neighbor's home.
In this situation, your insurance providers might reach a mutual agreement. In which case, your provider pays your damage, and their provider pays their damage.
The situation is quite different if you live in a condo, though. In this case, your condo association's master policy will likely cover some of the damage.
The master policy often pays to rebuild the actual structure. But again, depending on who's liable either your policy or your neighbor's policy will pay to replace personal belongings and provide loss of use coverage.
Tips for Getting Liability Protection
Here are a few tips to ensure you receive adequate liability protection:
1. Increase your limit.
Even if you start with a basic level of liability protection (ex. $300,000), periodically review your insurance needs.
As your assets increase, you might require more protection, perhaps an umbrella policy.
This is important because the more assets you have, the more you have to lose if you're sued.
2. Ask about dog breeds.
Understand that some insurance providers restrict certain dog breeds. If your dog is on their restricted list, the company will not cover an incident involving your dog.
Or, the company might charge a higher premium for coverage.
A list of commonly restricted breeds include pitbull terriers, Rottweilers, Great Danes, and German Shepherds.
3. Maintain your property.
You can reduce the likelihood of a personal liability claim by properly maintaining your home.
For example, have a tree removal company remove diseased or leaning trees from your property.
You should also secure debris or items in your yard before storms. This prevents damage to your neighbor's property.
4. Shop around.
Whether you're looking for standard homeowners insurance or an umbrella policy, make sure you shop around.
Compare coverage and rates before choosing a company.
Ideally, you should get rate quotes from three to five insurance companies.
5. Bundle to save.
As you shop for insurance providers, don't forget to contact the companies that provide your health, life, or auto insurance.
Since you're already a customer, they might offer you a discount on homeowners insurance.
You can also take other measures to get a discount.
This includes installing a burglar alarm, a fire alarm, deadbolt locks, and a fence around your property.
Conclusion
There's always the risk that you'll unintentionally cause damage to your neighbor's property.
Additionally, bodily injury might occur on your property. In either situation, homeowners insurance can reduce your out-of-pocket expense.
But it's important to have enough coverage.
Most standard policies include $300,000 of basic coverage. If necessary, you can increase your coverage level for added protection—especially if you have a lot of assets.