No-Fault Insurance: What It Means for Auto Coverage in Your State
Find out which states operate under no-fault insurance laws when it comes to auto coverage and how car insurance policies may handle claims.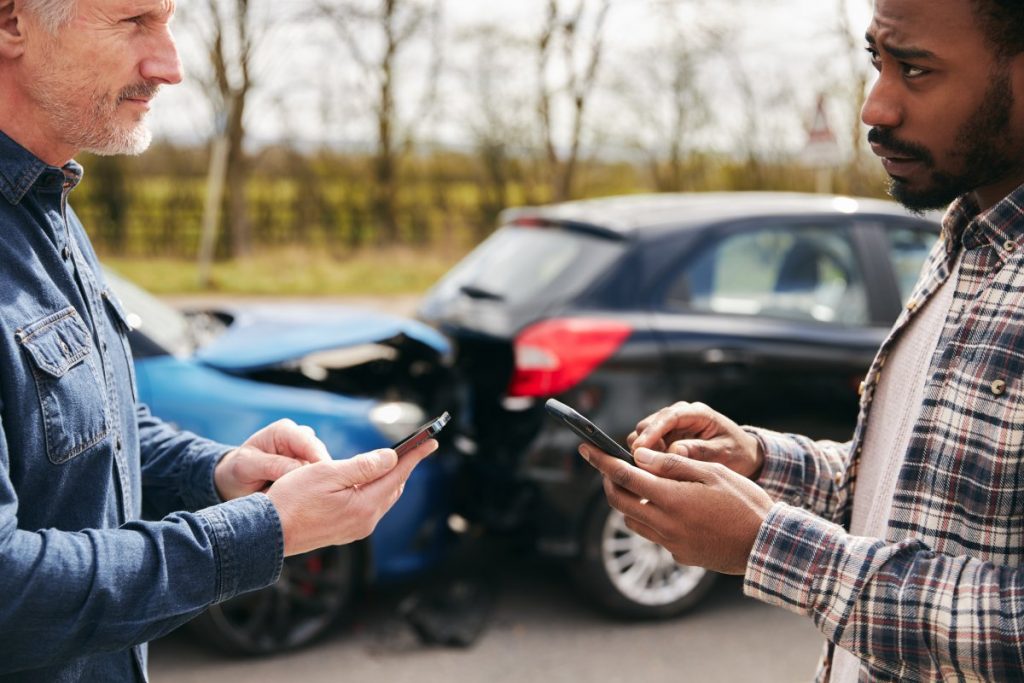 No-fault insurance was put in place to cut the cost of car insurance by disallowing the option to sue (though that isn't always the case).
No-fault means that all parties involved in an accident will be covered by their own insurance, rather than recovering from the at-fault party's policy.
In cases where fault is evenly divided between the parties, each driver will collect damages against his or her own insurance policy.
There are 12 U.S. states operating with no-fault car insurance laws:
Florida
Hawaii
Kansas
Kentucky
Massachusetts
Michigan
New Jersey
New York
Minnesota
North Dakota
Pennsylvania
Utah
States not considered to be no-fault are sometimes referred to as "at-fault".
That means:
The responsibility for payment of damages rests with the at-fault party, and his or her insurance company.
Verbal and Monetary Thresholds
This is where suing for damages in a car accident within a no-fault system becomes a gray zone.
There are specific thresholds within no-fault insurance, both monetary and verbal. Generally speaking, suing is not allowed unless bodily injury to one party or all parties enters into those thresholds. The state you live in will determine their own threshold levels.
Verbal
The level of seriousness of any injuries must exceed what the state puts in place for this threshold. "Verbal" refers to the descriptions of those injuries as specific legal definitions.
For example, permanent damage of a body function as well as loss of body function are typically required.
Monetary
The state sets a dollar amount for medical expenses. If your medical bills exceed the amount of the legal monetary threshold, suing is allowed.
Collectively referred to as tort thresholds, verbal and monetary thresholds have given rise to a special car insurance coverage, referred to as personal injury protection, or PIP.
It's commonly required in states with no-fault insurance laws, and even in a few at-fault states. PIP is often synonymous with no-fault car insurance.
What is Covered Under No-Fault
PIP covers medical expenses, funeral expenses, lost income, child care expenses, survivors' loss benefits, and household services.
The only major difference will be the dollar limits on different coverages between the various states. Much like any other insurance, no-fault insurance will only cover up to your policy limits.
No-fault insurance covers the policyholder, any other named drivers, passengers in the car if a named driver is at the wheel, and named drivers who are injured in a car accident, even if they weren't driving.
If you are in a car accident, PIP often works with your health insurance coverage. Most health insurance deductibles must be paid before benefits start to be paid out, but your PIP may have a lower deductible, or even no deductible at all.
What Isn't Covered Under No-Fault
PIP/no-fault does not cover vehicle damage, property damage, or injuries sustained by people outside your car. It's strictly limited to drivers and their passenger's medical expenses if they've been injured in an accident.
That means:
It won't cover damage to your vehicle caused by the accident. Nor will it cover losses due to hazards that take place when your vehicle is parked. This can include storm damage, vandalism and theft.
To cover your vehicle for damage sustained while moving, you need to obtain collision coverage. This will cover damage to your vehicle, regardless of who is at fault in the accident.
To cover your vehicle against hazards while parked, you'll need to add comprehensive coverage. That will pay the claim for any loss sustained while the vehicle is parked.
Once again, be aware that PIP will cover you only up to the dollar limits specifically stated in the policy.
Different Types of No-fault Car Insurance
Here's where no-fault may get a little complicated. There are different versions of no-fault insurance depending on where you live.
Choice no-fault
Within these states, drivers can decide if they want to carry a tort policy, which is a more traditional system, or if they want to carry no-fault insurance.
There are currently three states that allow choice no-fault: New Jersey, Pennsylvania, and Kentucky.
Tort liability
Tort, also known as at-fault insurance, is a more common insurance type. The at-fault driver can be sued for medical expenses as well as pain and suffering by the other party and their passengers.
Under a choice no-fault system, you may be able to add a tort liability provision.
Add-on (optional)
Drivers have the choice to add PIP coverage to their policy and be covered by their own insurance without any restrictions on lawsuits.
Because lawsuits are not prohibited, the states are not considered to be true no-fault systems.
Defining Fault in No-fault Car Insurance
When it comes to car insurance, negligence is used to determine fault. There are three types of negligence.
Even with a PIP policy, you may exceed your coverage and would need to file a claim under the other driver's bodily injury (BI) liability insurance.
This process differs by state because each one defines negligence differently.
Modified comparative negligence
The most common negligence definition used is known as modified comparative negligence.
This definition considers part of the driver's fault, but a threshold is set. Depending on the state, that can be 50% or 51%.
For example, if an accident is determined to be more than 50% or 51% your fault, you will not be able to recover damages from the other party. 10 states set this threshold at 50%, while 23 set it at 51%. That includes six no-fault states.
Within a no-fault state, or if you have PIP on your policy, filing a claim will be different from a more traditional policy.
If you are injured in an accident, no matter who's at fault, you'll claim against your own PIP first. If your PIP limits are reached, you'll claim against the at-fault person's bodily injury liability.
The difference between bodily injury and personal injury coverage in car insurance is that PIP pays for the policyholder's own medical bills, while bodily injury coverage pays for another party's medical bills when the policyholder is at-fault.
Bodily injury coverage is a form of liability insurance and is required in virtually every state.
If you're in an at-fault accident and your car is damaged or totaled, collision will provide the coverage you need to replace or repair your vehicle. Comprehensive will cover your vehicle if it's stolen or damaged while parked.
No-Fault States
Below is a list of no-fault states, how much PIP is required, and the level threshold for auto-related injury lawsuits. It's important to note that the "choice no-fault" states allow drivers to reject PIP in writing and hold the right to sue for any auto-related injuries.
Just as a refresher: New Jersey, Kentucky, and Pennsylvania are choice no-fault states.
U.S. states with no-fault insurance
| No-fault State | PIP required | Thresholds |
| --- | --- | --- |
| Florida | $10,000 | Verbal |
| Minnesota | $20,000 PIP/$20,000 loss income per accident | Monetary |
| Hawaii | $10,000 | Monetary |
| New Jersey | $15,000 | Verbal |
| Kansas | $4,500 | Monetary |
| New York | $50,000 | Verbal |
| Kentucky | $10,000 | Monetary |
| North Dakota | Maximum of $30,000 | Monetary |
| Massachusetts | $8,000 | Monetary |
| Pennsylvania | $5,000 | Verbal |
| Michigan | Varies based on how much health insurance you have | Verbal |
| Utah | $3,000 per person | Monetary |
Although only some states are no-fault, other states still require that drivers carry PIP.
Arkansas, Delaware, Maryland, and Oregon require PIP with insurance coverage.
Texas has mandatory PIP of $2,500 on all policies, however, you can sign a waiver to drop the coverage if you want.
Other states allow PIP to be added on to their policy if they choose to do so. Those states are: New Hampshire, South Dakota, Washington, Wisconsin, and Virginia.
Example of a No-Fault Car Insurance Claim
In a state with at-fault car insurance, you would pursue recovery of damages from the at-fault driver and his or her insurance company.
But if you're the at-fault party, you would need to file a claim against your own insurance policy, and the other party in the accident will file against your insurance company as well.
However, if the accident was determined to be the other party's fault, you would pursue recovery from the other driver's insurance company.
But let's say you live in Massachusetts, which is a no-fault state with an $8,000 monetary threshold.
If the total medical costs you incur are $20,000, you would first pursue $8,000 against your own insurance company. But because the damages exceed the $8,000 monetary threshold, you can pursue the at-fault driver for the balance of $12,000.
What No-Fault Means for Your Car Insurance
As with any auto insurance policy, the cost of your premium will always be based on your driving record, where you live, credit score, age, and gender.
Unfortunately, the cost of PIP may be out of your control, as states set certain limits on coverage and how much you'll be required to carry in order to operate on the road.
If you live in a no-fault state, we strongly recommend carrying more PIP protection than the required minimum. Having a higher limit will offer you more coverage in the event of an accident that results in injuries.
Medical bills tend to grow in the blink of an eye, but you may not meet the level threshold in order to file a lawsuit. When PIP limits are exceeded, health insurance will take over from there. If you do not have health insurance, carrying higher PIP coverage is even more beneficial to keep you from paying any out-of-pocket expenses.
Living in a state that allows for PIP to be added to a policy provides a bigger benefit than most think. While health insurance may cover your physical injuries, having PIP coverage would provide additional assistance with economic losses, such as loss of income and funeral expenses.
Carrying PIP means that your insurance will pay whatever PIP coverage you have up to your policy limits, with no questions asked and no repayment required.
Get enough coverage
When it comes to insurance, the best answer we can give you is to have enough coverage to protect your assets.
Apart from medical costs and damage to your vehicle, you should have sufficient coverage to protect your home and financial assets from a lawsuit.
Cutting corners to save on your rate may take some power away from you because you can often significantly increase your coverage for just a slight rise in price.
Base your coverage off your net worth and shop around to compare rates with different companies.
Bottom Line
No-fault car insurance hasn't necessarily lived up to its promise of providing lower car insurance premiums.
Some states have even abandoned it as unworkable. But if you live in a no-fault state, you must work within that system.
Understanding how it works, then shopping between various providers for the best coverage are your best strategies.