Nationwide Insurance 2023 Review: Home, Auto, Life Plans
Our review of Nationwide insurance products looks at the different types of coverages, discounts and perks available and the company's industry ratings.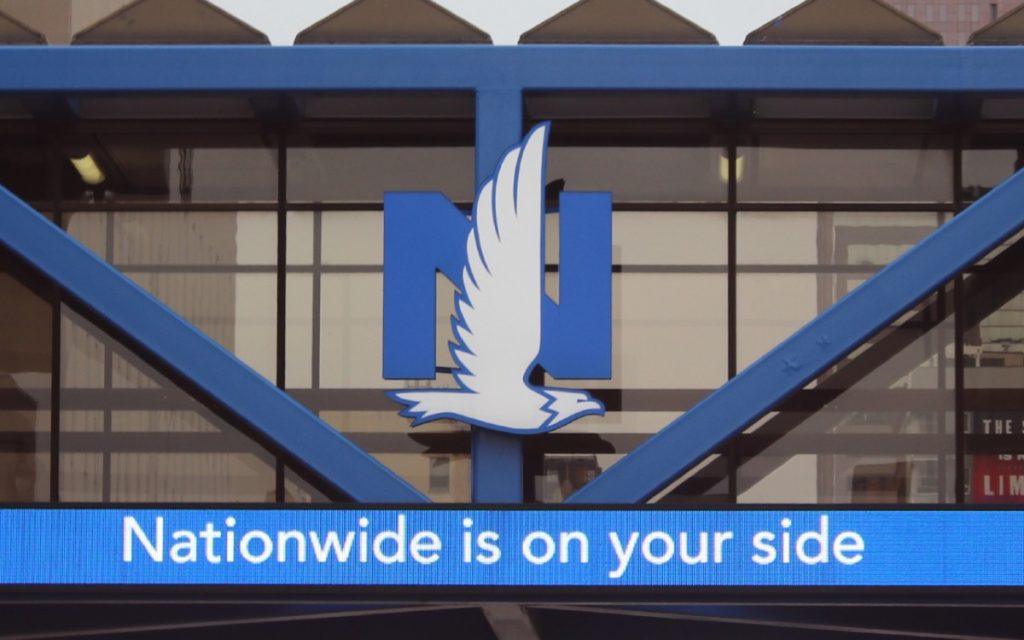 Nationwide is a national insurance carrier that provides coverage for homeowners, auto and life insurance, and other insurance products.
With Nationwide, policyholders can choose from various coverage options and discounts to arrive at a customized, affordable insurance policy that fits their needs.
Additionally, the insurer's financial health ratings are very reassuring.
Here, we'll take a look at the different types of insurance coverages and notable perks offered by Nationwide.
Nationwide Insurance Pros & Cons
Industry Ratings
Nationwide has an A+ rating for financial strength.
The company also has an A1 rating with Moody's for insurance financial strength and an A+ credit rating with Standard & Poors.
In 2020, Nationwide Annuities was ranked number one in the J.D. Power 2020 U.S. Life Insurance Study.
Auto Insurance Overview
Here's an overview of the standard and optional coverages offered for Nationwide auto insurance customers.
With Nationwide, policyholders are covered for accidents involving other vehicles, vandalism, weather, animals, bodily injuries, and more.
Personal auto coverages include:
Bodily injury liability- If you're at fault and someone is injured, this covers the other party's medical bills and loss of income
Property damage liability- Pays for damages to another person's vehicle or property when you are at fault
Personal injury protection- No blame needs to be assessed with this coverage. If it's a covered incident, medical and lost income payments are made to cover lost income immediately
Uninsured motorist- You are protected from uninsured drivers and hit-and-run accidents
Underinsured motorist- You are protected from drivers who don't have enough insurance
Medical payments- Covers medical costs for you and your passengers in the event of a covered incident
Vehicle coverage includes:
Collision: No matter who's at fault, this covers damage to your vehicle if you hit another car or object, another car hits you, or your vehicle rolls over
Comprehensive: Covers damage to your vehicle from vandalism, theft, weather events, and accidents involving animals.
Towing and labor coverage: Kicks in if your car is ever stuck, broken down, or inoperable due to an accident
Rental car expense: For rental cars or other transportation while your car is being repaired from a covered accident.
Gap coverage: Pays the difference between the actual cash value and what you owe on the car lease or loan
Optional auto coverages
Nationwide policyholders can add some optional coverages to an auto policy for an additional cost:
Accident Forgiveness®: Rate increase may be waived with the first at-fault accident or minor violation of your policy
Roadside assistance: 24/7 emergency help for fuel, tire change, jump-start, or tow
Vanishing Deductible®: Earn $100 off your deductible for each year of safe driving; You can save up to $500, or your deductible could go away completely
Total loss deductible waiver: Physical damage deductible (comprehensive or collision) is waived in the event of a total loss
Nationwide auto insurance discounts
| Discounts | Notes |
| --- | --- |
| Multi-policy discount | You could save an average of $646 when you bundle homeowners and car insurance with Nationwide |
| SmartRide | Usage-based insurance program that gives you feedback to make safer driving decisions |
| SmartMiles | A flexible monthly rate based on how many miles you drive |
| Accident-free | For drivers who maintain an accident-free driving record |
| Good student | Applicable to drivers age 16 to 24; must maintain a B grade average or better |
| Defensive driving | A discount is applied for drivers who complete a state-approved safety course |
| Anti-theft | For vehicles equipped with certain anti-theft devices |
| Safe driver | Requires five years of safe driving |
| Easy Pay sign-up | Have your payment automatically deducted from your bank account each month and get a one-time discount |
| Go paperless | You could be eligible for a recurring discount when you sign up for paperless documents |
Homeowners Insurance Overview
Nationwide homeowners insurance also has pretty typical coverage you'd expect from a national insurance carrier.
This policy protects your home against theft, fire, lawsuits, damage, and other covered perils.
Here's what Nationwide homeowners will repair or replace in the case of a covered loss:
Dwelling: Home's structure, built-in appliances, and wall-to-wall carpet
Contents: Personal belongings inside the home, regardless of age or condition
Other structures: Additional structures not attached to your house like a shed, fence, barn, detached garage, or gazebo
Also, a Nationwide basic homeowner's policy offers these protections:
Personal liability: Protects you in the case of accidental injury or damage to another person's belongings that occurs in your home
Loss of use: If your home becomes unlivable in the event of a covered loss, any increase in living expenses is covered
Medical expenses for others: Covers medical or funeral expenses if someone is injured on your property
Credit card coverage: Pays, up to your limit, for unauthorized transactions on your credit cards and debit cards; also covers forged checks and counterfeit money
Optional homeowners insurance coverages & riders
Here are some optional coverages you can add to your insurance with Nationwide:
Identity theft: Helps keep policyholders personal data secure against cybercrime and other risks
Valuables Plus®: For high-value items like jewelry, watches, antiques, and fine art
Replacement cost plus: pay up to an additional 20% if rebuilding your home after a covered loss costs more than expected
Water back up: Additional coverage if water backs up through your sewer and drains; also covered failed sump pumps
Earthquake: Covers damage to your home in the event of an earthquake; a separate deductible applies
Flood: Covers damage from flooding; requires the purchase of a separate policy and has a separate deductible for claims
Nationwide homeowners insurance discounts
| Discount | Notes |
| --- | --- |
| Multi-policy discounts | Add a homeowners or renters policy to auto insurance from Nationwide for savings |
| Protective device | For homes with smoke detectors, fire alarms, burglar alarms, or other qualifying devices |
| Claims free | You could lower your premium if you remain without claims |
| Home renovation credit | Applied if you renovate your home's plumbing, heating, cooling, or electrical systems |
| Roof rating | Based on your roof's age and surface type |
| Home purchase | Applied if you've purchased a home within the past 12 months |
| Prior insurance | For new customers who are continuously insured with another insurer for a qualifying number of years |
| Gated community | Applies if your home is protected at all times by security guards, residence cards, or key-lock devices |
Life Insurance Overview
Here's a quick overview of Nationwide's life insurance products:
Term
Nationwide YourLife® Guaranteed Level Term is ideal for young families looking for affordable insurance coverage.
The lowest rates are available for healthy policyholders.
Nationwide's term insurance is available in 10, 20, or 30-year terms and renewable annually until the policyholder reaches 95 years of age.
This policy can be converted into a permanent policy at any time until the policyholder reaches the age of 65. The premium stays the same, and the death benefit is typically exempt from federal income taxes upon payment.
Whole life
Whole life coverage is a good fit for those that want a life-long insurance option, predictable premiums, and the ability to accumulate a tax-deferred cash value with a fixed rate of interest over time.
Policyholders can customize Nationwide's whole life coverage in terms of premiums, benefits, etc.
Policyholders can borrow against the policy's value as needed, and the death benefit is exempt from federal income taxes.
Policyholders can also renew the coverage when it ends if they choose to.
Universal
Unlike term insurance, universal life insurance covers policyholders for the entirety of their life.
It's permanent protection that also provides access to the tax-deferred cash value that accrues in the policy. There's also the option to adjust your premium or death benefit value as needed.
Another feature of this policy is the ability to take tax-free withdrawals from the cash value to supplement your retirement income. These cash withdrawals reduce your death benefit, however.
Variable
The variable policy provides the opportunity to invest cash premiums paid on the policy.
The investments are professionally managed in different subaccounts, which policyholders can monitor and allocate according to their preferences.
Though investing can increase the cash value of a variable policy, there is a chance that the policy value could decrease because value of the underlying investments decreases.
Policyholders can adjust both the premiums and the death benefit.
Bottom Line
Nationwide's insurance policies are pretty standard in terms of coverages and pricing.
The company has many options in the way of discounts and customizable policies to arrive at a policy type that works for you.
It may be worth comparing their coverage to your current policy to see if Nationwide might be a good fit for your insurance needs.