How Loss-of-Use Coverage Works With Homeowners Insurance
Learn how loss-of-use coverage works as part of your homeowners insurance policy to reimburse you when your home becomes uninhabitable.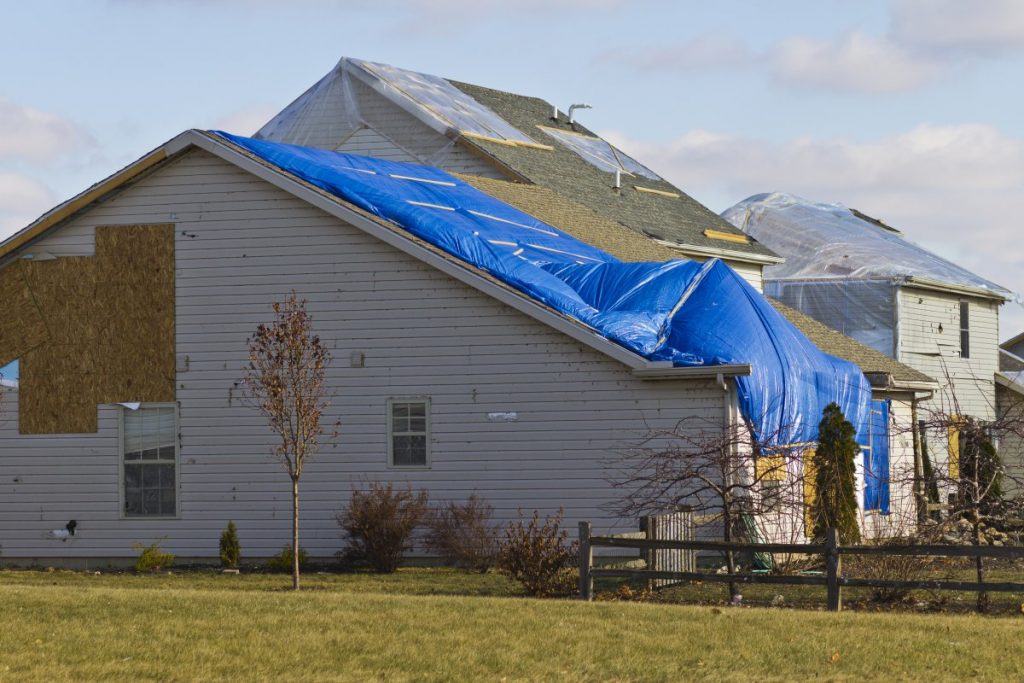 Homeowner's insurance is a necessity when you own a home.
It covers damages to your home's interior and exterior. It also covers the loss or theft of your personal belongings.
But, if the home becomes uninhabitable, you have to deal with added expenses from finding shelter elsewhere.
And, if you rent out your home (or part of it), you could also be missing out on income.
Standard homeowner insurance policies also include loss-of-use coverage for these situations.
What Is Loss-of-Use Coverage?
Loss of use coverage is a component of homeowner's insurance that many policyholders never use. 
But in the event that you're displaced from your home, this coverage provides financial assistance and peace of mind as you wait for your home to be rebuilt or repaired.
If your home is significantly damaged by fire or another covered peril, you'll incur additional living expenses due to temporary relocation.
Loss-of-use coverage reimburses these additional expenses. 
For example, let's say there's wind damage on your property and you can't live in the home while it's being repaired. This part of your insurance policy will reimburse the cost of your hotel or temporary rental home, up to a certain amount.
Coverage limits
Now:
Coverage limits vary.
A typical amount is up to 20 percent to 30 percent of your dwelling coverage limit.
If you have a dwelling coverage limit of $200,000, you'll receive up to $60,000 of loss of use coverage.
The good thing about loss-of-use coverage is that it doesn't only cover a hotel or other temporary housing.
It'll also reimburse other living expenses, such as:
commute and transportation costs
utilities
groceries or restaurant meals
storage fees
boarding of pets
moving costs
laundry expenses
Lost rental income
Do you rent out your home or a part of your home?
If so, loss of use coverage also reimburses the fair rental value to compensate for lost rental income.
In the case of a rental property, though, loss-of-use coverage doesn't cover some additional expenses like utilities.
With regard to additional food costs, the policy only reimburses the amount that goes beyond what you normally spend.
So if your family usually spends $100 a week on food, but you're now spending $200 a week because you have to dine out, your policy reimburses the difference.
Loss-of-Use and Renters Insurance
Fortunately, you don't have to own a property to benefit from loss-of-use coverage. This type of protection also extends to renters. 
If you rent a home or an apartment, it's a good idea to also purchase renter's insurance. Your landlord's insurance policy doesn't cover your personal belongings.
So in the event of a fire, other damage to the property, or theft, you'll need your own policy to cover the replacement or repair cost of your belongings. This is the benefit of renter's insurance.
This policy doesn't only provide protection for items lost. It also covers your living expenses when you temporarily lose use of a rental home.
If the property becomes uninhabitable, the policy pays your relocation expenses. 
This includes reimbursement of expenses for staying in a hotel, an Airbnb, or other temporary housing.
It also covers other expenses like additional transportation costs — possibly due to a longer commute — and additional food costs. 
Limits on duration and amount
Loss-of-use with a renter's insurance policy will only reimburse expenses for a limited time.
This varies depending on your policy. The typical timeframe, though, might be up to 12 or 24 months, depending on the extent of the damage. 
The amount you receive from the insurance company is a percentage of your personal property coverage.
As a bonus:
If you sublet a room in your rental home, loss of use also reimburses your lost income.
So if you're subletting a room for $300 a month, your insurance will pay an additional $300 a month as compensation.
What Does Loss-of-Use Cover?
Keep in mind, loss of use coverage only restores your normal standard of living.
Therefore, your temporary residence must be comparable to you permanent residence.
In other words, if you currently live in a two-bedroom home, your insurance policy will not pay for you to temporarily relocate to a four-bedroom home.
It's important to understand what loss of use covers and what it doesn't cover — so you don't have any surprises.
This part of your policy kicks in only when damages are caused by a covered peril. Covered perils include:
Fire or smoke damage
Tornadoes
Hurricanes 
Theft
Hail 
Lightning
Explosions
Vandalism
If a covered peril causes mold damage to your home, your homeowner's insurance policy might also cover this damage.
Depending on the extent of mold, you might have to leave your home during the repair or clean up process.
What Does Loss-of-Use Not Cover?
Unfortunately, your homeowner's insurance policy doesn't provide loss-of-use coverage under certain circumstances.
For example, a standard homeowner's insurance policy doesn't cover exterior flood damage. Therefore, if you move out of your property due to flooding, you'll only receive loss-of-use protection if you have flood insurance.
Likewise, standard homeowner's insurance doesn't cover earthquakes.
If your home becomes uninhabitable due to an earthquake, you'll only receive loss of use coverage if you have an earthquake rider on your insurance policy.
Tips on Filing a Loss of Use Claim
To submit a loss-of-use claim, contact your insurance agent directly.
In addition, your insurance company may have a claims section on their website. You can provide your information here and start the process. 
Here are a few tips to keep in mind when filing a loss of use claim:
Mortgage payments still due
Even though your home is uninhabitable, you're still responsible for paying your mortgage payment and homeowner's insurance.
Make these payments on time each month to keep your account in good standing and to protect your credit.
Keep your receipts and records
To ensure reimbursement, keep all receipts for additional living expenses.
In most cases, your insurer will not provide an upfront lump sum of cash.
Instead, you'll submit receipts after incurring an expense to receive reimbursement.
Proof of standard of living
Be prepared to provide information about your normal monthly living expenses.
Your insurance company will evaluate these numbers to determine how much you're eligible to receive in reimbursement.
If you rent out your home or a section of the home, provide a copy of the lease agreement.
Limits apply
Many policies only pay up to a certain amount under loss-of-use coverage. If you exceed your loss of use coverage limit, you'll need to pay the difference out-of-pocket.
Therefore, make sure temporary expenses don't go beyond your normal expenses. This helps extend your coverage period.
Frequently Asked Questions
Do I pay a deductible with loss-of-use coverage?
Homeowner insurance policies and renter insurance policies typically have a deductible.
This is what you pay out-of-pocket before your insurer pays a claim.
Deductibles can range from $500 to $1,000 or more.
Fortunately, loss of use coverage isn't subject to a deductible.
Does loss-of-use cover an inability to assess my property?
After a hurricane, a tornado, or other event, local authorities may prohibit your ability to return home.
This can happen when roads are hazardous or severely damaged.
Even when your property hasn't sustained damages, loss of use coverage often reimburses living expenses when you're unable to access your property.
Policies vary, so speak with your insurer to understand your coverage.
How long will my insurance company reimburse for loss of rental income?
If you're a landlord, reimbursement under loss of use coverage will vary from policy to policy.
In many cases, insurance companies reimburse loss of rental income for up to 12 months.
How much is loss-of-use coverage?
Loss-of-use coverage is automatically built into your homeowner's insurance policy or renter's insurance policy.
Factors that can affect your insurance rate include your deductible, the age of the home, your claims history, and the replacement cost of your home or belongings.
Final Word
Homeowner's and renter's insurance is for your protection.
Both can provide peace of mind in the event that your home becomes uninhabitable.
The financial protection can help you maintain your current standard of living, but there are limits to what loss-of-use covers.
To better understand your coverage, speak with your insurance agency or carefully review your policy.