As Bank of America is in the process of restructuring its checking account products, customers can begin changing their banking habits in order to avoid the possible new account fees.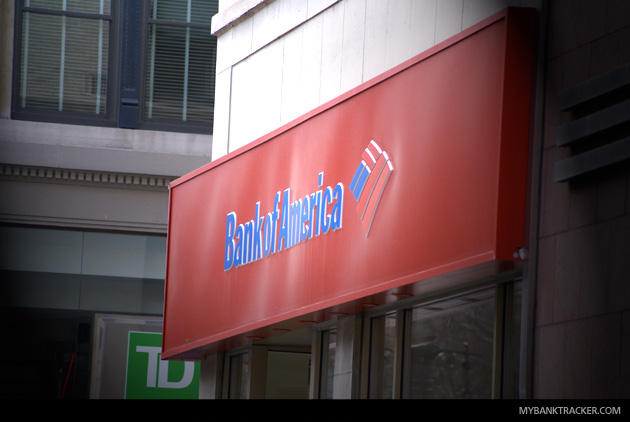 Bank of America (NYSE:BAC) was the second big bank to terminate its free checking account behind Wells Fargo. The nation's largest bank discontinued its free checking in October 2010. The decision was just another step to recover from an anticipated decrease in revenue due to new federal rules.
The New Bank of America Basic Checking Fees
Currently, the most basic checking accounts available to the majority of customers are the eBanking and MyAccess Checking accounts. In Arizona, Georgia, and Massachusetts, Bank of America is testing a new line of checking accounts where MyAccess Checking was replaced with the Bank of America Essentials account.
For eBanking, the $8.95 monthly account fee ($9 or $12 if you are in test states) is waived if you:
Make deposits and withdrawals electronically or at Bank of America ATMs (not at a teller)
and, sign up for online paperless statements through Online Banking.
For MyAccess Checking, the $8.95 monthly account fee is waived if you:
Make at least one direct deposit per statement period
or, maintain an average daily balance of $1,500.
For Bank of America Essentials (currently only available in test states), the monthly account fee is $6 (in MA, AZ) or $9 (in GA) there is absolutely no way to avoid paying this fee.
Avoiding the New BofA Checking Fees
At this moment, it still remains unsure how Bank of America's final line of checking products would play out to be. After Bank of America tests its new checking accounts, the bank could make small adjustments that are agreeable to both customers and shareholders.
But for now, here's how current Bank of America customers can cut the costs of maintaining a basic checking account:
ACH credit transfers are considered direct deposits. (MyAccess Checking)
According to many current Bank of America checking account holders, an ACH credit triggered a direct deposit account alert. Because BofA doesn't require a minimum amount on the direct deposit, customers can transfer a small amount of money from an online savings account, such as one from ING Direct or Ally Bank, or a PayPal account into their MyAccess checking account and it would qualify as a fee-waiving transaction.
You can test this with your other external bank accounts by setting up an account alert for direct deposits and initiating a transfer. Note that this step is possible only because Bank of America's computer system recognizes ACH credits as direct deposits—a tweak in the system would destroy this method. Also, if and when MyAccess Checking is terminated, this method would not longer be useful.
Learn to bank like a pro online, on your phone, and at the ATM. (eBanking)
As many customers are becoming increasingly adept with technology, most can (and already do) conduct personal transactions without ever having to walk up to a teller. By managing your account through online and mobile banking and making deposits and withdrawals at BofA ATMs, the eBanking becomes the ideal basic checking account.
According a BofA chat representative, regarding the eBanking account, you don't pay fees on months that you do not visit a teller. Also, you will not be charged for general inquiries about your account and services at a teller or bank associate.
So if you realize that don't rely on a teller for transactions related to your Bank of America checking account, it would be a better move to open or switch to the eBanking account. Should you ever have to visit the teller to make a deposit or withdrawal, you'll simply pay the account fee for that month. It beats paying a strict $6 or $9 per month ($72-$108 per year) for the Bank of America Essentials account (currently for testing states).