How to Pick an Online Checking Account
If you're finally going to switch your checking account away from a brick and mortar bank, learn what to look for in the best online checking account for you.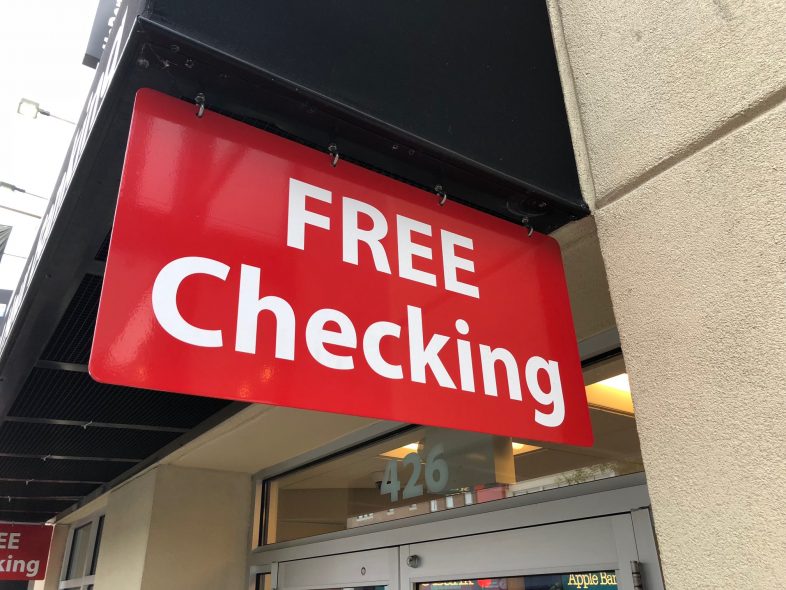 Your checking account is the center of your financial life.
All, or nearly all, of your income, will pass through the account as you earn it and all of your expenses are paid out of the account.
Because your checking account plays such an important role in your life, it's important that you find a good account.
An easy to use checking account can make every aspect of your financial life easier. A difficult to use checking account can make dealing with even basic things annoying.
Online banks have grown in popularity in recent years as people's lives have become more and more digital.
Now, people can use their phones to send money to friends, pay their bills, and deposit checks. Online checking accounts are perfectly suited for today's highly digital world and offer a number of benefits.
Learn how to look at the many features of online checking accounts to decide which account is best for you.
Why Consider Online Checking Accounts
There are a few reasons why you should think about opening an online checking account.
Low fees
Many brick and mortar banks have increased their fees since the 2008 financial crisis. These fees are supposed to compensate the banks for the costs of managing these accounts.
In reality, they force consumers to spend money to have the privilege of keeping a bank account open. Some banks will let you avoid the fees by jumping through hoops, but that can become annoying very quickly.
One of the biggest benefits of online checking accounts is that the vast majority of them do not charge any kinds of monthly fees. That means that you won't have to jump through hoops or worry about maintaining a specific balance in your account.
Interest
Savings accounts are where you put money if you want to earn interest, but earning something for the balance of your checking account can be nice.
Very few brick and mortar banks will pay any interest on checking account balances. Online checking accounts regularly pay interest, though not as much as you'd earn with an online savings account.
Still, some interest is better than none, which makes online checking accounts worth using.
Perks
Online banks still have to compete with brick and mortar banks if they want to draw customers.
For many people, the loss of the option to visit a branch when needed is significant, so online banks offer a number of perks to compensate.
Common perks include ATM fee refunds and higher than average mobile deposit limits.
Finding an online checking account with the right perks can make dealing with your money much easier.
Online Banks vs. National Banks
It's understandable if you think that these benefits all sound too good to be true. But the truth is that online banks are able to offer all of these perks for one simple reason: they cost much less to run than traditional banks do.
A brick and mortar bank, especially a national one, has to pay for an impressive number of services. They have to operate huge ATM networks.
They need to purchase or rent buildings to put bank branches in, and then pay to staff those branches and to keep the lights on. Simply having locations all around the country increases costs further.
Online banks don't have to pay for costly ATM networks or branches and they can centralize their operations to a single location.
This means that they cost far less to operate than brick and mortar banks do. They use that savings to offer their customers more than brick and mortar banks can.
Advantages and Disadvantages of Savings Accounts from Local Banks
Benefits
Drawbacks

Lower fees than national banks (but not always)
Personal service for account management

Smaller branch and ATM networks
Interest rates are not the highest available
Factors to Use When Comparing Online Checking Accounts
Most online checking accounts offer the same basic benefits. You won't have to pay monthly fees and other fees will generally be lower.
They're also incredibly convenient thanks to their polished websites and apps. Because of their similarities, it can be difficult to differentiate between them.
If you've decided to open an online checking account, you should take the time to shop around for the best deal. Consider the following factors when comparing online checking accounts.
Requirements to earn interest
Earning interest on your checking account balance is like getting free money. You need a checking account anyway, so getting paid for having one is a great bonus.
Many online banks will pay interest on the balance that you have in your checking account.
Where they differ is that some will have requirements that you must meet to earn interest. Others will offer different rates of interest based on which requirements you meet.
Usually, the requirements are a mixture of a minimum balance requirement, direct deposits, and a minimum number of transactions.
Look for the account that offers the highest rate of interest. If there are requirements you need to meet to earn that interest, make sure they're easy to meet.
ATM access
One of the biggest concerns people have about online banks is whether they will be able to use cash without having a physical branch to visit. While online banks don't operate their own ATM networks, that doesn't mean you're completely unable to use ATMs.
You'll want to look into the ATMs near places you regularly visit. Most ATMs are part of national networks such as AllPoint or STAR. Online banks will typically partner with one of these networks to offer free withdrawals at its ATMs.
Sometimes you won't be near an ATM on your network and will need to use a different one. Many online banks recognize this and offer some form of ATM fee refunds.
You'll need to figure out how much you'll spend on ATM fees to determine what level of fee reimbursement you will need. Choose the account that will result in you paying the fewest ATM fees.
Check orders
Checking accounts got their name for a reason. You should be able to write checks against the account's balance. Though checks have become less important thanks to the ease of online payments, they are still necessary at times.
If you have to write checks on a regular basis, you should look into the check fees charged by online banks. Because they are based on the internet, most will incentivize the use of online payment methods. You might get your first order of checks for free, but have to pay for future orders. Some online checking accounts offer unlimited check orders for free.
You'll have to decide how often you write checks and what fees you're willing to pay to order new checks. If you're a regular check-writer, look for a checking account that offers free checks.
Mobile deposit limits
Online banks don't have branches or ATMs. That means that there are two ways to get money into the account.
One is to make a deposit to an account at another bank and then make an electronic transfer. While this works, it is an inconvenient and slow process.
The second, easier, option is to use mobile deposits. Online banks will allow you to deposit checks by taking pictures of them. The money will be deposited directly to your online checking account.
Typically, online banks offer high mobile deposit limits. Ally Bank, for example, will let you deposit as much as $50,000 in a single day, which is more than enough for most people.
Mobile Deposit Limits: Bank of America vs. Online Banks
Bank of America
Ally Bank
Capital One 360

Customers with accounts opened for fewer than 3 months: $2,500 per month
Customers with accounts opened for 3 months or longer: $10,000 per month
Customers in the Preferred Rewards program for the first 3 months: $25,000 per month
Customers in the Preferred Rewards program for more than 3 months: $50,000 per month

All customers: Up to $50,000 in a single day; however, up to $250,000 every 30 days

Limits vary for each customer account: Typically $5,000 per day (according to Capital One banker)
If you regularly deposit large checks, you should take that into account when choosing a checking account. Make sure that it can handle the deposit volume that you need.
If you ever wind up with an unexpectedly large check, you can sometimes make deposits over the limit by reaching out to the bank.
Mobile app features
An online bank's primary ways of interacting with its customers are its website and its mobile application.
For that reason, most have very slick apps that are easy to use. If you're having trouble choosing the right account, look at the features offered by each bank's mobile app.
One example of an uncommon, but useful, feature is the ability to turn your debit card off or on.
If you ever lose your debit card, you can open the bank's app and turn it off. Whoever has the card will be unable to use it to spend or withdraw money.
You might also want to look for customizable account alerts. Most banks let you set basic alerts, but the option to be alerted for nearly anything will let you keep track of your money the way you want.
Also look at the basic user interface of the application. It might sound silly, but you're going to be using the app regularly while you're managing your money. If you don't like the way it looks or find it confusing, that's not a bad reason to stay away from that bank.
Conclusion
An online checking account is a great tool to have in your financial arsenal.
They offer a number of benefits that brick and mortar banks can't, with the convenience of online access.