Hilarious Bank Names: What Were They Thinking?
Sometimes even financial institutions can be too clever by half. Here are some of our favorite funny bank names.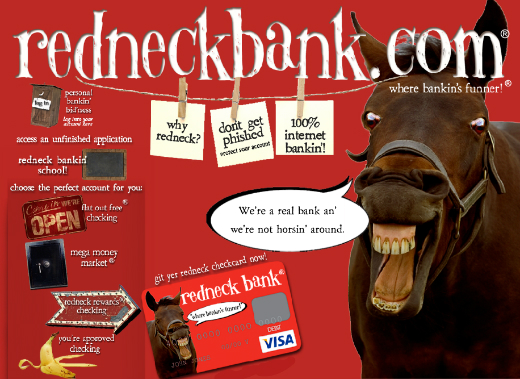 Most banks carry mundane bank names, which is understandable for an industry in the serious business of handling money. But there are some bank names that are wacky -- either deliberately or not. Whatever the reason, they're funny. These are our five favorite funny bank names. All are, or were, real FDIC-insured banks:
Redneck Bank
Contrary to the name, Redneck Bank doesn't cater only to poor, uneducated white farmers in the South. The derogatory term is employed by the bank for a good laugh and a "funner" banking experience. Redneck Bank was created in 2007 as the online banking unit of Snyder, Okla.-based Bank of the Wichitas. Besides its name, Redneck Bank is popularly known for its rewards checking and money-market accounts -- both of which tend to offer highly competitive interest rates. The bank has sent beer-can holders to new depositors and its spokesman/mascot is a horse...or a mule or something like that. What do we know? We're city folk here.
Tightwad Bank
Misers looking for a bank brand that complements their tightfisted habits need not look further than Tightwad Bank. Tightwad Bank is named after the small town of Tightwad, Mo. The bank was founded in 1900 as Reading State Bank, but adopted the new name after opening a full service branch in Tightwad in 2008. The town supposedly got its name from a postmaster. The story tells that a postmaster bought a watermelon at a store and was going to pick it up at the end of the day. During the day, the storekeeper sold the watermelon to another customer with a better offer. Returning to no watermelon, the angry postmaster renamed the town "Tightwad."
Moody National Bank
Imagine having to look for a smile, or frown, on the banker's face to gauge the quality of service on a particular day - no one would want that. Luckily for customers, Galveston, Texas-based Moody National Bank is not a place where the banking experience is entirely determined by the emotional state of the branch staff. Formerly called City National Bank, the bank changed its name to honor its principal founder, William L. Moody, Jr., in 1953.
Blue Ball National Bank (inactive)
As suggestive as the name may be, this bank was not a repository institution for male body parts in a state of unsatisfied love-making excitement. Blue Ball National Bank was named after Blue Ball, Pa. In 2005, the bank merged with CommunityBanks, which then went on to merge into Lititz, Pa.-based Susquehanna Bank. The town's name originated from an 18th-century Irishman, who built an inn and hung a blue ball outside it. It eventually led locals to name the town Blue Ball.
The First National Bank of Intercourse (inactive)
Don't confuse the First National Bank of Intercourse for the country's first establishment for the world's oldest profession. It's just another bank that happened to operate in an awkwardly-named town. First National Bank of Intercourse was headquartered in Intercourse, Pa. Established in 1908, the bank merged into Susquehanna Bank in 1972. There is no definitive origin for the town's name ... but it's worth noting that when you get there, you're 8 miles away from Blue Ball.